Secure Order Center

Yes, Please Secure My Seat for the
'Conversational Hypnosis Professional Hypnotherapy Certification'

Training in Atlanta, Georgia, USA, October 15th to 20th 2019
Here's a quick recap of everything I'm getting:
Helen Sharon Pollard




I thought I was a great hypnotist and I realized through this class that I really had only scratched the surface. And it's through this class that I know that I will become a master hypnotist

Eric Heggen




This course in hypnosis has allowed me to know that I can communicate with people in ways that I didn't realize, I didn't realize consciously that I could do...It's been rewarding and it's been truly wonderful

.

Leonie Looijens




I'm so glad I came. I learned more than I did in my hypnosis education in holland in 3 years! ...It's a fantastic course.

I will be attending the Conversational Hypnosis Professional Hypnotherapy Certification in Atlanta, Georgia, USA between 15th to 20th October 2019 at The American Hotel Atlanta Downtown (160 Ted Turner Dr NW, Atlanta, GA 30303, United States)


I will have the option of being certified as a conversational hypnosis professional hypnotherapist


I get all of this for $3995 just $325 x 6 (Early-Bird Discount - 50% OFF!)


Plus, as soon as I enroll, I will get instant
access to the TWO bonuses valued at $344


I also have a full 100% money back guarantee
up until the end of day 2 of the training! If this
training doesn't rock my world I can get a full refund

Here's my billing information, enroll me now please!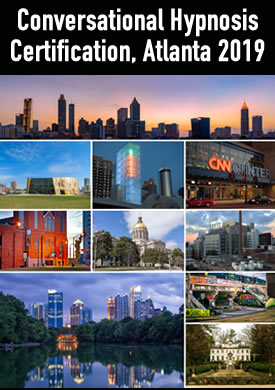 Your transaction is completely safe and secure via our 256 Bit Secure Server

Billing Information
Your billing name & address must be entered
exactly as it appears on your credit card statement.
Please check your statement for accuracy to
avoid delays in processing your order.