Secure Order Center
Important Update:

Only 50 29 14 9 4 2 Places Left

Here's a quick recap of everything I'm getting:
Kirsten Rivas




I would say follow your gut instinct and when you get an email or somebody tells you about this conversational hypnosis mastery course, you gotta do it 'cause you'll never regret it and it's going to change your life and possibly save other people's lives from the skills you've learned. Igor's the best!

Jim Aubery




One of the things that shocked me was my wife joined me on this training and she's a very shy woman, and after the very first day we were out and about and we were in a grocery store picking up a few things and she hypnotized the guy behind the deli counter!

Geoff Blades




I think this is great value for money and I think in addition to creating the materials, Igor is a superb teacher and I think you learn as much from Igor as a teacher and a guide as you would from simply working through his materials. It's something for me that's been a real transformational experience beyond learning the skills and techniques of conversational hypnosis

.

I'll get access each week to a new exciting module of the main training. There are 9 main training modules delivered over 9 weeks.


I'll also get access to TWO Bonus Training Modules on Week 10 and Week 11. Week 11 includes Igor doing in-depth point-by-point conversational hypnosis demonstration break downs!

Plus I'll get FULL Transcripts to the main training modules AND the bonus training modules too.


ADDED BONUSES: I'll also receive 3 Bonus Coaching Webinars and 3 Bonus Coaching Question & Answer Sessions. Naturally these will be recorded if I miss any of them PLUS they will be transcribed for me too.


SPECIAL EXTRA BONUS: I'll also receive a GOLDEN TICKET (worth $3750) so I can attend an elite 9 Day Conversational Hypnosis Mastery Certification Training in 2016. I understand these trainings will be run in the USA, Europe and Australia!

My investment is just 12 monthly installments of only $149.

I have 60 full days with a 100% guarantee to try out this program. If I'm not completely happy during these 60 days, I can get a full 100% refund. No questions asked.
Here's my billing information, enroll me now!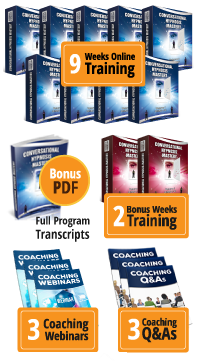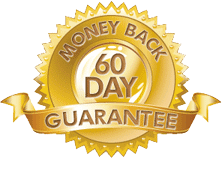 60 Day Money Back Guarantee!
Your transaction is completely safe and secure via our 256 Bit Secure Server

Billing Information
Your billing name & address must be entered
exactly as it appears on your credit card statement.
Please check your statement for accuracy to
avoid delays in processing your order.