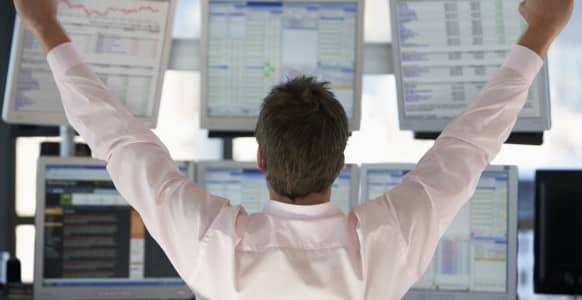 In this edition of Interview With A Hypnotist, former stock analyst Sean Toth shares how he discovered hypnosis, and how it's transformed his life and made him a confident hypnotist.
HTA: How did you get started in hypnosis?
Sean: I was a young boy in elementary school when a stage hypnotist did a show for us. However, it wasn't until I turned 41 that hypnosis made an appearance back into my life.
It was 2010, and I had reached a point in my life where enough was enough! I had grown tired of endless behavioral habitual loop patterns that were not assisting in my personal growth.
A "whisper" got my attention, and I listened to it – it led me to a gentleman by the name of Daniel H. Decker. He introduced me to hypnosis, NLP, and his mentor, Ron Klein – which is where my new beginning started.
I quickly gravitated towards their unknown "powers" and recognized Dan as my "Yoda" – this is where my passion for hypnosis was found.
HTA: What reaction did you get from your friends and family when you became interested in hypnosis?
Sean: I got various reactions from family and friends.
In the beginning, there was a mismatch from the old identity they had about me, and with my new one.
A belief that many commonly have is that "people don't change." And I guess many don't unless they decide to dig a little deeper and try and understand their behavior.
David Lynch has a quote that makes a lot of sense regarding this:
"If you have a golf-ball-sized consciousness, when you read a book, you'll have a golf-ball-sized understanding; when you look out a window, a golf-ball-sized awareness, when you wake up in the morning, a golf-ball-sized wakefulness; and as you go about your day, a golf-ball-sized inner happiness.
"But if you can expand that consciousness, make it grow, then when you read that book, you'll have more understanding; when you look out, more awareness; when you wake up, more wakefulness; as you go about your day, more inner happiness."
HTA: What are the biggest differences hypnosis have made in your life?
Sean: Great question! Let me answer this using an analogy.
Stock investors have a goal: to invest money and make it grow. However, the best stock investors are the ones that continuously review past trades (mistakes, timing, magnify strengths, etc.) so his/hers future trades have an increasing chance to succeed.
I have applied the same principle to my life and the way I communicate as a result of hypnosis. I have learned how to improve and manage my emotional states so I can get the most out of each task/outcome.
In the past, I lacked confidence and found it easier when being around a crowd to be an observer. But now I have the confidence to engage anyone, anywhere.
Hypnosis has also taught me how to capture an audience, absorb their attention, add new resources, and leave them excited for the next encounter. George Burns once summed it up wonderfully:
"The secret of a good sermon is to have a good beginning and a good ending; and to have the two as close as possible."
HTA: What do you think is the biggest myth or least understood thing about hypnosis?
Sean: Many languages have numerous words that can be used to explain the same thing. This helps us broaden our interaction with the meaning, so it can be used in different ways, essentially giving a slightly different meaning.
I believe the same can be said about hypnosis. General public perception of hypnosis is quite narrow, but as it gains more understanding, its use will become more accepted and mainstream.
But for now, the biggest myth that challenges this is that hypnosis is some sort of black magic. Yes, some people do misuse its power. However, only a small minority fits into this category. For most hypnotists, they use it to enrich and improve people's lives, not to destroy it.
HTA: Was it hard to get started?
Sean: Not at all because I was completely intrigued. However, it took me a while to piece the puzzle together because it's a new subject with many lessons.
The hardest part for me was performing. I read a lot and I would always test out new information, but I didn't get out there and actually didn't begin practicing with other people due to my lack of self-confidence. I was too worried about what people would think, rather than focusing on the outcome and how to capture the audience's attention.
HTA: Why do you like Igor's training programs?
Sean: There are various approaches when learning – auditory and visual, to name two. Igor's programs are perfect for my daily regimen because I can watch the videos and then listen to the audio formats essentially anytime and anywhere.
I also like his approach. I have numerous teachers, but I really like Igor's rapport skills, his powerful content, and how he teaches complex information, very naturally and easily.
HTA: How often do you use hypnosis?
Sean: Everyday! I still have a few "programs" that are no longer useful to my growth, so I constantly try and tweak these by my monitoring my emotional needs and responses. This helps me contribute to those around me more effectively, in each and every situation.
HTA: Any last words for people out there interested in mastering hypnosis?
Sean: Practice! Practice! Practice! As confidence grows – competency will too. Enjoy the journey because it will assist with your personal growth, and that directly contributes to those you interact with in this pond called life.
A fun way to start out and broaden people's perception of hypnosis is through street and stage hypnosis. Get people excited, curious and intrigued, because this then opens doors for their personal journey.
And when it comes to any fears about failure, embrace this wisdom from Tony Robbins:
"Success in life is the result of good judgment. Good judgment is usually the result of experience. Experience is usually the result of bad judgment. The most important key to achieving results is to ACT. It's impossible to fail as long as you learn something from what you do."