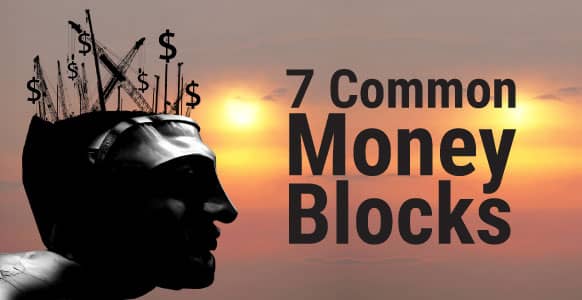 Money, money, money! According to some, it makes the world go round. According to others, it is the root of all evil and triggers "money blocks" (aka limiting beliefs around money) that keeps you "stuck."
Whatever your standpoint, money and the accumulation of wealth is subject to a myriad of ethical judgements and personal projections.
Given this, it's not uncommon to hold limiting beliefs or mental money blocks when it comes to how much you should have, how you should attain it and how you present your wealth to others.
If you're using hypnosis with the intention of helping others, it's unlikely that you are driven by money alone.
It's more than likely that your sense of giving and working in service of others trumps the desire to bump-up your bank balance.
Working in a field where the emotional wellbeing of your clients is the central focus of your work often means there is a tension between offering the service of your work and receiving money for it.
Your ethics are likely to be paramount to your practice which often sets up a block with money – it might be that because you are using hypnosis to help people that you don't feel comfortable or "right" asking them for money?
Maybe you lack a little confidence in yourself, or what you bring to the table as a hypnotist and don't believe you are worthy of charging the going rate?
Money and your attitude to wealth can be seen as a reflection of some of the un-truths you secretly tell yourself.
In other words, the beliefs you hold about money are often self-limiting beliefs which themselves are holding you back from fully showing up as the best version of yourself in your professional (and personal) life.
Ultimately, if you want to do use hypnosis as a force for good in the world and change people's lives – you need to have clients!
… If you're struggling and stressed about money – how are you going to help these people?
… If you're not constantly working towards the best version of yourself – how can you help other people do the same?
Just because you're business savvy or running a busy and successful practice doesn't mean you have gained your wealth unethically.
It also doesn't mean that you don't care about the people you serve.
In fact, if you don't have the funds to market yourself and get your name out there – how are you going to help people (or pay the rent)? All of this takes money, which is something, despite us not wanting to always admit, we need.
In her inspirational interview with Marie Forleo, entrepreneur and author Kate Northrup refers to money as a tool for change, a tool for people to show up.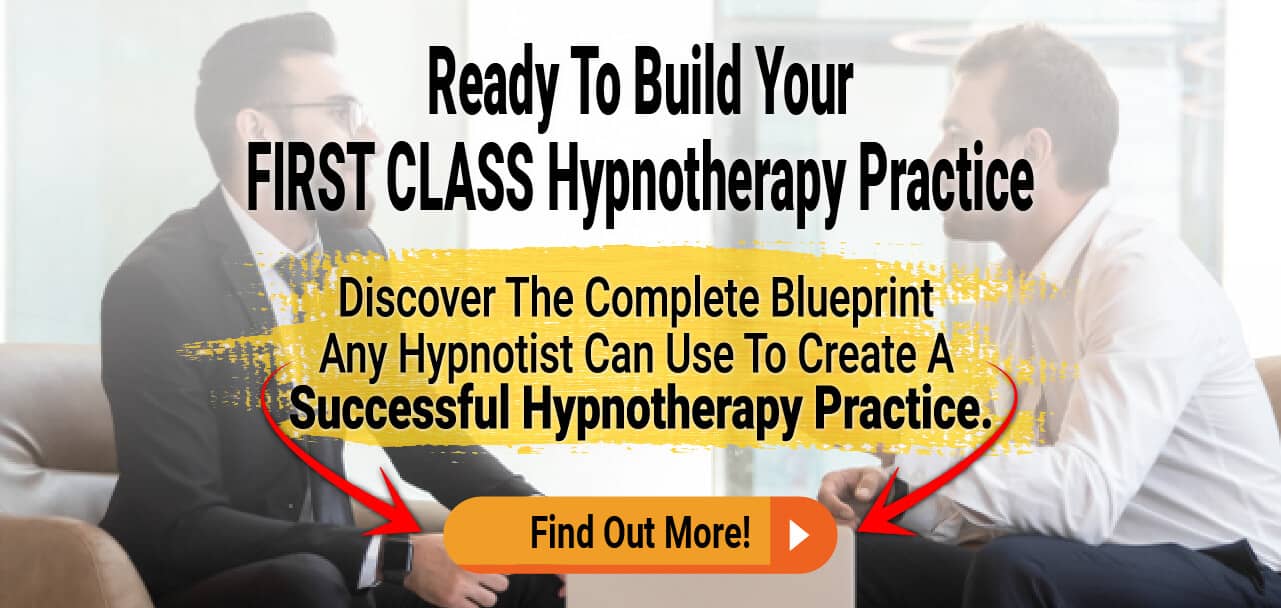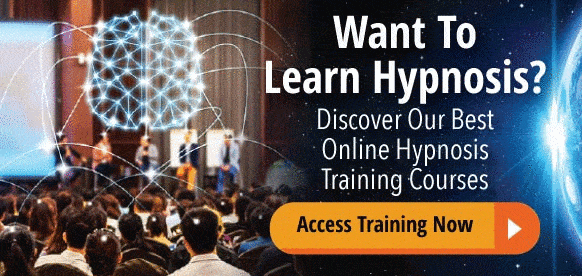 How?
This is because financial chaos doesn't allow you to show up, be present, and therefore doesn't allow you to work fully and authentically.
Avoidance, stress, unconsciousness and judgements all block you from showing up. Money and your attitude to it is therefore a tool for change.
You can watch the video here:


And here are 7 common limiting beliefs or blocks around money – they are the money lies we tell ourselves.
1. "It's Not My Responsibility"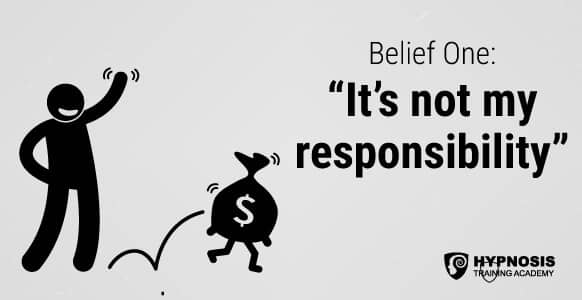 Secretly, you believe that someone else should take financial responsibility for you. This might be a partner, a relative or the state – someone other than you.
This belief – that you are not responsible for your own financial wellbeing – is effectively giving your power away. It is handing over the power you have to be your own resource to an external source that ultimately isn't responsible for your fiscal affairs.
Symptomatically it is a reflection of feeling like you don't really have what it takes to be your own source of support and power. Notice to whom you might be giving your financial power. And underneath this notice any beliefs that underpin this – are you telling yourself that you are not smart enough, not experienced enough to handle your own money?
2. "I Am Not Good Enough"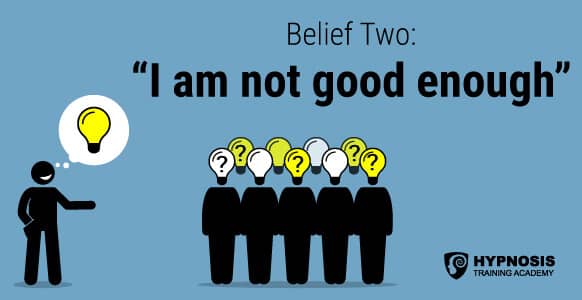 This is a common mindset – the belief in self-lack, the belief that you are not enough in some capacity.
This manifests in the statement "I am not — enough". (Fill in the blank). This is an indication that you are holding a mind story of a lack of worth – somehow you believe that you are not worthy of abundance owing to a personal shortcoming.
It flags up a lack of self-value. Any time you don't value yourselves you don't get to see your value reflected back in terms of our prosperity. Kate Northrup says:
"No one will value you more than you value yourself."
So the key here is learning to value yourself. Kate recommends that at the end of every day, pulling out your journal and writing down 3 things you value about yourself, or how you added value to someone else's day.
This could be an act of kindness, a smile. It does not need to be a business thing. Begin to practice noticing your value. You will then start seeing how you can easily add value and therefore recognize opportunities to offer your skills and grow your professional and personal reach. Noticing and adding your value will therefore not only make you a better business person, but also a better human.
3. "I Am Not Good With Money"
This can stem from a childhood belief that you're bad at math, or from a negative financial decision from your past.
This belief becomes your actions, which then becomes your results. It is the self-fulfilling prophecy manifest. By investing in the belief you are inadvertently setting yourself up for failure. What to do?
Take small actions to gradually build up your confidence in your capability to manage your money.
This might be something such as:
Checking your bank balance on a daily basis
Paying attention to your money and making steps to proactively manage it
Make managing your money a conscious choice and build it into your daily routine. Get comfortable with it. To cultivate your ease, get grateful! Gratitude works to remove your fear.
Practice linking gratitude to your finances: while checking your bank accounts name 3 things in your life for which you are grateful. For example, the food you're able to buy or other ways you financially provide for yourself.
By doing this exercise, you are training and rewiring your neural pathways in your brain to associate looking at your bank balance with feeling good.
Self-training to set up abundance!
4. "It's Better To Give Than To Receive"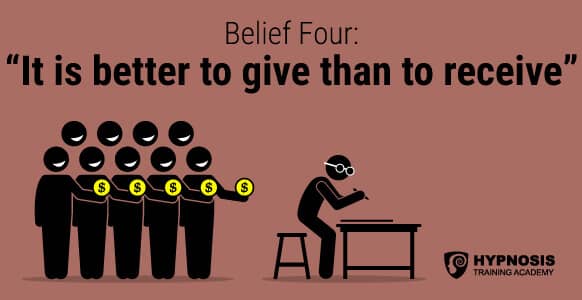 As a professional working within the field of wellbeing, you might be prone to excessively giving. You are not alone – this is a widespread mode of doing life and work. There is a common misconception that to receive is "selfish" and the way to compensate for this is to give to excess.
However, while giving is important – over giving is depleting. Over giving doesn't allow you the energetic or financial reserve to bring your best to the table.
The key to unlearning this is to cultivate a willingness to receive. In her article on money blocks on The Law Of Attraction, Katherine Hurst asks:
"Are you asking the Universe to help you and then refusing what it brings?"
Receiving is often more challenging than giving because it requires a certain level of vulnerability.
Practice your receptivity in small ways: a highly-effective practice is to start with accepting compliments.
Notice what happens internally when someone next pays you a compliment. Do you sweep it aside, brush it off, or make a joke; in some way rejecting what you have been gifted?
Despite the mind's protestations of the gift, practice accepting. No matter what your normal response might be, practice smiling and saying thank you and feel the compliment land. Accept. Receive.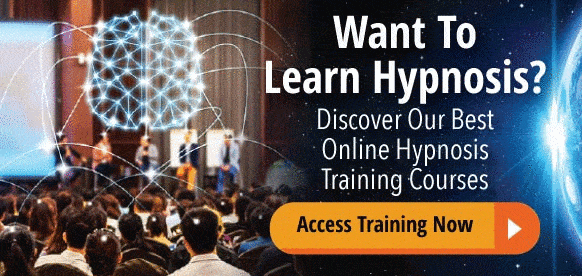 5. "I Just Don't Attract That Kind Of Good Fortune"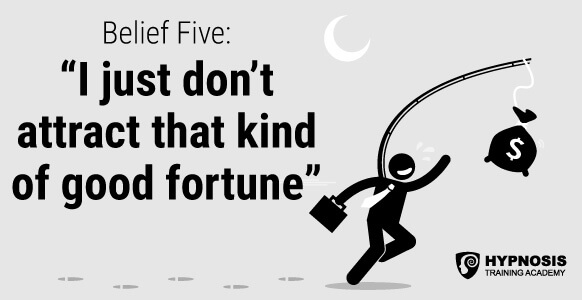 This is the Law of Attraction at work – doubts or low expectations don't set you up to be abundant.
Doubts or low expectations will manifest uncertainty and limited results. Why? Where you put your attention grows.
Put your focus into cultivating prosperity and it will grow. Either way, positive or negative, your focus is fulfilled.
Set your expectations high and make them positive, because according to the Expectancy Theory, you get in life what you expect you will.
This is the psychological definition of the self-fulfilling prophecy. Quoting the Strategic Coach Dan Sullivan in 23 Smart Ways To Increase Your Confidence, Productivity, and Income, Benjamin Hardy's writes:
"Our eyes only see and our ears only hear what our brain is looking for."
As an exercise get super clear on what you want. Be specific about the amount of money you are looking for and be specific about a specific time span.
6. "Money Or Wealth Is Bad Or Unethical"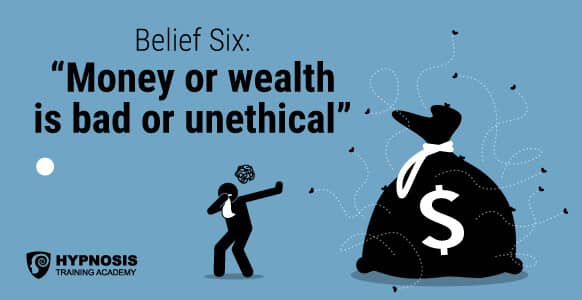 Judgement around wealth and wealthy people is widespread. Perhaps you associate the accumulation of wealth with greed, or a lack of ethics – taking more than your fair share at the expense of others.
While ethics are important, having money doesn't directly correlate with being unethical or greedy. This type of judgment indicates a lack mentality.
If the perception is that you are in some way at a loss this sets up a sense of resentment. Left unchecked the resentment builds into a grievance and hardens the heart to those you perceive at being at an advantage.
The way the grievance seeks to redress this imbalance, the perceived inequality of power, is to make the other (advantaged) party the bad other: cue the judgments. When we judge others, we self limit according to that judgement.
If you believe that those who are wealthy are undeserving and unethical you are blocking money coming to you. In this way, money is a stand in for what you value. Look at charging a healthy amount for your time and skills as an exchange of value. Place value for the service you are offering in what you charge. Remember your exchange is a reciprocal agreement: you are trading value for value.
By valuing yourself, your skills, and pricing accordingly you are adding value to someone else's life. The money you receive is of value to you; the support your client receives is of value to them. Far from being unethical or unspiritual this kind of conscious, value exchange is an ethical trade, a spiritual act.
7. "I Don't Have What It Takes To Be Successful Or Maintain My Success"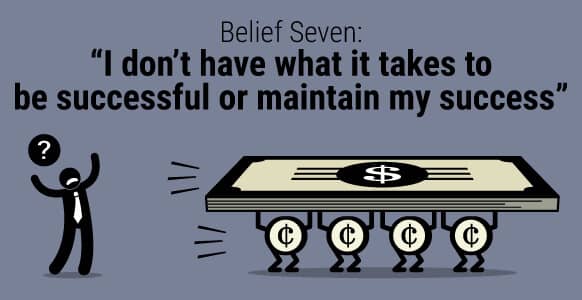 Behind this widely held belief is a fear of success. Because judgements about success and prosperity abound (see point 6) it is common to shy away from success to avoid your own fears of being judged.
Best-selling author Marianne Williamson in A Return to Love puts it like this:
"Our deepest fear is not that we are inadequate. Our deepest fear is that we are powerful beyond measure. It is our light, not our darkness, that most frightens us."
Perhaps your fear of succeeding is more rooted in a fear of change, fear of exposure, or concern than your success won't last – any one of these subconscious beliefs could be sabotaging your capacity to develop and sustain your financial prosperity.
Katherine Hurst suggests the following exercise:
'Write down the anxieties you have about success. For example, perhaps you worry you still won't be happy or aren't responsible enough to have huge amounts of money. […] write down a reason to contradict each of those anxieties, and repeat those positive statements every day.'
Get comfortable with your greatness.
If you want to use hypnosis to help people, make friends with money; get out there, cultivate a good client list and be an inspiration yourself! Effectively by examining and removing the blocks you have around money and finance you free yourself to be fully present to your purpose and will be in a better potential to extend your reach so you can help others.