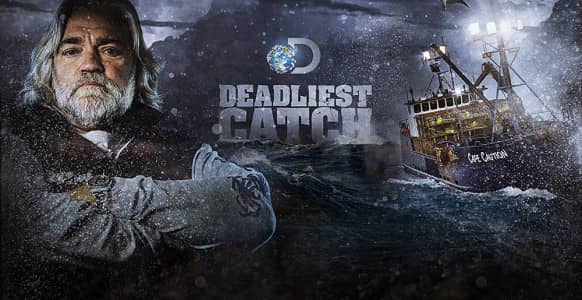 There's a program that comes on The Discovery Channel called:
"Deadliest Catch."
It's a "fly-on-the-wall" program about crab fisherman.
It's a harsh job.
Freezing cold weather.
Fierce competition.
Extreme waves.
Long hours.
And little pay.
The guys that appear on Deadliest Catch are tough guys.
They have to be.
Their "job" demands real men.
I want to tell you about one episode of Deadliest Catch.
There were two rigs at sea.
The crews on each rig were competing with each other for crab.
And the conditions were horrendous. 
The waves were licking up over the sides of the rigs and they were bobbling about in the water like plastic ducks in a white water rafting ravine.
Well on one of the rigs a crew member was hanging off the side of the rig pulling up the crab pots.
The waves were crashing all around him.
Then it happened… 
He was gone.
The freezing waves had swallowed him up.
What happened?
The competing crew on the other rig – who had witnessed the guy disappear into the crashing waves – immediately pounced into action with a rescue attempt.
Luckily they got the drowning man out of the water and onto their rig.
A few minutes longer in the water and he would have been dead.
As it was, his body had gone into shock (because of the freezing water) and his legs kept giving way from under him.
Once out of the water and on the rig he was immediately stripped of his clothes and covered in thick blankets to stop hypothermia setting in.
For a few moments it was touch and go whether or not he'd make it.
But make it he did. 
And then something insightful happened.
The competing crew who had saved the man were overcome with emotion.
Those tough guys were hugging the saved man. 
See they had just experienced something very special in their lives.
They'd done something truly fulfilling – they'd saved a man's life.
No matter how many crabs they'd caught, they'd never feel so fulfilled as they did in that moment.
No matter how much money they made that day, they'd never feel so fulfilled as they did when they saved that drowning man.
There's no way to replicate that feeling of fulfillment other than by helping  someone who is truly in need. 
I wonder how many people you could "save" with your hypnosis skills?
And I wonder how fulfilled you'd feel if you helped "save" someone from a problem or pain every day.
Something to think about, right?