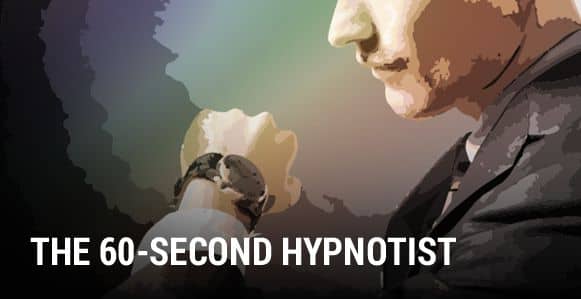 The challenge: how to hypnotize someone in less than 60 seconds.
That's just one measly little minute.
Barely enough time to boil the kettle, and certainly not long enough to boil an egg.
No matter what you're doing, 60 seconds is quick. Whatever the activity, it'll seem like you just got started and then it's over.
That short space of time is enough to accomplish some things, though. And one of those things is…
… to hypnotize someone.
Ironically, it'll take you much longer to read this article than to perform a full hypnotic procedure. Yes, it'll take practice, and yes, there are a lot of separate steps involved. But once you get the hang of it you'll be able to go through the whole process in a flash.
So what exactly does the 60 second hypnotist process involve?
There are 10 different parts to work through, although some of those parts are actually very short sentences. The whole thing starts with your intention. If you're a regular reader you'll recognize that as H+.
Here is a list of the 10 steps with an explanation of what they mean so you know exactly how to hypnotize someone in 60 seconds!
Ready?
1. H+ – Contact – Permission
H+ refers to your intention to do your best for the person you're going to hypnotize. It means getting switched on so you're as positive and energetic as possible. With only 60 seconds to work in, you haven't got time to waste. So you need to jump right in with your mindset already on fire.
To make the process successful in the given time, you need help. Some of that help comes in the form of encouraging your subject to go deeper into a trance as quickly as possible. One way of doing that is by touching them on the arm or shoulder. And that brings us directly to the third element in this stage.
Before you start touching the other person on the arm or shoulder, you need to get their permission. It doesn't have to be in writing, but you have to get it nevertheless. As well as providing you with a simple but effective tool to deepen the trance, it's also the first step in breaking down any barriers they might have. If they give you permission to do that, they'll be willing to give you permission for other things as the induction progresses.
Wow! We're only at step 1, and there are already 3 things to remember. But don't worry. The point is that you'll be doing these 3 things simultaneously. And once you become familiar with the technique you'll do it almost instantly. Here's an example of how this first step might work in practice:
"From time-to-time I may want to touch you on the arm or shoulder as part of the work, is it OK with you if I do that?"
That's it. You've asked for permission to make contact. Just make sure you bring your H+ attitude to the ballgame and everything else should flow smoothly.
2. Induce Trance
The second step is where you quickly induce the trance. You don't need to make a song and dance about it – just go for it. It's really the simplest step of the bunch, so let's look at an example before we get to the explanation.
"Close your eyes and go into hypnosis."
You'll notice that this is in the form of an instruction. You're not asking them to go into hypnosis, you're telling them. We can assume that if they've given you permission to touch them that they're going to continue doing what you say. As luck would have it, that's human nature, which in this case is working in your favor.
At first glance it looks like a pretty innocuous statement. But there's something else going on. Notice the use of the word "and" in the sentence. If you haven't spotted it, this is one of those power words.
It's also a bridging word, linking two things together that might not necessarily belong together. In other words, there's no reason why closing your eyes should make you go into hypnosis. The one thing doesn't automatically follow the other. When you state it like this, however, the unconscious mind gets the message and is coaxed into following along.
3. Deepen The Trance
By now your subject should be well on their way to trance. This is the point where you want to deepen the trance. The deeper they go, the easier it becomes to bypass the conscious mind and get at the unconscious. Unless that happens, you won't be able to address whatever the issue is, so the whole procedure will be pointless.  
If you can count backwards from 5 down to 1, this step is a piece of cake. Your goal is to encourage them to switch off and let the hypnotic process happen. And the way to do it is something like this:
"Now, I am going to count down from 5 to 1, and every count will bring you ten times deeper into trance. 5… 10 times deeper into trance. 4… ten times deeper. 3… 2… 1."
We're about a third of the way through already. The next steps include a couple of Boilerplates, sort of blueprints that can be used over and over from subject to subject without making any radical changes to them. Boilerplate 1 (BP1) covers steps 4, 5 and 6 as follows.
4. Sounds Around You
This is an important stage in the process, particularly when you're performing hypnosis outside, for a social occasion, or at any time when there's background noise. That could be anything from a ticking clock to a passing fire engine to people talking in a corridor or nearby room.
You're trying to achieve two things with this step: you want to use any sounds in the environment to your advantage, and you want to get your subject tuned in to your voice. You can't work with someone who's distracted, so your first priority is to make sure any background noise isn't an issue. You can do that by saying something like this:
"Now, the sounds around you simply allow you to go deeper into hypnosis."
That's the first part of the statement. You're instructing the subconscious mind to either ignore any background noise or to use it as a trance deepening tool. The second part builds on that, directing their focus where it's needed most:
"… and allow you to focus on my voice."
You'll notice the use of the word "and" again to link the two things together. This last piece of the instruction tells them that the most important thing is the sound of your voice, no matter what else they might happen to hear. The Boilerplate continues into step 5, where you quickly reinforce the idea that they must listen to you.
5. My Voice
At this stage in the process you're building up to the point where you can implant suggestions for change. Since your words are all you have to use, it's crucial that your subject listens to everything you say.
That's important because during hypnosis it's possible for them to drift off into a world of their own. And when that happens, they won't be paying any attention to you and might not be able to hear a word you say.
Your goal here is to make a suggestion so they keep listening to your voice regardless of anything else. Here's one way to do that:
"Now, as you experience this state of hypnosis, you will notice that my voice follows you wherever you go, which allows you to hear my voice, and the meaning behind my words."
You want them to be tuned in to your voice and everything you say. But you don't want your words to go in one ear and out the other. So that's why the final phrase instructs them to do more than simply listen – they also need to understand what you're saying. That guarantees that they'll be focusing on your voice and your words.
And that brings us to step 6, the last part of BP1.
6. Safety – Sanctuary
No-one is going to willingly let you do things to them under hypnosis unless they trust you. You need to make them feel safe in your care by providing a simple zone of sanctuary. It doesn't have to be complicated, and in fact, it can be the very chair they're sitting on.
This is vital for two reasons. First, it makes them feel secure. They know that whatever happens they'll be safe with the chair beneath them. Second, this feeling of security gives them the confidence to explore the hypnotic experience without fear or apprehension. You always want to keep the experience positive (H+), and giving them a sense of safety and sanctuary allows the process to unfold in a constructive and uninhibited way.
To provide safety and sanctuary, simply say something like this:
"Feel the chair beneath you, and know that you are safe."
That's all there is to it. The chair works as a physical anchor so they know that, wherever you take them, they've always got a solid base to return to.
Step 7 stands alone, coming smack bang in the middle of the two Boilerplates.
7. Suggestions – Change Work
This is the crux of the whole process, the reason for hypnotizing someone in the first place. Here you can make suggestions based on what your subject hopes to accomplish, which you would have discussed with them before you began the hypnosis. There are too many options to consider in the space of this article, of course.
However, if you wanted to test out some impromptu hypnosis, here's a sample hypnotic gift of what you might say. This is designed to help fellow hypnotists believe in themselves and their power to help other people:
"You know that you are alive, which means that you have an effect on this world, and that means you are learning so much more about hypnosis than you ever thought possible, because hypnosis is an amazing gift that you get to give to others to improve their lives."
This might be a powerful suggestion to use with a beginning hypnotist, or with someone who has doubts about their abilities. Again you'll notice the use of linguistic bridges or linking words (such as "and" and "because") to connect unrelated phrases together.
The next 3 steps form part of the second Boilerplate or BP2.
8. Re-induction
Once your subject is in a trance, you have the power to pass on a couple of amazing and priceless gifts. One is the ability to give their self-esteem a fast and effective boost. The other is the ability to enter a trance more quickly and enjoy their next hypnotic experience more fully.
That's what the re-induction step does. It plants a suggestion in the subject's unconscious mind so that going into a trance will be easier in the future. So that next time a trance is induced it will happy quicker and more effortlessly. And naturally that means their experience will be deeper and more meaningful.
By this time your subject should be deep in a trance, hanging on your every word, and all you need to do is say something similar to this:
"Now, you are in hypnosis, which means that the next time you choose to go into hypnosis, you will find it easier than ever before, and you will have the privilege of experiencing hypnosis even deeper than before."
9. Self-esteem
Wouldn't it be amazing if, as a hypnotist, you could help make the world a better place? Well, listen up, because you can. You can make your subjects feel better about themselves by boosting their self-esteem while they're in a trance state.
As you'll see shortly, it's actually very easy to do. So the question is, why wouldn't you do it? The whole procedure won't take more than 60 seconds from start to finish. If during that time you could increase someone's self-belief with just a few words, you'd be silly not to, right?
You're giving them a gift, as mentioned above, but you're also doing something else. You're using your skill in a constructive and positive way. You're incorporating H+ into your work, not just at the beginning, but all the way through. And that's pretty cool.
How can your words have such a dramatic effect? The reason is obvious. By this time you're actually communicating with your subject on an unconscious level. Tell their unconscious mind how amazing and wonderful they are, and it will believe it. It won't argue or try to analyze your words, because unlike the critical factor part of the conscious mind, it doesn't work that way.
Here's an example of the kind of thing you might say to achieve that:
"Now, you are an incredible person that people love to be around, you make everyone's life better simply by being you. You are a fantastic hypnosis subject, and you can look forward to all the positive changes you have already made in your life."
Think of it as giving them a mental pat on the back, encouraging and motivating them at the same time.
10. Re-emerge – Good Work
This is the final step in the process where you bring your subject out of trance and back to normal consciousness.
Your aim here is to do 2 things: to help them safely return from the hypnotic trance, and to reinforce the experience. Some people will refuse to believe they've been hypnotized. Telling them how well they did confirms that they really were under hypnosis, which will also make any suggestions you made more effective.
This step is like the opposite to step 3 where you deepen the trance. To help them re-emerge from the trance, you should count from 1 up to 5. It's also a good idea to include a few positive words to give them a sense of accomplishment.
Here's an example of how that might be done:
"Now, in a moment I am going to count from 1 to 5, and when I reach 5, you will open your eyes, feeling refreshed, relaxed, and absolutely fantastic. 1… 2… 3… energy flowing back into your arms and legs. 4… becoming present, and 5… you are fully present, relaxed, and feeling totally fantastic. Welcome back, you did a great job!"
And there you have it. It took more than 60 seconds to get through it all, but it won't take any longer when you put it into practice.
Just read the bits of sample suggestions you'll find in each of the steps and you'll get the idea. Typed up on their own, they'd probably only fill about half a page or so. There really isn't very much to it at all.
Practice it on people you know in the same way that you might rehearse a speech. Get it down pat so you know exactly what's coming next and what you're going to say. Then, go out and use it.
While you're at it, why not give yourself a challenge? See how many people you can work your magic on in one minute or less. The more you do it, the easier and more natural it will become.
And, oh yes, the more impressed people will be with your hypnotic powers.