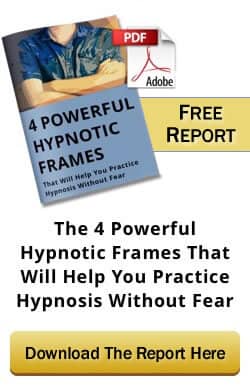 It's the one thing that stops many hypnotists dead in their tracks –
fear of failure.
But the fact is: failure is unavoidable when you start practicing hypnosis. Just as it is when you learn any new skill.
However, by using powerful hypnotic frames to set up the right conditions for hypnosis to take place, you reduce the chances of things going wrong from the get-go.
To discover 4 powerful hypnotic frames to help you practice hypnosis without fear, why not download our free report.
This report will show you how to manage a very common fear-inducing situation and give you 4 simple yet powerful hypnotic  frames that'll build up your skills and confidence…
Curious to discover more? Get instant access to our groundbreaking home study program, Practicing Hypnosis Without Fear.