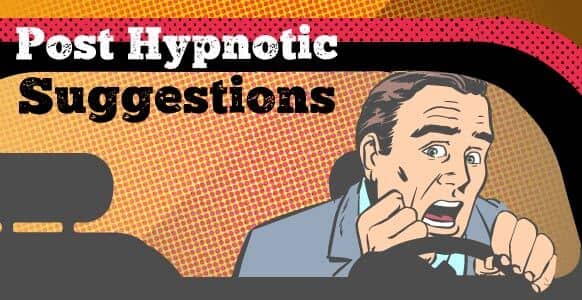 NOTE: This article was originally published in October 2014, but was significantly updated on 7 October 2016 to include more in-depth information on how to create a powerful post hypnotic suggestion.
If you're struggling to help people make positive changes through hypnosis, then this may be one of the most important things that you ever read.
Here's why:
Post Hypnotic Suggestions are possibly one of the most misunderstood aspects of hypnosis…
A lot of hypnotists are afraid to use them in case they fail.
Others are unsure of when's the best time to use them during a session to increase their chances of being accepted or acted upon.
Or for others, their results are hit and miss. Leaving them to scratch their heads while they try to discern why.
Yes, it's true. Post Hypnotic Suggestions are just one tool in your hypnosis tool kit.
But they just happen to be a really important tool.
Think of it this way: a hammer is just one tool, but without it, you can't build a house. The same can be said for Post Hypnotic Suggestions.
In this article, you're going to find out why many Post Hypnotic Suggestions fail to deliver the goods (especially if they're the only tool you use in a session).
And more importantly, you're going to find out how to make yours dance with your subject's unconscious.
But first thing's first, here's a rather unusual story for you.
Milton Erickson had a subject with a horrific driving phobia. We're not talking about a run of the mill fear.
This man couldn't leave the city limits without passing out or vomiting on himself.
For lack of better words, this guy was stuck.
Can you imagine being so scared that you couldn't even leave the area you live in?
It begins with a feeling of sheer terror exploding in your chest.
You freeze in your tracks like a deer caught in the headlights.
Your nervous system shuts down and you pass out.
This was down right sheer terror. Mixed in with utter humiliation for vomiting on himself.
So what Erickson had his subject do to get over his phobia was really out of the ordinary. But you'll find out more about this in a few minutes.
But first…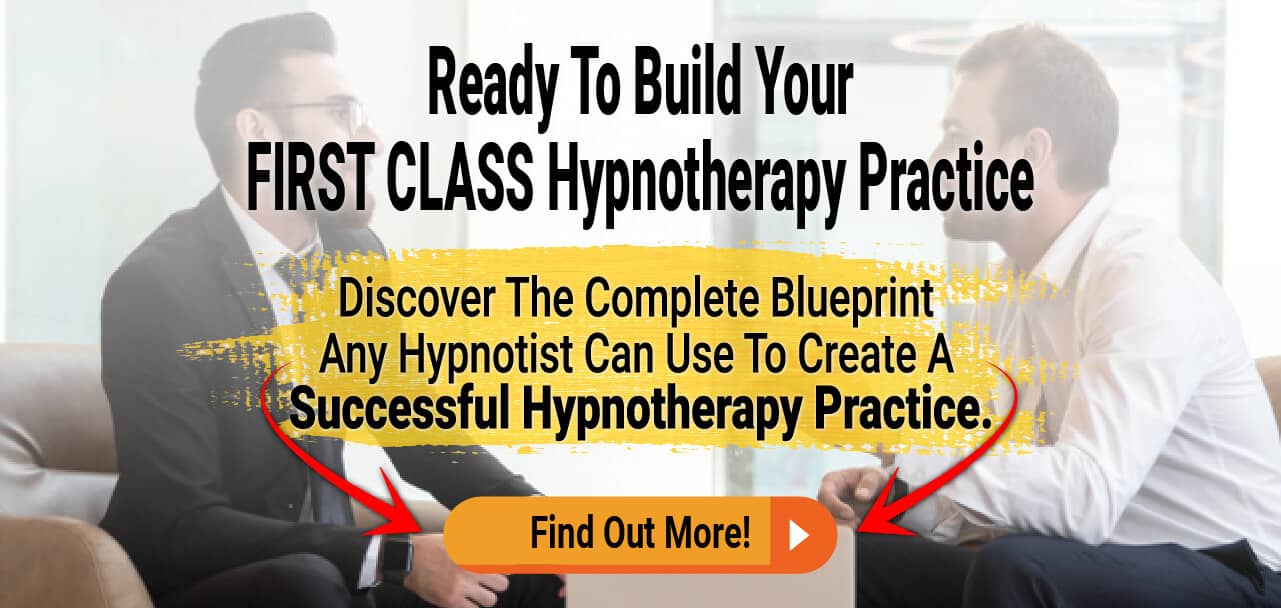 What Is A Post Hypnotic Suggestion?
A post hypnotic suggestion is given during a hypnotic trance to be unconsciously acted upon out of hypnosis.
It's a powerful instruction that causes you to act in a certain way. And even feel a certain feeling, or do a specific behavior.
For example, in a smoking cessation session, you might give the following suggestion:
"Every time you see a stop sign when driving, you will take a deep breath and realize how good the clean air feels in your lungs as you stop the car."
But one thing that's important to remember when using Post Hypnotic Suggestions is:
Not all Post Hypnotic Suggestions are created equal.
There's a fine line between an artful Post Hypnotic Suggestion a person feels compelled to act on…
And one to jump with joy over.
Worry not, as you're about to discover what this fine line is.
Before you uncover the 11 Secrets to Powerful Post Hypnotic Suggestions, we need to lay it down some groundwork.
So let's pause for a second… and peer into Erickson's thoughts on the subject at hand.
Erickson was a firm believer in inducing amnesia, which is why he used to tell so many nested loops…aka stories inside of stories.
By doing this he'd "sandwich" all his Post Hypnotic Suggestions inside these stories. By the time a session was complete, his suggestions were so deep in a person's unconscious.
This was the first part in his 2-step process for creating Post Hypnotic Suggestions.
Ask any hypnotist and they likely know this.
What they don't know is how Erickson got the person to "lock" in these Post Hypnotic Suggestions.
It wasn't anything he said that caused these suggestions to lock into place.
Virtually 99% of hypnotists (and NLPers) have been looking over the one thing Erickson did to "lock in" Post Hypnotic Suggestions.
This is because they place too much importance into what Erickson said, rather than what he did.
By the end of this article, you'll know what this simple secret is when the full story about the guy with the driving phobia is revealed.
In the meantime, let's get cracking.

Want to make your post hypnotic suggestions even more powerful? Choosing the right words will empower you to do just that. Pick up the Free Report on How To Become A More Dynamic Hypnotherapist Using The Power Of "Hot Words" here.
What Does It Feel Like To Carry Out A Post Hypnotic Suggestion?
Picture this: It begins with a feeling and an overwhelming urge to complete some task.
It may feel as if someone else is doing it. It's an automatic feeling.
Think about it this way – it's as if someone else is driving your car for you… while you're in the driver's seat.
All the while it's like you're on autopilot.
What makes this so special?
Well, for starters, you can help people to stop unwanted behaviors… and start good behaviors.
But here's where things get interesting – Post Hypnotic Suggestions are only as powerful as you allow them to be.
Which leads us to the next point, which is…
Post Hypnotic Suggestions By Themselves Aren't Good For Therapy
Post Hypnotic Suggestions should only be used to complement good hypnotherapy techniques and practices.
Often much more therapeutic work needs to be done in order for them to be effective.
This is because it's not enough to just point out the negatives of a behavior.
For example:
Let's say you were to give a smoker Post Hypnotic Suggestions playing on the fact that cigarettes taste gross and are damaging to their health…
This is all fine and dandy, except they won't have a lasting effect.
Why?! You might be scratching your head wondering.
Everyone knows that smoking is bad for their health. And that cigarettes leave you with an aftertaste not dissimilar to sucking on a car exhaust pipe!
But despite knowing and experiencing these things, people continue to smoke anyway. The same is true for people who have unsafe sex. They know the dangers – but their desire is greater.
So for your suggestions to be effective, you've got to hit them at an identity level.
Reason being: your subject's identity – the way they think and feel about themselves – is the most important characteristic of their personality.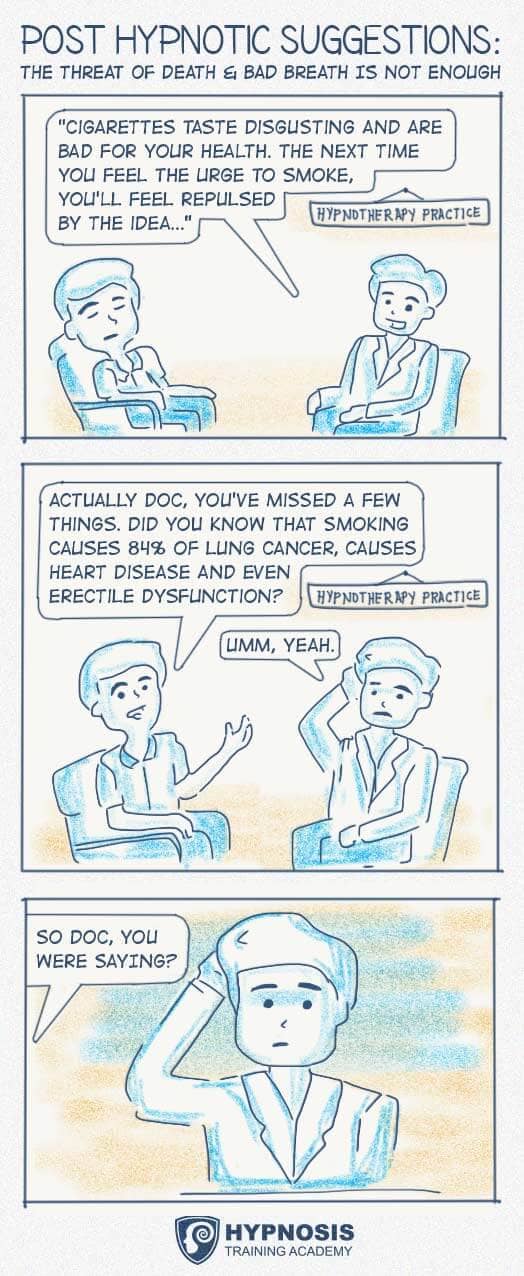 Some examples of positive identities include being a compassionate and giving person, being loyal, being a force for good in the world.
Whereas negative identities, could be anything from being a person who wins at any cost, to being a tough guy, a bully or a persistent know-it-all.
So for your Post Hypnotic Suggestions to be effective – you need to shift a subject's identity during the hypnosis session.
For example: from being "I'm a smoker" to "I'm a non-smoker." Until then, a Post Hypnotic Suggestion simply won't stick.
But one thing's certain: once you do shift their identity, you can craft insanely effective Post Hypnotic Suggestions that have the power to make positive changes.

A big part of crafting effective Post Hypnotic Suggestions are the words you choose to use. Get the FREE Report on How To Become A More Dynamic Hypnotherapist Using The Power Of "Hot Words" here to create even stronger Post Hypnotic Suggestions.
11 Secrets To Powerful Post-Hypnotic Suggestions
1. Establish The Outcome
You need to discover what your subject wants. Or otherwise put: the reason they're really coming to you for.
For example, do they want to learn better eating habits, to quit smoking, or overcome a lifelong confidence issue that's been plaguing them?
And have they come to you because they really want to change – or are they reluctantly sitting in front of you because someone else put them up to it?
If it's not their desire to change, send them on their way. Experience has shown that no one changes unless it's their decision.
With most of your subject's success hanging in the balance here, you need to take your time to work out the end goal – and any beliefs that might get in the way of your suggestions from sticking.
Dig into your conversation with your subject.
Because without a solid outcome in mind, no amount of Post Hypnotic Suggestions will take root.
A solid outcome is like a map that will help guide your subject to their destination. And the Post Hypnotic Suggestion is the GPS that keeps your subject on track.
2. Flip Your "Intent Switch" (Your H+) On

, which is a term and philosophy that's unique to the Hypnosis Training Academy, is your desire that your subject has a wonderful and successful hypnotic experience – before any hypnosis begins.
When you hypnotize someone, you should have your

state of mind active. This communicates to your subject on a non-verbal level that great things are about to happen.
If you start a session feeling distracted, lethargic or emotionally in a bad place – your subject will pick up on this – whether consciously or unconsciously.
This is why

goes hand-in-hand with "going first" – because once you set the right intention for the session, your next job as the hypnotist is to "feel" this intention.
This may involve putting yourself in a "success trance" before you even begin working with your subject. The benefit? It in-turn signals to your subject to follow suit.
If you're feeling confident, sending them positive vibes and compassion, they're going to pick up on this.
But if your mind is elsewhere and you're feeling like you want to wrap the session up as quickly as possible as you have a lot on that day… guess what? They're going to sense this, too.
3. Reach Into Your Hypnotic Toolkit
If there are any objections to the positive change work you're trying to achieve with your subject, you'll need to do some therapeutic work.
An example of an objection might be that your subject doesn't feel safe or that they believe hypnosis won't work for them.
Another example might be that deep down they don't feel like they deserve to be successful, or have some other limiting belief on standby ready to sabotage the session.
Take your time and don't rush, therapy doesn't have to be done in one session. You have lots of tools available to you as a hypnotist to elicit and resolve limiting beliefs.
Here are a few of them:
Regression therapy – accessing past experiences where the limiting belief was created, and then helping the person resolve their issue.
Reframing – helping your subject see their situation from a different perspective than what they thought was possible. Simply put, opening up their choices.
Revivification – helping your subject access resources from their past that can be linked to the current problem to resolve it.
Reintegration – if your subject has a "parts conflict" – where one part of them wants the change, but another part of them doesn't, you can help them reintegrate and dissolve the limiting belief.
4. Exercise Your ABS
Not your belly abs, but your hypnotic ABS. The ABS Formula is one of the best ways to get your subject into a trance. And this tried and true formula can be summarized as:
A – Attention: Absorb your subject's attention
B – Bypass the critical factor: Bypass the mindset that tends to say "no!" and reject new ideas
S – Stimulate the unconscious mind. You're getting the unconscious mind to perform the actual change work. This will help you to get your subject's unconscious on board with your suggestions.
AKA get them into trance. And not just any trance. But a trance where their unconscious is ready and willing to help them change.
>>RELATED: For an in-depth breakdown of the PCAT Formula, check out: The Hypnotist's Guide To Trance: What It Is, How You Can Induce It & 7 Signs That Show You It's Happening.
5. Develop A Hypnotic Context
This is about getting your subject to respond to you unconsciously. If they're not responding to you unconsciously during your session, how do you expect them to follow up on any of your Post Hypnotic Suggestions afterwards?
HINT: Follow the Law of Successful Approximations. Long story short… work on getting small successes from your subject.
In essence, you're getting micro-commitment from your subject's unconscious.
You're reinforcing to your subject to become more responsive and to drift into trance.
Behavioral research has shown that tiny changes over time work much more successfully than trying to make a big change all at once.
For example, when working with a subject on modifying their eating habits, rather than throwing out everything they're doing and putting them on a diet – it's much more effective to start adding healthy foods one at a time.
And then over time, changing another small thing, then another manageable thing.
What you'll often find is that over a period of 6-12 months they would have achieved the results they were looking. This is because the changes were so small it became fairly easy to incorporate them into their life.
The same is true with your hypnosis subject.
If you create your hypnotic context slowly, letting your subject drift into trance easily, they won't have any resistance.
And the benefits here are two-fold: you'll be more effective and your subject more comfortable.
The words you choose to use with your hypnosis subject make all the difference when you're looking to help them change for the better. So pick up this Free Report on How To Become A More Dynamic Hypnotherapist Using The Power Of "Hot Words" here.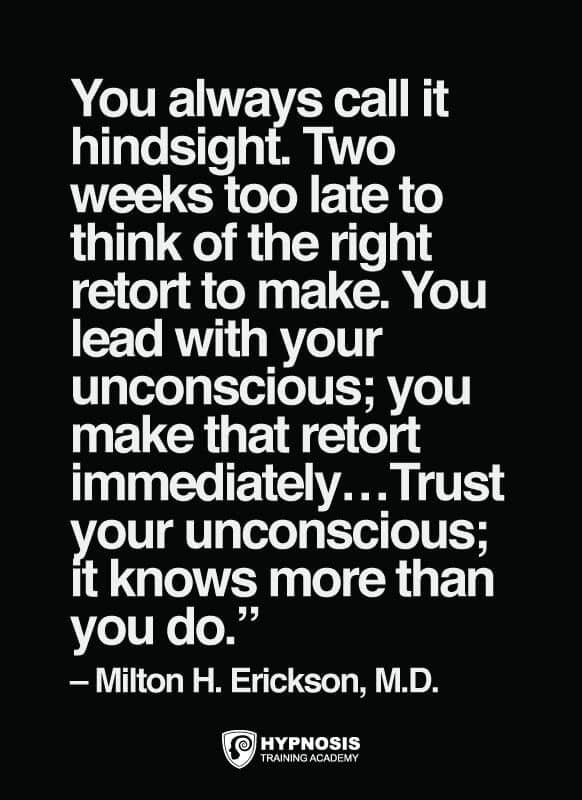 6. Define A Clear Behavior
This can either be an internal or external behavior and or experience.
Think of this as a thought, feeling or even a perception.
You want to create this behavior as a Post Hypnotic Suggestion in accordance and acceptance of where your subject wants to be as a result of the session. Which you would have determined earlier in your opening talk with them.
For example, if the subject came for stress relief, you want to create a behavior that would be harmonious with someone who's peaceful, yet alert and able to handle what life throws at them easily.
An external behavior can be as simple as your subject closing their eyes and drifting back into trance when you say, "Sleep now."
This Post Hypnotic Suggestion is very valuable when you're doing multiple sessions, so that they automatically go into trance when you give the suggestion, "sleep now" – rather than having to go through an entire trance induction every time they come to see you.
You can suggest your subject to:
Experience something, such as time slowing down or even speeding up.
Do something, such as an external behavior. For example: your subject stands tall and smiles in a confident manner when they see someone they find attractive.
Feeling or sensing something, such as a sense of calm or confidence flooding through the body.
You can access resources from their past and really revivify the feeling of being calm and confident so that the emotion is strong and can be used as a trigger.
Think of a particular thought…this one is pretty straight forward. If an unwanted thought enters the subject's mind, you can have them rehearse a thought that counteracts it to create a positive state instantly.
7. Attach The Behavior To A Trigger
Think of this as a cause and effect relationship. When X happens Y will happen.
The trigger can be something in the external world, that when the subject sees it, hears it, or feels it – the new behavior you've installed with the resources automatically kicks in.
For example:
For a man who wants more confidence around women:
Anytime you see an attractive woman, you'll smile and radiate confidence
For someone who has a fear of talking to strangers:
Anytime you walk through a group of strangers, you'll take a deep breath and become filled with confidence.
For someone who beats themselves up mentally:
Anytime a negative thought creeps into your mind…you'll instantly recognize it and drain its power away…and begin thinking positive thoughts instantly and automatically.
You may wonder why you have to attach a behavior to a trigger.
It's simple.
You need a certain context for this behavior to occur in. You don't want it to activate all willy nilly.
You wouldn't want to go around beaming with confidence and a big smile on your face 24/7. For one reason (among many), it would be inappropriate to smile at every situation.
Such as a sad event, or when your boss is giving you negative feedback!
So the above 7 steps are the basic foundations of any good Post Hypnotic Suggestion. Follow them and watch how more effective your suggestions become.
But wait. Didn't the headline promise 11 Secrets?!
Ah yes, you read that right. Keep reading as the 4 bonus secrets below will supercharge your Post Hypnotic Suggestions.
8. Gain Acceptance
No matter how carefully crafted your Post Hypnotic Suggestions are, there is one rather large variable that could stand in the way of their success… your subject's unconscious.
So you need to be able to assess: Is your subject's unconscious going to accept your suggestions?
But before you do, let's first explain why a Post Hypnotic Suggestion might not be accepted.
The simplest answer is because the unconscious has some kind of block or objection to it.
There might be a secondary gain (an indirect or hidden benefit).
If the unconscious is not on board, then it's likely to sabotage any positive suggestions.
The solution is simple.
Ask them (or get an ideomotor finger signal) if they accept and are willing to act on the suggestion.
This is because all behaviors and emotions are held at the unconscious level. So it's critical that you have the unconscious mind working with you for the betterment of your subject's wellbeing.
The unconscious mind always does what it thinks is best for the person. All negative behavior has a positive intent.
So having your subject's unconscious mind accept your suggestions ensures that it's working with you and your suggestions will be followed.
If their unconscious isn't willing to act on this suggestion… go back to step #3. Rinse and repeat.
You can also ask the unconscious what its resistance to your suggestion is – as often – it will actually be able to tell you. You can then do more work to dissolve the limiting belief until you get acceptance from your test.
9. Get Your Subject To Rehearse Your Post Hypnotic Suggestion
In some cases, you may want to have your subject rehearse your suggestion with their eyes open.
For example:
In a moment when you open your eyes you're going to take 3 deep breaths and say to yourself I'm relaxing. When you do this, you'll come right back to a nice deep level of trance.
Then have them open their eyes and rehearse this suggestion until they go back to a deep level of trance. This is a nice way now, and in future sessions, to get them into trance quickly.
Getting the hang of it? Here's another example just in case:
Whenever you scratch your right ear you'll feel a rush of confidence filling your body. Let's play with this. Go ahead and scratch your right ear and notice the rush of confidence.
Then have them open their eyes and act out the suggestion.
In most cases, however, your hypnotic suggestions are rehearsed while in trance with their eyes closed.
While rehearsing, you should also get your subject to…
Access the resources you elicited earlier
See themselves in what was the problem situation (using their new resources)
Feel the new feelings they now while in the situation
Research shows that repetition is key. Repetition is key. Repetition is key!
So with this in mind, you really want to do a Hypnotic Blitz with your new resources and suggestions over and over and over again. This is often referred to as "Blackjack" in the hypnosis world – repeat the blitz up to 21 times!
Research shows that repetition is key. Repetition is key. Repetition is key!

Ever heard of "hot words" before? These are words that bypass your subjects critical mind so you can access their unconscious with greater ease. Find out about how to use them in this Free Report on How To Become A More Dynamic Hypnotherapist Using The Power Of "Hot Words". You can pick it up here.
10. Build A Self-Feeding Suggestion Loop
This step utilizes the Law Of Compounding Effect. Which, in other words means: create a Post Hypnotic Suggestion that piggybacks off of a previous suggestion.
This is because: The more suggestions you give someone, the more you'll reinforce all the previous suggestions. And the stronger these suggestions will become.
For example:
You're a non-smoker and you're happy.
This simple suggestion has more power than meets the eye.
This is because the unconscious thinks:
But then if you then add:
You're a great person, it reinforces the fact that they are a non-smoker and that they are happy. And that they're also a great person!
Now if you were a smoker feeling pretty desperate to give up, doesn't this new identity sound pretty good? See how hitting them at the identity level feels more enticing that just saying "smoking is gross."
Here are some other examples…
Whenever you hear your cell phone ringing you'll feel waves of confidence flooding your body…and you'll be filled with happiness at how easily and automatically this happens
When you first wake up in the morning you'll feel a rush of energy when you get out of bed…and you'll look forward to following this suggestion every morning.
11. Induce Amnesia
Research shows that amnesia (helping your subject forget about the Post Hypnotic Suggestion) can make the suggestion even more powerful.
Amnesia can sometimes help lock the suggestion deep in the unconscious. This is what makes amnesia such a powerful tool.
The reason for inducing amnesia is because: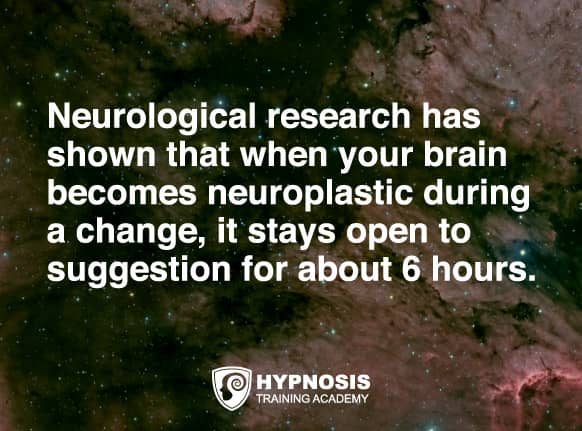 IMPORTANT NOTE: Any anti-suggestion to what you've given as a Post Hypnotic Suggestion, if given within that 6 hour period, can negate the success of the suggestion.
For example: At the end of your hypnosis session, before you bring your subject out of trance, give them a suggestion such as:
You'll only remember the suggestions you've been given after a good night's sleep. And as you sleep, you may dream, a wonderful dream, that will allow your unconscious mind, that magnificent, unlimited mind, to accept these suggestions even more deeply and apply them in your life effortlessly. And when you awaken in the morning, you'll see a brand new day of unlimited possibilities, feeling refreshed, alert, excited to meet your new life.
When you bring your subject out of trance, immediately change the subject, ask them the time, comment on their shoes, add some humor, anything to distract them from the session. This helps cement in the amnesia.
IMPORTANT NOTE: Only induce amnesia if you don't need them to voluntarily trigger the suggestion! Using amnesia as a technique to solidify your suggestion will only be effective if you don't need them to rehearse the suggestion. If they rehearse the suggestion, they'll remember the suggestion.
The Mysterious Mind Of Milton Erickson
Now, going back to the story we mentioned earlier. The one where Erickson helped his subject overcome a rather extreme driving phobia.
You'd probably agree that the method Erickson used was not exactly orthodox.
But there's a good reason for this. Erickson knew he'd have to pull out all of the stops.
Which is why he told his subject to wear his best suit and to drive towards the city limits.
If the subject started to get faint and light headed, he was to turn off the engine and coast to a stop.
Then he was to get out of the car and lie in the ditch until he regained consciousness… all the while wearing his best suit!
Can you imagine recommending that to a subject!?
But this story fits in perfectly with the unique and wonderful world of Milton H. Erickson.
Strange stuff always seemed to happen when Erickson was around. And what happened to his subject was just short of a miracle.
As this guy drove towards the city limits, he became really annoyed at Erickson.
How dare Erickson suggest that I get my best suit dirty by lying in a ditch?!??
As the man's anger continued to brew, he drove right through the city limits without even noticing.
He had been so busy fuming over Erickson, his problem disappeared into the background, along with the city limits.
Did you catch what Erickson did?
Instead of giving his subject a lame duck Post Hypnotic Suggestion, he gave him a simple task to complete.
It's as if the subject was giving himself his own Post Hypnotic Suggestion.
Erickson was well known for giving his subjects tasks to do (Ordeal Therapy).
These real world tasks often triggered Erickson's Post Hypnotic Suggestions.
This was the second part of Erickson's strategy for creating powerful Post Hypnotic Suggestions.
But for those of you who don't want to resort to the same methods as Erickson did, here are two slightly more practical examples of real world tasks:
Example 1: If you're working with someone who wants to exercise more, get them go for a short walk in the evening (if their location and health permits it).
Each time they see a house with a green roof (PHS), a rush of enthusiasm and energy (resource) will come over them and they'll want to walk another block or two before returning home.
Example 2: A subject has come to you to build up their confidence when talking with strangers so they can promote their business.
Give them the task of going to a new networking meeting every week. When they see the first dark-haired man, their confidence rushes through their entire body (resource) and they feel great camaraderie toward the people in the room.
Almost as if they'd known them their entire life (PHS). So much so, they then walk up calmly and introduce themselves to someone new.
So what does this all mean?
If you want to make your Post Hypnotic Suggestions even more powerful…all you need to follow the simple steps above. Because once you do, you'll begin to wonder how you ever practiced hypnosis without them.

NOTE: When using Post Hypnotic Suggestions, you'll also want to make sure you choose your words for maximum effectiveness. This FREE Report will help you do that. Pick up the Free Report on How To Become A More Dynamic Hypnotherapist Using The Power Of "Hot Words" here.
Use them with what you've learnt in this blog post and won't be long before your subjects are singing your praises to their friends, family and co-workers.