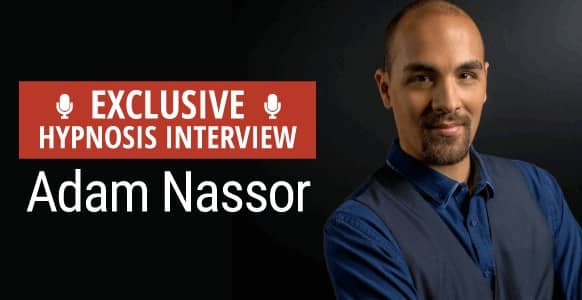 In this interview with a hypnotist, you'll get to know the fascinating hypnotherapist, mentalist and coach, Adam Nassor.
Adam specializes in working with memory reframes to solve blockages, fears and bad habits. He also has another incredible skill – hypnotic mind reading.
Born with Asperger's Autism, Adam had to teach himself the principles of human interaction. He learned how to understand subtle signals, body language and facial expressions.
Using his gift for heightened learning, Adam developed a number of programs to help others "crack the code" of accessing the unconscious mind through a unique method called 'cold reading', which is a version of hypnotic mind reading.
After being featured on Austrian national TV, Adam's practice got a rocket start. Today, Adam uses his skills as a hypnotherapist, coach and speaker to open people up to their own miracles. He is based in Vienna but trains and coaches around the world.
Ready to discover how Adam combines mentalism with hypnosis to help his clients experience life changing transformations?
Then make sure to listen to this uplifting interview with Adam. Go ahead and hit the play button now.
---
Listen to part 2 of the interview now by logging into your Members Area
Not a member?
Get Access To Part 2 Of
This Inspiring
Hypnosis Interview Here
To listen to Part 2,
register below to get your
complimentary Silver Membership today.