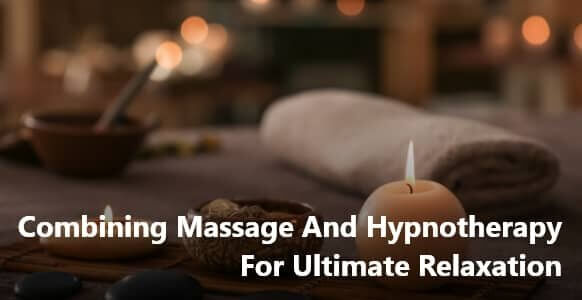 Looking for the ultimate in relaxation?
It's a common theme in today's fast-paced society: the need to deal with anxiety and stress.
And it's become even more prevalent since the outbreak of the COVID-19 pandemic.
Some countries are finding themselves under acute financial pressure as well.
People are struggling to make ends meet, with stress levels going through the roof.
With so much to worry about, it's only a matter of time before you end up feeling vulnerable and like things are out of your control.
No wonder switching off can be such a challenge.
That's why combining massage and hypnotherapy makes such good sense.
Also called Hypno Massage, it's a technique that blends together massage and hypnotherapy to help you relax, refresh yourself and rejuvenate from the inside out.
It works by encouraging relaxation through the application of the two types of therapy.
Massage is a well-known way to achieve relaxation by manipulating the soft tissue with the hands and fingers, particularly effective at relieving stress and aches & pains.
Hypnosis is a tried and tested method for achieving total body and mind relaxation using sophisticated hypnotic techniques including visualization and Dynamic Mental Imagery.
The idea is to undergo hypnosis while having a massage, letting you enter a deep state of relaxation that allows for communication with the unconscious mind.
This is what certain experts describe as the "healing powers of touch" – enhanced via hypnotic trance to produce a powerful mind-body connection.
In that sense, Hypno Massage gives you the opportunity to let go of any physical, mental and emotional issues that are holding you back.
So how exactly does it do that?
How Does Hypno Massage Work?
Before your session begins, the therapist will ask you a few questions to find out what your needs and goals are. This helps them structure the session to meet your particular requirements.
Then, while you're starting to relax during the massage, the therapist will speak to you, using hypnotic suggestions to help relax your mind.
Depending on what your needs are, it's likely that the therapist will lead you on a hypnotic journey.
It will probably involve visualization to help you tackle any issues that are causing you concern and to enable you to heal any trauma.
During the process you'll remain completely awake, moving deeper and deeper into profound relaxation.
In a normal hypnosis session, the therapist is unlikely to touch you, although you might notice the occasional tap on the shoulder.
So the relaxation you experience comes from shutting out the everyday world and letting your unconscious mind take control.
With massage, of course, the whole idea is for the therapist to manipulate your muscles, to loosen knots and get rid of stress points.
When you combine these two disciplines, then, it makes perfect sense that you'll be able to achieve levels of relaxation beyond your wildest dreams.
The results show that people have been able to release pain and resolve trauma to such an extent that they felt a great weight had been lifted from their shoulders.
It's not just relaxation per se that you'll get out of it but more of a balanced healing experience.
That's how it works in a nutshell, but what else can it do for you?
The Benefits Of Massage Therapy
Just like a normal hypnosis session, massage therapy should be tailored to meet your personal situation, making sure you get as much out of it as possible.
Here are just a few of the many benefits you might enjoy:
The technique can also help with management of high blood pressure and IBS (Irritable Bowel Syndrome).
Plus, it can help you stop smoking, control your weight more efficiently and overcome insomnia.
This is not an exhaustive list and most people will not need to work on every one of these areas.
That's why it is important to chat with the therapist before the session to clarify exactly what you're having trouble with.
Then, he or she can customize the session in order to make sure it matches with your criteria and gives you maximum benefit.
As you know, hypnotherapy is the use of hypnosis as a therapeutic tool to treat various symptoms and conditions.
It works because hypnosis is a powerful way to access your unconscious mind and tap into your own inner resources.
When you do that, you're able to facilitate healing from the inside out, with results that are nothing short of life changing.
And if you've been following or studying hypnosis for any length of time, you'll known it's a fantastic way to get rid of stress and encourage relaxation.
That's the key behind this whole relaxation thing: you can't be stressed when you're relaxed. It's simply impossible.
Every hypnosis session begins with an induction phase, where the hypnotist helps you slow down, relax and shut out the outside world.
Many people find it helpful to close their eyes and focus on their breathing.
Then the hypnotist will guide them into an even deeper state of relaxation that lets them communicate with their unconscious.
That's the point when the real work of the session begins, as the therapist puts forward suggestions to help you overcome whatever issues are holding you back.
Why is relaxation such a big deal?
After all, a little bit of stress is a good thing, keeping you on your toes.
Too much stress, though, and everything goes belly up.
Your heart rate increases, your body shoots out extra hormones, and your blood pressure starts climbing.
If that goes on long enough it can lead to some serious health issues, including:
Headaches
Lethargy
Chest pain
Colds and infections
Difficulty sleeping
Lack of concentration
Panic attacks
High blood pressure
Depression
An excess of stress makes it difficult for you to make good decisions. And you can't possibly focus on the job at hand if you feel you're on the verge of a panic attack.
Imagine trying to solve problems or gain insights when you've had blinding headaches, very little sleep and you just can't seem to focus on anything.
That's why relaxation is so crucial, for your mind and your body, especially when times are hard and you need to make important decisions.
Hypnosis lets you go inside yourself to access your own set of resources. And once your unconscious mind knows what you want to achieve, it goes to work helping you achieve it.
There is plenty of scientific evidence to back this up as well, which you can find out more about by reading the Hypnosis Training Academy article below (scroll down to the section titled How The Science Backs Up Hypnosis):
Is Meditation Or Hypnosis Better For Goal Setting, Success & Stress Relief?
How To Combine The Two Therapies For Maximum Benefit
As pointed out in this online article, the combination of massage and hypnotherapy makes it possible for your body to "explore, address and release blocks, anxieties and traumas".
The hypnotherapy element allows you to engage your unconscious mind, the place where your memories and experiences are stored.
That's why it's possible to heal yourself from the inside out, as the expression goes, using your unconscious to help get relief from pain and long-standing health issues.
But people also have muscle memory, which is why the physical touch of a massage can help to ease physical pain and stimulate healing on the outside.
The whole thing results in what you might call a deeper and more comprehensive mind and body relaxation.
Either technique on their own has the potential to promote a reasonable amount of relaxation, but together they pack a much bigger punch.
When combined, it's possible to work on issues through the use of body metaphors, which help you attack the problems from both a physical and psychological level.
For example, if you're experiencing shoulder pain, a metaphor might be that you feel as if you're carrying the weight of the world.
If you've got a sore back, perhaps you feel like you need more support in certain areas of your life.
Likewise, if your jaw is aching or tense, you might be unable to express your true feelings – metaphorically, that is.
Using metaphors like this stimulates your imagination and gives you a symbolic representation of your problem, making it easier for your unconscious to digest it and begin the healing process.
What To Expect During A Hypno Massage Session
Naturally, the treatment involves a mixture of two disciplines, so you can expect to enjoy the benefits of both.
As mentioned above, your therapist will ask questions to find out about your needs and goals.
In some cases you may be required to fill in some type of an an intake form so there is a written record of everything you discussed, a good idea if you need follow-up treatments.
During the session the therapist will spend a lot of time talking to you, planting suggestions in your mind and using metaphors to help engage your unconscious.
It may be that your therapist does the massage in person while the hypnosis element is recorded, in which case you can simply lie down and listen to it.
Each technique complements the other, as the massage element may help you relax more quickly so the hypnosis can get to work faster.
It's thought that a more suggestion-based hypnotherapy approach works better in this particular treatment scenario, since you'll be lying down in order to undergo the massage aspect and more or less immobile.
You can also expect the suggestions and metaphors to be positive and encouraging, stimulating your imagination and helping to access your unconscious so that it is open to new suggestions.
As your session comes to an end, there are three possibilities as to how it might be brought to a conclusion: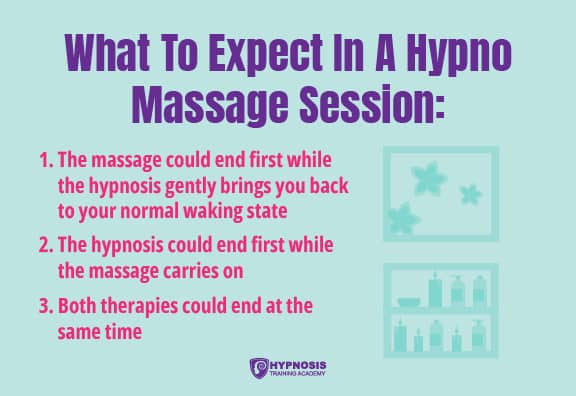 It's likely that the therapist will go through some kind of reawakening protocol to make sure you are fully revived.
This is important to remove any unwanted suggestions as well as to reinforce positive suggestions.
When the session is over, you might not be able to remember everything that you've heard. But don't worry: that is normal and nothing to be alarmed about.
Any important information will already have been absorbed by your unconscious mind, which will have already started working towards your goals.
According to the website of the Hypnotherapy Directory in the UK, hypnotic suggestions given during a massage can result in a "profound hypnotic experience".
The site adds that massage helps to bring these suggestions to life by "stimulating the auditory and sensory systems" and helping to enhance the imagery.
Massage adds a tactile element to the hypnosis, making it an even more powerful resource for getting rid of stress and anxiety while promoting deep, rejuvenating relaxation.
Conclusion & Key Takeaways
Hypno Massage is a treatment that combines the best attributes of massage and hypnosis.
The idea is to undergo hypnosis while simultaneously having a massage.
Since both processes encourage relaxation, the treatment is a popular way of relieving stress and anxiety.
On the physical side, the massage element releases tension on the outside, getting rid of knots and aches & pain.
On the psychological side, the hypnosis taps into your unconscious mind, opening it up to heal yourself from the inside out.
Results show the process can help to remove pain and resolve trauma, making you feel lighter and refreshed.
There are many benefits to the combination of hypnosis and massage, including:
Pain management
Stress relief
Confidence boost
Memory enhancement
Total relaxation
It can also be used to help you stop smoking, control your weight, or to keep your blood pressure at safe levels.
Too much stress can cause your heart to race and your blood pressure to rise. If it goes on long enough it can lead to serious health issues including:
Headaches
Chest pain
Colds and infections
Difficulty sleeping
Lack of concentration
Panic attacks
The two techniques together pack a powerful punch, giving you complete relaxation of your mind and body.
It's been said that hypnotic suggestions given during a massage can deliver a profound hypnotic experience.
This combined treatment is a novel and powerful way to eliminate stress and anxiety while promoting deep and refreshing relaxation at the same time.