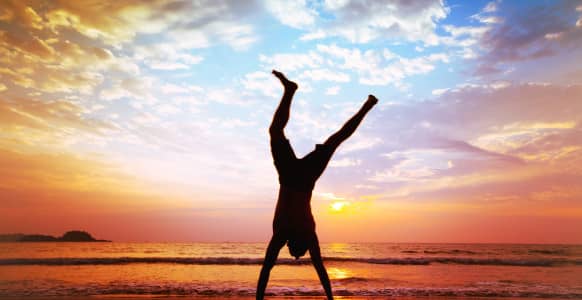 "A crust eaten in peace is better than a banquet partaken in anxiety." – Aesop
Stress. Anxiety. Worry. Panic.
They all have one thing in common…
FEAR.
See, it's like this. Your unconscious mind is like an overprotective parent. Its main goal in life is to keep you safe, but sometimes it takes its responsibilities a little too far.
Whenever you're in a situation that raises your stress levels, your fight-or-flight response kicks in.
Blood rushes to your arms and legs so you can vamoose if you need to. Adrenaline floods your body making your heartbeat ten to the dozen. You're on high alert, primed to do whatever's necessary to keep the threat at bay.
This fight-or-flight response is perfectly normal. It's built into your body for a reason – to protect you from danger. The problem is that your subconscious can't tell the difference between a real threat and an imagined one.
Where does this anxiety come from?
In many cases, anxiety is often a result of past experiences. Something you were involved in or you witnessed that triggered fear or worry in your mind and body.
Maybe it was an event in your personal life, or perhaps an incident at work. Your unconscious remembers what happened and will do everything it can to keep it from happening again.
It's incredible in one way, but a nuisance in another. Because now you only have to think about that situation… and the anxiety returns!
Sure, everybody has anxious moments about one thing or another. It's natural and is part of being human. It only becomes an issue when your anxiety levels stay elevated – or when your unconscious switches them on automatically whenever the merest notion of a threat is in the air.
What Are You Anxious About?
It's estimated that around 30% of people will suffer from anxiety at some point in their lives. That's fine if it serves to protect you, but not so nice if it keeps you from living your life to the full.
Here's a list of some of the most common things people feel anxious about:
Public speaking
Exams
Job interviews
Getting stuck in traffic
Going to parties
Being the center of attention
Being criticized
Performing on stage
Flying
Meeting new people
Dealing with authority figures
Coping with unknown situations
This is a very small list to give you the idea of how far-reaching anxiety can be. You can feel anxious about almost anything, and the longer it goes on, the more stress you build up in your body.
A little bit of stress is a good thing; it keeps you on your toes when keeping on your toes is needed. But if you let the stress build up and build up, sooner or later it's going to boil over and possibly cause you serious physical and psychological problems.
You'll notice that all the items in the list above have something in common. In each case, there's an element of fear involved. And whether it's a real fear or an imagined one, it creates even more stress that can ultimately lead to:
Higher blood pressure
A weaker immune system
Problems with memory
However you look at it, too much stress and anxiety makes life more difficult. For instance, a couple trying to conceive their first child know they should relax and simply let nature take its course. But that's easier said than done. It's natural to worry, to wonder how long it's going to take, to keep analyzing things in the hope of eliminating any obstacles that might stand in the way. And all that worry, wondering and analyzing just serves to do one thing…
Create more stress!
So, What's The Solution?
It's nearly the end of another year, and for some people, the prospect of going into another year full of anxiety can be disheartening.
Anxiety keeps people from living the life they want and deserve. It stops them from forming new friendships. It squeezes their life into a tiny space filled with fear and discomfort, taking away their freedom and squashing their personality.
Remember where all this anxiety comes from? It's your overprotective unconscious.
It doesn't care what your anxiety is related to, it just raises the barriers to keep you safe. It's learned about the things that make you anxious – or the things it believes make you anxious – and it automatically jumps into action. So you have to retrain it NOT to respond in that way.
One of the fastest, easiest and most successful methods used to lower anxiety levels is hypnotherapy. A qualified and reputable hypnotherapist can help you re-educate your unconscious so it can "unlearn" these reactions and stop making your life a misery.
Perhaps something scared you or embarrassed you in the past. It's happened to almost everyone at some point in their lives. For most people, it's no big deal. They put it behind them and get on with things.
For others, however, it's not so easy.
They've gotten used to letting their subconscious run their lives. They've gotten used to avoiding awkward or unknown situations. They've been frightened or ridiculed, may be made to feel stupid, vulnerable, or insignificant, and they're not willing to risk letting it happen again.
When you consider the way anxiety can make you feel, it's no wonder it can be so difficult to escape from. Here are just a few of the possible symptoms sufferers might experience:
Dizziness or lightheadedness
Breathlessness
Difficulty concentrating or focusing
Loss of appetite
Inability to sleep
Headaches
Inability to perform at your peak
Sweating
Tightness in the chest
Heart palpitations
And the list goes on.
While you might not experience all of these, just think what could happen if even just a few of these symptoms affected you for any length of time. For example, loss of appetite, inability to sleep, poor performance, inability to concentrate… it doesn't take a genius to figure out that, if things went on long enough, you'd probably find yourself out of a job. Or being demoted. Or simply losing your interest in your work.
Here's another scenario…
Without proper nourishment and rest, your body could waste away to nothing. You'd probably become depressed. You might worry about your health on the one hand, but not have the motivation or strength to do anything about it on the other.
And that's not to mention what it could do to your relationships… 
How Hypnotherapy Can Help
Want 2015 to be the year you start living your life again? Then you might like to consider a course of hypnotherapy.
Let's be honest: everybody is afraid of something. And believe it or not, being able to fear things is actually necessary.
That way you don't accidentally do things that can lead to serious injury, either to you or to other people. To take an extreme example, you wouldn't be likely to jump out of an airplane without a parachute, would you?
Sometimes, under the right circumstances, fear is good.
But if fear or anxiety starts taking over your life, or even just a part of it, it's time to do something about it. Most people don't have the power or the tools to change the way their subconscious mind reacts – which is why they need to visit a hypnotherapy practitioner.
The hypnotherapist will work with you to identify those situations, events, people or places that bring on anxiety. Together you'll be able to get to the root of the problem from the inside out.
You'll get access to a range of techniques you can use to start working towards the way you want to feel. You'll regain control of your life and find the strength to break free of negative thoughts and behaviors that are holding you back.
And speaking of stress and anxiety, it'll soon be Christmas, a time when lots of people get stressed out. Whether it's getting together with people you don't particularly like, or being thrown together with people you hardly ever see, the potential for worry and anxiety can be seriously high.
Make 2015 A Peaceful, Life-Changing Year
As with most things you want to accomplish in your life, conquering anxiety begins with a goal. If you don't have a goal in sight, you've got nothing to aim for. But as soon as you know where you want to go, you can take steps to get there.
Hypnotherapy has a long and successful track record as a means to break habits and treat disorders.
Besides anxiety, it can also help you:
Build confidence and self-esteem
Eliminate phobias
Resolve conflict
Deal with eating disorders
Overcome depression
Lose weight
Improve performance
Stop smoking
Get motivated
Let's face it: you aren't going to wake up on Christmas morning to find Aladdin's lamp hidden in your stocking (sorry about that!). So if you want next year to be the start of something better, you've got to take the first step yourself.
There isn't a magic wand you can wave that'll wipe away your anxiety, but hypnotherapy really does work wonders so is the next best thing. You owe it to yourself to make 2015 the start of a happier, more fulfilling and less angst-ridden lifestyle.
Because, as the famous slogan from the Pantene commercials go, "You're worth it!"
Do you have a success story of how you helped someone work through their anxiety (or your own) as a result of hypnotherapy? It would be great to hear about your breakthroughs in the comments section below: