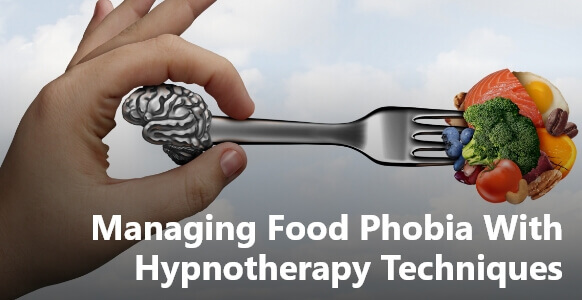 These days there are more TV shows and column inches dedicated to growing, preparing and eating food than you can shake a whisk at.
It's no wonder, really, since food plays such an important role in your life.
Food gives you energy, keeps you healthy and helps your body fight off disease.
Without food, life would be unsustainable.
But for some people, certain foods are simply unpalatable.
They don't just dislike them – they positively hate them (think Brussels sprouts at certain holiday times) – and this extreme hatred can even become a phobia.
When that happens, it's good to know that you can rely on food aversion hypnosis.
It's a kind of hypnotherapy for food phobia, helping you manage your relationship with food more effectively.
Using hypnosis, a good hypnotherapist can help you find out why particular foods turn your stomach.
You can figure out when your aversion started and take steps to overcome it.
But where do these types of food phobias come from?
Hypnotherapy Helps Resolve Issues With Food Phobia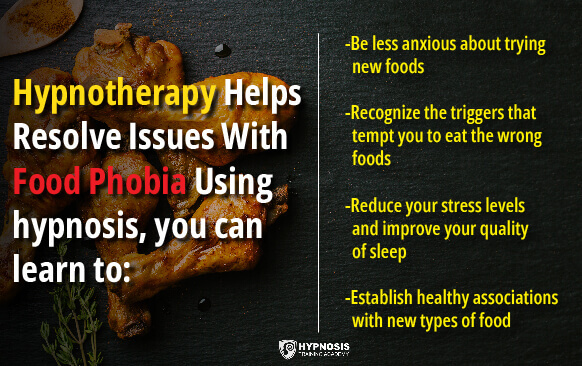 There are lots of reasons why someone might come to dislike one kind of food.
It could be the result of a negative association learned in childhood.
Maybe you were forced to eat all your vegetables before you could leave the table.
Including those Brussels sprouts.
Any stressful or traumatic experience can result in your choosing one food over another.
One example is the typical scenario where a relationship breakup leads to raiding the freezer and devouring a whole tub of ice cream.
In times of distress, people often turn to sweet or salty food as a source of comfort.
The problem is that too much of these types of food can be harmful to your health.
And over time, eating the wrong types of food becomes a habit.
Fortunately, hypnotherapy is one of the most powerful habit-busting tools available.
It can help you break any old unhelpful habits and replace them with new habits by embedding them in your unconscious mind.
Using hypnosis, you can learn to:
Be less anxious about trying new foods
Recognize the triggers that tempt you to eat the wrong foods
Reduce your stress levels and improve your quality of sleep
Establish healthy associations with new types of food
Hypnosis also has a long and successful track record of helping to fight phobias of all sorts.
But what exactly is a food phobia?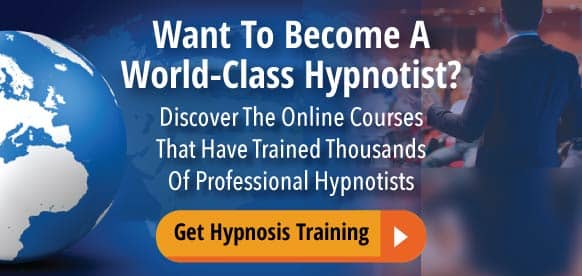 Hypnosis Helps Conquer The Fear Of Food
Phobias are irrational fears that result in extreme anxiety.
And since they're irrational, it's possible to develop a fear of anything – even food.
It's generally accepted that phobias are fears that are out of proportion to the level of danger.
So, for example, a spider in the bath is not going to do you any harm. But if you have arachnophobia (the fear of spiders), the sight of it will still increase your anxiety levels and possibly lead to screaming and hysterics.
Food phobia has its own name, which is cibophobia. It's often mistaken for an eating disorder, while in reality people with cibophobia are actually afraid of the food.
According to Healthline, cibophobia sufferers fall into several distinct categories, namely:
1. They're afraid of perishable foods like mayonnaise
2. They're afraid of underdone meat and other soon-to-expire products
3. They're afraid to cook food
4. They're afraid to eat food cooked by other people
As this article explains, people who are phobic respond very well to hypnosis.
Once hypnotized, a hypnotherapist is able to implant powerful suggestions in your unconscious mind.
They're also able to help fight the phobia by combining hypnosis with other techniques, such as desensitization or the Rewind Technique.
Desensitization allows you to break your phobia down into a series of steps, from the least frightening to the most frightening.
You then use relaxation and coping mechanisms to deal with the fear at each step.
Once you can cope with the fear in one step, you move on to the next, until eventually, you become desensitized… although it can take a long time depending on the type of fear and the severity.
The Rewind Technique involves imagining yourself watching a movie in which you are experiencing the phobic event at some time in the past.
Then you rewind the movie to a point when you felt safe, and then fast forward it to a point after the event when you felt safe again.
The process gets repeated until you no longer feel any emotion about the situation.
As you probably realize, food aversion hypnosis can make use of a variety of techniques to help you establish healthier eating routines.
Hypnosis Techniques For Dealing With Food Aversion
One of the most powerful hypnosis techniques for dealing with phobias is the 12-step regression.
Regression involves "regressing" – taking a person back to the time before the phobia first began.
It's used to resolve issues from the past that are causing issues in your present life and affecting the kind of future you might enjoy.
Regression therapy has 12 individual steps, but these tend to merge together when done in the guise of a conversation.
The 12 steps are listed and summarized briefly below, but you can find out more about the complete process by checking out this article.
12-Step Hypnosis Regression Therapy
Step 1
Induce Trance & Regress Using H+ & Rapport – you use this first step to build a strong rapport and to assure the person that they will be completely safe at all times.
Step 2
Orient Fully – during this step you orient the person back in time to when they first experienced the emotion. It may take several attempts to take them back as far as they need to go.
Step 3
Cause Dissociation – once they've reached the point where they've experienced the emotion for the first time, bring them back to the present immediately so they don't feel overwhelmed. This also helps to reassure them that you're going to keep them safe at all times.
Step 4
Reframe – during this step you explain that their younger self made it through, even though it seemed overwhelming at the time. This is the reframe, where the adult knows something that their younger self didn't know – that they survived it.
Step 5
Find 2 Points of Safety – the idea is to create a safety to safety loop, to have the person recall a feeling of safety before the event and after the event. There was a time before when they felt safe and a time after.
Step
Explain The "Safety to Safety" Loop to Adult – get them to step inside the scene at the point of safety before the event, and then fast forward to the point of safety after the event.
Step 7
Hypnotist Coaches Adult & Adult Coaches Child – explain to the adult that although their child self doesn't know they survived the event, their adult self knows and is safe in the room at this present time.
Step 8
Reframe Adult – let the scene fade away, bring them back in the room, and get the adult to coach their younger self and explain that they lived through the event and now have extra resources their child self didn't have.
Step 9
Adult Coaches Child – run through the loop again while the adult coaches their younger self, getting them to understand that everything was safe before the event and everything was safe again after it. No matter how traumatic the event was at the time, they survived.
Step 10
Run Cycles Several Times & Reframe Each One – run through the loop until the emotion has been completely drained, making sure they feel safe and realize that everything turned out well.
Step 11
Forgive – get them to forgive everyone they may have blamed for the initial event so they can release negative emotions that have built up over the years.
Step 12
Reintegrate – reintegrate the child and adult by letting the child "grow up" with the new resources they gained as a result of the hypnotherapy process.
Mind-Bending Language For Solving Food-Related Problems
As its name suggests, Mind Bending Language (MBL) is meant to "bend" your mind, to give you a different way of looking at things.
It uses language in a manner that your brain isn't used to hearing. It's particularly useful when someone is stuck in their way of thinking, believing that they can't do something.
Like believing they can't stop eating unhealthy foods, for example.
MBL creates some momentary confusion, disrupting the unhelpful thought loop by presenting it in a totally different light.
Imagine that your brain is like a house with lots of rooms. A problem would be one of the rooms with the door shut tight.
From inside the room, you think you're all alone, that there's only this one room in the house and that you can't get out of it.
Mind Bending Language "opens the door" to this problem room.
And voila! You discover plenty of other rooms, filled with resourceful and brilliant ideas you can try.
The technique helps you:
Gain deeper insights into your issue with food
Access your own inner resources to overcome the problem
Adopt new beliefs and a new way of thinking about food
How Hypnotherapy Can Help
Hypnotherapy can be used to uncover the root cause of your food aversion or phobia as well as helping you reduce your levels of stress and anxiety.
It does that by helping you tap into your unconscious mind, the place where your imagination, creativity and motivation are stored.
If you compare your conscious and unconscious minds to an iceberg, the conscious mind could be likened to the tip of the iceberg floating above the water.
The rest is part of the unconscious mind, submerged deep below the surface, which is the major portion of the iceberg.
It's the place where all your memories, desires and emotions reside. The unconscious is universally recognized as the real powerhouse, driving all your thoughts and behaviors.
So it makes perfect sense that to change the way you think and the way you behave, you need to introduce new information into your unconscious mind.
That's exactly what hypnosis does best. It gets you into a state of deep relaxation so that you are more susceptible to suggestions.
And those suggestions find their way into your unconscious, which gradually help to create new ways of thinking and behaving – leading to new and more positive associations with food.
Conclusion & Key Takeaways
You need food to sustain life, but for some people certain foods are unpalatable.
Food aversion hypnosis offers one powerful solution to this problem.
It's possible for people to develop food phobias as well, and hypnotherapy is proven to be an effective technique for dealing with phobias of all kinds.
A stressful or traumatic experience can result in someone choosing one food over another.
Eating the wrong types of foods can quickly become a habit, and again hypnotherapy comes to the rescue, being a powerful habit-busting tool.
Hypnosis can help you reduce anxiety about trying new foods, lower your stress levels and enable you to establish healthy associations with new foods.
Food phobia is called cibophobia and there are specific hypnosis techniques you can use to tackle it, such as desensitization and the Rewind Technique.
Other techniques include 12-Step Regression, used to regress back to the time when the phobia first began in order to eliminate the fear for good.
Mind Bending Language uses hypnotic language in a new way that temporarily confuses you so that you see your problem with food from a totally new perspective.
Hypnotherapy uncovers the root cause of your food aversion or phobia by tapping into your unconscious mind, helping you access your own inner resources to change the way you think about food.
It helps you relax deeply, letting positive suggestions lead you to a healthier and more beneficial relationship with food.