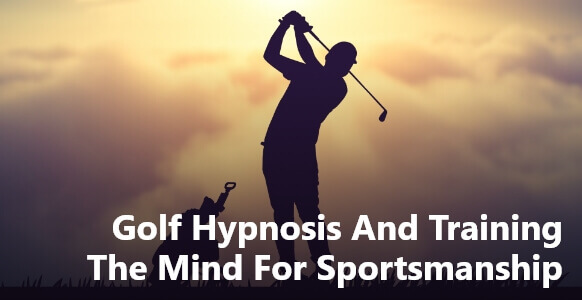 Tiger Woods and Jack Nicklaus.
They're two of the greatest golfers that ever picked up a club.
But as well as being incredibly successful sportsmen, they also have something else in common.
They've both used hypnosis to help them become the best golfers they could be.
True, it may not be the first thing you think of when the subject of golf comes up.
But golf hypnosis is becoming more and more popular – and with good reason.
It turns out that hypnosis (and self-hypnosis) can help anyone improve their golf game.
That's because it is a powerful tool that lets you hone specific abilities that are essential to playing well.
The legendary golfer Arnold Palmer is quoted as saying that, in order to master the game of golf, the most important thing is your mental approach.
According to Palmer, you need to be patient, to be able to shrug off the bad days, and to have enough self-belief to know that your form will soon come back to you.
But is that enough? Surely you also need the best equipment money can buy.
As well as a whole arsenal of decent shots you can play in any given situation.
Golf Hypnosis: It's All In Your Mind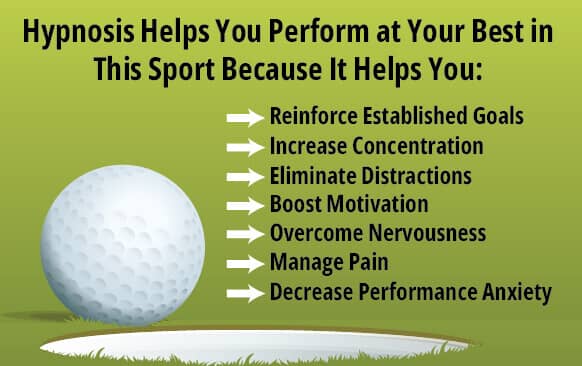 There's a famous quote that goes: a craftsman never blames his tools.
Likewise, an expensive set of clubs might make the physical side of the game easier, but they're not the be all and end all.
It's your mindset that really makes the difference, which is why hypnosis can be such an effective asset to have.
But what exactly is golf hypnosis?
In a nutshell, hypnosis helps you to perform at your best because it lets you:
Stay mentally calm and alert
Be emotionally detached
Keep focused on the task at hand
Hypnosis for golf can be used to decrease anxiety and lower your stress levels.
And as this article points out, hypnosis can also help you to:
Reinforce established goals
Increase concentration
Eliminate distractions
Boost motivation
Overcome nervousness
Manage pain
Decrease performance anxiety
Sounds good, doesn't it? But why would you need hypnosis to achieve all of that?
Well, imagine that you're one of the top-tier golfers playing in one of the major championships.
The tees, fairways and greens are packed with spectators.
Every move you make is being televised and viewed by millions of people around the world.
Not only that, but your performance is also being preserved for posterity.
However you look at it, that's an enormous amount of pressure.
Who wouldn't be nervous under those conditions? Even if you have total confidence in your game, you still don't want to do anything stupid.
Like whack your ball into the middle of a lake, or hook it into an out of bounds area.
So you need to be able to focus on the job at hand, to be able to block out all those distractions around you and let your technique and ability do the work for you.
But here's the thing. Two golfers with the same level of skill, the same set of equipment, and the same practice regime, will never produce the same results.
One will always come out on top.
But why? What makes the difference?
The difference lies in their mental approach to the game, in being able to access their unconscious mind.
And the best way to tap into that is by using the power of hypnosis.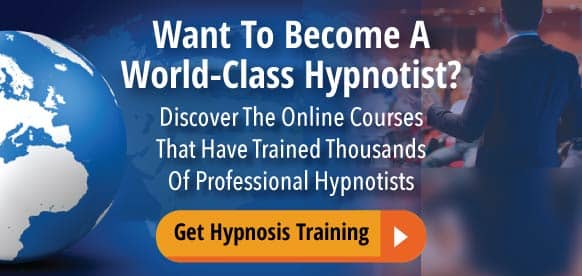 Golf Hypnosis & Visualization
The greatest golfers never hit a shot until they can see it clearly in their mind.
That goes for every shot they play, but it's even more crucial when they find themselves in trouble.
Former World No. 1 Seve Ballesteros waits for movies to play in his mind. He watches himself play each shot mentally and only selects his club when he sees the one he likes the most.
That's a form of visualization, picturing yourself making a shot. But just being able to see it happen in your mind isn't always enough.
The trick is that you have to be able to stay focused on the shot. If you focus on anything else, like the potential mistakes you might make, then things can go wrong.
You've probably seen golfers play a dazzling round of golf, leading the tournament from the very beginning, only to throw it all away on the final back nine holes.
That happens because they're focused on the wrong things. They're focused on the pressure, on not making mistakes, on what can go wrong, instead of on the shots they need to play.
Visualization works both ways. If you visualize yourself doing badly, then that's what you're telling your unconscious mind to focus on.
And that's what usually happens.
Of course, visualization is just one type of hypnosis technique that golfers might avail themselves of.
5 Hypnosis Techniques For Developing A Positive Golf Mindset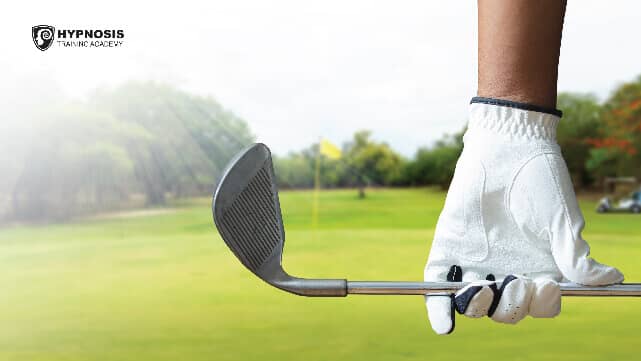 As you probably realize, golf hypnosis is really just regular hypnosis.
It uses the same tried and tested techniques that work for people in a range of sports and activities.
You can work with a professional hypnotist, or once you learn the ropes, you can practice self-hypnosis.
That means you'll be able to concentrate on improving your game anywhere, any time.
The 5 particular hypnosis techniques mentioned above are as follows:
1. The Hypnotic Blitz
The trick is to find out what you were doing when things were going well. What excited you and motivated you when you were getting those all-important wins? What were you thinking? What were you feeling?
Once you're in a hypnotic trance, you can blitz around relevant hypnotic themes that will help to create future peak performance, such as being in the moment, timelessness, exhilaration, focus, etc.
2. Revivification
This refers to reliving the memory of a great performance and the emotions you felt at the time. By reliving the experience you can make the emotions stronger so they spread around your body.
So you might elicit memories of times when you felt powerful, determined, courageous, unstoppable, and when you overcame obstacles to achieve a positive outcome.
Those memories and emotions can help you stimulate those same feelings whenever you need them. Symbols are also significant during a revivification, in the same way that a trophy is a symbol of success.
For many sportspersons it's not the trophy itself that's important but what the trophy stands for.
3. Dynamic Mental Imagery (DMI)
This is similar to a visualization, taking the person on a hypnotic journey to find special symbols that will help improve their golf game. It's effective because the unconscious mind understands and responds to symbols really well.
You might latch on to a symbol for sinking putt after putt, where the symbol becomes a metaphor for putting successfully, taking the pressure off the physical act.
You can also use this technique to help someone (or yourself) meet their golfing hero who becomes their mentor and keeps them calm and focused at crucial times.
4. The Non-Awareness Set (NAS)
This technique creates a conscious/unconscious dissociation in the mind, so that your attention is put on something physically irrelevant, leaving your unconscious mind free to operate your body. When you learn any skill, at some point it becomes automatic and you can perform it without thinking.
The NAS helps to take attention away from the things you're having difficulty with, so that you stop focusing on the problem and just let your technical prowess shine through. You do that by asking questions such as: What's going on when you're not aware of this?
5. Mind Bending Language (MBL)
This technique helps to interrupt unhelpful thought loops and stop negative self-talk, such as: I'm an idiot. I'm going to screw up. You're literally messing with your mind so you're unable to think those kinds of unhelpful thoughts.
This works for two reasons: it changes the way you perceive something, and it stretches your mind so you can't think in the old way any longer.
MBL changes your perspective, making it impossible to entertain those unhelpful thought loops going forward.
Hypnosis is secretly used by many top golfers to give them that extra advantage over the competition.
According to this article on medium.com, hypnosis helps to reprogram your mind so you go into autopilot "whenever you're triggered with feelings of stress, fear or performance anxiety."
Of course, any techniques that a hypnotherapist might use are also at your disposal once you've learned self-hypnosis.
To find out more about how to hypnotize yourself, follow the link to this Hypnosis Training Academy article: How To Hypnotize Yourself: Discover The Easy 6-Step Self Hypnosis Formula.
If improving your golf game is important to you, then hypnosis offers you a powerful and proven way to do that. It will help you gain the confidence, motivation and focus you need to play at your peak more often, as well as giving you the mindset to be able to perform even in the most difficult of circumstances.
Conclusion & Key Takeaways
Hypnosis and self-hypnosis are powerful tools to help improve your golf game.
That's because a big part of the game involves having the right mindset.
Golf hypnosis can help you perform at your best by letting you stay calm under pressure and stay focused on one shot at a time.
Techniques such as visualization make it possible to see golf shots in your mind before making them.
A trained hypnotherapist might also make use of other techniques such as:
Hypnotic blitz
Revivification
Dynamic Mental Imagery (DMI)
Non-Awareness Set (NAS)
Mind Bending Language (MBL)
Hypnosis and self-hypnosis can help you reprogram your mind, putting it on autopilot so you can relax and perform at your peak more often.