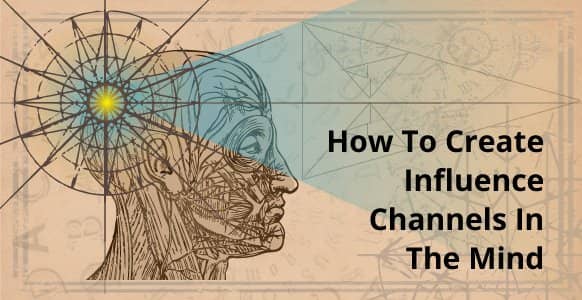 Part 1 – The Influence Strategy Tree – Click Here To Read
Part 2 (NEW!) – 17 Techniques For Hypnotic Influence & Reasoning – Click Here To Read
Welcome to our in-depth guide on hypnotic influence!
In Part 1, we look at the heart of hypnotic influence and examine something called The Influence Strategy Tree and the 5 "branches" of influence that fall under it.
And in Part 2, we look at not one, but 17 techniques that can be used in influential reasoning to help you become a more powerful hypnotist!
So let's jump on in…
Part 1 – The Influence Strategy Tree
So, what's the role of influence when used in hypnosis?
Can you still…
Use it to talk a hypnosis subject into doing a particular action?
Influence the choices a subject makes?
Help a subject see reason on a particulafr issue?
The answers are yes, yes, and yes. And that's because influence has only one goal: to get someone to do something.
That could be to make a decision, to engage in a specific behavior or to give you information. Anything, really.
The more influential you are, the easier it will be to get the other person to do whatever it is you want them to do.
(SIDE NOTE: As a hypnotist – you have an ethical obligation to use hypnosis and influence techniques to generate a positive change in your subjects and clients – not for your own personal benefit.)
But in order to master hypnotic influence, you need to create the right hypnotic context. Or in other words, you first need to get your subject into a trance.
To do this, you can use any hypnotic trance induction method that works for you. But in doing so, just make sure you follow the ABS formula.
Here's a brief recap of the steps: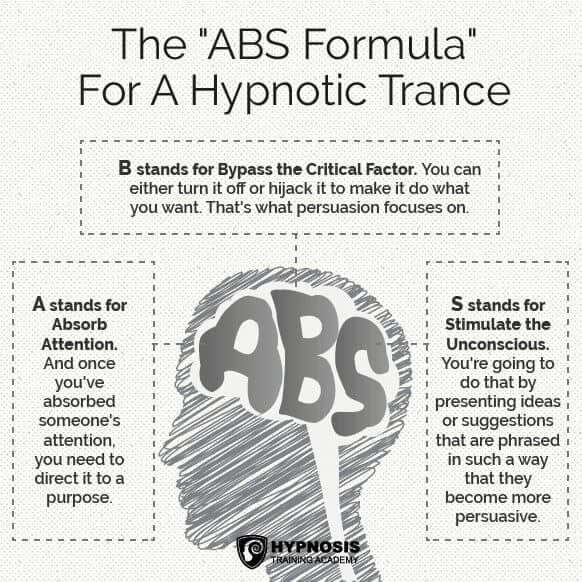 If you're not familiar with the ABS Formula, you can find out more in this article: The Hypnotist's Guide To Trance: What It Is, How You Can Induce It & 7 Signs That Show You It's Happening
The Heart Of Influence
Okay, so once you've got them in a hypnotic trance, what's next?
Well, the first thing that's worth noting is that influence is about getting people engaged in some kind of activity or behavior, however, consequences are the things that really motivate people to act.
So how can you influence them?
You influence people by:
Dramatizing the consequences. When there are positive consequences, people tend to act one way. When there are negative consequences, they tend to act a different way.

When there are mutual consequences, they don't react at all.

In other words, they'll stay the same. You need to know how to change the consequences so you can motivate the kind of action you're looking for.

Appealing to their self-interest. Part of the art of influence is the ability to motivate someone to do something. And what lies at the heart of all motivation and all influence?
… The answer is a person's self-interest.
Just to clarify, it doesn't necessarily mean being selfish. It means being interested in how a particular outcome will benefit the self.
But of course, self-interest means different things to different people. It can take the form of a physical reward, such as more money. It can be more aspirational in nature, helping them gain social prestige or material success. Or it can be altruistic, so that people act in order to feel better about themselves.
Part of the skill in learning the art of influence is to figure out where a person's self-interest lies. You need to ask yourself: What is the best approach I can take?
How can I structure my communication and suggestions in such a way that they target this specific kind of self-interest and motivate this person?
Using reason to dig a channel in the mind where their thoughts will flow. People mistakenly think that reason and logic are all you need to be influential. But that's simply not true.

Reason and logic are not the same thing, and reason without emotion has little chance of being influential. Why is that? Because it is our emotions that move us to act.

Why do people run into burning buildings to save babies and children trapped inside? Because their emotions make them take action. Likewise, people don't cry at weddings just because it's fashionable. They cry because their emotions overwhelm them and force them to respond, in this case by shedding tears.

Applying emotion as the fuel that makes their thoughts flow down the channels you created. Reason guides the action. It sets the channel for the attention to flow down. But emotion provides the energy that will direct people's attention to the point where you want to get them to.

Emotion on its own can be haphazard. You don't know where it might end up. The key to influence, then, is to lay the tracks with reason, and then run the train on emotion.

Using the context in order to tease out the values people have – i.e. their motivation. If you want to move people and build the right kind of emotion, you need to have a context. Without a context, there can be no influence.

There's no such thing as influence in abstraction. There has to be a context. The context will help you understand which values are in place. What things do people think are important? Values are the things that motivate action. Emotions carry people through with it, but values are the things that allow the right kinds of emotions to be stimulated.

For example, the CEO of a multinational corporation and a hippie will have different values. Likewise, trying to influence a group of mothers would be a totally different context to trying to influence a group of religious fanatics. In each case, the values are completely different. When you understand the values that move people, you can select the best combination of reason and emotion to channel their energy and attention towards the action you're aiming at.
Want to know more about the influence techniques of top master hypnotists? Get instant access to ALL of them today!
Click here to find out more
.
Using Strategic Influence During Hypnosis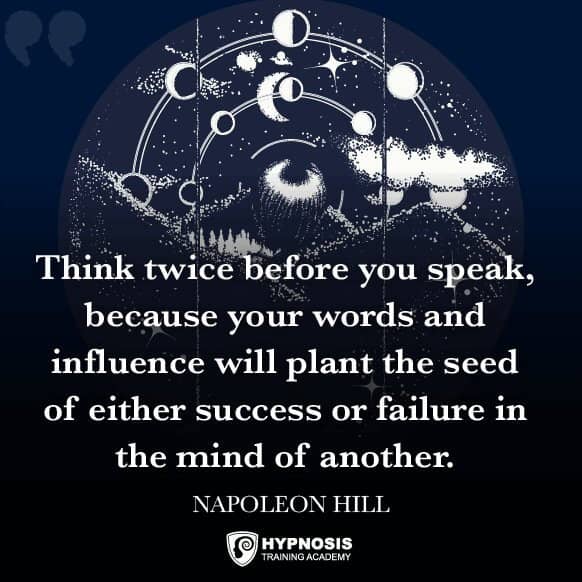 Influence isn't a hit-or-miss concept. You don't fire off a shotgun and hope that some of the pellets hit something.
To be truly influential, you have to work in a strategic manner to build the momentum a bit at a time.
Hypnosis can seem confusing when you're not sure what's going on. Take a stage show, for example. It may look like the hypnotist has turned someone into a clucking chicken with a simple sentence like this:
"You are a chicken."
But even though it looks that way, there's a lot more going on. There are secret influence strategies being applied to allow it to happen.
Even clinical hypnosis is not a one-shot deal. You're selling a context, and the context is the strategy that will make things influential. So how can you start thinking strategically so that you can create those contexts?
How can you carve those channels in people's minds? When you offer your suggestion, how can you ensure it gets accepted? So people say "Yes, that makes sense" and respond in the only way they can in a given situation.
Remember, the key to influence is to appeal to someone's self-interest, which means that they will end up doing the things you want them to do.
These things should be of some benefit to you (i.e. because you want to have a positive and successful hypnosis session) but mostly of benefit to your hypnosis subject.
And one way to guarantee a win-win situation is to go into it with a positive intention. Or in other words, using your H+.
What you don't want is to be the person everyone avoids because they think you're going to influence them to their detriment.
If that happens, you'll never be able to grab their attention. You'll never be able to bypass their critical factor. They'll put up so many barriers that there'll be no way through, and no way to create a long-term relationship.
Make no mistake: integrity is absolutely crucial where influence is concerned.
Let's take a look at one of history's greatest influencers, Cicero, to see what we mean by this. He was an orator in the classical period in Rome and created the context that allowed the Roman Republic to fall and turn itself into an empire.
He became so well known for his persuasive powers that at one point he was banished from Rome because they thought he was too influential. You don't want that kind of thing happening to you.
When you're thinking strategically about influence, it has to be simple.
It's something you'll be doing a lot, and even doing it on the fly as the moment moves you. Complex formulas won't be much help because you're not going to remember them.
You want something simple, effective, and robust. Such as a series of simple choices you can make based on the values you've drawn out of the context.
This is because when you know what those values are, you can structure your communications and suggestions in such a way that they become totally influential.
And fortunately, there is a tool that can help you do this.
Enter the Influence Strategy Tree.
The Influence Strategy Tree
The Influence Strategy Tree is based on 5 yes or no, black or white decisions that will help you create the rough structure for your influence process.
Once you have determined these decisions, then you'll flesh it out to create your actual persuasion.
Before we look at the influence tree itself, however, you need to work out some information that'll give you the context and the values of your hypnosis subject.
You can do this by asking yourself the following questions.
What context are you in?
What context is your subject (their problem) in?
What are the values inherent in your subject's context?
How do people in that context think?
What group (or person) are you facing?
What are their challenges?
What are their fears?
What are their hopes or aspirations?
What do they need?
What do they already have?
You might need the first hypnosis session just to get a clear picture of the situation. Or it might be immediately obvious to you.
But once you've got a clear picture, you then need to choose the best route down the Influence Strategy Tree.
The 5 Influence Strategy Tree Choices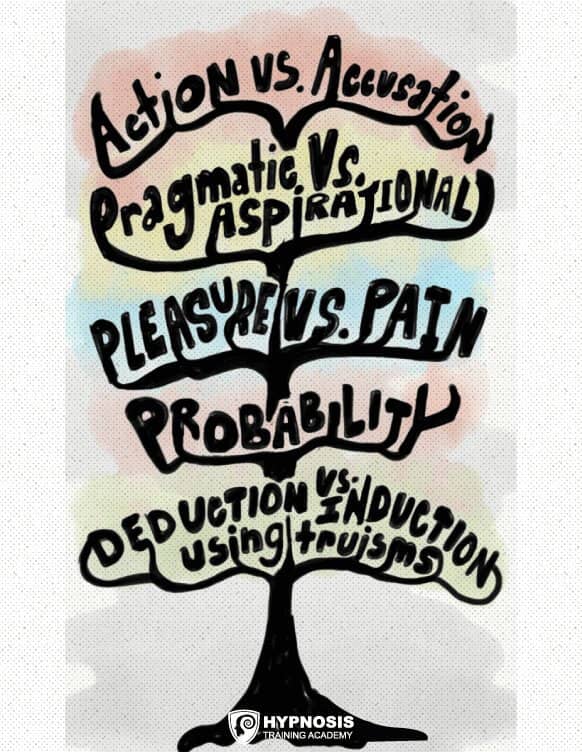 1. Action vs. Accusation
Do you as a hypnotist want to move your subject to do something (action)?
Is your client or subject being accused of something that they need to defend themselves from (accusation)? For example, a mother being accused as being "bad" in a custody battle over her children. Or someone not performing well at work and their boss is threatening to let them go.
Or do they want to accuse someone else of something in order to remove them from a position of power or authority? Otherwise known as the "blame game." For example, so it's your father's fault you have such a violent temper. Or it's the government's fault that you can't get ahead in life.
If you're a fan of courtroom dramas you'll recognize the list below. In order to bring an accusation successfully, you need to be able to show:
Motivation – Why did they do it? If you can't establish a motivation, you can't blame them. It may have been an accident, or a random coincidence, but they're not responsible because you can't prove why they might have done it.
State of mind –  Was it accidental or deliberate? If it's deliberate, there has to be an intention to do wrong, or some knowledge of wrongdoing.
Action – Did they act on their thoughts? If there's no action, then there's no crime. Just thinking about taking action is not enough.
Consequence – Has their action resulted in any harm? If there are no negative consequences, then there is nothing to accuse them of.
That takes care of the accusation side of things. But what about action?
Actions are what most of us think about in terms of persuasiveness. You don't just want to influence people to dislike someone or to drop an accusation. You want to influence them to do things, to make things happen.
The key to influence – and the reason most people want to use it – is to get people to do something, to decide in their favor, and to make things happen. How you get them to do something, or to make things happen, depends on the context.
Will they be more likely to take action because it's the right thing to do, or because it's the most useful way to move things forward? In other words, will they act for pragmatic or aspirational reasons?
2. Pragmatic vs. Aspirational
Is it easier to show that the action you want is useful to the person, or moral, in the sense that they will be a better person for it?
For example, if you do this, good things happen. If you do that, bad things happen.
But some arguments or actions have no pragmatic value whatsoever. In other words, no real good will come of them either way. For example, whether someone should wear a blue or red tie with their suit during a negotiation.
In these situations, you're forced into using aspirational arguments. The suggestions have to be about who the subject is as a person, because you're not able to talk about the usefulness of the action. For instance, wanting to be fair and inspirational during the negotiation to create a win/win for both parties.
3. Pleasure vs. Pain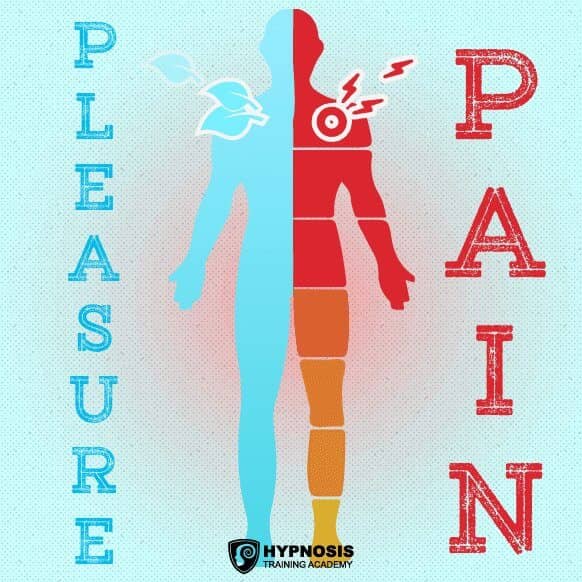 Will the action bring pleasure (something useful or moral) or will it bring pain (something harmful or disgraceful)?
The key to motivation is the idea of pleasure and pain. We move towards pleasure and away from pain.
For example, when it comes to health, a person might be more pain-oriented. They want to avoid the pain of being ill or a heavy medical cost.
Meaning your induction could therefore make use of the benefits they'll receive by staying healthy. They'll feel good. They'll have more energy. They'll save a bundle on medical bills.
When it comes to relationships, they might be more pleasure oriented. They'll want to go towards healthy relationships rather than away from bad ones.
You'll influence them to look for people they like, people who have similar things in common. Or if they're already in a relationship, your induction could help them see the positive sides of the relationship and the benefits it brings them.
That's fine for one person, but the very next client you see could be the complete opposite. This is another reason why you start off by deciding what context you're in and what your subject's values are.
Remember, their values will tell you how people get motivated.
So is there more energy in moving people towards something pleasurable, or in moving them away from something painful?
Whether an action will bring pleasure or pain as a consequence depends on the frame you use. It's possible for the same situation to be perceived positively or negatively.
For example, suppose a couple is having relationship difficulties. Getting away for a long weekend together could help to bring them closer again (pleasure). Or they might feel forced into an uncomfortable situation with no escape (pain).
When you have two good things or two bad things to choose between, the trick is compare them to show which is the lesser of two evils or the greater of two goods.
For example, if this couple goes away for a romantic weekend to try and rekindle their bond, it could be perceived positively. So could taking a relationship building course with a noted expert.
But as the latter option provides them with the opportunity to do some positive work with each other, this could be the greater of two goods.
A choice for the lesser of two evils could be encouraging your subject or client to tell the truth about something they've lied about and asking for forgiveness. This is a tough choice, but could result in mending the relationship.
Or the greater of two evils, is not telling the truth and letting the lie emotionally fester and eventually destroy the relationship, perhaps forever.
4. Probability
What is the likelihood of the consequence in question actually happening?
There's a whole spectrum between things that are true, things that are likely, things that are possible, things that are unlikely, and things that are false.
The more remote something is, the less its power. Things that are going to happen are much more immediate and more influential to us than things that will never happen.
Depending on what you want to do – inhibit an action or confirm an action – you want to slide along that scale to the point at which you can prove as much as possible, and then have the maximum impact on the individual.
The general rule is: the more distant and/or unlikely a consequence is, the less impact it has (i.e. the lower its power to influence will be.)
For example, during your hypnosis induction you might talk about what will happen to your subject the next day, or during the week, or some other time before their next appointment.
You won't fantasize about them going to the moon, or about how they'll feel in a year's time. The first is completely unlikely to happen, while the second is too far away for them to focus on or devote their energy to. You want to give your hypnosis suggestions the best chance of being accepted, and set your subject up for success.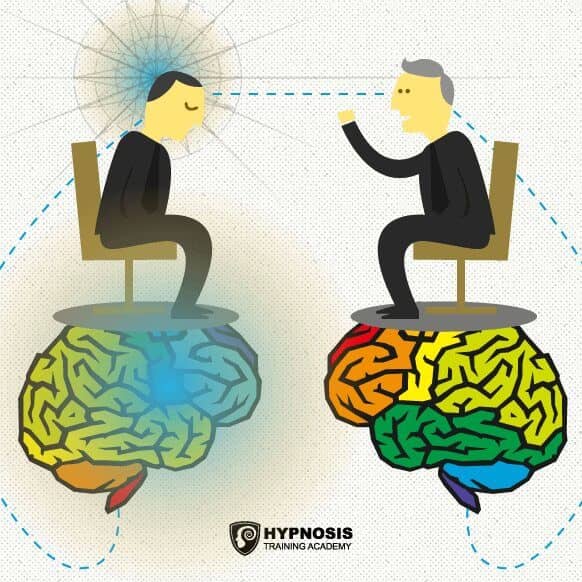 For example, if your subject is trying to lose weight, you might talk about protocols in place for achieving that. Perhaps their relationship with food is the reason they tend to overeat. So you might use a reframe, or a deframe challenge, or embedded suggestions so they know it's not essential that they always eat everything that's on their plate.
Some exceptions exist within the area of probability, such as a risk with huge consequences but low chances of occurring (e.g. your house being destroyed by a storm).
If the preventative action required is small (like a small insurance payment) then the person is likely to still be motivated to engage in the action – especially if the drama of the consequences is played up.
A defense for the probability of something happening is whether or not the evidence you give is true. So you need to tread with caution here because if it looks like your argument is made up, bad science or lies – then your whole influence structure collapses.
For example, you'd never tell your subject to eat raw potatoes for breakfast, lunch and dinner in order to lose weight because most people know that's terrible advice when it comes to losing weight!
Additionally, certain arguments will help you establish the truth or likelihood of something happening in the past, present or future.
Let's take a look at each of these circumstances below:
The Past
If something that was unlikely to happen did happen, then the more likely thing probably happened as well.
For example: it is unlikely that the pope would murder someone, yet if it turned out that he did, then people would be more open to believe that he had a mistress on the side as well.
If something happened that is usually linked with the event in question, then the event is likely to have occurred. So if weather reports show it was very cloudy that day, it's likely that it rained as well.
If the lesser event can occur, then the greater one can too. If someone with a low IQ can solve a puzzle, then a person with a good IQ is likely to be able to do it, too.
If someone intended to do something, chances are they did (unless other information exists to show they were blocked or changed their mind). If Peter left the house angry, with a gun in his hand, shouting "I'll kill him!!" – he is likely to have shot and possibly killed someone.
The Present
Contraries – if you can see a coin with "heads" facing up, you can usually predict that it will have "tails" on the other side. If you have a cure, then there must be a disease that corresponds to it somewhere.
If you have a part of something, you can infer that the whole is or was present. For example, if you find a shoelace, it's likely that a shoe was there at some point.
The Future
Intention – again if someone intends to do something, has the power to do it and no blocks exist, then it's likely that they will do it. If Peter leaves the house in a rage, with a gun in his hand, shouting "I'll kill him" – chances are that in the near future someone will get shot.
Causal Chain – if you have an event that usually predicts or causes another, then you can infer that the other is likely to happen. If you walk past an empty lot and see people building a foundation, it's likely that eventually a complete house will be built there.
5. Deduction vs. Induction & Using Truisms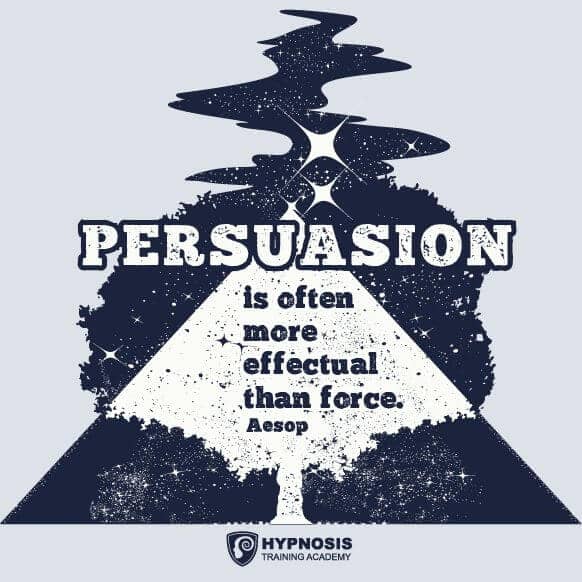 Deductions and inductions allow you to get new information.
A deductive process allows you to apply certain principles to reason out what absolutely must have happened (or will happen.)
Whereas an inductive process uses the facts – often gained by experience or experiments – to tease out a general principle or figure out what is likely to have happened (or is likely to happen.)
Most typically, and especially in influence, inductive arguments will use examples to get to a conclusion. Sometimes they'll mix with deductive ones to make their conclusion more solid.
Deductive: All men are mortal, Adam is a man, therefore Adam is a mortal.
Inductive: John has died, Lincoln died, King George II died, since recorded history every man that has ever lived has died eventually. So probably every man dies eventually. Adam is a man, which means he will probably die eventually.
How To Use Inductive Arguments
The easiest way to argue inductively is through examples. There are 3 types of inductive processes that are particularly useful for hypnotic influence:
History (examples from history)
Analogy (this situation is like that other situation)
Metaphor (in the form of Anecdotes or Inventions)

Anecdotes are real life stories of things that happened to you or people you know
Inventions are made up stories like Fairy Tales, Films, Novels and Allegories
As a hypnotist, you can use both inductive and deductive techniques to influence subjects and clients about a particular point.
For example, if they're trying to stop smoking, your inductive argument could be something like this:
"Thousands of smokers have been examined in the past 20 years, and the vast majority of them had significant health problems. Therefore we can say for sure that smoking causes significant health problems."
Whereas an deductive argument would be:
"Smoking is an expensive habit that's getting more and more costly every day. It's a fact that people who give up smoking have more disposable income to play with. So by stopping smoking you'll find yourself with more money to spend each month."
Curious how you can master hypnotic influence along with 21 additional advanced hypnosis techniques? Check out this exciting collection of
Advanced Hypnosis Masterclasses
now.
Truisms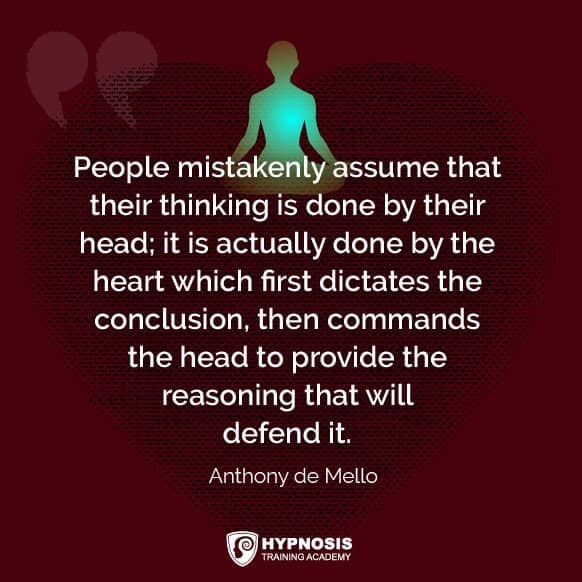 Truism are hybrid suggestions that mix inductive and deductive reasoning processes. They're incredibly powerful suggestion devices or vehicles for presenting suggestions and frames.
This is because they're very elegant and pack a lot of information into a simple, easy-to-memorize phrase or saying.
To use truisms, remember:
Truisms should be delivered with gravitas, with an air of saying something really important and meaningful. If delivered in a trivial tone or offhand way, they often have no impact and can even backfire.
Truisms are well suited for aspirational (i.e. moral) arguments and suggestions.
Truisms are particularly powerful if they confirm an existing bias in the person or group. For example, a group of accountants would probably agree with the truism "there's no such thing as a free lunch."
How To Construct Truisms
Truisms should be:
Short & concise
To the point
Able to express a moral idea or a rule of thumb
Reasoned – there must be a logical reason to conclude that idea, either expressed or understood
There are 4 types of truisms:
1. Accepted Maxims
Such as:
Waste not, want not.
A bird in the hand is worth two in the bush.
Too many cooks spoil the broth.
It's the exception that proves the rule.
These sayings have become accepted wisdom which has been passed down from generation to generation to generation. They simply get used and accepted, and no one challenges them. When your subject or client hears them, they'll tend to agree with them. This is because everybody generally does. So you'll have created a "yes set" without even trying.
SIDENOTE: A "yes set" is when you ask a set of rhetorical questions where you already know the answer will be "yes." The more you prime your subject to be in a "yes" frame of mind, the easier it will be for them to accept other suggestions piggybacked off a yes set.
Going back to acceptings maxims, the interesting thing is that many of them are actually wrong.
Take, "It's the exception that proves the rule," for example.
In actual fact, that statement is incorrect. It dates back to a time where the words had a totally different meaning.
When to prove something meant to test it out. So, you'd use the exception as a way of testing the principle and proving that it was incorrect.
As the meaning of the words "to prove" changed over time, so did the truism. And no one bothered to find out whether the truism was still true.
2. Accepted Principles Or Ideas
Such as:
"Nurture the things you love."
These kind of sayings have all the classic hallmarks of a proper truism, without necessarily being truisms. They're phrases that aren't in common usage but that represent ideas that people will adhere to.
Like the maxims above, people will agree with them because they're ideas that are part of common knowledge. They might not actually be true, but they're sayings that have been accepted and agreed with. Sayings people have grown up with. So once again, they help you create a yes-set.
When you hear the phrase "waste not, want not" your mind goes through all the steps to get you to the point where you can conclude that if you don't waste things, you won't be missing things.
The same is true of the phrase "nurture the things you love." You can follow the logic behind it without anyone having to explain it any further.
These are accepted ideas because the deductive process behind them includes accepted steps that everyone tends to agree with.
3. A Shock Deduction That Reverses An Accepted Principle Or Idea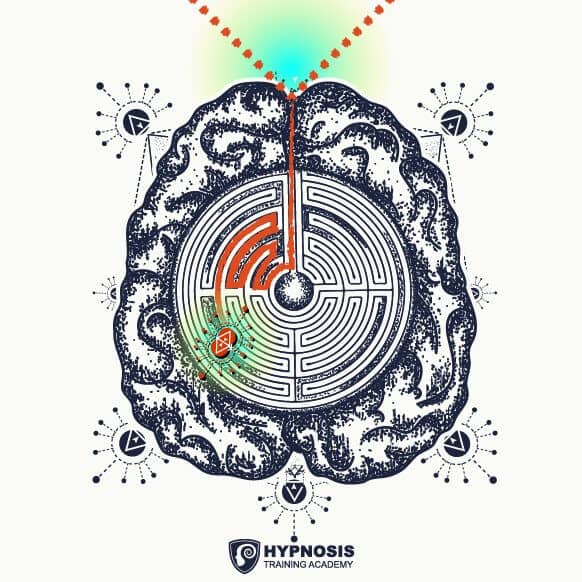 This will need careful explaining or it will backfire.
For example, suppose you were to say: "Prisons do more harm than good." Hang on a second! That flies in the face of convention and cultural wisdom, doesn't it?
If you leave it like that, it can't be a truism. The critical factor says "no way." It doesn't fit the truism pattern that people are used to. So you need to use the reasoning process to spell out why that's a correct deduction to come to. You can do that in one of two of ways:
You can make the shock statement – prisons do more harm than good – and then explain it
You can present your ideas and explanation first, before making the statement
In other words, you present your deductive process first and then come to the conclusion with your audience at the same time. Both have equal validity. The key thing here is to be concise. If it becomes long winded, you'll lose people.
The longer the reasoning process, the more people you will lose, and the less influential it becomes. It needs to be long enough that the idea can be followed through easily by most people, but concise enough that it keeps people's attention.
How do you do that? Let's take the phrase "Prisons do more harm than good."
You might say something like, I think prisons do more harm than good. The other person will ask you what you mean by that. Then you can say:
"Think about it. In prisons, you're surrounded by other criminals 24/7. So it's possible to learn more about crime in prison than you could in a lifetime living on the streets."
Notice how this follows the rules for making a truism. It's short and to the point. It expresses a moral idea or rule of thumb. It follows a logical and reasonable path to support its conclusion.
It uses conventional wisdom to support its deduction, which goes against common knowledge. As a result, this shock deduction has even more influence than the accepted wisdoms, because it seems like you've gone through a reasoning process to reach the correct conclusion.
All of a sudden the critical factor becomes your champion. It feels like it's earned the right to protect this piece of wisdom because it's been involved in the reasoning process.
This is a powerful way of constructing and presenting a truism, as long as you make sure it's concise.
4. Implied Deductions
Where you don't give your full reasoning for the truism, but you imply it from elements within the truism.
For example: "People who live in glass houses shouldn't throw stones."
The reasoning is implied within the actual statement. It doesn't spell out the fact that if you're in a glass house and you throw a stone, it's going to break the windows and create more trouble than you can handle!
Spelling it out like that would actually take away from its influence power.
This truism is an analogy, a comparison between two things to make a point or clarify an idea. Just by picturing the scene you can imagine the results in your mind and instantly understand why those results are undesirable. That makes it a very powerful and influential truism.
Dr. Milton Erickson was a master at implying meaning and letting his patient's unconscious mind figure it out and make the changes.
This is the basis of much of indirect forms of hypnosis, rather than direct suggestion.
How To Break Truisms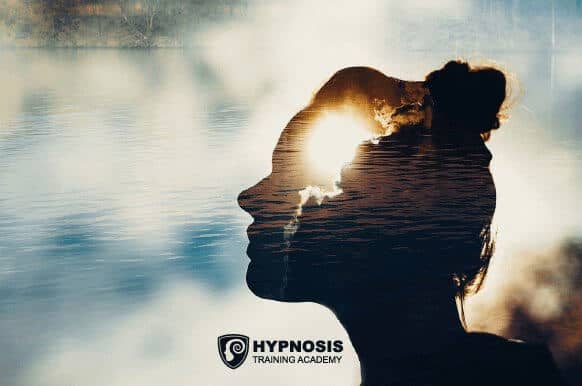 A lot of truisms aren't actually true, ironically. They simply get accepted through repetition until they're ground into people's brains.
And because they're ground in like that, people tend to believe them, and even make decisions in their lives based around them.
Meaning it gives you, as the hypnotist, a influential hold over people. Especially if you're able to influence them to see a different point of view and break the loop of a particular truism.
There are two simple strategies to break the influential hold that a truism can have over someone:
Find an extreme and expose the flaw
Contrast the truism with a higher value
Again, let's take the truism, "Waste not, want not." If you spent all your time grubbing for leftovers (the extreme), who'd have time to go and make anything new (the flaw)?
Some truisms conflict with each other too. For example, take this pair:
Too many cooks spoil the broth
Many hands make light work
They are two diametrically opposed truisms, and yet we believe both of them are correct. This is a great example of how the unconscious mind can deal with paradoxes, by accepting both of them without needing to try to resolve them.
If you come across a truism that you need to break through, you can use the two basic flaws that exist in all truisms:
1. All truisms are an example of a generalization
If you take a simple truism like, "Waste not, want not," it's a generalization. It may be true some of the time, but it isn't true all of the time. An example of how to break that particular truism can be seen above.
2. Truisms are based on moral judgments
Truisms take the moral high ground. That's part of their power. If you can find an idea with a higher moral value or higher authority than the truism expresses, it will instantly destroy or break the power of the truism.
Let's see how that might work again with, "Waste not, want not." First, you need to expose the flaw. If you spent all your time trying to avoid waste, you'd have no time left to create new stuff. At the same time, there's also a moral judgment, which is that creation is better than preservation.
The Deductive Reasoning Process
There are ways of camouflaging suggestions to make them seem more reasonable. Pure reason either proves or disproves something. Influential reasoning, on the other hand, makes people accept and adopt the idea.
The rules for being more influential with reason are as follows:
Don't spend too long arguing, or you will lose people
Be concise – allow people to make natural leaps in their conclusions
Keep it simple – this is why a stupid argument with passion often wins over a clever argument without it
Base the conclusions on common knowledge, so that people can follow along with your train of thought
All reasoning processes require a context, and the facts from that context serve as building blocks for creating the frames or ideas.
To be influential you must seem logical, but you don't actually have to be logical.
Simplicity is the key. If you keep it simple but put more energy into the argument, even though the argument may be totally stupid, more people will follow along with it.
They'll be carried along because it's simple to understand, charged with emotional energy, and the flaws aren't immediately exposed.
You'll find examples of this in the self-improvement and new age industries. They're riddled with simple ideas that are actually common sense, but are very influential. Like the phrase: "Be yourself." How can you be anything else?
In order to be reasonable, then, you're going to need a context. The context will give you the structure that your argument is going to take. It will also give you the facts you need to create reasonable conclusions and specific arguments.
For example, suppose you want to influence someone that Mother Teresa was a good person. If you tell them she was a good person because she did good things and helped others, it's true. But it's also true of many other people. It's not as influential because it's not individualized, not specific enough.
If you give specific facts – she was a good person because she helped millions of people in India, she exposed herself to deadly diseases like leprosy, she helped people cope in bad situations, and she gave hope to people who had none – that's so much more specific and carries much more influence as a result.
You need a context to draw facts from. The facts become the bricks and mortar that build the house of your argument. That will give you the tools you need to be truly influential.
So there we have it. The 5 influence strategies that can be used to create influence channels in the mind.
Remember, the key to influence is to appeal to someone's self-interest. If you can do this, you'll be setting your hypnosis suggestions up for success each and every time, and more importantly, you'll be helping your subjects make the changes they've come to you for.
A win-win situation, wouldn't you agree?
Ready to take it a step further? Now's your chance to discover the complete library of
21 Advanced Hypnosis Masterclasses
so you can tell spellbinding stories, grow magnetic personal power and master MANY more incredible skills.
Part 2 – 17 Techniques For Hypnotic Influence & Reasoning
Welcome to Part 2 of our guide on hypnotic influence!
In Part 1, we took an in-depth look at 5 powerful influence strategies. So now that you've got the basics in place, in this follow-up article, we'll be giving you an additional 17 techniques you can use to complement your influential reasoning.
17 Techniques In Influential Reasoning
Remember in Part 1 how we discussed the importance of knowing what your desired outcome is, and then working out the best possible route to get there?
Well, when it comes to using the below 17 techniques, the same principle applies. Again, you want to identify the context and work in a strategic manner to build momentum.
You may want to incorporate some of the techniques from Part 1, or use these techniques independently.
But we do recommend that you spend some time going through each of them and jotting down a few examples of when and how you would use them. This way you'll feel more confident and ready to use them when working with subjects, and what's more, you'll have 17 additional techniques in your hypnosis tool kit!
And as always, experiment and have some fun!
So let's get down to business, shall we?
1. Opposites
If you can prove the opposite quality of something, then by presupposition, you can prove that your idea is true as well.
For example, war has caused the mess we're in, so we need peace to make it right.
This statement may or may not be true. But the fact that war causes a mess is something that most people will tend to agree with.
The opposite – peace will make things right – is an assumption that seems logical and reasonable to conclude from that..
2. Correlation
This is similar to opposites, but more about corresponding ideas, rather than completely opposite ideas.
It's softer, more subtle, and moves people in smaller shifts towards the direction you want to take them.
The perception is that if you can prove one side is true, then its corresponding idea must also be true.  So if there's a heads, there must be a tails.
For example, if the teacher was right to give the assignment, then you must be right to complete it. One follows on from the other.
3. Lesser Certainty
If something is less likely to happen or to be true, then the more likely, truer event that's related to it is going to give people the perception that the less likely event is true as well.
For example, if someone can get hold of prescription drugs, then getting hold of over-the-counter drugs should be simple.
From a negative viewpoint, if so-and-so won't go out with me, then it's not likely that she'll go out with you.
In the first instance the greater is true, so therefore the lesser is going to happen (prescription drugs vs. over-the-counter). In the second, the lesser is not true (she won't date me), so the greater is not true (she's not going to date you).
4. Reversing Time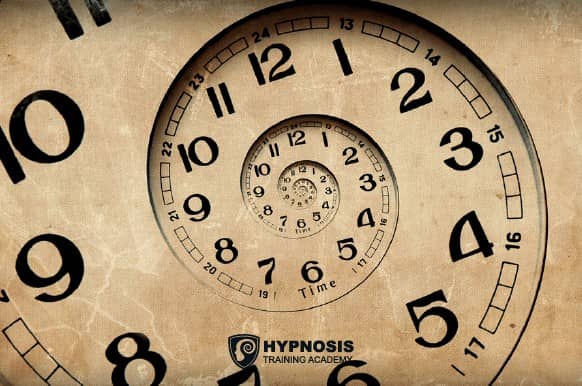 Change the sequence of events to make your point.
For example, someone's daughter goes missing. Mister B finds her and brings her back. He asks for a reward. His argument is that, if they'd have offered a reward before getting their daughter back, what's wrong with asking for one afterwards?
5. The Moral High Ground
This is an argument you can only take if you genuinely have the moral high ground. If you don't, this will not work. It's also an example of the lesser certainty argument in a different context.
Rather than looking at events, you're looking at morality as the probability scale.
For example, if someone who exhibits unethical behavior accuses you of something bad, such as treating a child poorly, you might say something like: "Would you hurt a child?"
They'll say, "No."
Then you might say, "If even you won't hurt a child, what makes you think I would?"
This is a great way of shattering an accusation.
6. Definitions
Define a term, and when circumstances meet your definition, you must be correct. For example, suppose you define hypnotic trance, which is:
Hypnotic trance is caused when the critical factor is bypassed and the unconscious mind uncritically accepts a suggestion or idea.
However, young children have no critical factor, and will accept an idea from any trusted adult. The conclusion is that children are permanently in a kind of trance.
Notice that the definition is presented first so that people accept it. Then you can draw conclusions from it and as a result prove almost anything.
7. Simple Authority
This involves using previous decisions, especially from moral authorities, to make your argument.
For example, Jesus Christ never counseled war or violence. This is a great way of destroying the arguments made by people in religious extremist groups. It happens to be true as well, which is a bonus.
Another example is to use people's actions as the basis for future actions. For example, you might say to someone: "You've always allowed people to play on the grass in the past. What's different now?"
This is a strong argument and a powerful way of using consistency. It's a social commitment thing.
You've always behaved this way in the past, so you should behave this way now as well. It can be psychologically unacceptable for many people to be inconsistent in a social setting.
8. Simple Reframe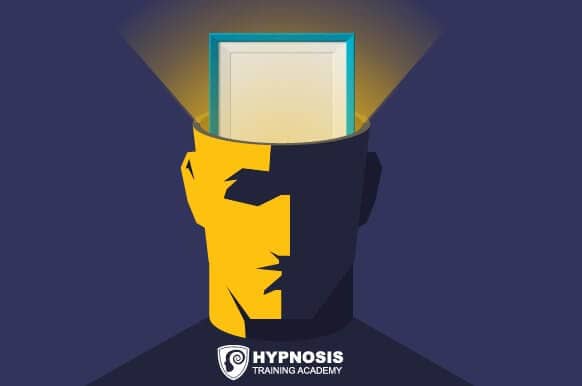 Every idea exists within a certain context, or framework. By changing the context, you change the frame of reference. Whoever controls the frame, controls the conversation.
Simple reframing is based on the idea that every decision you make will have potentially positive and negative consequences.
What you're doing is pointing out whichever of those two fits the kind of suggestion you want to make.
For example, education creates mindless robots OR Education gives people the tools they need for a better life.
Notice how the exact same context can be taken as a positive or a negative. It's a device used by politicians who are sometimes seen as "spinning" the truth.
That's why it's important to use H+.
You have to have an intense desire to do the right thing, in the best interests of all involved.
9. Compound Reframes
The compound reframe is like a simple reframe that's used to reframe a double bind.
A double bind creates a scenario where you're given two options and it's assumed that you will agree with one or the other.
It's not giving you 3, 4 or 5 options, or the choice to decline both of them entirely. So in effect, it traps you.
In some cases, you're damned if you do and damned if you don't. For example, a salesperson might ask you, "Do you want the white one or the green one?" In this instance, they're purposely not mentioning the blue, red or yellow options, or the possibility of you not buying one at all.
So with compound reframes, the idea is to break the bind that gets you trapped.
For example: "You shouldn't take a promotion because you'll have to work too hard and you'll never see your kids, but if you're not successful, you won't earn enough money to feed your kids in the first place."
The compound reframe has to take both of these elements and reverse them. So if you're successful, you'll have everything you need to feed your kids and give them everything they need in life.
If you're not that successful, you'll have plenty of time to see your kids, so they'll grow up with a dad who plays an active role in their lives.
You're taking the elements of a negative double bind and you're reversing them. For example: "If I succeed I'll feed them, but if I fail I'll see a lot of them."
10. Natural Consequence
If you can show that there's a flaw on the tails side of a particular argument, then the heads side of the same coin by consequence will be tainted by the same flaw.
The perception is that if the argument fails on one side of the coin, it's got to fail on the other.
Here are two examples:
If only girls have long hair, does that mean that girls with short hair will suddenly turn into boys?
If you're firing him because he caused the problem, will you promote me if I solve it?
In these examples, you're using the idea of natural consequences to promote your suggestion or your idea.
Likewise, if you count tall boys as men, do you count short men as boys? You're using the same linguistic ideas but reversing concepts within it to either demonstrate the flaw or prove your point.
11. The Secret Motive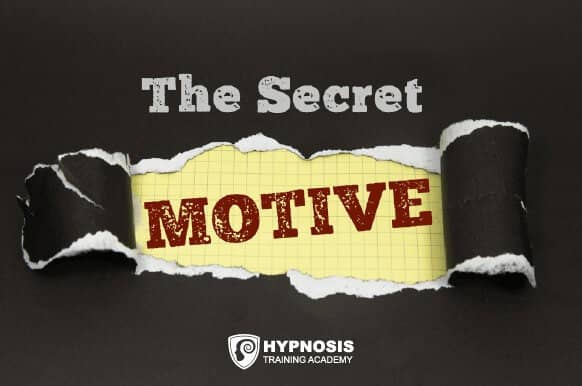 Actions don't happen randomly. Every action has a motive behind it. The secret motive exploits this by offering an alternative motive which will totally reframe the action that's occurring.
The classic example is: "You're just saying that to make me feel good," or "You're only helping me because you want me to like you."
There's truth in the statement, but you're now framing it in such a way that an act of kindness gets turned into an act of great selfishness or of manipulation.
A more unpleasant example is: "I'm only beating you to make you stronger."
You're changing the motivation, and by changing the motivation you're changing the whole meaning of the behavior with it.
Your job as a hypnotist is to bring up the truth of such motivations to be examined, so the behavior, or perception can be changed. In other words, you challenge a subject's beliefs.
For example, say if someone said: "You're only helping me because you want me to like you."
You could ask: "Is that true? Where's your proof? Do you always need someone to like you before you do something nice for them?"
12. The True Motive
Every action has some kind of rational motive behind it. If there's no motive, then there's no action.
If you take the motive away, that's a great way of inhibiting the action and of proving that the action can't have happened because there was no motivation for it. And vice versa.
Here's an example:
"He needed the money, so of course he'd steal it."
There's motivation, so you can conclude action from that. It might not be true, but it's persuasive.
The opposite is also true: "If he's loaded, why would he steal a measly $10?"
He might have stolen the $10, but by removing the motivation you lessen the probability from "likely to have stolen it" to "so unlikely that you can assume it hasn't happened."
You can also use it to point out the consequences for motivation.
For example, "If we scream, they'll shoot us, so let's be quiet."
That's a great argument. But the opposite is also true.
"If we're silent, they'll get away with it, and we can't allow that to happen."
This is a great example of why we make the choice between pragmatics and aspirational, between things that are useful and things that are moral.
13. Truth Is Stranger Than Fiction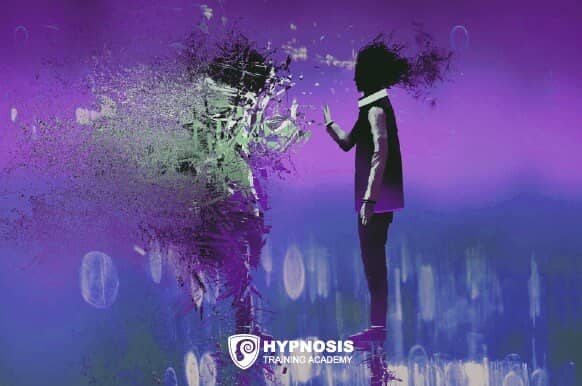 Sometimes things happen in the real world that are so strange or bizarre that you just couldn't make them up. But the opposite is also true.
You can say that the whole thing fits together a little bit too neatly, it seems artificial and therefore can't be true. It's not how the real world works.
Every tall tale and every superstition holds a seed of truth, if only you can find it. You're using the fact that it's strange or bizarre to prove it.
This is a great frame to use to empower a suggestion that would normally get rejected.
For example, when helping someone with low self-esteem, or a defeatist attitude, try telling a Hero's Journey.
This is a story or anecdote of someone who has overcome crazy, unbelievable odds to achieve their dream. Or done things absolutely unthinkable to save someone else.
Just make sure the story has relevance to where the person you're talking to is at, and tell it in a hypnotic way.
Stories bypass the critical factor and go straight to the unconscious mind. Larger than life stories, even unbelievable ones at the conscious level, open people up to greater possibilities.
If you just tell someone they can do anything, just go for it – the suggestion will likely get rejected.
But listening to a story or anecdote about someone else achieving what your subject is trying to, the transference of the message is generally accepted by their unconscious and results in positive change.
14. The Counterexample
This refutes the logic by providing a counterexample that disproves the rule.
For example: "He says he loves cats, so why doesn't he own any?"
Or, if you think I can't be trusted, how do you explain all my glowing references? Or, he never lent a friend a penny. On the other hand, I have donated millions to charity.
This is a powerful and useful way of framing suggestions to cut right across the critical factor and become very persuasive at the same time.
15. The Classic Reframe
You can change the meaning of an action by giving someone more information, in other words, changing the context.
For example: He didn't push her to hurt her, he pushed her away to move her out of the path of the poisonous snake.
Here's another example. You're standing at a traffic light, and the light is red. You hear a siren, and an ambulance comes speeding by, straight through the red light. How does that feel? It's a good thing, right?
Seconds later, a red Ferrari screams past. The driver's wearing his shades and he's going through the same red light. How does that feel?
It's the same event, with a vehicle driving through a red light. The ambulance is trying to save lives, so that's fine. That's positive. The other one seems to be a show-off in a flash car. That's not so good. That's negative.
The classic reframe is to give more information. Perhaps the ambulance is filled with medical students taking a bit of a joyride, having a party in the back of the vehicle. Meanwhile, the Ferrari driver is racing to the hospital. His wife's pregnant and had a nasty fall. She's in the back seat and they need to get her checked out asap.
Suddenly, the whole meaning has changed. Nothing has changed physically, but now the context is completely different. It's a classic reframe, and a very powerful influence tool.
16. Cause & Effect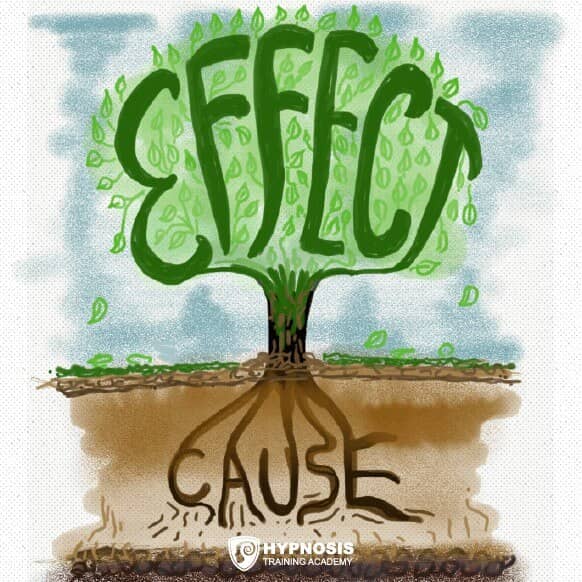 This is a classic piece of logical reasoning, which can be very effective. If you have a cause, then the effect is going to be there.
If A causes B and you have A, you know that B is going to come. If you don't have A, you know B isn't going to come.
For example: "Mr. Smith only ever drinks when he's stressed, and he wasn't stressed at that time."
So the implication is, how could he have been drunk? Whether or not he was drunk is neither here nor there.
The cause is absent, so how can the effect have been present?
17. The Ascribed Motive
The ascribed motive is an example of a hidden implication. You're implying that if two people or two situations are alike, they must have the same motivations.
For example: Only decent people give to charity. Adam has given thousands to charity.
The implication is that he must be a decent person.
A more concise version is to just include that in the assumptions of the descriptions. For example, a more negative context would be, "They argued like jealous lovers."
What you're doing here is creating the context. Maybe these two people are in a relationship that you didn't know about.
Because their behavior is the same as two lovers having a jealous quarrel, you infer that these people are also having a relationship that's somehow on the rocks. You've basically ascribed a motive. It may or may not be true, but it's certainly influential.
In a more positive context, if you're speaking with someone and they tell you about something positive they've done, such as coaching a little league team, you can provide "hero fuel" by asking them:
"What kind of person does such a great thing as being a kids coach?"
They may answer:
"A kind or caring person."
The implication is that they must be kind or caring, or they wouldn't have done what they did by coaching the little league team.
So you've assigned a kind or caring motive to their actions.
So there you have it – 17 techniques for influential reasoning. Notice how they aren't all strictly speaking logical. Some of them may be totally logical and others may be more pseudo-logic.
But the point is that they all have a great deal of influential power. The key things to remember when using these techniques are:
The strategies that you employ. This is how you start the whole process.
The facts or the actual elements from the context that you're using to weave your story together.
When you do these things, you create a channel down which attention will flow. This will ultimately challenge the behavior, the actions and the decisions that you want to elicit from your subject. In other words, you would have influenced them to do what you wanted them to do. But of course, always in a positive way that has their best interests at heart.
Now that you've got the basics, it's time to take it to mastery level. Discover the most detailed library of trainings covering the whole field of hypnosis! Get instant access to 21 Advanced Hypnosis Masterclasses right now.