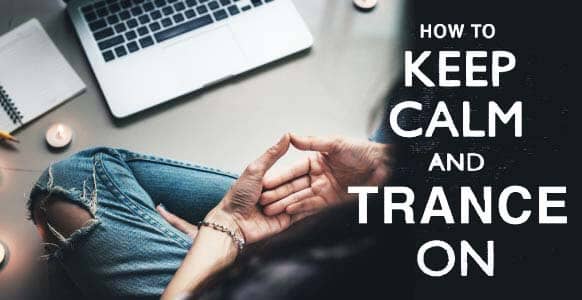 Due to the global outbreak of COVID-19, businesses are feeling the economic punch and looking for new ways to work remotely during coronavirus.
The need for social isolation is a double-edged sword: it will help get the viral pandemic under control, but it's also putting increased pressure on businesses to change and adapt… or even worse… to shut up shop and close permanently.
The sad reality for most businesses is that without customers, they can't survive for too long. And unfortunately for some companies, the concept of working at home simply doesn't make sense.
Fortunately, though, as a hypnotist, you fall into the "lucky" category as you can work from home and support your clients during these difficult times using hypnosis.
How To Work Remotely During Coronavirus
Instead of offering your services in the usual face-to-face environment, you can pivot your business model and work online.
You can create your own at-home, virtual hypnosis practice.
The technology to do that is already in place, and all you need to do is take advantage of it.
It's important to try and stay calm, think outside the box, and not to get caught up in the fear and panic that's being fueled by the media.
>>Related article: How To Override Hypnosis In The Media & Not Get Sucked In By The Negativity Of The News And Those Around You
Why not use the same technology as a force for good?
You could use social media to promote positivity, resilience, calm and perspective: giving you automatic worldwide reach to help people cope with this unique and challenging situation.
You can also offer them practical tips on how to relax and stay focused on the important things in their lives. Such as health and family. You could help them to choose strength over fear.
Beyond that, here are some popular apps and platforms that allow you to video conference with clients, or to stream videos to a group of people so you can work remotely during coronavirus, or at least spread some hope and perspective to the masses:
1. Zoom – popular, free and reliable video conferencing platform that's become the new Skype for businesses. Zoom is used for virtual business meetings, coaching calls, recording podcasts and a host of other things (we actually use it here at HTA). You can use the video functionality or just the audio with your hypnotherapy clients.
Here's also an example of how a yoga website, Ompractice, is using Zoom to offer group classes in the event you wanted to ever do something similar.
2. Instagram Live: During the coronavirus, many yoga studios and gyms are offering classes on Instagram Live. You could also use it to host a guided meditation or self-hypnosis, to offer advice on how people can keep calm during this challenging period or to host a general Q&A around your services/niche as a gesture of goodwill.
3. Facebook Live: Same as Instagram, you can host live sessions on Facebook to grow and reach your audience, and to spread your message.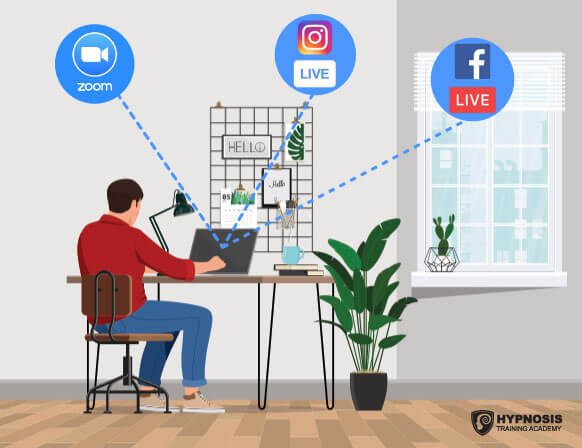 Setting Up Your At-Home Virtual Online Hypnosis Practice
The first thing you need is an "office."
This only has to be a space you can use for your online sessions. Think about what your client is going to see when you work with them.
You'll need somewhere clean and tidy with as few distractions as possible. If you use video conference type software, for example, you don't want your hypnotherapy clients to see you in a room with dirty laundry hanging off the door handles.
That's probably not likely, but you get the picture. Even though you're not in a "real" office, you still need to be as professional as possible. A room that you might use as a study or home office would be ideal. If you don't have one of those, placing a bookcase behind you might be a good substitute.
The idea is to present yourself in the same manner as you would in an office environment so that your client's expectations are the same as they would be otherwise.
You'll need somewhere to work where you won't be disturbed. If there are other people in the house, make sure they understand that you need absolute privacy – as well as peace and quiet – in order to do your work.
You wouldn't want to guide someone gently into a trance when all of a sudden the door bursts open and in come a couple of screaming children being chased by a barking dog. That would ruin everything and you'd probably have to start over or discontinue the session. It might put your client off from the whole experience as well.
TIP: Plus, it's best to use headphones to reduce any background noise, and encourage your clients to the same. As you might have experienced when listening to guided self hypnosis audios, headphones optimize the trance experience, so always suggest this in advance.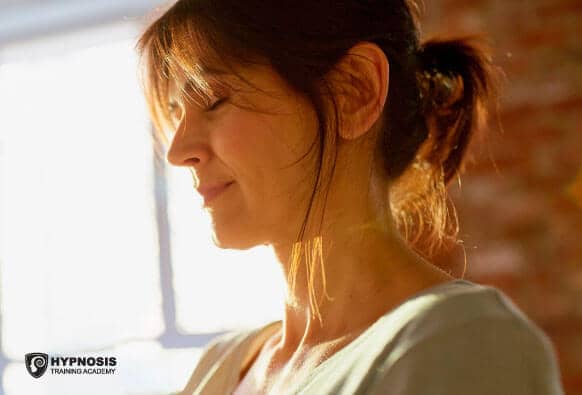 You'll need to take care of your mental and physical health during these times too. You can do this by going for walks in the fresh air (by yourself… this is still allowed in many places, but obviously abide by your country's restrictions).
You might practice yoga or join some other online fitness platform. You can also use self-hypnosis to keep yourself calm and relaxed, maintain your positivity, keep yourself grounded, and tap into your creativity.
Just because you're working (and stuck) at home, doesn't mean that you shouldn't continue to grow as a person and a hypnotist, right?
In fact, this international emergency offers a good opportunity for us as human beings to consider and re-evaluate what's really important in our lives and how we've been living.
Because let's face it: as long as you're fit and well, you might as well make the best use of this isolation. You could use it as a period of introspection and growth – spiritually, emotionally and professionally.
For instance, if you're stuck in the house for long periods of time, what better chance to catch up on your reading or by doing an online course? There might be days when you have gaps in your client list, and doing a bit of online research means that those lulls won't go to waste.
You can access some of our online hypnosis training courses below: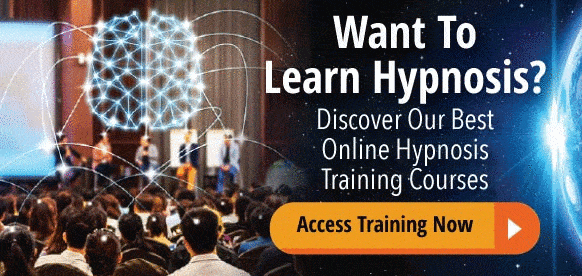 It's also important to remember that if you DO offer online hypnosis sessions, you'll have a much wider reach than ever before.
Instead of only dealing with clients who are able to make it to your usual office space, you now have access to people from all over the world.
And when the pandemic is over and things settle down (which they will), it could be a service you continue to offer. It might become a second income stream. Or you might enjoy it enough to dedicate your entire practice to online hypnosis work.
Plus, if a similar situation should ever arise in the future, you'll know that you have your online hypnosis practice to fall back on.
The coronavirus outbreak represents an unprecedented phenomenon not seen since the 1918 Spanish flu pandemic.
It's forcing businesses to adapt and to change the way they work in a desperate attempt to survive.
It's a scary time in many ways, but the secret is not to panic. Don't let the media fill you with fear. Stay positive and look for ways to work around the restrictions that will keep you busy and help as many people as possible.
Be a force for good, because that's one of the most powerful things you can do with your hypnosis skills.
In a follow-up article, Igor is going to offer some further insights on how to set up your online hypnosis practice.
You might also find the article below helpful if you get any clients asking you about the effectiveness of online hypnotherapy:
>>Is Online Therapy As Effective As Face-to Face Hypnotherapy?
Until then, keep calm and trance on!