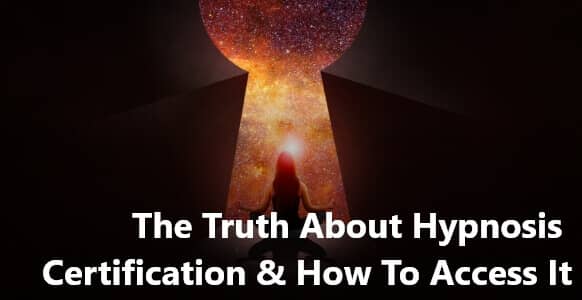 Interested in learning hypnosis? Perhaps you've already taken some hypnosis training courses, either online or in live seminars.
The more you get into hypnosis, the more you realize an important point. As well as learning lots of fascinating stuff, you can also turn hypnosis into a career.
That's right. You can make a living as a certified hypnotherapist. You just need the correct qualifications and a steady stream of clients.
So the next question is, how do you get those qualifications to be a certified hypnotherapist?
In other words, how do you go about obtaining hypnosis certification?
Let's face it. If people are going to trust you to help them with their problems, they're going to want to know that you're qualified to do that.
They're going to want to see certificates or diplomas hanging on your wall, just like they'd see in a doctor's or dentist's office.
They'll probably think (and you might think it too) that you need those things to set up a hypnosis or hypnotherapy business in your area.
But that's not always the case.
What Is A Certified Hypnotherapist or Hypnotist?
To become a certified accountant, the Association of International Certified Professional Accountants (AICPA) states that you need at least 150 hours of education. You also need to pass a 4-part exam and demonstrate extensive experience in order to obtain an accounting certification.
So what if you want to become a certified hypnotist or certified hypnotherapist?
If you've studied hypnosis and have had success, you can call yourself certified. But unlike the AICPA, there is no international governing body for hypnosis.
Using the title "Certified Hypnotist" might put your clients' minds at ease, but in the real world, it doesn't actually mean anything.
Anyone can claim they have hypnosis certification, but there are no legal requirements for them to live up to. That's because hypnosis is an unregulated profession in most countries or areas of a country.
What Is An Unregulated Profession?
Many professions are regulated, meaning that the people who take up those professions have to have the proper credentials. They need a certificate or diploma from a government-recognized institution.
For example, plumbers in the US need a state license to operate. They also need to pass an exam before they'll be issued a plumber's certification.
The same is true for electricians. So plumbers and electricians need to be certified, while hypnotists in most areas do not.
As an unregulated profession, there is no governing body to approve your hypnosis qualifications. There's no national or international organization to issue certificates or lay down codes of conduct.
In many places, you might not even need a license to practice hypnosis. Of course, that's something you need to check carefully in your own state, province, or country.
Anyone who has undergone hypnosis training can say they are qualified and can use the title "certified hypnotist". The problem is that you don't know what kind of training they've had or where they received it.
So what's the solution?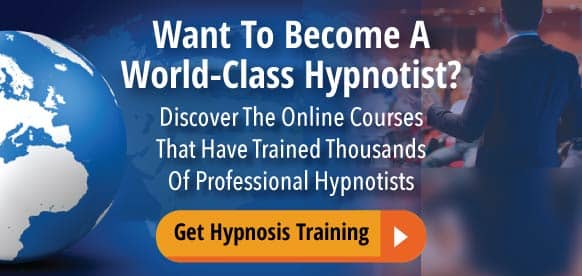 How To Access Authentic Hypnosis & Hypnotherapy Certification
Just because hypnosis is unregulated, that doesn't mean you can't obtain hypnosis certification or become a certified hypnotherapist.
Hypnosis certifications are offered by the National Guild of Hypnotists (NGH) as well as by the American Society of Clinical Hypnosis (ASCH).
Some other bona fide hypnosis training institutions offer certification in the form of diplomas for everyone who successfully completes their training. For instance, the Hypnosis Training Academy runs its own hypnosis diploma school.
This is a 4-year training course that includes skills training in 3 important areas:
General Hypnosis Skills
Applied Conversational Hypnosis Skills
Professional Skills Coaching
Once you've successfully completed the course, you'll receive a certificate in the form of a diploma that you can frame and hang on your office wall. The same sort of diploma you'd get when you graduate from a university.
If your goal is to pursue hypnotherapy certification, the Hypnosis Training Academy has training courses available for that as well, covering all skill levels from beginner to advanced.
One such course is Conversational Hypnosis Professional Hypnotherapy 2.0, the famous hypnotherapy course that teaches the Academy's foolproof 4-step hypnosis process that will help to resolve any issue during a hypnotherapy session.
So even though hypnosis is unregulated, that doesn't mean you can't gain the right qualifications. And when you've got the right qualifications, you can certainly claim that you are certified.
But why do you need to be certified in the first place?
Why Do Hypnosis Certifications Matter?
There are two reasons why getting hypnosis certification or hypnotherapy certification could prove to be very useful to you. First of all, if hypnosis is your career, then it's also your business. That means you're going to need business insurance.
Insurance companies will be more likely to offer you business insurance if they know that you are a certified hypnotist. It won't matter to them if the accreditation means anything, and they won't care where or how you got your certification, as long as you have a piece of paper that says you are certified.
Secondly, a diploma or certificate on your wall looks good. Clients will respect you as an authority in your field if they see documented proof that you've studied and achieved academic success. And if they have faith in what you can do, then that's one possible stumbling block out of the way before your hypnosis session even begins.
Of course, you should only hang diplomas or certificates on the wall that you've actually earned. As with all things hypnosis, everything you do should be done for the good of your clients and with an open and honest approach.
Hypnosis Versus Hypnotherapy: What's The Difference?
Once you've studied hypnosis, does that mean you can also perform hypnotherapy? Are they the same, just being used in a different context? They are not the same, and the key difference is in the "therapy" part of the word.
Hypnotherapy refers to using hypnosis as a therapeutic tool, to help someone make positive changes in their lives. What kind of changes? Here is a list of just a few of the possibilities:
To fight phobias
To remove stress and anxiety
To overcome trauma
To alleviate insomnia
To break bad habits
To create good habits
The words therapy and therapeutic refer to deeper work, and so hypnotherapy allows people to help heal themselves from the inside out. It uses hypnosis to achieve this, and often includes other disciplines such as NLP. 
All hypnotherapy is hypnosis, but not all hypnosis is hypnotherapy. Hypnosis can also be used for entertainment, such as in stage shows. Then there's forensic hypnosis, which involves a hypnotist working with police forces to help them solve crimes.
The term "hypnotherapist" may have different connotations in different parts of the world. That's because most people designated as therapists need to be licensed.
For example, psychotherapists are licensed mental health professionals. In the UK, you need a master's degree in psychotherapy and 450 hours of practical experience before you can register as a licensed psychotherapist.
Likewise, in the US you need a degree followed by supervised hours, after which you must sit an exam before you can be licensed to practice.
Even physiotherapists need a doctorate in physical therapy from an approved and accredited educational institution before they can practice their profession legally.
So far, however, there are no similar requirements for hypnotherapists in most countries. There are places where you can get training from organizations that claim to provide you with hypnotherapy certification – i.e. make you "certified" – but their training is not endorsed by any governing body.
The question is, can you still provide people with hypnotherapy even if you're only calling yourself a hypnotist?
Hypnosis Versus Hypnotherapy & The Law
In some countries, you need a license to operate as a hypnotherapist. Even if you only use hypnosis to help people make changes in their lives, you are not allowed to call yourself a hypnotherapist.
To be on the safe side, find out what the laws are in your area. If you're in any doubt, stick with the term hypnotist.
If you were to use a title such as professional hypnotist or consulting hypnotist, and then advertise the various ways you have helped people, anyone reading that will probably understand exactly what you are offering.
Find Out What People Are Searching For
This is probably the best way to discover your ideal title as a hypnotist. Using an online search engine, type in a number of variations on the terms "hypnotist" and "hypnotherapist."
You could try terms such as professional hypnotist, consulting hypnotist, professional hypnotherapist, clinical hypnotist, certified hypnotist, and so on.
A recent search on Google returned 9 million results for the term hypnotherapist, but 23 million results for hypnotist. It's also a good idea to narrow your search to see exactly what people in your city or state are looking for and then adapt your search term to get the most hits.
For example, the term "hypnotist in Los Angeles" returned more than 6 million results, while "hypnotherapist in Los Angeles" returned less than 1 million.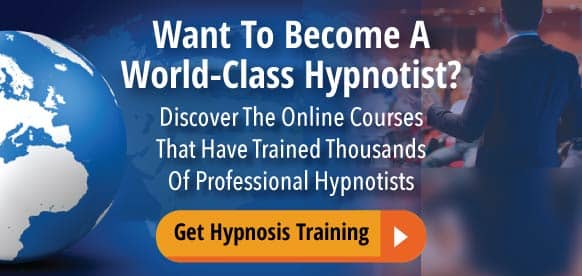 Should You Only Access Training That Is Accredited?
Accredited training refers to training that is officially recognized by a governing body, which could be national or international. But as you know, as far as hypnosis is concerned, those governing bodies don't exist in most countries.
There are lots of hypnosis training organizations that offer their own accreditation, and even some that allow you to earn a diploma. These organizations are independent, however, and their accreditation simply means that you have completed their training course successfully.
Hypnosis certifications won't give you any credentials that will be recognized and approved by an authority or government-backed registry.
It all comes back to the fact that hypnosis is unregulated in most countries, and because it's mostly unregulated, your qualifications will not have any official recognition.
For an example of how a regulated profession usually works, take a look at architecture.
This industry is regulated by the National Council of Architecture Registration Boards or NCARB. And according to their 2012 statistics, it can take up to 11 years to become a fully licensed architect in the US.
In other words, you can't practice architecture anywhere in the country without a license, and the qualifications needed are nationally recognized by a specific governing body.
But there is a bit of good news. Many professional hypnotists don't have any sort of accreditation whatsoever. Some might have other degrees, in psychology for example, which could enable them to be known as hypnotherapists, local laws permitting.
What's probably more important is to make sure you have as much in-depth training and education as you can get, so you're able to offer your clients a proper and bona fide service.
Final Thoughts On Hypnosis/Hypnotherapy Certification
Here are some tips that will ensure you have the best possible chance of providing high-quality hypnosis to your clients.
1. Get the best training you can afford.
Study with a master hypnotist at a recognized training school that has a fantastic reputation and an outstanding track record, such as the Hypnosis Training Academy.
2. Practice, practice, practice.
Put your skills to use as often as you can to make sure you have the confidence you need to truly help people make significant changes in their lives.
3. Keep on learning.
Hypnosis is a constantly evolving discipline, and as a practitioner, you need to keep up with new developments. Consider subscribing to a top hypnosis blog that features all the latest articles, videos, and demonstrations so you can stay informed and be kept in the loop.