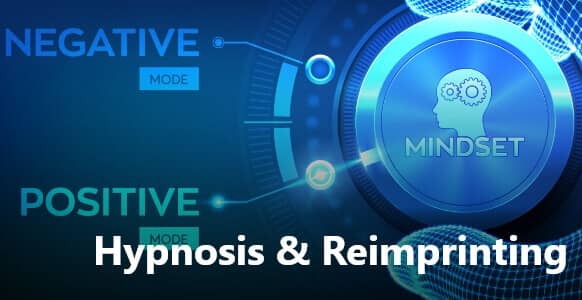 Who says you can't change the past?
With reimprinting, it's entirely possible.
Reimprinting refers to creating a reimprint on a past memory or a future memory as a projection.
Basically it means taking your subject back to a point in the past, to an experience or set of experiences that affected them adversely.
The idea behind hypnosis and reimprinting is to focus on something that didn't actually happen in order to turn things around. You're reimprinting their memory of the event, transforming it from a bad or negative memory into a healthy and positive one.
Up to now, this unpleasant and potentially harmful memory may have been causing them a lot of issues.
So the reason for reimprinting the memory is to enable them to let go of any issues associated with that memory, helping them to move forward in a more constructive and positive way.
That makes it an essential technique for hypnotists and hypnotherapists to have in their arsenal.
But what exactly is reimprinting all about?
Hypnosis & Reimprinting: How Does It Work?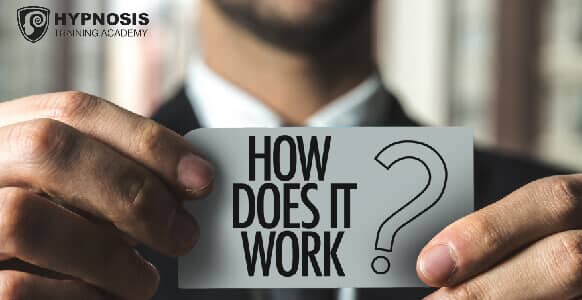 As mentioned above, reimprinting is a technique designed to help your clients resolve troublesome issues from the past.
The classic reimprint has 3 significant parts to it, which are:
1. Identify the sequence of memories that's causing the problem.
For instance, someone who suffers from test anxiety. Maybe they were teased about their inability to cope with test situations. That made them nervous and made the problem even worse. It happened more than once which cemented the idea that they were bad at taking tests firmly into their mind.
2. Fix the child.
In other words, give the younger version of your client whatever resources it needs to overcome the problem. In simple terms, beam the love, wisdom, confidence, etc. to the child so they're glowing with these attributes. At this point everyone else in the memory may be still messed up, but the child becomes the enlightened one.
3. Fix the other actors in the memory.
Maybe an older sibling abused you (the client) and continuously put you down. Why did they do that? Because they're a jerk. The important thing to remember is that they're not actually a jerk, they're just acting like one. If you look at them as a fallible human being, then your perception of the memory changes.
Why were they acting like a jerk? Maybe they were jealous of how clever you were. As the older sibling, they're supposed to know more and be able to give you advice. Putting you down is one way that helps them overcome their limitations so that they can feel better about themselves.
This technique is a powerful way to help clients deal with these kinds of issues from their past.
You're basically creating a narrative or story that gives them the opportunity to resolve internal conflicts in favor of something healthy.
And once that happens, they'll feel empowered to do things they didn't think they could do.
So what sorts of issues are you going to be working with?
In other words, what might the technique be used for?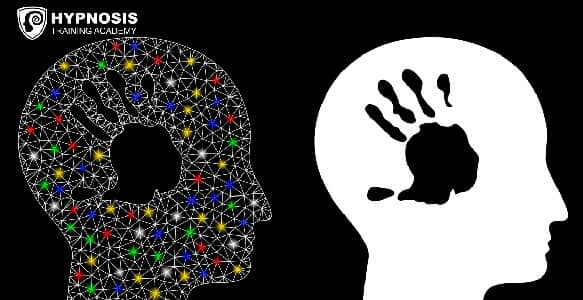 Typical Uses For The Reimprinting Technique
The older sibling scenario is one possibility. Another is the child who's bullied at school with no one there to look out for him.
How could that be resolved? Well, maybe Superman flies in and saves the day.
If that's too far-fetched for your client, then perhaps a teacher could do the saving. Or even an older sibling.
Or maybe the client's mother and father turn up, give the bully a telling off and everything's hunky-dory from then on.
Of course, none of those things actually happened. Mom and dad weren't there to protect the child.
But in the reimprinted memory, they are.
For your client, it's a way of reliving their life in a more positive, empowering fashion.
Another common issue is anger at a parent figure. For instance, your client might be angry at their father for something he did when they were a child.
Perhaps he was hypercritical and nothing they did could please him. Even if the father has passed away, the client still harbors this deep-seated anger.
Maybe he dissuaded them from going after a certain career or promotion. Every time the client feels like trying to better themselves, they hear their father's voice telling them not to, telling them they'll fail and it'll all end in disappointment.
But it's not really their father's voice. It's their own internal representation.
And now, even though their father may no longer be alive, that parent is still pulling them down.
They can't get away from it. They're stuck in a negative feedback loop that's sucking away all their energy and vitality.
With hypnosis and reimprinting, however, you have the opportunity to help them turn things around.
General Principles Of The Reimprinting Technique
In order for reimprinting to be effective, there are a few things you need to keep in mind.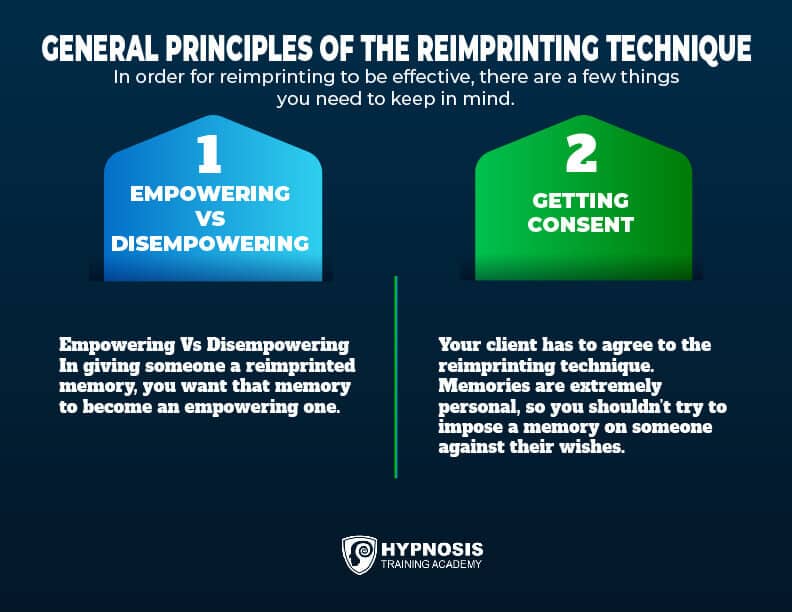 Empowering vs disempowering
If you're going to give someone a reimprinted memory, you want that memory to become an empowering one. So instead of the hypercritical father, what if their father was the model parent, kind but firm, encouraging them to learn from their mistakes and always there to pick them up when they fell.
Instead of channeling the negative parent and demeaning themselves, they channel the positive parent. That gives them the power to become stronger in those times when they do occasionally slip up.
Getting consent
Your client has to agree to the reimprinting technique. Memories are extremely personal, so you shouldn't try to impose a memory on someone against their wishes.
Ideally you want conscious and unconscious permission, but the more invasive the work is going to be, the more you need conscious permission. One way to get round that dilemma is to simply ask your client outright: what would things be like if this experience from the past had been different?
Another important point to remember is this. Two people can have the exact same experience. One is destroyed by it, and one succeeds because of it. But why?
It all boils down to their point of view and how they see the world. For instance, imagine if you were wearing red spectacles that filtered out the color red. Meanwhile, someone else was wearing yellow spectacles that filtered out the color yellow. Even though you both witness the same event, you'll come away with totally different impressions.
Everyone views their memories through their own set of filters, so that no matter how accurate their memories might be, their own filters add an extra layer of meaning on top of that.
Reimprinting gives you the ability to cut through those filters and change the meaning from disempowering to empowering.
You might have noticed that a reimprint has a lot of the features you'll find in a regression.
But are they actually the same?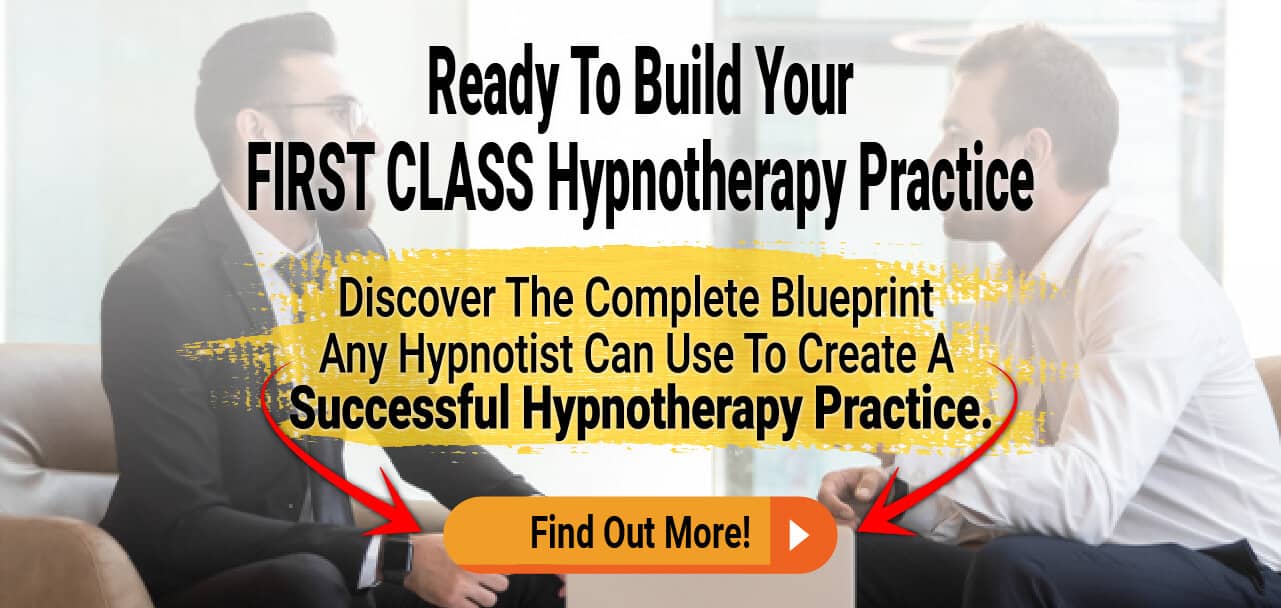 Regression & Reimprinting: Their Similarities & Differences
In one sense, a reimprint and a regression are the same type of device. They're both used to go back into the client's past and change the way they relate to a memory. But there is a big difference.
In a classic regression, you go back to the memory and work with the child. You work with the younger version of your client to address the mistake they made or the experience they had.
You're not fixing the person; you're fixing their perception of the symbolic representation of themselves. It's a sort of mini-reimprint, because you're resourcing one character, one symbol and one archetype of the past.
In a reimprint, you go back and fix the child. But then you also fix all the other actors involved in that memory, whether they're parents, siblings, teachers, police officers, or anyone else.
Any regression work will involve some form of reimprinting, but it's indirect and more of a side effect of the regression. On the other hand, reimprinting involves going after a specific childhood memory and changing it so that the client becomes the hero instead of the victim.
For example, imagine a client who had an overly critical mother. In their mother's eyes, they weren't good enough or pretty enough or clever enough etc.
And even when the mother passes away, the client is still having issues. She's afraid of going after career goals, scared of relationships and terrified of having children in case she turns out to be a terrible mother.
But her mother is gone. The voice inside her head that continues to tell her how she's not good enough is still there.
It can't be her mother, so who is it? It's the client's representation of the mother.
These inner figures represent part of the client's relationship with the world. If you can change that part of them, you can also change their world.
And that's what hypnosis & reimprinting can help you achieve.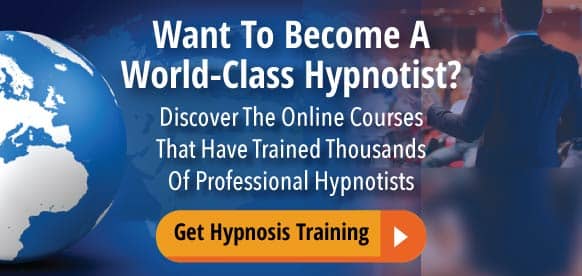 Conclusion and Takeaways: Hypnosis and Reimprinting
Reimprinting is a technique that allows you to take your client back to a time in their past and change the memory of that time for the better.
During the process of Hypnosis and Reimprinting, the memory helps to let go of any issues associated with that memory, helping people move forward in a more constructive and positive way.
A typical reimprint involves three important parts:
1. Identify the memory or memories causing the problem.
2. Fix the child, the younger version of your client, by giving them the resources they need to overcome the problem.
3. Fix the client's perception of the other actors associated with the memory, such as family, friends, or authority figures.
Common uses for reimprinting include anger at a sibling or parent. In the client's memory, one or all of those people failed to provide the support or encouragement needed at the time, and that failure has affected the rest of their lives.
This anger can live on even after the client's parents have passed away. But the negative voice they hear in their head is merely their own internal representation of that other person.
Reimprinting allows them to recognize this symbolic representation for what it is so they no longer have a need for the anger and can simply let it go.
Both reimprinting and regression can be used to change memory. But while regression works only with the child or younger version of the client, reimprinting also works with the other actors involved in the memory.
At its best, hypnosis and reimprinting gives you the chance to change a childhood memory so that the client becomes the hero instead of the victim.