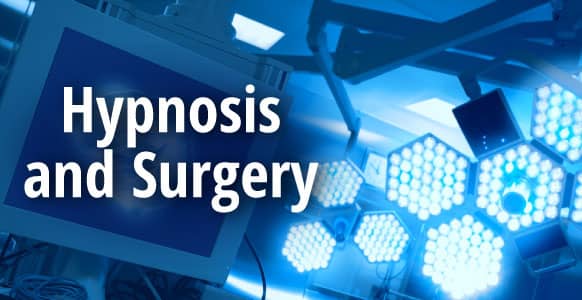 64-year-old Beverly Levinson needed breast surgery, but because of an existing medical condition she couldn't risk a general anesthetic.
Instead, she opted for hypnosedation, using hypnosis to manage pain during surgical operations.
According to Levinson, she remained calm the whole time and didn't feel anything.
There was some pressure on her breast, but no pain.
Less than an hour after the operation, she was dressed, out of bed and walking around.
Not only that, but because no anesthesia was used, she recovered faster and didn't need post-op painkillers.
That's what can happen when hypnosis and surgery come together.
And it was the same for Alex Lenkei from Worthing, England.
He had surgery on his thumb to improve his arthritis.
Being a professional hypnotherapist, Mr. Lenkei hypnotized himself before the procedure.
He was aware of everything going on around him but felt no discomfort.
Even when the surgeons used a hammer and chisel on him.
But how is that possible?
Hypnosis And Surgery: What Is Hypnosurgery?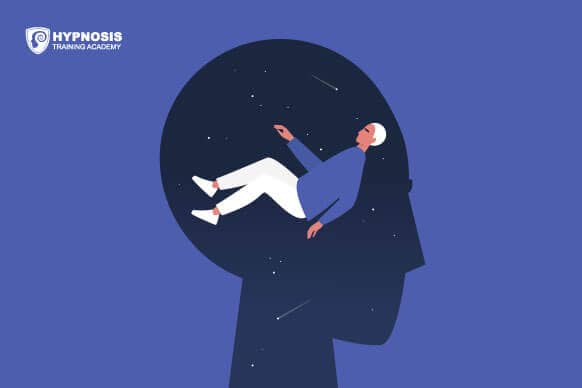 Hypnosurgery is a term that refers to sedating a patient using hypnosis rather than with traditional anesthetics.
The patient remains awake while the hypnosis helps them to control their pain perception.
The technique is also sometimes known as hypnosedation, medical hypnosis or hypnoanesthesia.
Hypnosurgery is not a recent discovery. In a paper for The American Journal of Clinical Hypnosis, author D. Corydon Hammond quotes from historical examples of the use of hypnosis during surgery going back to the 1800s.
The use of hypnosis in surgery has a long history and was often combined with ether in early operations.
According to the Macmillan Dictionary, the technique was pioneered by the late Irish surgeon Jack Gibson in the 1950s and 1960s. Gibson used just hypnosis on patients undergoing plastic surgery, bone-setting and even amputations.
In present day situations, the anesthesiologist will use calm and positive words to divert the patient's attention and get them feeling relaxed and comfortable.
At the same time, an intravenous line will be hooked up to the patient's arm in case they are unable to cope with the sensations or pain.
Anesthesia will be used if necessary, but this will obviously slow things down, both during the operation and during the recovery period to follow.
Doctors and surgeons in the 21st century are rediscovering the benefits of hypnosis as an effective and money-saving alternative to anesthesia.
It's being used worldwide because it offers patients less post-operative pain, reduced anxiety levels and a speedier recovery time. It also helps to lower medical costs.
But is it just a fad, or is it actually being accepted by the medical profession in general?
Why The Medical Field Recognizes Hypnosurgery: The Future For Anesthesiology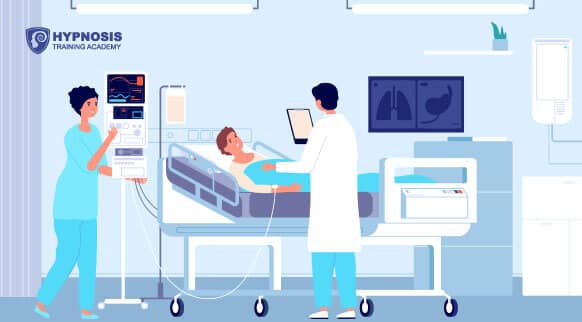 Let's face it. Any patient about to undergo surgery is going to be nervous.
It's only natural.
And because it's so natural, the usual procedure is to sedate with something to help them relax before giving the general anesthetic.
However, a few calming words from a doctor or other medical professional has been shown to be more effective at lowering a patient's anxiety levels than medication.
In one research study of 100 patients, half were given 25mg of oral hydroxyzine and the other half were given conversational hypnosis. Their stress levels were then measured using the Analgesia/Nociception Index (ANI). The results imply that the stress levels of patients lowered after being administered with hypnosis.  
Hypnosis patients had an ANI average of 51 beforehand and 78 afterwards, while the medicated half had an ANI of 63 before and 70 after.
Lead author of the study, Dr. Emmanuel Boselli, said in a press release that these results point to a change in the way physicians interact with their patients.
According to Boselli, hypnosis is a powerful tool to help reduce anxiety levels in patients, whether that's prior to a local anesthetic or general anesthesia.
Boselli also points out that excessive levels of stress in themselves can be damaging, leading to bigger and more severe physical and mental problems. Any technique that helps lower stress, in or out of the hospital, has to be a good idea and should be worth adopting.
So where does that leave sedation with drugs?
Are hypnotherapists going to take the place of anesthesiologists?
In other words, can hypnosis replace anesthesia?
Not completely, according to Elizabeth Rebello, associate professor in anesthesiology at MD Anderson Cancer Center at the University of Texas.
She says that in some cases, hypnosedation might be a better fit for some patients. It also gives them another option instead of anesthesia, which may not be appropriate for medical or psychological reasons.
But what kind of hypnosis are we actually talking about here?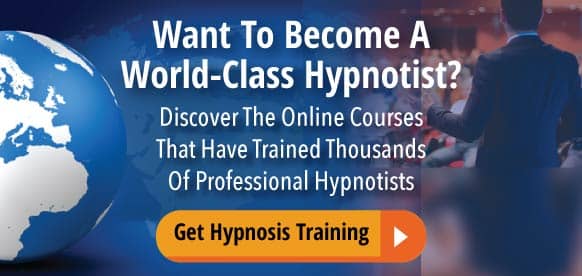 Hypnotic Tools For Surgery
It might be obvious to you by now that hypnosurgery involves conversational hypnosis.
Conversational hypnosis is exactly what it sounds like: using hypnotic tools while having a conversation with the other person.
To them, it simply seems like an ordinary conversation. But the hypnotist will be using hypnotic language to bring about a specific goal: relaxation.
Hypnotic language includes things like:
Hot words
These are words that have extra power in them. Where relaxation before surgery is concerned, they might include words and phrases such as relaxing, calm, stress-free, unwinding, being at rest, having no worries, knowing you're in good hands, soothing, comfortable, peaceful, and so on.
Stories
These can be personal stories, my friend Jane/John stories, anecdotes, historical events, or any stories that might be relevant to the current situation. Stories help to stimulate the imagination which is a quick way to access the unconscious mind.
Mind-Bending Language
This is used to disrupt negative thought loops and to get the person to think differently about a specific situation or event. When you're fixated on a problem, that's all you can focus on. Mind Bending Language helps lead you away from the problem and towards other alternatives.
The Non-Awareness Set
This is used to shift the person's attention from the conscious to the unconscious. It involves asking simple questions to highlight something happening outside their awareness. For example: "Did you notice how your breathing has changed since we started talking?"
All of these techniques serve the same purpose: they help to bypass the critical factor making it easier to communicate with the unconscious mind.
Hypnotic language makes associations between things, which is also how the unconscious mind works.
Here's a typical example. You're on holiday and you keep hearing the same song being played wherever you go.
Once back home, you return to your normal routine. At some later date, you hear that song again, and all the memories of your holiday come flooding back.
In your mind you can experience that time all over again, including the sights, the sounds, the sensations and the emotions you felt. And that's because of the associations that have been built up in your unconscious mind.
Where appropriate, patients could achieve the same results using self-hypnosis.
Self-hypnosis is simply the use of the same hypnotic tools on oneself to induce calm and promote relaxation.
That might involve a basic process something like this:
Closing your eyes and relaxing
Focusing on your breathing
Stating your objective, i.e. to relax, stay calm and remain pain-free
For more information on different ways to practice self-hypnosis, check out Stuck In A Self-Hypnosis Rut? Try These 13 Powerful Induction Methods To Induce A Deep Trance – 2nd Edition
Conclusion And Key Takeaways
According to David Spiegel, M.D., Associate Chair of Psychiatry at Stanford University, pain and the experience of pain are different for every person. He adds that hypnotherapy can be used to alter how much pain a person feels.
Writing in the journal Anesthesia & Analgesia, author Albrecht Wobst points out that the combination of analgesia and hypnosis is "superior for minor surgical cases". He notes that much of this is down to what is essentially one of the oldest therapeutic devices known to man: the power of suggestion.
In fact, institutions such as Stanford are now offering classes in self-hypnosis to patients to help them manage a wide range of medical issues, including pain, side effects from treatment, stress-related problems, and even cancer.
To recap, the term hypnosurgery refers to sedating a patient using hypnosis rather than traditional anesthetics. It's also known as hypnosedation, medical hypnosis and hypnoanesthesia.
Hypnosurgery should be undertaken by someone who is trained in hypnotherapy. It's likely that anesthesiologists will undergo hypnosurgery training as they are required to be in the operating room anyway.
The hypnotherapist will use conversational hypnosis to help get the patient into a calm and relaxed frame of mind. This will include hypnotic language using techniques such as Mind Bending Language, hot words, stories and the Non-Awareness Set.
These help to bypass the critical factor and communicate with the unconscious mind. Hypnotic language makes associations between things and makes it possible to stimulate and communicate with the unconscious mind.
Another way to experience the benefits of hypnosurgery is by using self-hypnosis, where the patient hypnotizes himself or herself into a state of calm and relaxation.
Hypnosurgery has a lot of benefits for everyone concerned:
It reduces pain and the sensation of pain
It allows patients to recover more quickly from operations
Patients often don't need any post-op painkillers
It keeps medical costs down
And while hypnosurgery is not likely to replace anesthesia completely, one thing is for sure. The combination of hypnosis and surgery is probably here to stay.