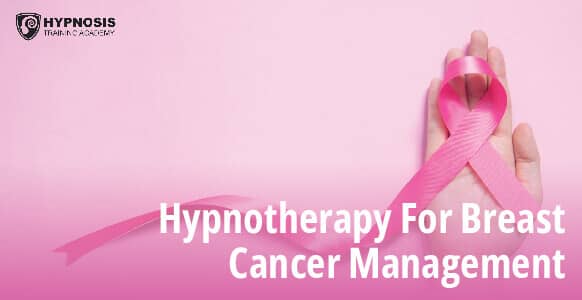 The British journalist and broadcaster John Diamond is credited with saying that "cancer is a word, not a sentence."
These days, breast cancer survival is becoming more commonplace.
Depending on the diagnosis, the 5-year survival rate can be as high as 99%.
Those statistics are encouraging, although survivors often have to deal with side effects such as pain and hot flashes.
As you might expect, there are certain drugs available to help alleviate these symptoms.
But what might surprise you is the fact that hypnotherapy for breast cancer is being used more and more regularly.
You'll find it employed in clinical settings and in the management of post-cancer treatment.
That makes sense, because hypnosis has been proven to be effective in managing pain and many other forms of discomfort.
And since hypnosis is non-invasive, totally safe and free from any side effects, it's logical that it has a significant role to play.
Especially where pain management and body temperature control are concerned.
So the question is, just how effective is hypnotherapy for breast cancer survivors?
Is it worth the effort, or is medication a better route to follow?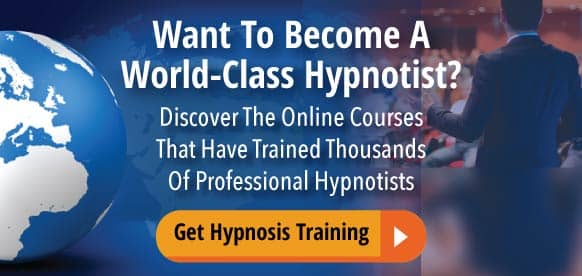 Hypnotherapy Versus Gabapentin
To find out, Dr Shannon MacLaughlan David et al undertook an 8-week study.
As reported in the BMJ, the study looked at 15 female participants who either had a history of breast cancer or who suffered at least one hot flash each day.
The idea was to compare the effectiveness of the drug gabapentin, given in 3 x 300 mg doses daily, with standardized hypnotherapy.
Gabapentin is a drug that inhibits nerve pain, often used to treat epilepsy. It blocks pain message signals from the brain.
Hot flashes are common among breast cancer survivors, affecting mood, sleep and overall quality of life. They're experienced by women undergoing strategies such as chemotherapy, often leading to premature menopause, and by breast cancer survivors going through natural menopause.
Hot flashes are known to be caused by estrogen deficiency, and so estrogen replacement therapy might seem to be the ideal solution. However, the therapy alone carries a risk of developing breast cancer, so not all women are willing to try it.
Other non-hormonal drugs have proven effective but also come with a range of side effects.
Gabapentin, on the other hand, is equally as effective as estrogen replacement therapy. Some side effects may occur, such as dizziness or drowsiness, but these usually resolve themselves within a few weeks.
In a study of 420 women, a 900 mg dose of gabapentin was shown to reduce hot flashes by 41% after weeks. There was, however, a 12-17% dropout rate after 8 weeks because of the side effects.
Hypnotherapy involves using hypnosis to induce deep relaxation, switching off the critical faculty to allow for suggestibility.
In one study, 16 women experienced 59% fewer hot flashes after undergoing hypnotherapy.
A randomized trial of 60 breast cancer survivors compared hypnotherapy to no treatment. Those women who underwent hypnotherapy reported 68% fewer hot flashes and an overall improvement in quality of life.
In both of these hypnotherapy trials, no side effects of any kind were reported.
Researchers also conducted a randomized trial of 187 postmenopausal women to undergo either hypnotherapy or structured-attention control. Women receiving hypnotherapy reported 74% fewer hot flashes compared to 14% in the control group.
It would seem from these results that treating breast cancer survivors with hypnotherapy has no downside. If that is the case, perhaps it should be being offered as part of mainstream treatment.
Hypnotherapy As CAM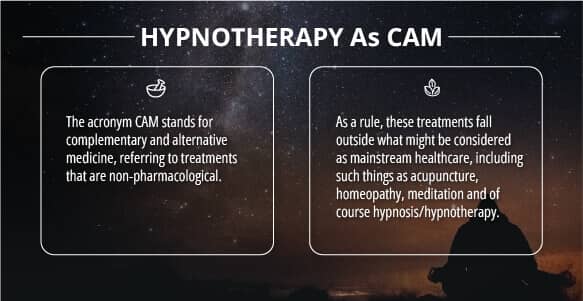 In the BMJ study mentioned above, the authors compared hypnotherapy with gabapentin. They concluded that hypnosis worked marginally better.
They also noted that none of the women in the hypnotherapy cohort reported any adverse effects of the treatment, while all of the women said the hypnosis worked for them.
Of those who underwent hypnotherapy, the authors reported an "80% improvement in hot flash frequency".
Outcomes such as these point to the possibility of using hypnotherapy as an alternative to drugs and medication. Where that might not be feasible, there's still the option of using hypnotherapy as a complementary treatment in combination with other pharmacological applications.
The study also points out that many women already make use of CAM therapies to help them with their menopausal symptoms. In a survey of 886 women between the ages of 45 and 65, more than 75% were making use of CAM therapies of some kind.
A separate Nurses' Health Study reported that more than 50% of breast cancer survivors were using CAM therapies.
So there's no doubt that CAM therapies are gaining in popularity and are already being used by breast cancer survivors across the board.
An article on the WebMD site notes that hypnosis works as well or better than anti-depressants and other non-hormonal types of treatment.
The article goes on to highlight a study that recruited postmenopausal women who were suffering multiple hot flashes every day. Half of the women received self-hypnosis training across 5 sessions lasting 45 minutes each.
The women were also asked to practice self-hypnosis at home every day.
The other half of the women underwent sessions with a clinician but did not get any hypnosis training. Instead, they received advice on dealing with hot flashes as well as a recording containing similar information that they could listen to at home.
All of the participants kept a hot flash diary and wore sensors that recorded the flashes.
After 12 weeks, the results were as follows:
Women in the hypnosis group experienced 74% fewer hot flashes, while the other women experienced just 17% reduction
The sensors showed 57% reduction in the hypnosis group but just 10% in the others
Women in the hypnosis group enjoyed a better overall quality of life
It's a fact that many women would rather not take drugs or hormone therapy to manage hot flashes. This study indicates that hypnotherapy presents a real alternative that can provide all the benefits of other treatments without any drawbacks.
Of course, hot flashes aren't the only symptom breast cancer survivors have to deal with. And that's yet another benefit of hypnotherapy – its ability to be used to treat a wide range of symptoms.
Hypnotherapy For Breast Cancer & Its Related Uses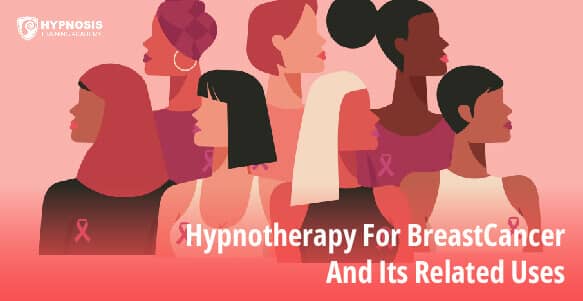 As a CAM, hypnotherapy is scientifically proven to help treat medical issues related to pain.
There is plenty of research to back it up, including studies referred to on this Cancer Research UK website.
It mentions one Spanish study that looked at children with cancer, where hypnosis was used successfully to alleviate pain and distress from both cancer and the medical procedures.
In another study, a group of women received hypnotherapy before undergoing breast surgery. Researchers noted that the women experienced less "pain, sickness, tiredness and upset" following the procedure.
Results were similar in a US study, where hypnotherapy was found to reduce pain and anxiety during breast cancer biopsies.
These findings make perfect sense when you consider the track record of hypnosis when it comes to pain management.
As this article shows, it has proven to be effective in treating fibromyalgia, a condition that leaves sufferers in constant pain and feeling so sensitive that they often cannot bear to be touched.
There's no cure for fibromyalgia, so treatments tend to focus on relieving the symptoms.
And because hypnosis is such a powerful pain-relieving tool, it can even tackle the chronic pain that fibromyalgia sufferers have to endure.
Whatever disease or condition causes the pain, including breast cancer, there is a wide range of hypnosis techniques that can deal with it effectively.
Here are 7 such techniques that a qualified hypnotherapist might employ to provide pain relief.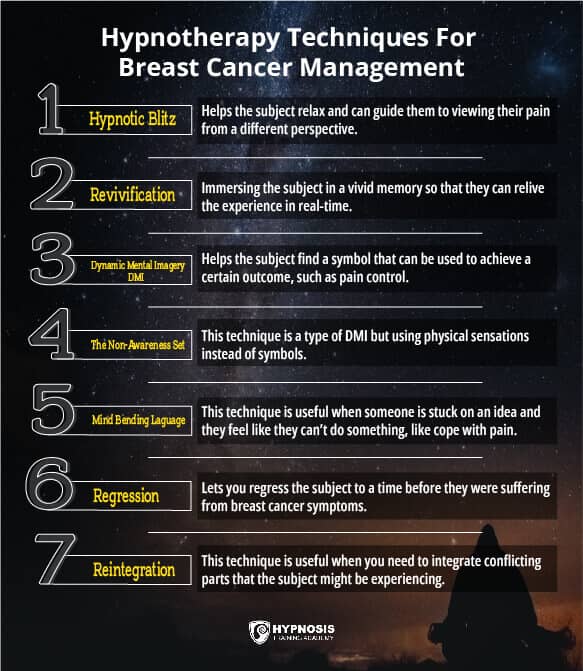 Hypnotic blitz
As the name suggests, this refers to a "blitz" around certain hypnotic or trance themes, such as relaxation and comfort.
It helps the subject relax and can guide them to viewing their pain from a different perspective.
It can also help to elicit a future memory where the subject can see themselves living a pain-free life.
Revivification
This refers to immersing the subject in a vivid memory so that they can relive the experience in real time. It takes them back to a time before they experienced cancer-related pain. It's a way of helping someone recover resources from their past and bring them forward to help them in the here and now.
Dynamic Mental Imagery (DMI)
This refers to helping the subject find a symbol that can be used to achieve a certain outcome, such as pain control. The symbol can be anything the subject chooses, and is usually defined by the subject and the hypnotherapist during the session.
The Non-Awareness Set
This is a technique that helps the subject understand that their unconscious is working for them, even though they might not be aware of it consciously. This technique is a type of DMI but using physical sensations instead of symbols.
Mind-Bending Language
This technique is useful when someone is stuck on an idea and they feel like they can't do something, like cope with pain, for instance. The language is not meant to confuse but to "bend their mind" so they can see things from a different perspective.
Regression
This is a technique that lets you regress the subject to a time before they were suffering from breast cancer symptoms. It can also be used to help reorient the way they relate to the illness, which could be enough to improve how they deal with their symptoms.
Reintegration
Also known as parts integration, this technique is useful when you need to integrate conflicting parts that the subject might be experiencing. For example, one part of them wants to enjoy a pain-free life while the other part worries about coping without any support.
Certain side effects following breast cancer treatment such as vomiting and nausea can be dealt with in the short-term using over-the-counter medication. Where some of the long-term effects are concerned, however, it's not that simple.
As well as hot flashes and joint pain, it's not uncommon for women to suffer from fatigue, mood changes, anxiety and depression. Fortunately, hypnosis has an excellent track record for helping people manage all of these symptoms successfully.
New treatments and therapies for cancer are being discovered regularly, and with the potential offered by the addition of hypnotherapy, there's no reason why breast cancer survivors shouldn't be able to enjoy as rewarding, fulfilling and distress-free a life as possible.
Conclusion & Key Takeaways
Breast cancer survival rates can be as high as 99%.
Survivors often have to deal with side effects such as pain and hot flashes.
Drugs can alleviate some of these symptoms, while hypnotherapy has been shown to be equally effective.
On top of that, hypnotherapy is non-invasive, totally safe, and free from side effects.
Studies show that hypnotherapy is as good or better at dealing with post-operative symptoms of breast cancer as the leading pharmacological agent, the drug gabapentin.
Researchers have found that gabapentin can reduce the occurrence and severity of hot flashes by as much as 41%, while hypnotherapy scores are closer to 75%.
Those women using gabapentin suffered some side effects, which led to an average dropout rate of about 15%. Women receiving hypnotherapy didn't report any side effects or any detriment to their quality of life.
Hypnotherapy is a complementary and alternative medicine (or CAM), a treatment that falls outside mainstream healthcare. It's also worth nothing that many breast cancer survivors already make use of CAM therapies to deal with symptoms.
In study after study comparing hypnotherapy to gabapentin, hypnotherapy always performs marginally better. CAM therapies are gaining in popularity and are being used by breast cancer survivors worldwide.
Research shows that hypnosis works as well as or better than anti-depressants and other non-hormonal applications. Its effects are also just as powerful and effective when employed using self-hypnosis techniques.
Hypnotherapy is scientifically proven to help treat medical issues related to pain, whether in children with cancer, or in adults undergoing breast biopsies or breast surgery procedures.
Hypnosis has a long track record of helping people manage pain, including chronic pain associated with conditions such as fibromyalgia.
There are various techniques a hypnotherapist can use to help someone enjoy pain relief, including:
Hypnotic blitz
Revivification
DMI
Non-Awareness Set
Mind Bending Language
Regression
Reintegration
As well as helping to manage pain and hot flashes, hypnotherapy can also be used to deal with long-term symptoms such as fatigue, mood swings, anxiety and depression.
Given its near-limitless potential, hypnosis/hypnotherapy has a valuable role to play in the treatment of breast cancer. As the various treatments and therapies improve, it can help breast cancer survivors lead a more rewarding and fulfilling life.