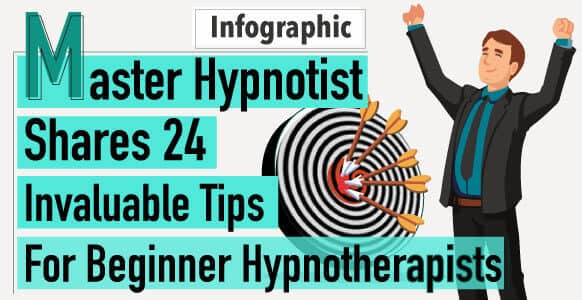 Just starting out your career as a hypnotist?
Hats off to you for choosing such a great profession! To help guide your journey, you won't want to miss these hypnotherapy tips for beginners.
Oscar Wilde famously quipped, "Experience is the name everyone gives to their mistakes."
And "experience" is an invaluable part of the process – it's how you learn, no doubt about it.
That said, hearing about someone else's mistakes – especially if they have a wealth of knowledge – is priceless wisdom that can save you years of trial and error.
So listen up!
In the below infographic, you'll discover 24 top tips for novice hypnotherapists (or any therapist or coach for that matter!) from one of our highly experienced trainers, Jonny Dupré.
Jonny shared these tips at one of our Advanced Ericksonian Hypnotherapy seminars – and we thought they were too good not to share with you!
A confession of his own "mis-takes", as well as some of the most common errors he's noticed novice hypnotherapists often make.

Want to discover more great hypnotherapy tips and techniques?
Got something special for you…
Download our FREE report and video training, How To Become A More Dynamic Hypnotherapist Using The Power of Hypnotic "Hot Words," to discover one of the most useful hypnosis techniques.