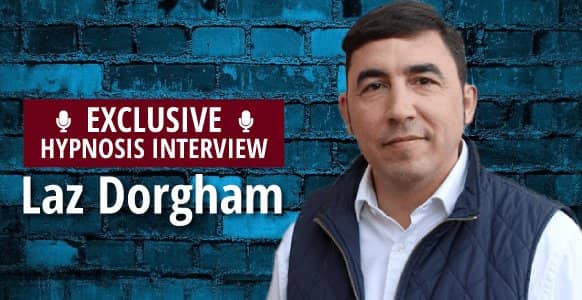 When you're working with a client during a hypnosis session, one of the first things you do as a hypnotist is build rapport.
This helps put the client at ease and build trust – which is essential if you're about to embark on a journey where they need to be vulnerable, open to change and receptive to your suggestions.
This is especially true when working in a controlled environment, such as your hypnosis practice, where you're working one-on-one and they have specifically come to you for hypnosis.
But what if you're not in a clinical environment?
How can you effectively use hypnosis – or teach stressed-out execs to ethically use it – in highly stressful corporate situations when working with multiple people and trying to influence change where it matters the most… right at the top?
This is exactly what this month's master hypnotist – Laz Dorgham – was curious to discover after climbing the corporate ladder and realising he could use hypnosis to assist executives.
Since this realization, Laz Dorgham has founded the Academia De La Persuasion, a Spanish speaking institution that teaches persuasion and hypnotic language.
And in this in-depth interview with Igor Ledochowski, Laz reveals what he's learned about creating rapport from such fast-paced and stressful corporate environments. Particularly when it comes to helping people and corporations improve communication and find ways to solve complicated issues they believed to be "unmanageable."
If you would like to find out more about how you can use hypnosis in stressful professional situations, or would like to be able to help clients better manage the face-paced corporate world and influence change –  hit the play button above to listen to Part 1 of this highly-useful interview.
---
Listen to part 2 of the interview now by logging into your Members Area
Not a member?
Get Access To Part 2 Of
This Inspiring
Hypnosis Interview Here
To listen to Part 2,
register below to get your
complimentary Silver Membership today.