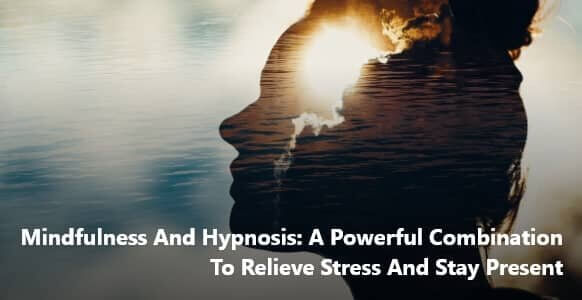 Mother Teresa was a Catholic nun who dedicated most of her life to serving others.
She's been quoted as saying that you should live for the moment and that each moment is all you need to be happy.
That's probably an oversimplified description of the practice of mindfulness.
But people also have the ability to remember the past in vivid detail and to imagine the future in glorious 3D, which can make practicing mindfulness particularly difficult to achieve.
At times like that it helps to consider the link between mindfulness and hypnosis.
In turns out that the two processes have a lot more in common than you might think.
That can be useful for anyone who isn't sure exactly what mindfulness is.
Things get even more confusing when the concept of meditation is added to the mixture.
So are mindfulness and meditation the same thing?
Is mindfulness a type of meditation or is it a technique to make meditation easier to achieve?
Are they both aspects of a hypnotic trance or is something else completely different going on?
Let's start things off by defining one of these terms and then moving on to discover how they might work together or on their own, as the case may be.
What Is Mindfulness?
If you look up the definition of mindfulness online, you'll be likely to find hundreds or thousands of different explanations.
Some of these explanations are just a sentence or two long, while others run into several paragraphs.
According to Wikipedia, mindfulness refers to purposely bringing your attention to the present moment experience, and doing so without evaluating or judging it.
It means being aware of your own thoughts in the here and now, not focusing on anything else.
Not thinking about what happened yesterday or two weeks ago or last year.
Not worrying about what you're going to have for your next meal or what you'll be doing at work tomorrow or next week.
Both of these can be distracting and can make you anxious, while the point of mindfulness is just the opposite.
It's meant to help you stay grounded, calm and centered so that your stress and anxiety melt away.
But although the term mindfulness has the word "mind" at its beginning, it isn't simply a mental form of meditation. You need to be mindful of what your body is doing as well.
You need to be aware of everything that's going on around you, including the sights, sounds, smells and sensations you experience at that particular moment.
One way of achieving this might be to focus on your breathing, paying attention to it as you inhale and exhale and noticing what your body is doing at the same time.
It's impossible to do this without thinking, of course, so the exercise helps to create a mind-body connection.
You'll also hear it described as a mindfulness meditation, which is just another way of saying that you're consciously practicing mindfulness.
What happens is that your attention will wander away from your breath and drift off to other things. When you notice that occurring, you simply bring it back to focusing on your breath again.
The notion of focusing your attention on a single thing also plays a major role in another related discipline, which you know as hypnosis.
Why Is Mindfulness Linked To Hypnosis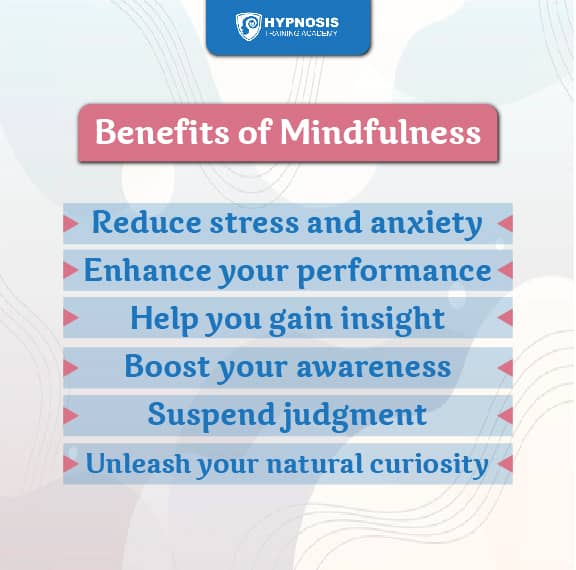 By their very nature, mindfulness exercises help to direct your attention inward. As mentioned above, they make it possible for you to experience a better mind-body connection.
According to the folks at Mindful.org, mindfulness also offers a lot of benefits, including the ability to:
Reduce stress and anxiety
Enhance your performance
Help you gain insight
Boost your awareness
Suspend judgment
Unleash your natural curiosity
If you look carefully at that list, you'll notice something. Those are many of the benefits you can enjoy from a hypnosis session as well.
In fact, it's been said that mindfulness is the perfect way to prepare for self-hypnosis, because it helps you to bypass the critical factor and initiate contact with your unconscious mind.
The same thing happens when you undergo hypnosis. You begin by relaxing, helping to relieve any stress or anxiety, and then gradually you shut out the outside world and move your attention inward.
Why is this "moving inward" so crucial? Because that's when you are able to communicate with your unconscious.
That's when it becomes possible for you to experience insights and to gain awareness about what's going on in your life.
In the normal course of events, there's too much going on. Your mind is too busy dealing with everyday things. You don't have time to stop and think, or to relax and de-stress.
You need to create the right atmosphere for that to happen. One way to do that is by mindfulness meditation, while hypnosis offers a different and potentially more comprehensive route.
It's obvious that the two disciplines have a lot in common and that one can benefit the other.
In that vein, a selection of practitioners have begun calling it mindful hypnotherapy, referring to the combined use of mindfulness and hypnosis as tools to help people make significant changes in their lives.
Mindfulness & Its Contribution To Hypnosis
If you know anything about hypnosis or hypnotherapy, you'll know that they're used to enable you to communicate with your unconscious mind.
You'll probably also know that your unconscious mind is where your memories, feelings, thoughts and urges are stored. It's the seat of your creativity and imagination as well.
All of these things are usually outside of your conscious awareness. Meanwhile, hypnosis is one of the most powerful techniques available for gaining access to all that "hidden" information.
The simple truth is that it's not always easy to enter a hypnotic trance, to just switch off from the everyday world and focus your thoughts inward. So any technique or process that can help you do that has got to be worth a try.
And that's where mindfulness comes into its own.
As one article puts it, mindfulness makes what's not obvious to your conscious mind, more obvious. In other words, it helps you identify issues that may be holding you back in life.
Many of the techniques associated with mindfulness are used in hypnosis and self-hypnosis. For instance, you might make use of some of the mindfulness exercises to refocus your attention, which could help you go into a hypnotic trance more easily.
Research shows that practicing mindfulness can bring you a host of other benefits that can improve your physical, emotional and mental states, including:
It helps to relieve stress
It helps you develop a calmer mind
It helps you enjoy deep relaxation
It helps you achieve better sleep
It helps you become more productive
It helps improve your relationships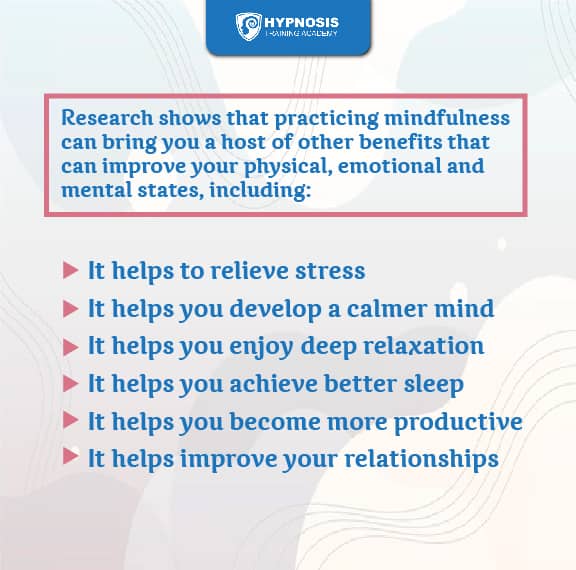 Hopefully you can see how mindfulness might be used in conjunction with hypnosis to achieve specific goals. However, there is a significant difference between the two techniques that you need to be aware of.
Mindfulness acts as a sort of catalyst that leads you on the road to discovery, helping you bypass the critical factor and get in touch with your inner self. That's when you're able to uncover any issues that are preventing you from moving forward.
From there, hypnosis gives you the ability to identify, heal and dissolve those issues in order to remove them from your life for good.
To clarify things even further, imagine that you're trying to break a bad habit, perhaps to give up smoking. Practicing mindfulness meditation might help you recognize some of the stress and anxiety you're feeling, which will go some way towards providing relief from withdrawal symptoms.
And that's terrific, as far as it goes. But to beat your addiction, you need more than that. You need extra help from your unconscious mind.
Using hypnosis, you can embed suggestions into your unconscious so that it understands exactly what you're trying to achieve. Those suggestions will act as triggers that will encourage you to think and behave differently.
You'll think twice about having a cigarette because you'll remember how they affect your health. If someone offers you a cigarette you'll hesitate because you'll remember how smoking makes you and your clothing smell so bad.
When you see cigarettes for sale in a shop you'll remember how expensive they are and realize that you have better things to spend your money on.
Suggestions like these make it possible for you to conquer your addiction from the inside out, with help from your unconscious mind.
So if that is true, why do you need mindfulness in the first place? If hypnosis can do all of these things without mindfulness, why bother with it at all?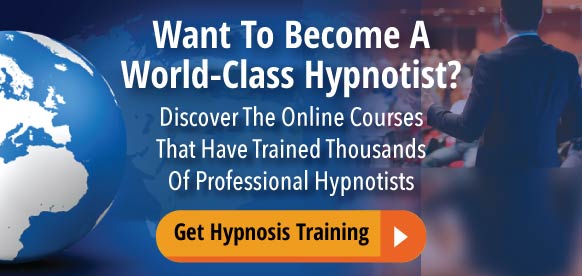 How Mindfulness Complements Hypnosis
It may be true that you don't need mindfulness to undergo hypnosis. On the other hand, people experience things in their own unique ways.
For some, entering a hypnotic trance might be easy. Especially if they've done it before.
For others, however, letting themselves go and relaxing takes a lot of work and effort. It's not something they're used to and it's not something that comes naturally to them.
Mindfulness represents a gentle and proven way to ease oneself into the right frame of mind for experiencing hypnosis. It does that in several ways:
1. Mindfulness sets up the ideal conditions for achieving deep relaxation – you can do this by either focusing on your breathing or by doing a full body scan, two mindfulness exercises designed to help you get totally relaxed. Check out this Hypnosis Training Academy article for more details: Self-Hypnosis, Meditation & Mindfulness: A Quick Guide On Their Differences & How They Can Light Up Your Inner World
2. Mindfulness might make it easier to enter a hypnotic trance – some people are easier to hypnotize than others and find it easier to relax. Mindfulness has been shown to be a simple way of starting the relaxation journey.
3. Mindfulness offers a perfect foundation for practicing self-hypnosis – you can use basic mindfulness techniques to help you wash away stress and anxiety, putting you in the right frame of mind to undergo self-hypnosis.
So while mindfulness can be used to help people access hypnosis more readily, it turns out that it also works the other way round.
The Growing Demand For Mindful Hypnotherapy
More and more people are turning to alternative forms of therapy such as mindfulness and hypnotherapy. That's easy to understand when you consider how much stress is present in the everyday lives of ordinary people.
And that also goes some way to explaining why hypnosis is being used in combination with mindfulness. As one source puts it, the purpose of mindful hypnotherapy (MH) is to integrate hypnosis and mindfulness for personal or therapeutic benefit.
The idea is to make use of elements of the hypnotic process, such as induction and suggestion, as a more efficient delivery system for mindfulness, and with the specific goal being stress reduction.
In one study, forty-two college students with increased stress levels took part in one-hour mindful hypnotherapy sessions over the course of 8 weeks. The results clearly showed that:
Participants noticed clinically significant reductions in perceived stress levels
They experienced less psychological distress
Feelings of depression, anxiety and anger also decreased dramatically
So what does all of this mean? The logical conclusion must be that, while each of these treatments has its own merits and values, combining them can likely result in even greater positive outcomes.
Key Takeaways
Mindfulness and hypnosis can work together to help you reduce your stress levels.
You can use mindfulness to make it easier for you to enter a hypnotic trance.
Some people find it difficult to relax and shut out the everyday world, while mindfulness exercises offer a simpler way to achieve deep relaxation.
Mindfulness is a technique that allows you to focus your attention on the present moment so that you can get in touch with your inner self.
Like hypnosis, it can be used to bypass the conscious mind and communicate with your unconscious.
It's thought that practicing mindfulness can be a useful preparation for anyone undergoing self-hypnosis.
As well as helping to relieve stress, mindfulness also serves to calm your mind, make you more productive and enable you to enjoy better sleep.
Hypnosis and mindfulness are often combined in a therapeutic treatment known as Mindful Hypnotherapy or MH.
>> If you're interested in hypnotherapy or want to improve your practice, check out our live and online hypnosis training events.
Want to know more about hypnotherapy, but not sure what certification program is the right choice for you? Book a DISCOVERY CALL today to learn more about Hypnosis Training Academy's hypnotherapy programs.