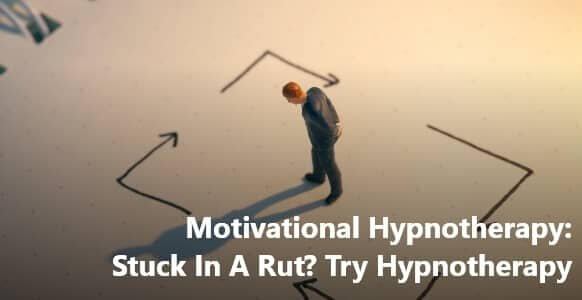 At some point, everyone struggles to get motivated.
It might be to do routine tasks or uninteresting chores, like washing your car or doing your taxes.
Even though there's a payoff, you can't summon the enthusiasm to get on with it.
There are lots of different reasons why someone might experience a lack of motivation.
But whatever the reason, the result is the same.
You're unable to find the drive and ambition to tackle projects, no matter how large or small.
That's when motivational hypnotherapy can come to the rescue.
It can be used to break old or bad habits that are keeping you from moving forward.
Put simply, motivational hypnotherapy uses the power of hypnosis to help you rewire your unconscious mind.
The term "hypnotherapy" refers to the use of hypnosis to treat a variety of symptoms and health conditions in a therapeutic setting.
How it's used will depend on what's causing your lack of motivation, whether it be fear related, due to a loss of confidence, a result of being overwhelmed, or any other reason.
This technique can help you rediscover your motivation so that you can successfully reach your goals.
It works in the same way as regular hypnosis, letting you shut out the everyday world so you can focus your energy inwards.
This makes it possible for you to communicate with your unconscious mind, the place where your memories, emotions, thoughts, creativity and imagination are stored, outside your conscious awareness.
Tapping into that massive storehouse allows you to access inner resources and use them to make your life happier and more productive.
It helps you find answers to questions and solutions to problems that you might never be able to call upon in any other way.
But how exactly does it manage to do that?
How can hypnotherapy help you change your mindset and improve your productivity levels?
Hypnotherapy lets you switch off from your normal state of wakefulness.
It helps you enter a hypnotic trance that makes it possible for you to get in touch with your own personal inner power supply, your unconscious mind.
This trance is something you've already experienced many, many times before. It's what happens when you daydream, when you drift off while reading a book or watching a movie.
You may have noticed when you're driving a car, making a journey you've made many times before, that you arrive at your destination without being able to recall a specific part of the trip.
That's a hypnotic trance, and just like a hypnotherapy session, you experience it while you're awake.
The difference is that your awareness isn't focused on what's going on around you.
Instead, it's focused inward, making it easier for you to release the limitless potential of your unconscious mind.
Hypnosis is used to relax your mind and body by focusing on something like your breathing. Then the hypnotherapist will guide you through the session, speaking to you the whole time, giving you hypnotic suggestions that your unconscious mind will digest and absorb.
Once absorbed, it will then set about helping you achieve whatever it is you want to achieve.
How? By changing your mindset, and therefore changing the way you think about motivation.
Before your session begins, the therapist will ask questions to find out what your specific requirements are. Then, they will tailor their suggestions to meet those requirements.
Those suggestions might be used to:
Get you excited about reaching your goals, about being successful and everything that goes with it
Change negative thinking patterns into positive ones
Boost your confidence and self-belief from the inside out
The unconscious mind does what it thinks you want it to do. If you feed it with negative thoughts, it's going to work to put those thoughts into action.
That's why positive hypnotic suggestions are so essential, because they give the unconscious new instructions that it can then act upon.
But why does your motivation disappear in the first place?
Here are some of the potential reasons:

That gives you a good idea of what motivational hypnotherapy is and how it works. But what advantages will you gain from using it?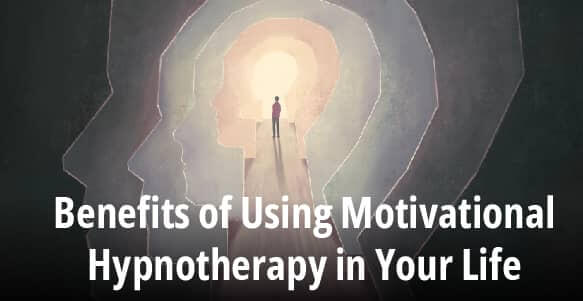 Benefits of using motivational hypnotherapy in your life
As you probably know, hypnosis used in hypnotherapy is a completely natural state of mind, one that you experience regularly all on your own.
It is 100% natural and completely safe, and you are not required to take any medicine or artificial stimulants to make it work.
Another benefit that's not mentioned frequently enough is that hypnosis can produce real results in a single session and make dramatic changes in your life with just a few sessions.
Most hypnosis inductions begin by helping you to relax, so you'll immediately feel calmer and a sense of relief.
And since you can't be stressed when you're relaxed, hypnosis is a powerful technique to help rid your body and mind of stress and anxiety.
That gives you the chance to refocus your mind, put things into perspective and rediscover where you really want to place your time and energy.
Your therapist will use hypnotic suggestions to encourage your mind to make the changes you need. It's a method of reprogramming your unconscious mind to get it working for you in the way that best suits your present needs.
So, for example, if you find yourself struggling with negative self-talk, you can use the power of positive suggestions to counteract that particular problem.
As Henry Ford is often quoted as saying, if you think you can or you think you can't, you're right.
Motivational hypnotherapy will help you change the way you think about motivation, so that you will find the renewed vigor you need to tackle tasks and see them through to completion.
Once you're in a deep hypnotic trance, totally relaxed and at ease, it becomes easier to accept hypnotic suggestions.
In that state you can re-energize yourself from within, boosting your self-belief and confidence so that you realize you're able to accomplish whatever you set your mind to.
How does hypnotherapy work, and what should you expect during a session?
As mentioned above, hypnotherapy involves the use of hypnosis in a therapeutic setting to address certain symptoms and conditions.
It's a powerful way to overcome trauma, break habits, fight phobias and manage pain, among other things (see below for a more extensive list).
Your session will be conducted by a professional who has been trained to use hypnotherapy to help people change their lives for the better.
They will ask a few questions to find out what problems you're having, which helps them tailor the session to meet your needs. Then they will help you get deeply relaxed so you can enter a hypnotic trance.
This is the part of the session where the real work takes place. When you're in a hypnotic trance, your unconscious mind is able to accept the hypnotherapist's suggestions more readily.
So if you're lacking in motivation, the suggestions will be aimed at restoring your drive and enthusiasm, filling you with the confidence you need to tackle and complete any task.
Some people can't get motivated because they're afraid to try in case they fail, so the hypnotherapist may help them recall times when they were successful.
Eventually the therapist will bring you out of the trance and back to your normal waking state, where you'll feel rested, refreshed and still very relaxed.
You'll be awake during the whole process and all you have to do is listen and let your unconscious do the work for you. You don't have to worry about absorbing the suggestions because your mind will do it automatically.
And here's another amazing fact about your unconscious: if there are any suggestions you don't agree with, for whatever reason, it will discard them for you.
How cool is that?
Of course, it's not only about the suggestions. Hypnotherapy makes use of a lot of different techniques, many of which you can use yourself between sessions.
These techniques are specifically geared towards: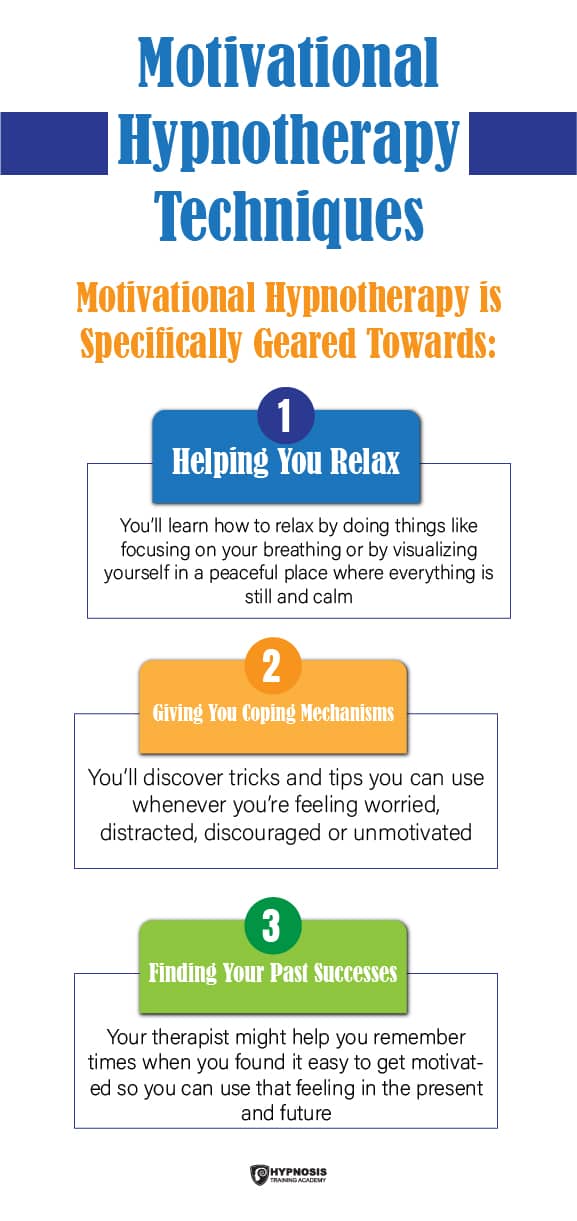 Once you're familiar with hypnosis and comfortable with the techniques, you can practice self-hypnosis between sessions or when you need a top up. Check out the article and infographic below to find out how easy it is to hypnotize yourself:
How To Hypnotize Yourself: Discover The Easy 6-Step Self Hypnosis Formula
Are there any risks associated with motivational hypnotherapy, and how do you know if it's right for you?
Hypnotherapy is a perfectly safe and complementary form of treatment, provided that the therapist is properly trained and qualified.
Do your homework and find a therapist who has a licence in hypnotherapy and who is a member of a recognized organization, such as the American Society of Clinical Hypnosis (clinical hypnosis is another term for hypnotherapy).
Even with a trained and registered hypnotherapist, it might be possible for some people to experience some minor side effects, such as:
Headaches
Drowsiness
Anxiety
Dizziness
These kinds of reactions are rare and when they do occur they usually fade away quite quickly. You might experience one or two of them if it's your first time undergoing hypnosis, but most people enjoy the experience without noticing any ill effects whatsoever.
So is hypnotherapy something you should consider? Yes, unless you have been diagnosed with some form of serious mental condition.
These include things like hallucinations, delusions, schizophrenia or drug and alcohol abuse.
Most people who undergo hypnosis report it as being pleasant and relaxing, giving them a chance to switch off from their cares and woes so they can just enjoy some peace and quiet.
By the end of the session, they often feel lighter, like a weight's been lifted off their shoulders.
But hypnotherapy is used for more than relaxation and boosting your motivation, as you'll discover in the very next section below.
Can hypnotherapy be used to treat other conditions, such as anxiety or depression?
Hypnotherapy uses hypnosis to help you change the way you think, feel and behave. And because it connects with your unconscious mind, it has the potential to deal with a wide range of issues and complaints.
Here is a list of some of the issues hypnotherapy can be used to treat or manage more effectively:
Addiction
Anxiety
Stress
Childbirth
Boosting self-esteem
Anger management
Eating disorders
Pain management
IBS
PTSD
OCD
Breaking bad habits
Fears and phobias
Tinnitus
Insomnia
Weight management
Stuttering
Confidence building
And this is not an exclusive list, either. It seems like new applications for hypnosis and hypnotherapy are being discovered all the time.
Why is hypnosis such an adaptable technique for so many issues? The answer lies in the way your mind works.
The human brain can't tell the difference between something you imagine and something you actually remember. So if you're able to imagine yourself completing a complex task or reaching a goal, your brain will accept that as evidence that you can do it.
And hey presto, you will be able to do it.
The other part of the equation has to do with where you place your attention. Generally speaking, you can't finish a difficult job if your attention isn't on what you're doing.
As soon as you give any task your full attention, getting it done gets a whole lot simpler. And once you're aware of that fact, it becomes easier to get motivated to tackle it – whenever you need to.
Conclusion
Finding the motivation to do something is not always that straightforward.
Fortunately, motivational hypnotherapy can help you get back your energy and enthusiasm.
It uses the power of hypnosis to let you rewire your unconscious mind, turning negative thoughts and beliefs into positive ones.
The technique makes it possible for you to change the way you think, feel and behave, so you see motivation from a totally new perspective.
During the session, your hypnotherapist will provide you with positive hypnotic suggestions aimed at helping you to:
Get excited about reaching your goals
Change negative thinking patterns into positive ones
Boost your confidence and self-belief
A loss of motivation may be caused by procrastinating, as a result of a lack of interest, by talking yourself out of it, or by being overwhelmed by what you have to do.
Motivational hypnotherapy will allow you to relax, provide you with coping mechanisms and help you recall times from the past when getting motivated wasn't a problem.
And that should make it easier for you to find the motivation you need, when you need it, going forward.
>> If you're interested in hypnotherapy or want to improve your practice, check out our hypnotherapy courses.
If you're interested in learning about hypnotherapy, but not sure what certification program is the right choice for you, book a DISCOVERY CALL today to learn more about Hypnosis Training Academy's hypnotherapy programs. You may also email us at hypnosis@getquicksupport.com.