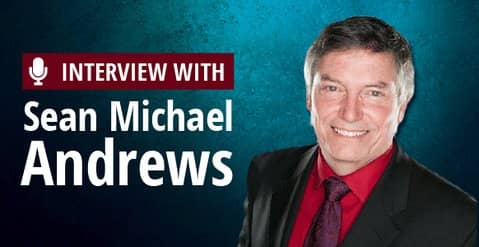 Given that he's been nicknamed the "World's Fastest Hypnotist" and voted as "Hypnotist Of The Year" in 2013, we were very intrigued to interview this month's master hypnotist, Sean Michael Andrews.
But in addition to the above accolades, Sean is a pioneer of street hypnosis and an instructor for the Dave Elman Hypnosis Institute.
He's also a Master Practitioner of Neuro Linguistic Programming (NLP) and one of the few practitioners to have trained with the co-developers of NLP.
In this inspiring interview with Igor, you'll discover:
How Sean's passion for NLP lead him to hypnosis and his humble beginnings putting hypnosis videos on YouTube
Igor and Sean's views on the differences between Ericksonian and Elmanian hypnosis
The ongoing debate between amnesia, aphasia and somnambulism
And lastly, how to go about getting your first hypnosis clients and setting up your practice as a professional hypnotist
So get those headphones ready and hit the play button above to listen to Part 1 of this inspiring interview
---
Listen to part 2 of the interview now by logging into your Members Area
Not a member?
Get Access To Part 2 Of
This Inspiring
Hypnosis Interview Here
To listen to Part 2,
register below to get your
complimentary Silver Membership today.