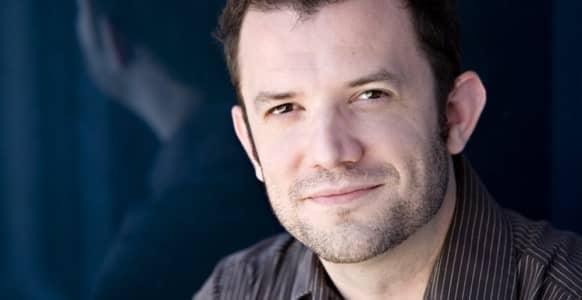 This month is Stress Awareness Month, and to continue our content series on how hypnosis can be used to combat stress, master hypnotist and consultant Joe Homs, shares how he helps his clients at Orange County Hypnosis beat stress.
HTA: You're a self-proclaimed serial entrepreneur and consultant, having worked with Fortune 500 companies, startups and large organizations. What was it that first sparked your interest in hypnosis? 
Joe: I was first introduced to hypnosis by a colleague whom I worked with. He was hypnotizing clients so we could get our consulting work done faster. It was like a whole world opened up to me and I was hooked.
I then studied as much material as I could get my hands on and practiced whenever I could. In fact, lots of people sitting next to me on plane were my first unwitting subjects!
HTA: You founded Orange County Hypnosis in 2010, specializing in coaching top executives, entrepreneurs and athletes to help them achieve their goals. Can you explain some of the coaching and hypnosis work you do with them?
Joe: I coach a huge range of people, but they all want something more out of their lives. I'll help people with simple stuff like helping them to stop smoking or overcome a fear of flying – but that's usually the beginning of my work with them.
My real work comes in when I help people achieve their dreams. One client I'm working with now is building an international business, another a real estate empire, and one is training for a very tough competition.
They all need different skills, advice and perspective, or someone to push them to greater things while staying in control of their lives.
HTA: Given the type of clients you largely work with, is stress and anxiety a common issue they come to you for? If so, what type of therapy/coaching do you offer them to manage stress?
Joe: Stress and anxiety producing situations are a normal part of life for my clients – just like everyone else.
As a result of our sessions, my clients learn to eliminate or manage those situations so they don't happen – or when they do – they learn to remain cool under pressure.
I offer coaching that is mainly based in conversational hypnosis. I've found it to be the most effective set of tools for me and my clients to get the best results quickly.
As an example, one of my clients is a semi-professional golfer. They first came to me with a big problem. They could hit the ball where they wanted to while on the driving range, but then while on the course – they couldn't. Competitions would be even worse.
Of course, this was due to the stress and anxiety they felt during a "real" game versus just practicing.
I call this the practice to performance problem. It doesn't just happen in golf, but in many areas of people's lives. When the stakes are high and you are stressed, you just can't seem to perform as well as normal. It's like all your skills disappear for a while and then come back after you calm down.
Using some simple techniques, I was able to help my client treat competitions just like practice sessions. They suddenly went from being very average to one of the best players of their course.
Keeping in mind that I knew almost nothing about golf or how to play the game that well myself at the time. I didn't need to though. I just needed to help someone with a problem that looked like one I knew how to solve: getting rid of anxiety.
>>Read related content: How To Relieve Stress Naturally Through Self-Hypnosis And Avoid The Fallout Of These 12 Alarming Facts [INFOGRAPHIC] 
HTA: What's your biggest success story of how you helped a client turn their turn their life around and overcome a significant problem due to stress or anxiety?
Joe: I've had lots of successes with clients. Some have made lots of money, others have gotten into loving relationships, some conquered their fears and did something amazing.
All of them were able to overcome stress and have had something great happen to them.
One of my favorite examples is a 7-year old boy. A client of mine was their parent, and they begged me to work with them. I normally don't work with children, but I said I would have a conversation with them to see if I could help.
The boy was terrified of going to the dentist. He had seen an older brother get his tooth pulled and all the pain it caused him, so understandably, he didn't want it to happen to him.
Using a simple technique I teach most of my clients, I showed him how to eliminate his anxiety so he was less scared about going to the dentist.
Because I knew it was going to be a simple cleaning, I knew there would only be minor discomfort involved. So I urged him to use a technique I taught him, while focusing on any fear of pain.
Just for fun, I also taught him a version of glove anesthesia that day because he had scraped his knee. He had a "magic hand" that could take away pain as long as it was safe just by touching the area.
Fast forward a few weeks and the boy was at his dentist appointment. He went in excited which is common with anxiety as all that energy has to go somewhere.
He then sat in his chair and got his teeth cleaned without any problems except when one was getting cleaned and the tooth broke. Needless to say, that is both painful and stressful.
The boy on his own decided to use both his "magic hand" tool to remove the pain and to use his stress buster technique to stay calm.
The dentist was so impressed with the boy that she called me to ask what I did with him. She said grown men cry when that happens and the boy stayed calm with only a few tears.
So hypnosis was a powerful tool for that boy and is just one of my favorite stories to share that we can all relate to. A scary and painful situation handled with grace and ease with just a few simple tools.
HTA: For our readers out there who might be struggling with stress, is there a simple technique they can try (even while at the office) to help them deal with stress when they feel it rising?
Joe: One of the techniques I use that's easy to learn is what I call the anxiety buster. There are two versions of this technique. One you should use if you're already anxious, and the other should be used if you're not anxious yet, but don't wish to be in the future.
If you're already feeling anxious, remember a time when you were excited and happy. Once you start remembering that, make a fist with your left hand as that feeling peaks and then let go when it starts to fade.
Now, if you can still feel the anxiety (sometimes it's already gone) then make a fist with your right hand. Let that one go after a second or two.
Now make a fist with both of your hands and notice as the anxiety begins to go away or transform into something good.
That's it.
The other version is if you don't feel anxious right now, but know that you might in the future.
Start again with the happy memory, then clench your left fist as the feeling is strongest. Let it go before it fades.
Then remember the event that is causing you anxiety and clench your right fist as that feeling feels strong and then let go as it fades.
Put both of your hands in a fist and wait for the change.
For those interested, this is called anchoring (clenching your fist while feeling something) and collapsing anchors (clenching both fists so that the good feeling collapses the other like a house of cards).
I hope that helps. If it doesn't work right away or every time, you can always reset and start again. It won't wear out and in fact, it gets stronger if you keep doing it.
As a bonus, you can use anchoring for just feeling good in any situation by training yourself with your right fist (the good feeling) and using it over and over. Your mind and body will get the connection and you can then use it whenever you want in any situation that calls for you to feel good and happy.
>>Read related content: Hypnotherapy For Stress Relief And Anxiety: Why This Natural (And Less-Known) Practice Is Highly Effective At Combating Stress
HTA: Your most recent project is The Super Human Project, which is designed to help people unleash their unlimited potential and fight against mediocrity. Can you explain a little more about this awesome project?
Joe: Glad you think it is awesome! It started with a simple question: If I could have a superpower what would it be? Mine was to fly.
Of course I wanted my power to be something that was possible. So I learned how to fly helicopters in record time.
Other people I asked would say a perfect memory, laser focus, or just something fun like feeling happy all the time. I develop some of the products to do this and I invite experts to share what they know.
Everyone wants to be better at something or do something cool, so all are welcome to contribute.
Mediocrity is our enemy. Not in anyone else, but in ourselves. Of course it will always exist, but it's fun to be as awesome as possible in our lives.
It's grown since then to encompass what I call growth coaching, which is helping people learn and acquire cool new skills and products to help them do it.
Igor himself has even offered to contribute something really cool to people. It's still secret right now, but as soon as it is done everyone will be invited to take part.
HTA: And lastly, what's the biggest personal benefit you've experienced as a result of practicing hypnosis?
Joe: I can say very confidently that my biggest personal benefit I've experienced from hypnosis has been through the Beyond Self Hypnosis program.
By using the techniques in that program, I've gotten involved with a company that will change the face of health and nutrition for millions around the world.
Beyond that, hypnosis has helped me in so many ways. I owe my family, businesses, and life to the power of hypnosis.
Joe Homs is a master hypnotist and consultant. He is currently creating the next wave of health guidance with mPact and is helping people break out of mediocrity one superpower at a time with The Superhuman Project.