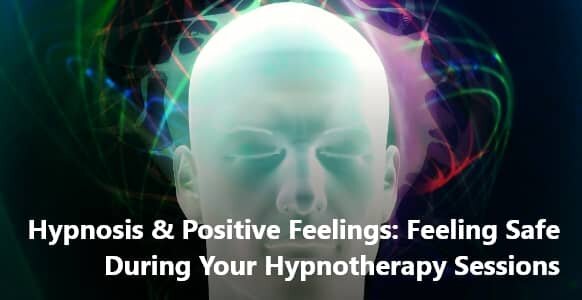 Depression, trauma, addiction, stress, anxiety, bad habits, phobias…
Hypnotherapy can be used to treat all of these things, and many more besides.
The trick is, however, that it can only work with your say so.
No one can hypnotize you unless you give your consent.
And in order for that to happen, you have to feel safe.
The kind of safety that you can enjoy through hypnosis and positive feelings.
Using hypnotic suggestions to induce positive emotional states.
Why is that so important?
Because you have to know that you are not in any danger, that you are not taking any unnecessary risks, that no harm will come to you.
When you do not feel safe, it becomes difficult to think straight and to function at your best.
That is because the lack of safety produces feelings of insecurity, creating states of arousal and anxiety that usually lead to poor decision-making.
Fortunately, the reverse is also true, so that when you feel safe you are much calmer and collected.
Research shows that when subjects are made to feel safe as a result of hypnotic suggestions, instant gratification becomes less important. That implies hypnosis and positive feelings have a crucial link to any successful hypnotherapy session.
They are perfectly happy to delay rewards and are less interested in rewards of a monetary nature.
So when people feel safe during a hypnotherapy session, they are more likely to be able to delay gratification, which has the potential to help decrease substance abuse and other forms of addiction.
And all of this is possible because of the nature of hypnosis and the unique way that it works with your emotions.
Special State Of Consciousness
You may have heard it said that hypnosis is a natural phenomenon.
It is so natural, in fact, that you probably enter a hypnotic trance several times a day without even realizing it.
And what is a hypnotic trance? It is just another state of consciousness.
There are lots of different states of consciousness that you experience on a regular basis, such as:
When you are asleep
When you are engrossed in a good book
When you are involved in a favorite hobby or pastime
You have probably noticed that when you are doing something you really enjoy, time seems to fly by. You are "in the flow" where everything feels effortless.
Your body and mind are flooded with positive feelings because you are having such a great time.
The same thing happens to musicians and athletes who get into a particular state where they are able to perform out of their skin.
They are so totally focused on what they are doing that they become unaware of everything else going on around them.
In case you have not guessed, these people are in a trance. And when you put someone into a trance using a hypnotic induction, it is called hypnosis.
The most currently accepted definition of hypnosis states that hypnosis is:
A state of consciousness involving focused attention and reduced peripheral awareness characterized by an enhanced capacity for response to suggestion.
So hypnosis is another state of consciousness, but one that has unique properties that you can take advantage of.
And the way to take advantage of them is through the power of suggestion.
Suggestions can be as simple as saying: your eyelids are getting heavier and you might want to close them.
It is up to you whether or not you accept these suggestions. It may feel like the natural thing to do, however, it all depends on whether or not you and the hypnotherapist have built up a level of trust and rapport.
A famous study by Berger showed just how powerful suggestions can be. Using an EEG, Berger measured his participants' alpha activity.
Under normal circumstances, alpha activity was only visible when participants' eyes were closed but were blocked when their eyes were open. During the study, participants were "suggested" that they were blind, and subsequently displayed alpha activity even though their eyes were wide open.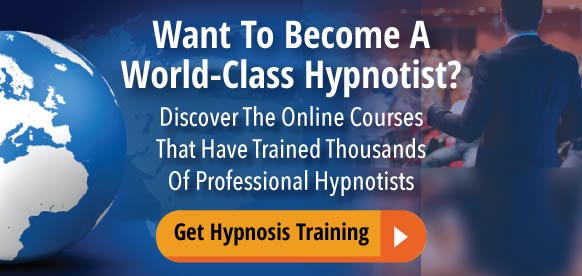 Blocking The Sensory Perception
Of course, the real value behind suggestions lies in their ability to help make people's lives better, to replace negative feelings and experiences with positive ones.
To enable them to make changes that will lead to a more satisfying and fulfilling lifestyle resulting in greater productivity and happiness.
Suggestions are made during the hypnotherapy session when the subject is in a hypnotic trance, relaxed and focusing their thoughts and attention inward, where they're able to communicate with their unconscious mind.
In that sense suggestions can be used to block someone's sensory perception, the way they respond to certain stimuli.
Again using an EEG, researcher Barbara Schmidt ran three studies in which she managed to alter subjects' responses to audio, visual and pain stimuli. The thrust of the studies was as follows:
1. Subjects were asked to count items on a screen. In the hypnosis group, it was suggested that a wooden board was blocking the screen and that they therefore could not see the items.
2. Subjects received a mild electric shock in their hands. In the hypnosis group, it was suggested that they were wearing a special cooling glove which meant that they would be unable to feel the shock.
3. Subjects were asked to press a button when they heard a specific sound. In the hypnosis group, it was suggested that they were wearing earplugs and would not be able to hear the sounds.
Of the 60 subjects who took part, 20 were classified as low suggestibility, 20 as medium and 20 as high suggestibility. Each participant performed each task twice, once without hypnosis and once with hypnosis.
In every case, the addition of suggestions produced major and quantifiable results. Under hypnosis, subjects were:
Less able to count the items on the screen
Less able to feel the pain of the electric shock
Less able to hear the sounds
It should be noted that all participants were able to complete every task perfectly under normal or control conditions, i.e. before hypnosis.
Such studies show just how powerful suggestion can be at altering sensory processes in the brain. This highlights the potential of hypnosis for helping people cope with all kinds of conditions, from tinnitus to vision impairment to managing pain.
In order to be receptive to suggestions, however, you first have to allow yourself to enter a hypnotic trance. That particular state of consciousness also provides you with other special abilities you might find it difficult to access in any other way.
Arousal & Decision-Making
When someone chooses to undergo hypnosis, they become more susceptible to suggestions and find them easier to follow. But something else happens as well.
They experience a state of deep relaxation often referred to as low arousal. The term means being in a less excited or excitable state, calmer and more at ease.
Various studies have shown how this state of relaxation and low arousal can help to desensitize subjects and reduce their responses to certain stimuli, particularly with reference to objects or situations they are afraid of.
The interesting thing about fear is that you can be afraid of something that is real or you can be afraid of something that you imagine. For instance, many people are afraid of the dark, when in fact darkness is simply the absence of light.
A large part of the problem where fear is concerned has to do with your imagination. If someone puts their mind to it, it is easy to imagine all sorts of terrors and fear-inducing monsters.
Likewise, people are often influenced during their formative years to fear certain things by their parents or other adult figures, such as heights or spiders. Such deeply ingrained responses to stimuli can be difficult to overcome.
But just as you can imagine the worst, you can also use your imagination to think up something much more pleasant and positive. This is easier to attain once you have made use of hypnosis to get completely relaxed.
In the same vein, relaxation helps to reduce anxiety. Subjects with low arousal tend to be less anxious and are therefore more likely to make better decisions.
Related Article>> Hypnosis For Decision Making: How To Gain Clarity & Stop Making Excuses!
Hypnosis and Positive Feelings: Feeling Safe With Hypnotic Suggestions
In order for hypnosis to take place, the person being hypnotized has to feel safe. They have to be reassured that whatever occurs, they will always be safe and will never be in any type of danger.
Some hypnosis practitioners refer to this idea of safety as a sanctuary, a place where the subject feels safe and secure. This place of sanctuary can be an imaginary one, like a favorite location, or it can simply be the chair they are sitting on.
Once the person is in a hypnotic trance, the therapist might say something like this: feel the chair beneath you and know that you are safe.
The subject will then be reminded that they can feel the chair beneath them at any point during the session should they need to reinforce the feeling of safety.
This suggestion of safety has been shown to be a valuable aid in the treatment of addiction. Studies reveal that imagining a safe place reduces people's responses to the stimulants they are addicted to.
If imagining a safe place can change the way they respond to stimulants, then it is also likely that the idea of this safe place should help them find it easier to do without those stimulants.
A second study was undertaken to investigate hypnosis and feeling safe in terms of the relationship between feeling safe and being able to delay gratification. The study gave children the choice of eating one marshmallow right away or waiting in order to get two marshmallows.
Those children who waited achieved better social and academic results in the future, highlighting the fact that being able to wait for rewards can be more advantageous.
In a further study, participants became less impulsive and more controlled when it was suggested that they were in a safe place. The idea of safety made it more likely that they would be willing to wait for future rewards.
This means that the suggestion of safety could have profound uses for helping people cope with a variety of problems such as obesity or substance abuse, and could give them the confidence and self-assurance they need to deal with unpredictable and unexpected issues such as the recent global pandemic.
No matter what people might be dealing with, hypnotherapy can help them make the changes they need to move forward. It gives them the power to turn negatives into positives and to take back control of their lives.
And the chances of success are increased dramatically when hypnotherapy sessions include the suggestion of safety as part of their protocol.
Conclusion & Main Takeaways
Research shows that hypnosis and positive feelings are essential for anyone undergoing hypnotherapy.
When subjects feel safe, they become calmer and more collected. They find it easier to think straight and to make better decisions.
It has also been demonstrated that hypnosis and positive feelings of safety is associated with low arousal and low anxiety, meaning that subjects are more capable of delaying gratification, which could be particularly beneficial for those struggling with substance abuse or other addictions.
Hypnosis is a state of consciousness that allows for deep relaxation which tends to make people more susceptible to suggestions.
Studies show that suggestions can alter the way the human brain processes stimuli, so that hypnosis has the potential to help people cope with a range of conditions more effectively, from tinnitus to impaired vision to chronic pain.
It is also the case that low arousal and low anxiety tend to desensitize people with relation to certain stimuli, helping them overcome their fears and phobias.
The idea of delayed gratification in combination with the suggestion of safety has the potential to help people cope with problems such as obesity or substance abuse.
Provided that the subject has built up rapport and established a good level of trust with the hypnotherapist, there is every reason to believe that subsequent hypnotherapy sessions will result in positive and productive outcomes.
>> If you're interested in hypnotherapy or want to improve your practice, check out our live and online hypnosis training events.
Want to know more about hypnotherapy, but not sure what certification program is the right choice for you? Book a DISCOVERY CALL today to learn more about Hypnosis Training Academy's hypnotherapy programs.