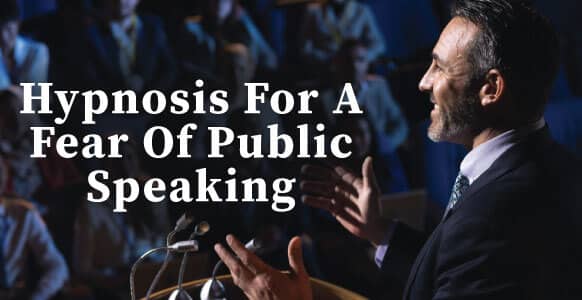 Given that hypnosis is commonly used to help people overcome phobias, in this article you'll discover how to use hypnosis for a fear of public speaking.
Believe it or not, a fear of public speaking is one of the most common fears of all.
It affects almost 75% of the population in one way or another.
Symptoms can range from very mild on the one hand to seriously severe on the other.
From slight nervousness to full-on panic.
But what exactly is fear of public speaking?
And how can you use hypnosis to treat it effectively?
Fear Of A Public Speaking: Definition, Causes & Symptoms
If you check the dictionary, you'll discover that fear of public speaking has another name.
It's called glossophobia, or speech anxiety.
The word comes from the Greek glossa, meaning tongue, and phobos, meaning fear.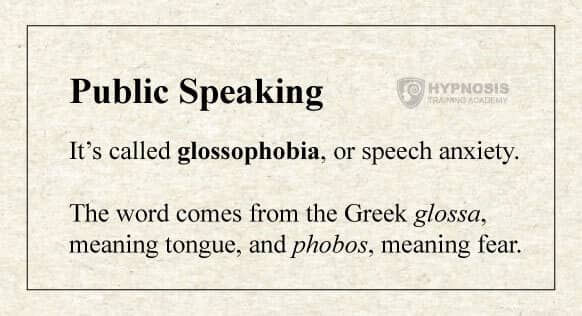 It can be triggered whenever someone has to speak in front of a group of strangers.
According to an article on Healthline.com, the anxiety you feel in such a situation can activate the classic fight-or-flight response.
Your body reacts to defend itself against what it perceives as a threat, sending out extra adrenaline and steroids.
Those extra chemicals cause your heart to beat faster and your blood pressure to shoot up, putting you seriously on edge and a potential bundle of nerves.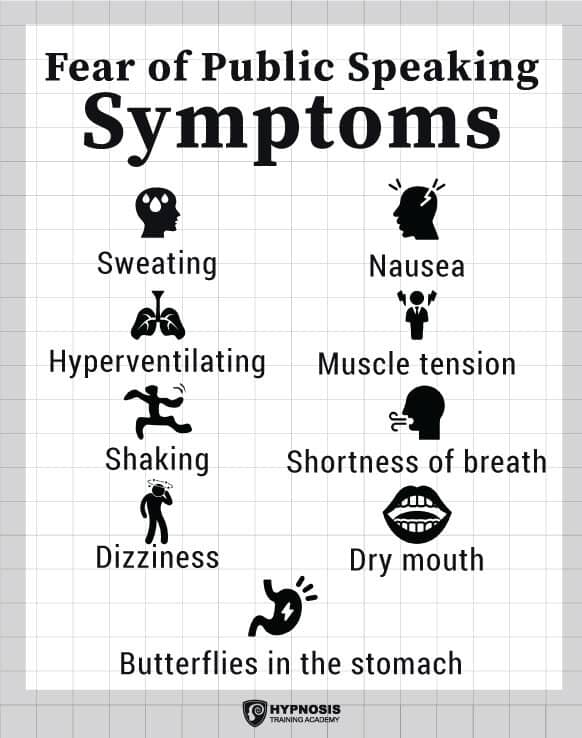 And despite a strong urge to get away, you might also feel frozen to the spot and unable to move.
This form of anxiety can be more likely to occur if it's happened to you before. For instance, if a presentation went wrong because you made a mistake, or your resources weren't ready, or your slideshow didn't work.
The memory of past embarrassments can flood your mind, making you a nervous wreck when you think about getting up in front of your next audience.
Fortunately, because the fear of public speaking is so common, it's one that you're well equipped to deal with.
You can reassure your clients that there are many other people in the same boat, putting them instantly at ease before giving them the tools and resources they need to overcome it.
But before looking at the specific hypnosis techniques you might use, let's find out how this type of fear affects people in their everyday lives.
>> Related Article: Is Hypnosis Real? The Scientific Proof That It Can Help You Quit Smoking, Lose Weight And Overcome Fears & Phobias
How Fear Of Public Speaking Limits Everyday Activities
Glossophobia is a kind of social phobia or anxiety-related fear. According to a Columbia University publication, social phobias in general can have a serious impact on a person's career and life.
People who suffer from social phobia are likely to earn 10% less than their peers. They also have a 10% greater chance of flunking out of college.
Worse still, there's a 15% chance that sufferers will fail to land top managerial or leadership roles in their company.
The reasons are obvious. If you suffer from the fear of public speaking, you might be less likely to go after those big promotions.
You won't want to take charge of more important meetings.
You won't want to have to lead a team or do anything that will put you in the spotlight.
An article in Psychology Today adds that this particular fear can: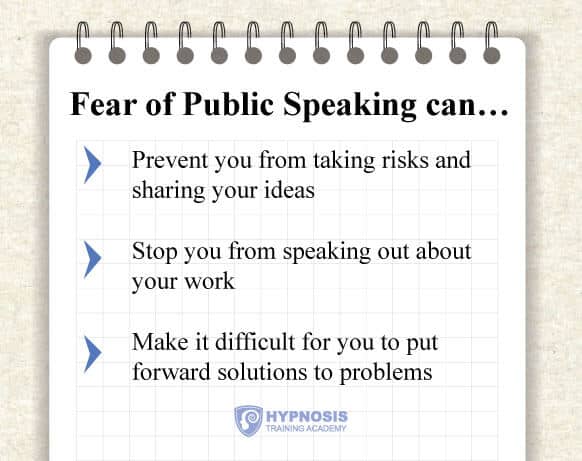 It all affects your development as a person and as a professional. A large part of the problem is that the fear teaches you to protect yourself from harm, making it unlikely that you'll engage in any public speaking activities in the future.
It stops you from taking risks, which inadvertently prevents you from taking advantage of possible opportunities.
So what can you do?
Using Exposure Therapy To Manage Anxiety & Public Speaking Phobia
Exposure therapy is one technique that's been used successfully to treat glossophobia.
It was developed to help people confront their fears rather than shying away from them.
Normally, you tend to avoid whatever it is that scares or frightens you. And while that might make you feel better in the short term, it can ultimately make matters worse.
So that when the object, activity, or situation reappears, you still have no resources for dealing with it, and the anxiety and panic return with a vengeance.
Exposure therapy does exactly what it says on the tin. It "exposes" you to the very thing you're afraid of in order to disrupt the pattern of fear and avoidance.
According to the American Psychiatric Association, this therapy has been scientifically proven to help treat a range of disorders including social anxiety.
There are a number of strategies or variations of exposure therapy, including:
In Vivo Exposure
This involves facing your fears directly, in real life. If you have a fear of heights you might be asked to climb a steep hill. If you have a fear of public speaking you might be asked to give a short speech in front of a live audience.
Imaginal Exposure
This involves vividly imagining whatever it is you fear. Someone suffering from PTSD might be asked to relive the traumatic experience in order to decrease the feelings of fear. Someone with glossophobia might be asked to remember a speaking occasion that went badly wrong.
Virtual Reality Exposure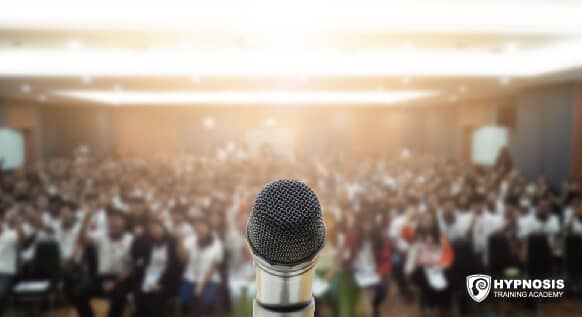 This involves using virtual reality technology when in vivo exposure is impractical. Someone with a fear of flying might take a virtual flight to experience the sights, sounds, and smells of an airplane without having to actually get on a plane.
Interoceptive Exposure
This involves deliberately stimulating the kinds of physical sensations associated with a person's fear.
For example, someone with Panic Disorder might be asked to run on the spot in order to make their heart rate speed up. This teaches them that an elevated heartbeat is not necessarily dangerous.
There are also different ways to pace the therapy, such as:
Graded exposure -This involves constructing an exposure fear hierarchy, ranking the things you fear according to their difficulty. The idea is to expose the person to mildly difficult situations and gradually progress to the more difficult ones.
Flooding – This involves using the exposure fear hierarchy but beginning with the most difficult tasks.
Systematic desensitization – This involves combining exposure with relaxation exercises in order to make the fear feel more manageable and to associate the feared objects, activities, or situations with relaxation.
Exposure therapy helps people cope with fear in a number of ways:
Habituation – People gradually get used to the thing they fear and their reactions decrease.
Extinction – Exposure helps to weaken learned associations between the things the client fears and any bad outcomes.
Self-efficacy – Exposure helps the client understand that they can confront their fears and manage their feelings successfully.
Emotional processing – Exposure helps the client learn to attach new and more realistic beliefs about the things they fear.
Obviously, exposure therapy isn't a form of hypnosis. What's interesting, however, is that they both make use of similar concepts to deal with phobias in general.
So how can hypnosis help your clients overcome their fear of public speaking?
Find out how you can help your clients overcome disempowering belief systems that are keeping your clients "stuck" such as their fear of a public speaking here.
Using Hypnosis To Successfully Overcome Fear Of Public Speaking
Like other phobias, glossophobia isn't something your client controls consciously.
And that's how hypnosis is able to help them overcome it.
Hypnosis for a fear of public speaking encourages relaxation, after which you're able to communicate with the person's unconscious mind.
Fear floods the mind with negative thoughts and creates self-doubt, especially if things have gone wrong in the past.
Hypnosis gives you the tools to enable them to focus on the positive and to feel more secure in their abilities.
Here are some of the hypnosis techniques you can use to help someone face their fear of public speaking and deal with it effectively.
Blitz
Reintegration
Mind Bending Language
The Non-Awareness Set
Dynamic Mental Imagery
Let's take a closer look at each of these techniques.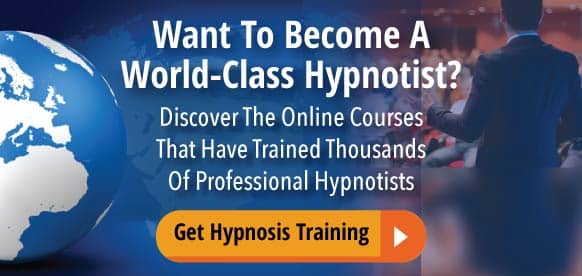 1. Blitz
You can blitz around finding the desired state that the client wants to achieve. Where public speaking is concerned, confidence is the state that immediately comes to mind. When someone feels confident, they'll feel happy, and they'll behave in a confident manner, which means they'll be better able to perform.
You can also use the blitz to inoculate your client against potential problems. Get them to recall times when they failed but persevered regardless. They didn't give up because they had a vision of what they wanted to achieve.
If they care more about their vision than about anything that happens to them, then they couldn't possibly give up. And if they can't give up, then they can't fail in the long term. Failure is only temporary.
You might also help them identify with someone they can aspire to, such as a great leader. The fact that they're willing to fail in public shows that they possess the qualities of a great leader.
2.Reintegration
Get the reintegration going using framing. You might recall that framing involves 3 steps:
1. Preframe – setting the scene before an event to help your client zoom in on the real issue
2. Reframe – changing the client's perception of an event or circumstance
3. Deframe – making the client's viewpoint or objection irrelevant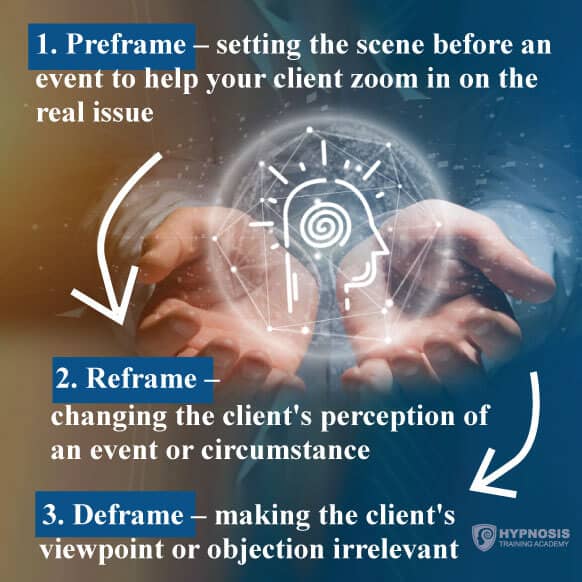 In order for reintegration to work, there has to be a problem made up of at least two parts. Where public speaking is concerned, the two parts might be:
1. Wanting to nail a presentation
2. Having reservations about giving the presentation
It's important to spend time establishing exactly what those two parts are. This will help your client get the two aspects clearly in their mind.
You can also do a reintegration using conversational hypnosis. For the first part, you might ask them what they're like when they're doing their very best at public speaking.
Perhaps they remind themselves of someone they admire, like Steve Jobs or Martin Luther King. And then ask how they resemble these people, their charisma, crowd-holding ability, etc.
For the second part, ask what things feel like when they're not going so well.
They might say they feel shy and awkward, like Clark Kent. But what happens when Clark Kent takes off his glasses?
He becomes Superman, powerful enough to hold attention and make people listen.
3.Mind Bending Language
Mind Bending Language (MBL) is a symbolic language. Its purpose is not to confuse your client but to create an experience of a world that they could never have conceived of before.
To use MBL, there has to be a problem and a solution. The idea is to bring the client to a point where they see their problem in a totally different context, somewhere where the problem can't exist as it did.
In this case, the problem is the fear of public speaking. If you can associate the problem with a resource, this gives your client the means to manage their fear when speaking in public. In other words, the resource provides a solution.
>> Related Article: Using Hypnosis To Overcome Fears
4.The Non-Awareness Set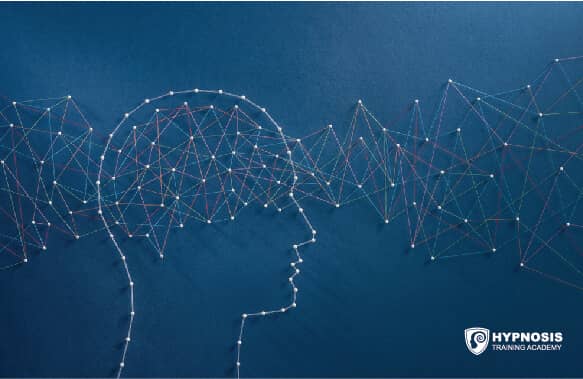 The core of the non-awareness set is the tussle between the conscious and unconscious minds.
It creates a dissociation between the conscious and unconscious, increasing your client's unconscious processes so they can devote less of their energy to conscious processes.
Whatever problem your client is having, it's their conscious mind that's struggling with it. However, their unconscious mind knows how to fix it.
So naturally, you have to communicate with their unconscious mind to access the resources they need to become unstuck. You can do that by bringing their attention to something outside their awareness (i.e. something they're not consciously aware of).
The easiest way to achieve this is by asking questions. The actual questions you use are not important; what is important is the fact that, when you ask a question, you're forcing your client to go back inside their head to find the answer.
One of the main reasons people get stuck with their problems is because they've stopped exploring solutions. The Non-Awareness Set helps them start looking for them again.
>> Related Article: Using Hypnosis To Overcome Fears And Phobias: The Lesser-Known Technique Even Princess Diana & Sylvester Stallone Used
5.Dynamic Mental Imagery (DMI)
DMI can help your client overcome their fear of public speaking by changing their inner landscape.
This technique helps you create a landscape of resources for your client, which could be internal or external depending on their preferences.
The unconscious mind works in symbols, so the idea is to find a symbol that stands for something physical. This symbol takes the focus away from the physical process which can be scrutinized so much that it becomes impossible to perform naturally.
For instance, instead of relaxing and delivering a presentation with skill and authority, your client's nerves get the better of them. To get over it, you can help them create a symbol for giving first-class presentations. The symbol becomes a metaphor for the physical act of speaking in public.
It's important to remember as well that these techniques are not exclusive. You can easily incorporate Mind Bending Language in the Non-Awareness Set or do a DMI as part of your blitz.
Whatever techniques you use when you administer hypnosis for fear of public speaking, the goal is always the same: to communicate with the unconscious mind and help your client tap into the resources they need to manage and eventually overcome their fear.
An article in Psychology Today sums things up nicely, which is paraphrased below.
If something scares you, you avoid it. If you avoid it, you won't get enough practice. Without practice, you won't improve. And if you never improve, you'll continue to be afraid of it.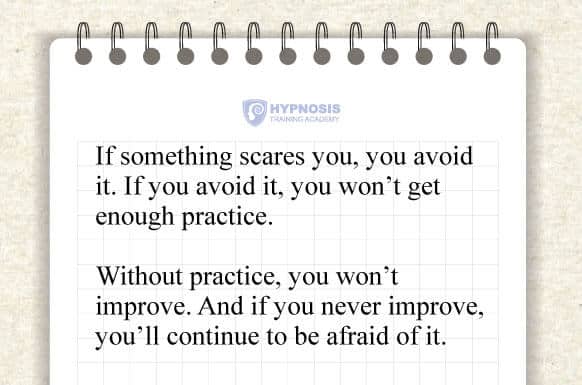 But thanks to the power of hypnosis, your clients will now have everything they need to face their fears and defeat them.