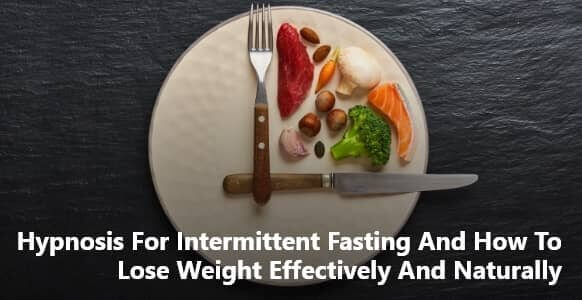 It's an issue many people find themselves having to cope with at some point.
How to lose weight and keep it off.
But as the old adage says, you can't out-exercise a bad diet.
You can't stop eating altogether, either, for obvious reasons.
So what can you do?
Well, it turns out that what you eat isn't the whole problem.
It's also a question of when you eat.
That's where hypnosis for intermittent fasting can come to the rescue.
Intermittent fasting has become more popular in the past few years, although it's been studied for at least a quarter of a century.
The technique has gained more acceptance recently as people search for a better way to control their weight and simultaneously enjoy a healthier lifestyle.
And when combined with hypnosis, you get to attack the problem from both the physical and psychological angles.
Hypnofasting, as it is known, gives you possibly the best chance to manage your weight in a safe, risk-free and sustainable way.
You'll find information about the benefits of combining hypnosis and intermittent fasting later on in this article.
But first, let's discover a little bit more about intermittent fasting and how it works.
What Is Intermittent Fasting?
First of all, intermittent fasting is not a diet.
You don't need to change the foods you eat or count calories.
It isn't about what you eat: it's about limiting the amount of time you eat each day.
To make it work, you have to "fast" for a certain number of hours.
For instance, fasting for 16 hours gives your body the chance to use up the fuel you put into it (in the form of food) instead of storing it as fat.
Eating less also speeds up your metabolism, which in turn burns up the fat.
Here's a typical example of how intermittent fasting (IF) might work.
Before IF:
Have breakfast at 7 am, lunch at 12 noon, dinner at 7 pm. Possible fasting time 12 hours (7 pm to 7 am).
During IF:
Skip breakfast, have lunch at 12 noon and dinner at 7 pm. Possible fasting time 17 hours.
Simply by skipping breakfast you're able to cut out one third of your daily calorie intake.
So realistically you don't have to do anything else and you'll still end up losing weight.
The most popular form of IF is the 16:8 variant. That refers to fasting for 16 hours of the day and eating for 8 hours of the day.
You also have to take into account that for 8 of those "fasting" hours you'll be asleep, so it's not as taxing as it might first appear.
Experts point out a couple of things you should keep in mind:
The healthier you eat, the better.
You shouldn't eat between meals and you shouldn't snack after your evening meal while watching TV etc.
Drinks are allowed at any time as long as they are sugar-free and calorie-free.
If you simply stop eating breakfast and don't make any other changes to your eating habits you will still lose weight.
Naturally there is a limit to how much weight you will lose. Your body will gradually adjust to your new regime and will level off.
That's all well and good, but it doesn't take into account the psychological side of things.
Like how you'll feel when you can't eat whenever you want to. And how this new regime will affect you emotionally.
That's where hypnosis enters the equation.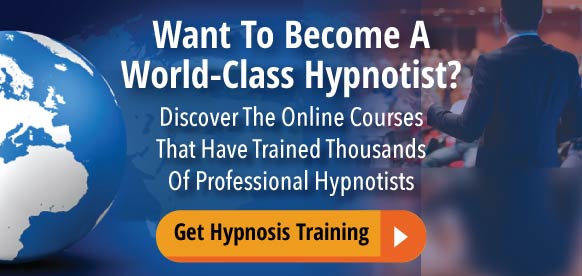 Can Hypnosis Really Help With Fasting?
Where weight loss and intermittent fasting are concerned, researchers suggest that you should think of hypnosis as a complementary therapy.
The IF regime, such as the 16:8 variant mentioned above, will help you reduce your calorie intake without sacrificing taste and nutrition.
When you add hypnosis or hypnotherapy to the mix, you get an additional resource, one that can prevent you from sabotaging your efforts.
Hypnosis is a tried and tested technique for changing behaviors, meaning you'll have a better chance of sticking to your new routine.
During a hypnosis session you'll discover tools you can use to identify and get rid of any unhelpful thoughts or beliefs.
So you'll be less likely to:
Eat because you're bored
Buy extra food when it's on offer
Eat more because someone else expects you to
Use food as a treat or reward
Hypnosis will help you change your relationship with food so that your new lifestyle becomes sustainable.
It can do that because it taps into your unconscious mind where you can access your own resources.
Why is that significant?
Because your unconscious mind knows what you're trying to achieve, and with just a few simple hypnosis techniques you should be able to reach your goal.
Hypnosis For Weight Loss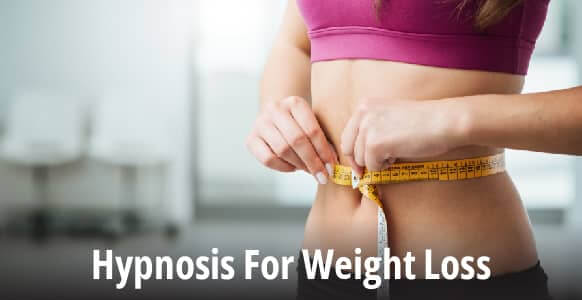 Hypnosis has a long history of helping people manage their weight, as this HTA article explains:
How To Help Subjects Lose Weight Through Hypnosis: Easy And Effective Techniques That Will Empower And Trigger A Lasting Behavioral Change
Why do people need help keeping their weight under control?
Well, to start with, people have free will and are able to make their own decisions.
That means they can choose between a healthy salad or half a dozen donuts.
Unfortunately, they don't always make the right decisions where their health or diet is concerned.
Not because they're stupid or lazy, but because they're driven by the need for satisfaction.
And food is one of the things that fills that void.
The better it tastes, the more satisfying it can be.
Like a nice juicy steak smothered in a generous helping of your favorite dressing.
Hypnosis works because it changes the way you think about food.
When you access the unconscious mind you're able to load it with positive suggestions.
This happens during the change phase, the part of a hypnosis session where the real work is done.
That's where you fill the unconscious mind with positive images about food, backing these up with suggestions designed to change someone's eating habits, such as:
I only eat when I'm hungry
I try not to between meals
I eat slowly to savor each mouthful
I drink pure, clean water to fill up between meals
I enjoy regular, gentle exercise
I'm able to lose all the weight I need to
These suggestions should ideally be tailored to each person's situation.
Some people can't resist fast food, while others crave comfort foods like chocolate bars and soda while watching TV or movies.
Still others take very little exercise or none at all, so the suggestions should provide encouragement, motivation and guidance to help them chart a new way forward.
Benefits Of Hypnosis In Intermittent Fasting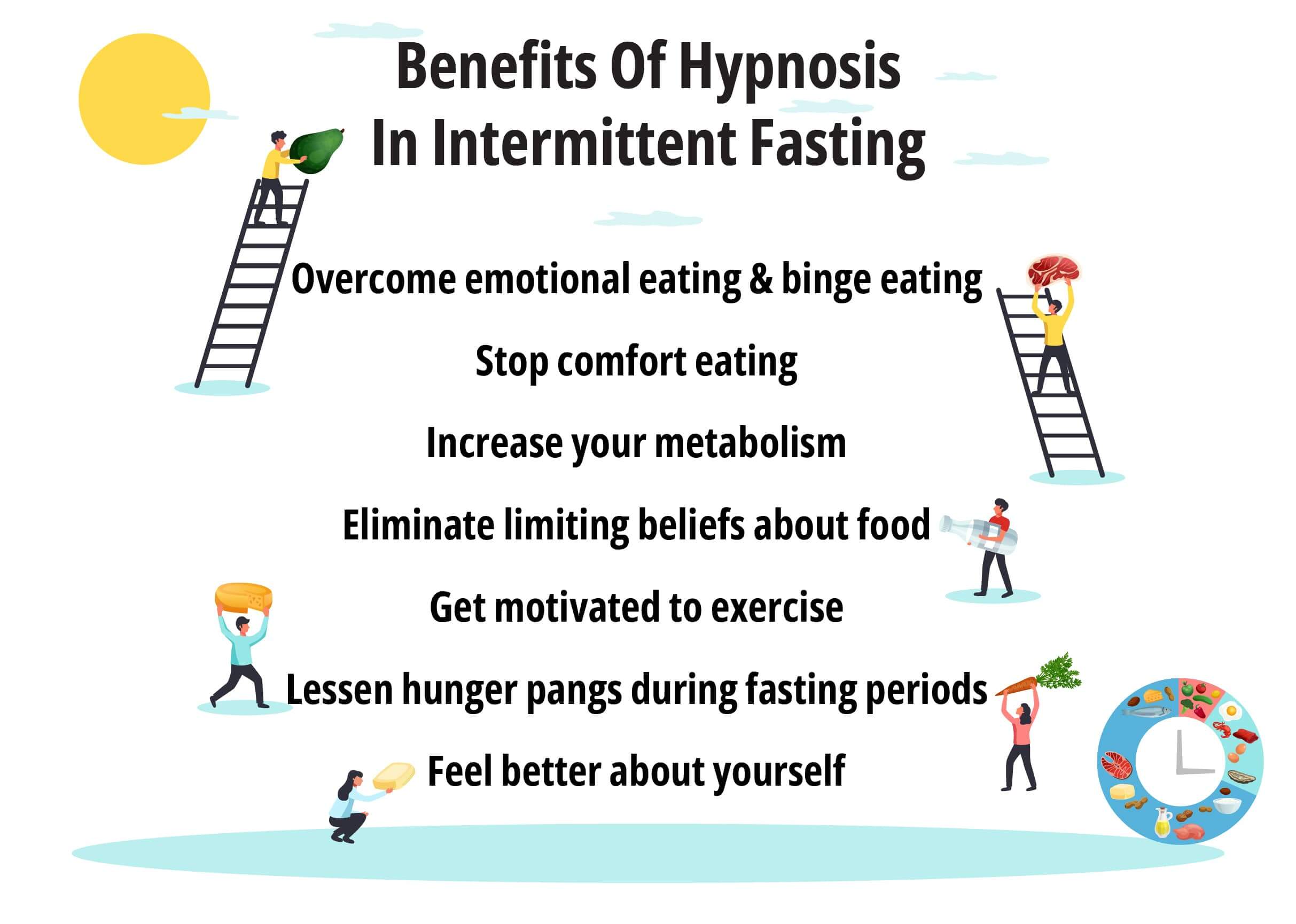 Changing your lifestyle can be a real challenge.
Depending on your age, your eating habits could have developed over any number of years, from just a few to an entire lifetime.
Luckily, hypnosis for intermittent fasting works in every scenario.
It helps you tap into your unconscious mind, the place where your imagination, creativity and memories are stored.
There you'll be able to access your own inner resources that will help you alter your eating habits, no matter how well established they might be.
As this article explains, these resources are essential for anybody trying to change their lifestyle, because they give you the power to:
Overcome emotional eating & binge eating
Stop comfort eating
Increase your metabolism
Eliminate limiting beliefs about food
Get motivated to exercise
Lessen hunger pangs during fasting periods
Feel better about yourself
There are other benefits from using hypnosis for weight loss too.
According to Medical News Today, hypnosis helps boost your overall health while simultaneously lowering your risk of contracting certain conditions, including:
Heart disease
High blood pressure
High cholesterol
Stroke
Depression
Type 2 diabetes
As mentioned earlier, hypnosis or hypnotherapy can help alter any unhelpful thoughts or beliefs you have about food.
For example, perhaps you don't really need sugar in your tea after all.
Hypnosis is also a powerful tool to create changes in your behavior, such as drinking more water or eating smaller portions.
Using hypnosis it's also possible to switch off any negative self-talk, that little voice in your head that says you can't do something.
There are various techniques that will help to boost your willpower and give you the confidence and stamina to cope with the ups and downs of a weight loss regime.
The folks at Natural Hypnotherapy in the UK list 5 benefits of hypnofasting that other sites seem to have overlooked for the most part. According to them, fasting can:
1. Improve immunoregulation, the way your immune system functions
2. Stimulate cellular autophagy, getting rid of old cells and generating new ones
3. Improve genetic repair mechanisms, correcting damage to cells and DNA
4. Improve insulin sensitivity, helping make better use of blood glucose
5. Aid chronic disease, making long-term conditions easier to live with
Further research undertaken by Johns Hopkins reveals the benefits of intermittent fasting or IF as related to wellness and disease prevention, highlighting the following points:
Better memory – IF has been shown to improve working memory in animals and verbal memory in humans.
Healthier heart – studies have shown that IF improves blood pressure, resting heart rate and other cardiac measurements.
Improved performance – IF has been shown to reduce fat in young men who fasted for 16 hours, without the loss of muscle mass.
Battling obesity – IF has helped obese adults lose weight and prevented obesity in animals.
Healthier tissue – IF helped reduce tissue damage in animals during and after surgery.
The science backs it up. Intermittent fasting is an effective way to lose weight, and adding hypnosis to the equation gives you your best chance to succeed.
But is IF for everyone?
How To Know If Intermittent Fasting Is For You
Like any other technique or treatment, IF may not be suitable for you, especially if you fall within any of these categories:
Under 18 years old
Pregnant or breastfeeding
Do intensive training on a daily basis
Have or have ever had an eating disorder
If you're unsure whether or not IF is appropriate for you, speak to your doctor or health professional.
Conclusion & Key Takeaways
HypnoFasting refers to the combination of intermittent fasting (IF) and hypnosis.
It's a scientifically proven technique that will help you lose weight and will also improve your overall health.
It isn't a diet but is more of a lifestyle, not limiting what you eat but limiting when you eat it.
For the fasting element of the technique, one variant requires you to fast for 16 hours while eating for only 8 hours.
A typical application means skipping breakfast, eating lunch and dinner, while having nothing to eat between these meals.
As a result, you instantly cut out 1/3 of your daily calories, your metabolism speeds up, and you naturally burn more fat.
The hypnosis element gives you the tools you need to cope with the emotional side of a lifestyle change.
It helps to change the way you think about food, so you are less likely to eat when you're bored, eat more than you normally would, or use food as a treat or reward.
At the same time, research shows that hypnosis helps to boost overall health while making it less likely that you'll contract certain conditions such as heart disease, stroke, high blood pressure or diabetes.
Despite its obvious benefits, IF isn't for everyone. You should always check with your doctor or health professional before significantly changing your eating habits.
If the technique is right for you, all the evidence suggests that it can help you lose weight and stay healthy.
And who knows? Hypnofasting could be just what the doctor ordered to allow you to manage your weight successfully, now and in the future.