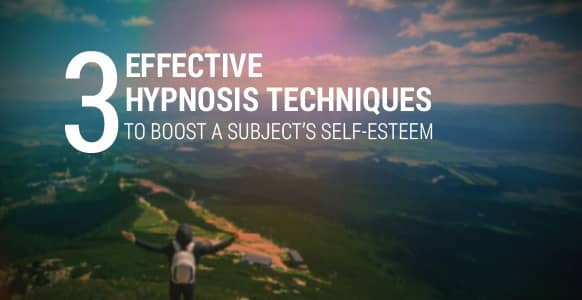 Low self-esteem can make your life miserable.
You have such a poor opinion of yourself that it stops you in your tracks.
You don't volunteer or put yourself forward for anything in fear of looking foolish.
You don't apply for better jobs because you don't think you deserve them.
You don't get involved in conversations because you think no-one wants to listen to what you have to say.
Eventually, you'll stop trying.
You'll end up retreating from people and missing out on opportunities.
And when that happens, there's every chance you'll start to feel depressed.
Lonely.
Withdrawn.
Useless.
Why?
Because low self-esteem makes you focus on the negative.
On your weaknesses rather than on your strengths.
On what you can't do rather than on what you can.
So you blame yourself every time you fail – and you expect to fail every time.
And lifting yourself out of this cycle of negativity can seem like an impossible task.
An uphill struggle against a howling, ferocious wind, with sleet pellets pounding on your body.
But the truth is that it CAN be done.
And all you have to do is change the way you think.
And if you're a hypnotherapist working with a subject who suffers from a low self-esteem, your task, of course, is to change the way that they think.
To get them to focus on all the good characteristics they possess, instead of the perceived "bad" things that they don't like about themselves.
But before you can do this, you need to learn how to identify that self-esteem is an issue for a subject…
Learn How To Spot Low Self-Esteem
Some subjects will come to you with enough self-awareness to realize that they suffer from low self-esteem.
Whereas others may instead say that they want to learn to be more confident, outgoing or sociable.
Whatever words they use, it's important that you're able to spot the problem.
While you're discussing things with your subject, and building rapport, see if you notice any of the following:
They're focused on the negative

They're self-deprecating

They blame others for their failures

They're afraid to take risks or change the status quo

Their confidence levels are zilch

They don't trust other people

They avoid making decisions

They think no-one likes them

They're critical of everything they do
People with low self-esteem are resistant to change. They don't want to take on new challenges.
If they do – and they fail – that only reinforces their own opinion.
It highlights their inadequacies.
It tells them they're right to avoid certain situations.
That they're right not to put themselves out there.
Because once their self-esteem hits rock bottom, their self-belief crumbles away with it.
And the climb back up is just too overwhelming to consider.
3 Effective Self-Esteem Boosting Hypnosis Techniques
Here are three different techniques you can use to restore anyone's self-esteem to healthy levels.
Mind Bending Language (MBL)
MBL is a great tool to help break old patterns.
It works by shaking up your subject's reality.
Their low self-esteem is like a river flowing down a mountain.
You could build a dam to stop it, but then the pressure might build up behind it, and it'll break through anyway.
Instead, MBL lets you send out mental 'shock waves' that shake things up, sending the water off in new directions.
For instance, suppose your subject tells you they've been invited to a party.
They don't want to go, because they'll feel awkward.
They don't think they'll have anything interesting to say.
They don't think they've got anything to wear that won't look ridiculous.
So in the end they lie and say they can't make it.
Underneath it all, they're afraid.
Afraid of being judged, and afraid of saying the wrong thing.
Even just by imagining themselves at the party, they're already thinking the worst.
And this is where you start using Mind Bending Language.
You might say:
"What are you not thinking about when you feel awkward at parties?"
This kind of question gives them a jolt.
They'll have to stop and recognize the good things they're not thinking about, such as:
Their positive qualities

The things they're good at

The talents they have

Their friends and family
And as soon as they do that, they've started focusing on the positive.
You might also ask:
"What are you not afraid of that is parties?"
Again, their brain goes into a spin.
They're not afraid of being on their own. They're not afraid of working hard. They're not afraid of sharing their opinions with people they trust.
Like the river mentioned above, their thinking patterns (the water) has been sent off in a different direction.
One that's positive, constructive, and self-esteem building.
>>Learn more about Mind Bending Language here.
2. Magic Moments
Like MBL, Magic Moments are designed to grab someone's attention.
They help you bypass the critical part of the conscious mind and access the unconscious.
Magic Moments are basically metaphors which can be one of three types:
i) Physical metaphors – like a magic trick

ii) Visual metaphors – like a drawing or sketch
iii) Story metaphors – like an anecdote
The purpose of Magic Moments is to break down resistance and to help you get closer to the point you're trying to make.
Start by finding out how your subject feels in social situations.
They might use words like embarrassed, uncomfortable, shy, or self-conscious.
Then ask them to help you with something – your first Magic Moment.
Do a simple magic trick, such as make a coin disappear.
Explain that together you can make those negative feelings disappear in the same way.
Next, move straight on to Magic Moment two.
Draw a simple flower with half a dozen large petals. Ask your client to write a positive characteristic on each petal.
Maybe they're good with children. Or a whiz at mathematics. Or a patient listener. Or always on time. Or a great cook.
Reliable, hard-working, trustworthy…
Make suggestions if necessary. Then let the client take the paper away and add more petals and more positive traits as and when they think of them.
3. Regression
No-one is born with low self-esteem.
It's something that happens over time, the result of negative experiences and encounters.
So naturally there would have a been a time in your subject's life when their self-esteem was healthy.
When they felt good about themselves.
Regression helps them travel back to that time and bring those feelings into the present. And should be done as part of a hypnotic session using the PCAT Formula.
>>Learn more about the PCAT Formula here.
Begin by discussing the problem; as it's important to light up the neurology of the problem letting them feel it a little bit – but not enough to re-traumatize them.
Next, induce a trance, as a result of bypassing the critical factor and using the Regress and Orient technique.
Ask your client to

recall

a pleasant emotion

from their past

.





Get them to respond quickly so they don't dwell on the process.

You don't want them to feel like it's a test or that they might fail in some way because that wouldn't do any good for their self-esteem.



You can hurry them up by giving them a time-frame, saying something like these lines:





"3-2-1, what emotion are you thinking about?"

Whatever they say, ask them to recall a time in the past when they felt like that.

A happy time, a successful time, a time when they felt positive.

Then

allow

them

to

relive that moment by saying as you count

something like

:

"1-2-3, and you are back in that moment now."
From here you need to orient them in that time and place by asking simple questions, such as:
What do you see/hear/smell/touch/feel?

Are you inside or outside?

Is it daytime or night time?

Are you alone or with other people?

Answering these questions will help your subject relive the experience. And should bring the feelings of happiness, confidence, or whichever positive emotions they're experiencing flooding back.
Once the subject is feeling positive emotions, ask them to think about the problem and how it's changed. Usually, the problem would have collapsed as a result of seeing it in a more positive light.





If they can no longer associate any negative emotions to the problem, then you can move onto the next step. But if this is not the case, run through the PCAT loop again until the problem is gone.

R

eorient them back to the present and bring them out of the trance.

Future pace them to a time in the future where they're perhaps at a party or somewhere where they would have previously suffered from a low self-esteem, except now they're feeling this new, positive state.

Test them thoroughly to make sure that the problem has gone. If it isn't totally gone, repeat the PCAT Formula again until it is.
Why Healthy Self-Esteem Is So Important
Self-esteem has a dramatic impact on how people live their lives.
If someone thinks that they're worthy of happiness and respect, then they'll go after these things.
They'll be motivated to find success.
They'll set goals and consistently strive towards them.
Because they know, deep down inside, that they deserve to be happy.
That they deserve to be successful.
That they owe it to themselves to fulfill their true potential.
To take control of their life, rather than letting it control them.
Through hypnosis, you can help people do exactly this.
Take control of their feelings and limiting beliefs, and transform their lives for the better.