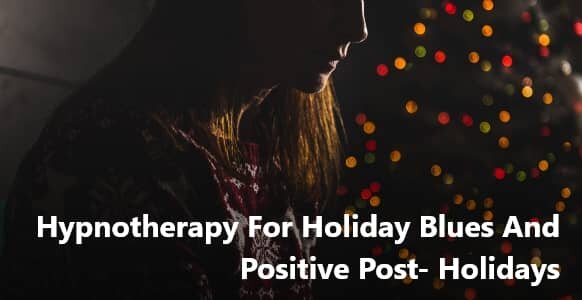 In the 1950s, Perry Como recorded a Christmas song with lyrics that went like this:
Oh, there's no place like home for the holidays.
The song idealized the holiday season as a special occasion when you could forget about your worldly woes and spend quality time with the ones you love.
For many, however, it's a time that is anything but special.
Instead, it's a time when stress and anxiety levels can go through the roof.
A time that leaves them feeling alone, lonely and struggling to cope.
Far from being a happy time, it's one they dread with every fiber of their being.
That's when hypnotherapy for hopeful holidays can bring some much-needed relief.
It's the perfect way to eliminate stress from your life, no matter where you are or what you're doing.
And you don't have to visit a hypnotherapist's office to reap the benefits either.
You can use some simple self-hypnosis techniques to achieve deep peace and relaxation, guaranteed to help you unwind and release your anxieties.
The question is, can hypnosis make your holiday season less fraught and easier to cope with in general?
And if so, what's the best way to put hypnosis for holiday blues to work for you?
Before finding out, it makes sense to take a look at holiday blues in general to find out more about their causes and the forms in which they present themselves.
The Most Common Holiday Blues & Their Origins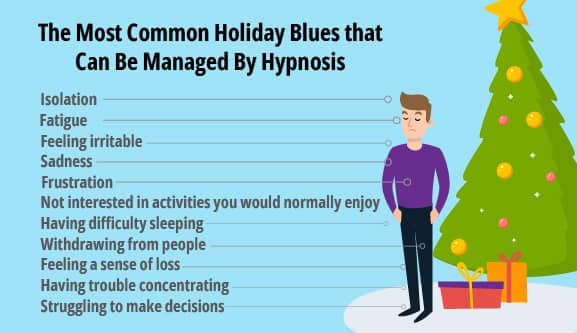 When you say "holiday blues" what are you actually talking about?
They've been described as temporary feelings of stress, anxiety or even depression that occur particularly during the Christmas holiday season.
But even though they're temporary, they can lead to more long-term mental health issues if they're not properly addressed and dealt with.
These feelings can make themselves known in a variety of guises, such as:
Isolation
Fatigue
Feeling irritable
Sadness
Frustration
Not interested in activities you would normally enjoy
Having difficulty sleeping
Withdrawing from people
Feeling a sense of loss
Having trouble concentrating
Struggling to make decisions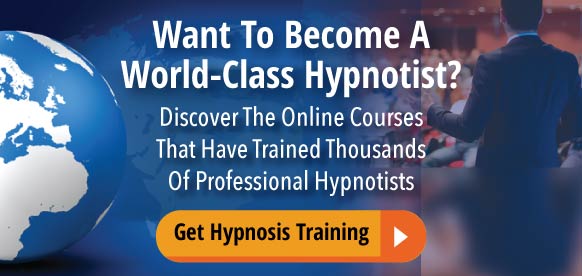 So what causes the blues in the first place?
Well, imagine if you are living on your own, going to work every day, mingling with your colleagues regularly in an established routine, and then the holidays come along.
Suddenly there's no one to talk to, nobody to have a laugh with or share an experience with.
It's just you and your own four walls, sometimes for two whole empty weeks.
Under normal circumstances, a couple of days off might offer you some benefit, such as a chance to recharge your batteries.
But after that you'll feel isolated, secluded, with no means to communicate with the outside world.
Without the routine to rely on, you're lost, with too much time on your hands and no idea about how to fill it.
The longer it goes on, the more likely it is that you'll fall victim to what they call "cabin fever" – feelings of restlessness and irritability that can arise when you're stuck in the house by yourself for extended periods of time.
Here's another scenario. Perhaps you've got a family and you look forward to spending time with them over the Christmas break, only to find that the holidays place too many expectations on your shoulders.
You worry about getting everything just right, especially on the big day itself, and the pressure to achieve perfection builds and builds, until you can hardly bear it any longer.
In a further situation, you might be someone whose work takes them far away from your family and friends. On the one hand you can't wait to get back home and see everybody.
You remember all the good times you had together during holidays of the past, the amazing atmosphere and the excitement you felt.
On the other hand you know that things change and you can't live in the past. So even as you make the journey home you understand that the magic of old might never reappear again.
Finally, imagine that you are ill during the entire holiday period. That might be because of an ongoing or chronic illness, or it might be because you've been stricken down with a serious bug just before the holidays begin.
If you weren't depressed before, being sick might just be the straw that breaks the camel's back. When you're not well you can't participate, you can't enjoy the festivities like everyone else.
You have to stay away from people in the hope that you'll recover as quickly as possible, without infecting anyone else and ruining their Christmas too.
The good news is that it doesn't have to be like that in any of those particular scenarios.
Hypnotherapy can give you the tools you need to manage your feelings throughout the whole season, so that no matter what situation you're in you'll be able to get through it calmly and confidently.
So what is it exactly that makes hypnotherapy and hypnosis so especially useful at this time of year?
Hypnotherapy For Holiday Blues: How Hypnotherapy Can Help You Overcome Those Holiday Blues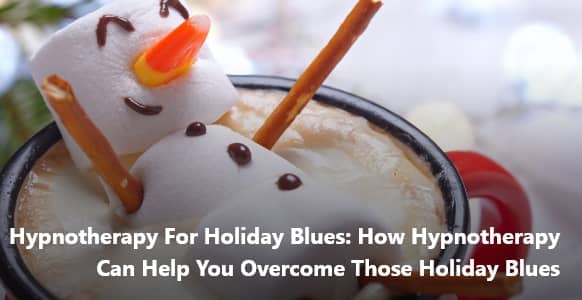 Hypnotherapy works by letting you tap into the power of your unconscious mind.
That's the part of your brain that works away in the background, taking care of a whole collection of bodily functions automatically. For instance, as you read this article, you're breathing, maintaining a regular body temperature, your heart is beating and blood is flowing all around your body to exactly where it needs to go.
None of that requires any work on your behalf. It's all taken care of by your unconscious mind, the seat of your imagination and creativity that stores all your emotions, your memories and your experiences.
As you go about your daily chores, your conscious and unconscious minds work together. But you can't access your unconscious in that state because your conscious mind is temporarily in charge.
This relationship between your conscious/unconscious mind is often compared to an iceberg. The obvious bit that you see floating on the surface of the water is your conscious mind.
That's the part you're aware of when you're awake and going about your business from day to day. But it's also the smallest part.
The largest part by far is your unconscious mind, which sits hidden beneath the water and is responsible for up to 90% of what you're capable of.
Tap into that, and it becomes possible to achieve almost anything.
For instance, using the power of suggestion, hypnosis can help you turn the negative into the positive. It can help you change the way you think, the way you act and the way you speak.
When you enter a hypnotic trance, you're still awake, but instead of focusing on the outside world you're focusing your energy inside.
It allows you to get more relaxed than you've ever been so that you can shut out the everyday "conscious" world and concentrate on the inner you.
And this is the crux of the matter: it's an opportunity to feed your unconscious mind with new instructions according to what you want to change.
Those new instructions could include getting motivated to go out and make new friends, or it could be finding a new hobby that helps you occupy your time.
You might decide to learn a new skill and use hypnosis to prepare you for taking it on.
Or you could use it to boost your confidence or to change the way you think about yourself.
As Henry Ford is often quoted as saying, if you think you can or you think you can't, you're right.
In other words, positive thinking really can give you an advantage when there's something you want to achieve or accomplish. And the key to achieving it lies in accessing your unconscious mind.
But if the idea of seeing a hypnotherapist puts you off, remember that that's not your only option.
There's another much simpler way for you to enjoy all the benefits that hypnosis has to offer, and one that you can make use of practically anywhere and at any time.
It's called self-hypnosis.
Related Article>> Hypnosis For Holiday Stress: How To Manage Your Stress And Anxiety During The Holiday Season
How Self-Hypnosis Can Help Bring Hope During Those Difficult Holiday Times
Stress and anxiety can do a lot of serious damage to you, mentally and physically. So finding a way to keep them under control, especially during hectic holiday seasons, is crucial.
One of the best ways to stay calm and in control is by using self-hypnosis. It's not as difficult to do as you might think either.
All you need is a few minutes of private time and a quiet place. Here's a simple guide to how you might go about it:
In your quiet place, close your eyes and focus on your breathing until you feel calm and relaxed.
Think about whatever it is you want to achieve.
See yourself achieving this particular goal.
Notice how good you feel having accomplished it.
Return your focus to your breathing again.
Open your eyes and get on with the rest of your day.
That's self-hypnosis in a nutshell. It's a bit like meditation except that with self-hypnosis you have a definite goal in mind.
To learn more about how to practice self-hypnosis and the benefits it can bring, check out this in-depth Hypnosis Training Academy article and infographic:
How To Hypnotize Yourself: Discover The Easy 6-Step Self Hypnosis Formula.
People have been using hypnosis and self-hypnosis for decades to help them relax and eliminate stress. But it can also be used for dozens of other applications such as:
Helping resolve sleep issues
Unleashing creative blocks
Setting goals you want to achieve
Changing any behaviors or beliefs that are limiting your progress
Solving short-term or long-term problems
Overcoming anxiety
Fighting depression
In fact, hypnosis is being used more and more regularly to enable people to make lasting lifestyle changes.
From building confidence to managing pain, beating addictions, breaking bad or unhealthy habits, curing phobias, coping with cancer, controlling your weight, boosting your immune system…
The list goes on and on and on.
So if hypnosis has the power to do all of those things, and the science absolutely backs it up 100%, then it can work just as well to help banish those holiday blues.
Give self-hypnosis a try and discover a whole new way to make your holidays as enjoyable as they can possibly be, and all under your complete control.
Conclusion & Main Takeaways
For many people, the Christmas break is a time of stress, anxiety and possibly even depression.
It represents a period that can bring loneliness and isolation, one that often places too many expectations on you, resulting in the holiday blues.
It's a feeling that can lead to fatigue, sadness and frustration, forcing you to withdraw from people, making it more difficult to concentrate and to make good decisions.
One way to overcome the blues is by using hypnotherapy for hopeful holidays, a tried and tested way to relax, get rid of stress and eliminate anxiety.
The technique lets you access your unconscious mind which you can reprogram to make simple but dramatic changes in your lifestyle.
And if going to a hypnotherapist isn't possible or practical, you can do the same thing using self-hypnosis.
Just a few minutes a day could be enough to bring you a ton of benefits, including:
Improved sleep
Better concentration
Less stress and anxiety
The ability to set and achieve any goal
Then once you're feeling better, you can use the same technique to get motivated to go out and meet people, to learn a new skill or to take up a hobby that will help you occupy your time.
Give those holiday blues the heave-ho by putting the power of hypnosis to work on your behalf.
>> If you're interested in hypnotherapy or want to improve your practice, check out our live and online hypnosis training events.
Want to know more about hypnotherapy, but not sure what certification program is the right choice for you? Book a DISCOVERY CALL today to learn more about Hypnosis Training Academy's hypnotherapy programs.