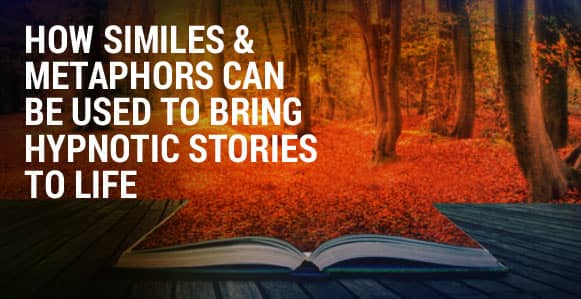 Have you ever taken a shot in the dark?
Found yourself in a situation where you needed nerves of steel?
Driven through fog that was as thick as pea soup?
Slept like a log?
Been as happy as a kid in a candy store?
Chances are, you have been.
And chances are you've used similar expressions to explain how you felt at the time. Or what you did under certain circumstances.
You've probably also heard other people use phrases like these.
They're figures of speech that help add depth and dimension to the things you say. Similes and metaphors that can add color and spice to even the shortest conversation.
For instance, a dentist once interviewed potential candidates to be his assistant.
It took up a lot of his valuable time, but the candidates were not of the caliber he'd been hoping for. When asked how the interview process went, he said it was "like pulling teeth."
He didn't just say it was hard work, or that it wore him out.
Or that he found it difficult to gauge their level of expertise. Or whether or not they understood what the job involved.
No. He used a short little simile – and humor – to sum everything up nicely.
That's the beauty of language. When used effectively, it can pack an awful lot of meaning into just a few words.
It can paint a picture by drawing a comparison between this thing and that thing.
And one of the easiest ways to do that is by using similes and metaphors.
Definitions & Examples Of Simile & Metaphor
A simile is a figure of speech that directly compares two things that share a common feature, such as hair and pencils. Similes use the connecting words "as" or "like" to make the comparison, as in the following examples:
His hair stood up like a hundred sharpened pencils
She was as quiet as a mouse
Moonlight made the lake like a liquid mirror
She was as down-to-earth as a piece of apple pie
On the face of it, hair and pencils don't seem to have much in common. But imagine someone's hair standing up, either because they're scared to death or have plastered it with gel.
Then imagine pencils in a pot, all the sharpened ends sticking straight up in the air.
See the similarity?
And as you know, mice aren't quiet all the time. But somehow this comparison has come to represent someone who is perhaps shy, introverted, and not willing to speak up, even when given the opportunity.
It's true that mice don't often appear on YouTube singing ballads, or selling newspapers on the street corner. But they have the capacity for making noise if they want to. Especially if there are lots of them.
But that's not important. What is important is how the comparison immediately makes you picture a mouse in your mind.
How it makes you associate this girl with this tiny creature. How it transfers some of the mouse's generally accepted characteristics to her.
That's the kind of raw power that words have.
The words "like" or "as" function as softeners.
In other words, they make the comparison by saying that one thing is like something else. It's not the same, but it has similar qualities. Notice how simile and similar are almost identical words?
This comparison helps add layers of meaning to the first thing (such as the moonlight) by associating it with the second thing (the mirror).
By using the language softeners (like or as) you can introduce ideas in a gentler fashion. You can give people a taste of what you mean if they're not yet ready for the full experience that a metaphor provides.
Metaphors Are Stronger Than Similes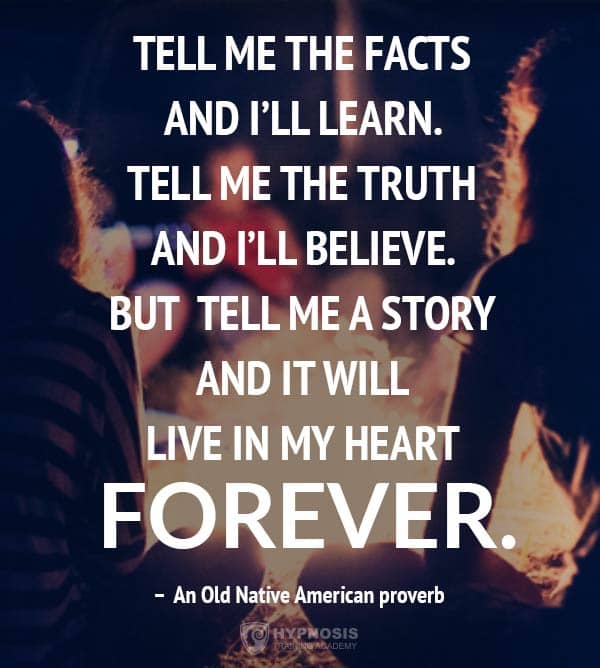 Metaphors are different. They do away with the words "like" and "as" completely. They're still used to make the comparison between two things, but instead of saying something is like something else, now you're saying it is something else. So it's more direct and hard hitting.
For instance, you might hear someone speak unkindly of another person's lack of energy or enthusiasm using a simile like this:
"He's got as much get-up-and-go as a block of cheese."
Or when something doesn't quite do the job you hoped it would, you might say:
"It's as useful as a chocolate teapot."
With metaphors, the comparison is less subtle. It's more concrete. Often you can create a metaphor just by removing the words "like" or "as" from a simile, as in the following example:
"Moonlight made the lake a liquid mirror."
The lake doesn't just look like a mirror, it is a mirror.
Because metaphors are more direct, they can be more startling. They have a bigger impact on the listener, because the softener is gone.
She was Venus, he was Adonis.
Men are from Mars, Women are from Venus.
Notice how much softer this last example would be if you added the words like or as:
"Men are like creatures from Mars, Women are like creatures from Venus."
It's not only softer, and considerably longer, but the power is gone. It's weaker. So while a simile eases your listener into the scene you're trying to create, a metaphor thrusts them into it in a more forceful and energetic way.
Similes & Metaphors Are Universally Recognizable Symbols
Why do we use similes and metaphors in the first place?
Language gives us the facility to express ourselves in a bunch of different ways.
We can be direct, or we can be indirect. If we're trying to get a point across, or to teach something, similes and metaphors provide us with another perspective on the subject. But there's another reason why we use them too.
They're easy to recognize.
For instance, suppose you heard a colleague say they had a "mountain of paperwork" to get through. As soon as you hear that, you know what it means. They've got a busy day ahead. Lots of forms to fill out, letters to write, emails to answer and send. It's not literally a mountain, but it feels like that.
They don't have to explain the situation, because the metaphor does it for them.
And when they've worked through most of it and are nearly done, what might they say? There's "light at the end of the tunnel."
They're getting to the end of the task and can see the finish line. Light is a metaphor for taking them out of a dark place, for brightening things up. The tunnel represents the process they need to go through to get there, forging straight ahead until they get where they're going.
You probably use similes and metaphors on a regular basis without even realizing it. One perfect example is the cliché or dead metaphor, comparisons used regularly and by lots of people. Used so often, in fact, that they become clichés.
Examples of dead metaphors might include:
It's on the tip of my tongue.
He kicked the bucket.
Time waits for no-one.
The shoe's on the other foot.
I smell a rat.
A bull in a china shop.
And even though they've become clichés through repetition and regular usage, we continue to use them.
We still rely on similes and metaphors to spice up our language, because they help us explain things in a way that would otherwise be either too lengthy or too complicated.
These figures of speech bypass the conscious mind and appeal to the unconscious, the seat of your creativity and imagination.
They have the power to transform your reality, to make you see things in a different way, creating pictures or movies in your mind. And that's what makes them the perfect vehicles for hypnosis.
Similes & Metaphors Help Bring Your Hypnotic Stories To Life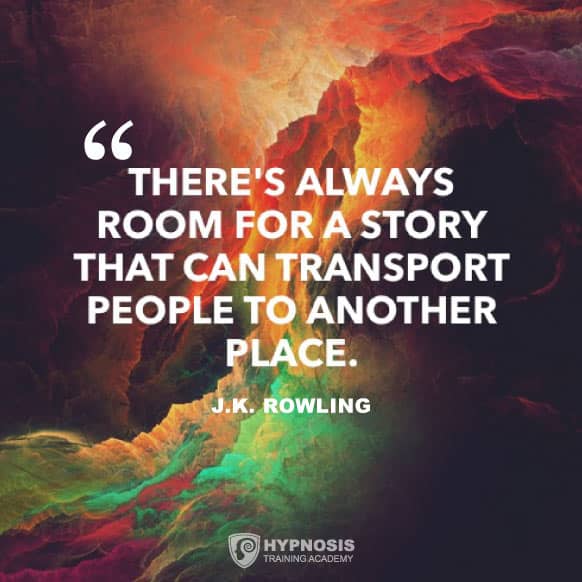 One of the quickest ways to access the unconscious is by telling a story.
Stories pull you or your subject into a different reality.
They give the listener permission to switch off their critical mind and get involved.
They allow the opportunity to experience other worlds, other people, and other times and places. And the more descriptive and colorful the story, the easier it is to become absorbed by it.
Of course, no-one expects you to tell stories that are just similes and metaphors one after the other. That would be as boring and monotonous as not using any at all.
Instead, think of these figures of speech as ways to layer up your story.
Here's how:
Identify the problem – such as a feeling of insecurity, perhaps
Determine the outcome – such as increased confidence
Relate it to a random life process – such as learning to play basketball, driving a car, mastering a musical instrument, etc.
For example, perhaps you have a subject who is also suffering from a problem (i.e. feelings of insecurity) and you want to tell a story to help increase their confidence.
To do so, you start by telling them a story about a boy who wanted to be a really good basketball player, but they suffered from a lack of confidence…
"At first, he wasn't very good at all. He was awkward, unskilled, and didn't know what he was doing. He tried and tried and tried, but his efforts didn't amount to a hill of beans.
In the end, he stopped trying. He let his hair down and decided: "You know what, I'm just gonna have fun."
He stopped worrying about what he was doing and just did it. Playing with the other kids, having a great time. Not thinking about dribbling, or the right way to shoot, or anything else. Just enjoying himself and having a blast.
Gradually, without him even realizing it, his skills improved. And when the next big match loomed closer, the coach wanted to pick the best people for the team. He picked the boy, because "he's a natural" and someone who just goes for it.
The boy's confidence then grew out of his level of competence. And being picked for the team gave him even more confidence, making him feel like a million dollars…"
Notice how the use of similes and metaphors brought the story to life?
Your story doesn't have to be War and Peace, or feature dramatic cliffhangers.
The secret is just to let your imagination flow freely when forming the dialogue around the problem and the outcome.
And once you have painted this picture, you can weave in colorful language to make your story more hypnotic and to bring it to life.
The important thing to remember is that, whatever story you come up with, it has the power to transport your subject to another reality.
And armed with similes and metaphors, you might even be able to achieve it in the blink of an eye.