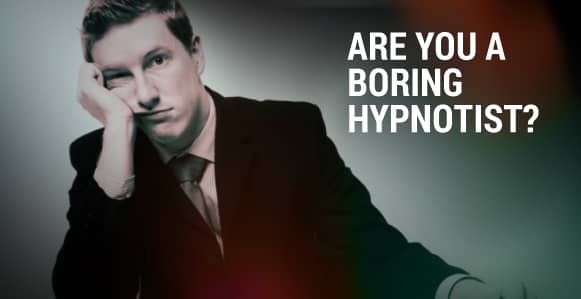 Imagine, just for a moment, that you are your hypnosis subject.
That you're in a conversation with "you" trying to listen to the story that you're telling.
What words are standing out?
How is the story piquing your interest?
Is your story grasping your attention enough to stop you from thinking about how you wish that you had eaten lunch beforehand, for example?
And how, to make up for missing it, you're going to devour one of those fresh baguette sandwiches from that new French restaurant next to your office.
Wait. You had that yesterday. Maybe you'll treat yourself to the duck…
So, is it working?
Is your story enough to compete with a hungry stomach?
A cold office?
Or any of the other things that creep into someone's mind when a story is lacking that je-ne-sais-quoi.
Or otherwise put, when boredom has crept in – and the listener would prefer to create their own story in their head… rather than listening to yours.
Ouch.
We're all guilty of it.
An unintentional technique to occupy the conscious mind and keep it entertained… when it has decided that it no longer is.
And while this has its advantages when you're stuck without a book on a long train ride, for example, it spells disaster if your hypnosis subjects are doing the same… when in fact you think you're practicing conversational hypnosis.
So, it begs the question, how do you get good at telling stories so you become a fantastic conversational hypnotist?
Fortunately, the answer is easy.
You start by telling stories. And lots of them.
The more stories you tell, the better your storytelling skills will become.
Filled with drama and adventure. Overflowing with emotion.
Packed with personal change.
Believe it or not, even the most mundane story can be turned into a gripping tale.
And that makes storytelling the perfect vehicle for conversational hypnosis.
Turning an everyday event into a riveting experience. Keeping your subject enthralled. Getting past their conscious critical mind and easing them into trance, naturally.
Making your stories, well, hypnotic. Once you know how to do that, you can turn ordinary events that you might otherwise think are boring into spellbinding yarns.
So how do you it? By making sure every story has a number of crucial, basic ingredients…
The 3 Basic Ingredients Every Story Needs
To tell a good story that holds your subject's attention, it needs to include the following:
1. A Sequence Of Events
This is not necessarily the beginning, middle, and end of traditional stories. All it means is that the story has to be a sequence of events.
For example, imagine someone ordering a burger:
"He called, he ordered, he ate."
It's a sequence of events, but it's not a story. It's the basis for a story, which you can expand on.
"He was hungry, so he called, ordered a burger, and ate it."
2. A Break In The Sequence
Breaking up the original sequence of events is a simple way to extend any story. It acts as a trigger to tell the unconscious mind that a story is on the way.
To do it, just extend the time period in which the sequence of events occurs:
"He was working late, trying to get his report finished, but he just couldn't concentrate. He was too hungry. He knew he wouldn't be able to continue until he had something to eat."
3. An Emotional Change
In order for your story to have the right impact, there needs to be an emotional change.
There has to be a shift in emotions that alters one of the story's characters in some way. This shift acts as a signal to your listener that the story has reached a satisfying conclusion.
"He was working late, trying to get his report finished, but he just couldn't concentrate. He was too hungry. He knew he wouldn't be able to continue until he had something to eat.
So he picked up the phone, ordered a burger, and devoured it with pleasure.
Just what he needed.
He felt so good, in fact, that he decided he'd done enough work for one night. Instead, he took off his shoes, put his feet up, and let himself relax."
The other thing to remember is that any story you tell, as a rule of thumb, should be based in reality.
It needs to be something that actually happened, to you or to somebody else. That's what gives it its ring of truth and helps your listener identify with whatever's going on.
The Importance Of Emotion In Storytelling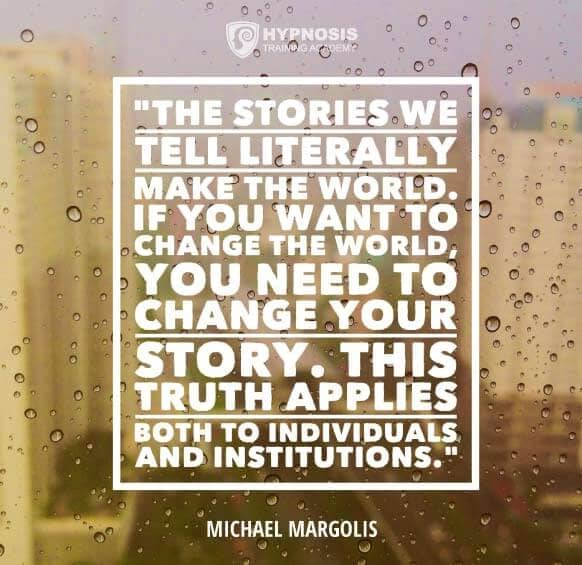 Emotion is what drives any story.
It's what gives the payoff.
Everything else is just scenery, just the vehicle for presenting the story.
It's the emotional content that makes a story interesting, makes it compelling, and makes it come to life. So to develop any story, exaggerate the emotions.
For example:
"He was working late, trying to get his report finished, but he just couldn't concentrate. Something was wrong. What was it?
His stomach rumbled.
Of course! He was hungry. Not just hungry, but positively ravenous.
He felt like he could murder a burger. He imagined himself going out and killing something and jamming it between two pieces of bread.
Instead, he picked up the phone, called room service, and asked for the biggest, baddest burger they had. He told them to make it snappy because he was starving. Then the torment began. They said it would take half an hour.
Half an hour?
But he wanted it NOW.
They explained that they had to cook it first. He told them to make it rare and bring it as fast as possible. Meanwhile, he wanted something to eat.
He waited and waited for the burger to arrive.
He looked around the room for something to chew on. Nothing.
Maybe there's food in the room next door. He thought if he could somehow see through the walls that he might spot a bag of chips, or a chocolate bar, or the remains of a half-eaten sandwich.
The more the thought about it, the hungrier he became.
He could feel the saliva forcing itself into the corners of his mouth. Where was his food?
Then the burger finally came.
It looked scared. He knew why that was, because he was going to attack it with every ounce of energy he had. 'I'm going to eat you!' he screamed. He thought he could see beads of sweat trickling down the side of the burger.
He picked up his fork and stabbed it, just to make sure it couldn't get away, sliced it through with his knife, shoved it in his mouth and took a long-awaited bite."
And that's basically the same story as before.
By exaggerating the emotions, the boring sequence of events has suddenly come to life.
You can really get under the skin of the character and discover what he's feeling, how he responds, and how his sensations send him first in one direction and then in another.
Be An Engaging Conversational Hypnotist By Adding Action & Drama
Every story needs emotional content.
Emotion is what drives characters to act.
But watch any good movie and you'll notice that the real drama comes when action and emotion are combined.
Some people make the mistake of thinking that action is the story.
It isn't. It's just another vehicle used to move the story forward.
Even the most inane adventure movie has some emotion in it somewhere, because there has to be a change that develops as the story unfolds.
In this example, action takes the lead, but the emotional content is still in evidence.
"He was working late, trying to get his report finished, but he just couldn't concentrate.
He looked at the screen, knowing he had to get his work done. But his stomach rumbled, and he knew he needed to do something about it. I could murder a burger, he thought.
He looked around. The menu was on the table near the window, but the phone was all the way across the room on the other side.
Should he go for the menu, or the phone?
Would it be quicker to just call room service and take whatever they had, or study the menu first? He jumped out of his chair, ran over and grabbed the menu, reading it as he raced to the phone.
He dialed the number scanning the menu choices at the same time. The woman's voice on the other end of the line said 'Room service.'
'Just a minute,' he said, making a final decision. 'I'll have this one.' He pointed at the delicious-looking burger printed on the menu.
'You'll have which one, sir?' 'The double cheeseburger with bacon and special sauce. Bring it up as fast as you can before I die from starvation.'
She said okay and he hung up the phone. He slumped back down in his chair and looked around the room. His eyes rested on the wall.
He imagined he could see right through it, into the kitchen where the staff were preparing his meal. Placing the meat on the grill, the bacon in the frying pan, slicing open a fresh bread roll.
Suddenly there was a gentle knock on the door.
He leaped out of his chair, bounced over and pulled the door vigorously. He was in too much of a hurry, though, and forgot to take the latch off.
So he closed the door tight, undid the latch, and flung the door open wide. He snatched the burger from the hands of the stunned delivery boy with a quick 'Thanks' before sitting down, pouring some ketchup on top, and enjoying every single mouthful.
Spice Things Up With A Bit Of Motivation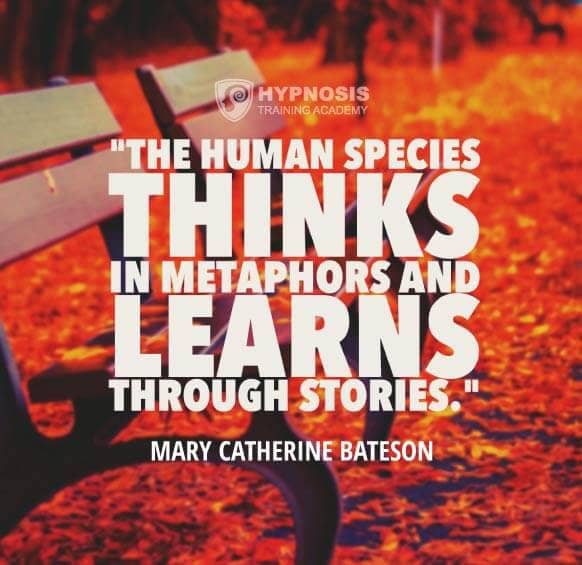 Hopefully, you can see how this simple story of a man ordering a burger is beginning to become something of an epic.
To make it even more compelling, or any other story for that matter, just think about your character's motivation. Why does he do the things he does?
What drives him to act in certain ways?
What spurs him on or holds him back?
The motivation to order a burger comes from feeling hungry. But what if he's trying to meet a deadline? What if he needs to get his work done for an early morning presentation?
To teach a class, or to run a seminar? And what if there's someone else in the room who doesn't share his enthusiasm? Will that drive him on even further?
Here's an example of how that might play out.
"He promised his boss he'd get the presentation ready for the morning. He had to deliver it to company investors and he wasn't quite prepared.
Getting everything in order was crucial, but he was so hungry he could barely focus. He struggled to get the thought of food out of his mind.
He was desperate for something to eat, but he could see all those investors' faces staring at him. He couldn't disappoint them. Or his boss.
How embarrassing that would be.
He knew he had to keep his promise, no matter what. But every word he typed seemed to make his stomach rumble more. Visions of pizza and burgers invaded his brain.
He needed to work. No, he needed to eat.
There was the phone, but here was the desk. He swiveled the chair around, but stopped himself, turned it back, and started typing again. Just then the door flung open.
It was his girlfriend. 'What's wrong with you?' she asks.
You look like hell.
He explains that he's trying to work but he's too hungry.
He absolutely had to get it finished, but he's dying for something to eat.
She tells him to grow up, to finish his work and then get a bite to eat. I'll show you, he thinks. I'll eat and work at the same time.
He wheeled his chair over and grabbed the phone.
Back at the desk he typed with one hand and dialled with the other. Burger please.
Oops, he typed burger on the screen. Erase that.
Bring it quick. Time flew by. The burger came. He ate it with one hand, typed with the other, one eye on the screen, working, eating. I'll show you, he thought. I can work and eat at the same time. No-one's going to be disappointed with me…"
As you can see, telling stories can be a lot of fun, and they're a great way to inject excitement and variety into your hypnosis practice.
And in doing so, you'll be able to capture your subject's attention and bypass their critical mind – allowing the real "magic" to then happen.
So start simple, with a basic sequence of events and build it up from there. And before long you'll be a master storyteller and great conversational hypnotist, able to transform the most ordinary event into a fascinating and absorbing saga.
One that mesmerizes people, captures their attention, and turns you into a superbly gifted conversational hypnotist.