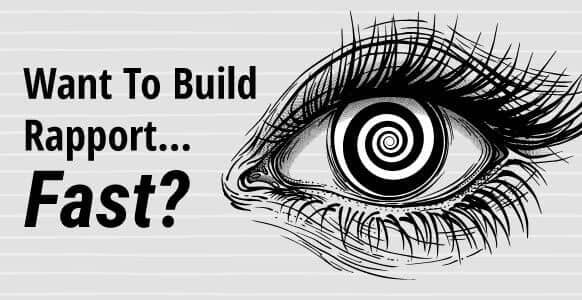 Where hypnosis and NLP are concerned, there's a magic ingredient you just can't do without.
It's called rapport.
The ability to build rapport in hypnosis and NLP is crucial.
It can make the difference between a highly successful session and one that fails to hit the mark.
But what does rapport mean?
It's the feeling you get when you meet someone and you just click.
You're in sync with them.
You understand what they're saying, what they're thinking and what they're feeling.
It makes communication easy and almost effortless.
And that's why it plays such an important role in hypnosis and NLP.
Because unless you're able to establish and build rapport with your subject, you can't truly connect with them.
When you connect with them, they feel it too…
… and that's when they lower their defenses.
The Subtle Art Of Matching & Mirroring In Hypnosis & NLP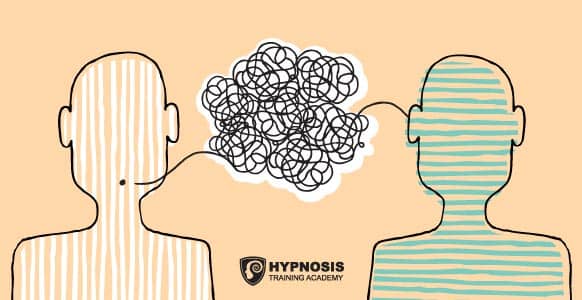 The important thing to remember about this is the word "subtle."
You don't want to appear to be mimicking the other person.
That will make them switch off, feel like they're being mocked, and might even get you mixed up in a fight.
The idea is to either match what they're doing and saying or mirror it.
That includes things like:
Their posture – are they standing, sitting, slouching?
Their breathing – what's their breathing like? Fast or slow? Deep or shallow?
Their arm and leg movements – are they crossed, uncrossed, tapping their feet or fingers?
The secret to success is to try to be undetectable. One technique you can use is called pacing and leading.
You "pace" the other person by matching and mirroring them, and "lead" by changing something.
So if they cross their arms, you cross your legs.
If they follow you and cross their legs too, you know you've got rapport.
If they don't follow you, there's more work to do.
Here are a few more matching & mirroring techniques you can try:
Crossover matching – similar to pacing and leading, but matching their behavior (finger tapping) with a totally different behavior of your own (foot tapping)
Movements – match their expressions, gestures or gesticulations, again, without making it too obvious
Breathing – a form of cross over matching but one that's extremely subtle and powerful. Either match their breathing or cross over match by blinking at the same rate
Tonality – match the tone, speed, pitch or rhythm of their voice
Micro-matching – match their behavior but tone the matching way down
How To Use Your Unconscious To Build Rapport Automatically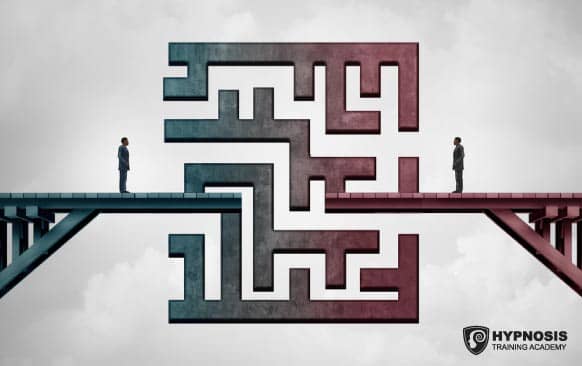 Ever noticed how good friends or close family members can always tell how you're feeling?
Even when you try to hide it?
That's because you're giving off subtle signals.
If you're feeling sad, or unwell, or excited, it's impossible not to let it show.
Even if you think you're keeping it to yourself, your unconscious mind is giving you away.
And when you know-how, you can use that natural device to create rapport with another person.
You've already done it thousands of times with close friends, family members, and those people you meet and suddenly just click with.
With enough practice, you can actually make your unconscious build rapport for you.
And the technique is summed up in the phrase Go First.
"Going first" means that you enter the state that you want the other person to experience.
If you feel it as intensely as you can, then you will give off signals unconsciously, and the other person will not be able to help himself or herself.
They will simply feel compelled to respond.
Here's an example of how you can practice going first. Just follow these simple steps:
Think of someone you have a strong rapport with
Now remember what it feels like when you're around that person
Decide how it makes you feel (happy, warm, comfortable etc.)
Take that feeling and expand it throughout your body
Let it completely surround you, almost like an aura
Now take that feeling and project it towards another person
Allow it to surround the other person like a warm comfortable blanket linking the two of you together
This simple exercise triggers your unconscious to start sending out rapport signals to people around you. It's a quick and easy way to get the rapport-building process going.
You're altering your own state to get things going, and from then on you just need to trust your instincts to naturally engage in other activities such as matching and mirroring.
Building Rapport By Matching Through Experiences
There's a saying that goes like this: people like people like themselves.
And because that's true, it also gives us an insight into another powerful way to build rapport.
You do that by finding common areas of interest, such as:
Going to the same school
Sharing a hobby
Liking similar music, art, books etc.
In fact, there are a bunch of different categories of experiences you can match. Here's a list with brief explanations.
Personal History
Perhaps you went to the same school, come from the same place, enjoy the same hobbies, or do the same type of job.
This creates an area of commonality between you and the other person, although it's one of the weaker methods of building rapport. It can be a good starting point, though.
Values
Values are things that you invest time and effort in. They're unconscious filters, and because they're unconscious, they're a stronger way to build rapport.
Values are represented as abstract concepts such as fun, love, friendship, trust, security, and so on. Sharing a value helps to build rapport, but an even better way is to satisfy it (by having fun with someone, for instance).
Beliefs
These are other kinds of unconscious filters. They're the things you hold true about the world and yourself. If you and the other person share the belief that hard work brings its own reward, for example, then that belief can help create rapport between you.
Emotional State
Being in the same emotional state as the other person represents a much subtler way of building rapport.
For example, it's hard to be reasonable with someone when they're angry. Instead, you need to match their state by demonstrating the "signs" of anger – raising the pitch and volume of your voice, for example – without actually getting angry yourself. This gives you the chance to slowly lead them into a calmer state by gradually shifting your state.
Building Rapport By Matching With Language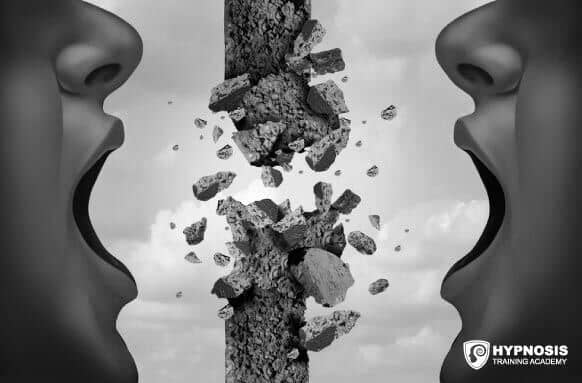 Another way to build rapport is to do it using language. Here's a list of possible ways to go about it, also with brief explanations.
Vocabulary
Certain words carry more weight than others. For instance, "baby" and "infant" mean exactly the same thing. But "baby" is loaded with more emotional power. If you say "what a cute infant" it simply doesn't have the same impact as if you say "what a cute baby".
The meaning and impact of a word will vary depending on the person you're interacting with. Listen to them speak and you will hear the words that have meaning for them. They will be words that they emphasize, words that they use more frequently, and words that provoke a stronger non-verbal reaction.
For instance, they might use the word "enormous" to describe a recent storm. When they say the word "enormous" they might raise the pitch of their voice to give it extra emphasis.
They might also indicate the enormity of the damage caused by the storm by gesticulating with their arms. The same could also apply to a fisherman or woman and their explanation about the one that got away…
When you reflect these meaningful words back to them, using similar tonalities, you're provoking the same kind of emotional response as they create within themselves. In other words, start talking like the other person, and they will naturally assume that you are like them.
Once again, remember to do this in a subtle way. If you simply mimic the other person, they'll probably feel insulted, that you're just mocking them. And that will be guaranteed to break the rapport.
Slang
Slang in this context refers to the terminology used within a certain subculture. Doctors, lawyers, accountants, soldiers, musicians, bankers, school children – they each have their own slang or shorthand method of talking.
By using their slang appropriately, you're telling them that you are part of their subculture. You're one of them and you share their beliefs, values, and experiences. And that can be enough to lay the basis for solid rapport building.
Representational Systems
You make sense of the world by processing information through your senses. Whenever you speak, you describe the world around you with reference to these senses (I see what you mean, I hear you, I feel your pain, etc.)
Some people use one sense more than others to do this. Are they visual, auditory, kinesthetic? Listen to their descriptions, find out which one they use the most, and start using the same sense when you talk back to them.
The table below gives you an idea of the kinds of things you might hear people refer to using visual, auditory, and kinesthetic representational language.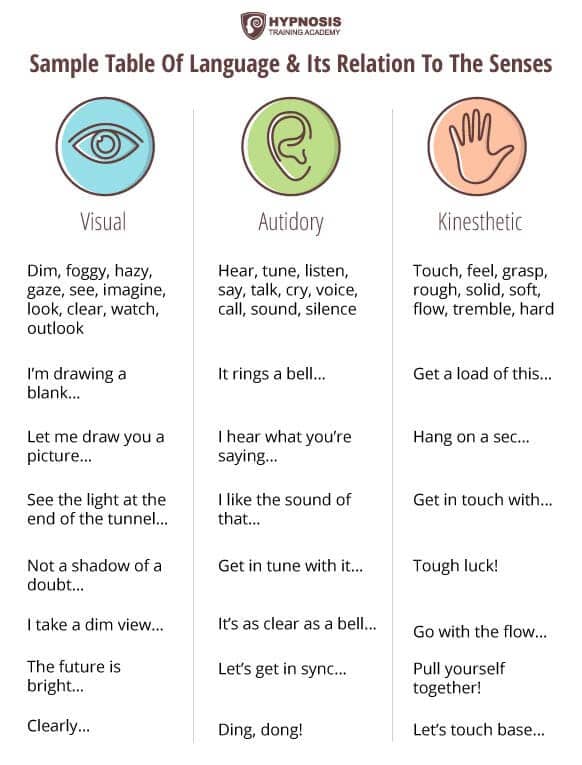 Big Picture vs. Details (Chunk Size)
Another useful filter for rapport building is the type and quantity of information a person tends to respond to. Some people get an overview, looking at the big picture. If you give them too much detail, they feel overloaded. They switch off and stop listening.
By contrast, someone who wants to know the nitty-gritty details will get frustrated if you present them with the bigger picture. Listen to the "chunk size" they use to give you information and then use the same to talk back to them.
Emotional vs. Factual
You will also notice that some people respond better to emotional language (it felt awesome, it was an amazing sensation) while others prefer factual or procedural language (I went there, did that, took this). Using their preferred type of language is another way in which you can begin to build rapport.
Backtrack Frame (The Echo Effect)
Specific words and phrases have a unique meaning for an individual and can activate certain parts of their neurology.
Backtracking is a way of demonstrating you understand or are in rapport by repeating the last few words of whatever they say. This contrasts with active listening, in which you try to reflect back what was said using different words.
Breaking Rapport
The reason for building rapport is so that you can establish a connection with someone. This helps make your hypnosis or NLP session more successful, as the other person will trust you and will feel more comfortable with the process.
However, there may be times when it's useful to break rapport with another person. Doing this can provide a slight mental shock to the other person that works to open their mind up to new possibilities.
It's often used to help them get out of a thought loop situation, which then enables them to see things from a different perspective and solve whatever problem they're having. Afterwards, you can re-establish rapport with them.
If you find yourself in a position where you think you need to break rapport, simply do the opposite of everything you've read in this article.
To wrap up:
Rapport is a way to connect with another person. When you establish a connection in this way, it means you're able to communicate more efficiently and more effectively.
When the other person recognizes something they like in you, something that relates to their experience, behavior or language, that tends to put them at their ease.
And when they're at ease, they let their defenses down, making it possible for you to give them the help and support they need.