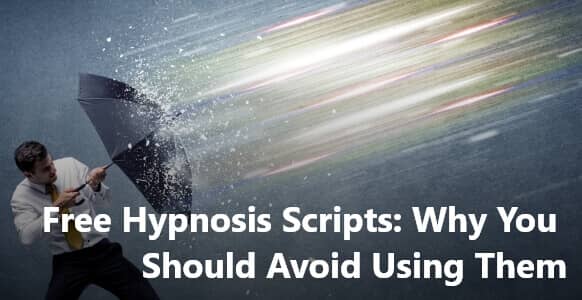 Getting a free hypnosis script might seem like the ideal solution. Especially if you're just starting out as a hypnotist.
But there are two problems.
The first is this: just because they're free, doesn't mean they're worth having.
You know what they say – you get what you pay for. They might be reasonably good scripts, or they might be rubbish.
The second problem is that you don't always know where they're coming from. They might have been written by someone who knows what they're talking about, or they might not.
They could have been cobbled together by a copywriter hired for the job, given just the bare bones of what they needed to get across.
The point is that you have no way of knowing how genuine they are. And if you're practicing hypnosis on real people, then you want to be using hypnosis techniques that are the real deal.
If they're not bona fide, they probably won't work. And if they don't work, your clients are not going to be happy.
You'll get poor results, you'll feel deflated and frustrated, and you won't be able to grow as a hypnotist.
Hypnosis Scripts Won't Make You A Good Hypnotist
That brings up another issue. Even a decent hypnosis script won't make you a fantastic hypnotist.
You might learn something from it, but that's the end of its value.
Why is that the case? Because hypnosis is not a one-size-fits-all process.
It's a form of communication between you and another person. It involves:
Getting that person to relax
Building rapport so they trust you
Empathizing with them so you can find out what motivates them
You can't do that with a hypnosis script. You do that with your tone of voice, your manner, your enthusiasm, and your willingness for them to succeed.
Reasons Why You Don't Need Hypnosis Scripts
Imagine learning to drive a car while reading a manual. It can't be done.
You need to put all of your attention on the actual driving process. Not to mention what might happen the minute you take your eyes off the road.
So how do you learn to drive? You read up on the rules of the road, and you practice driving the car with an experienced driver guiding you.
But you don't do those two things at the same time.
Likewise, you can't conduct a hypnosis session while reading from a script. For one thing, you won't be able to keep your eyes on your client to see how they're reacting and responding.
Instead of relying on a script, try using one-liners loaded with hot words.
Hot words are packed with emotion designed to get you to respond. Ironically, FREE is a hot word.
Where hypnosis is concerned, hot words help to stimulate the imagination. They make it easier for clients to enter a hypnotic induction.
Words like powerful, dynamic, sizzling.
Free hypnosis scripts don't do that. They tend to be generic and formulaic, which might not suit your client's particular situation.
Related article>> How To Naturally Create Irresistible Hypnotic Suggestions – Part 2: Discover The Potent Power Of Hot Words, Adjectives & Unconscious Priming
How Hypnosis Really Works
When someone is relaxed, they're able to switch off from the outside world.
Their thoughts turn inwards to their unconscious, the place where their imagination and creativity are stored.
And when that happens, they become open to suggestions.
This process is commonly called hypnotic induction. There are many different hypnotic inductions, but they won't all work on everyone.
That's another problem with free hypnotherapy scripts. They're not tailored to individuals.
What helps one person relax and tune out might not work on the next person.
So the best hypnotists have to be flexible. They have to be able to adapt to every situation quickly and efficiently.
And they can't do that while following a hypnosis script.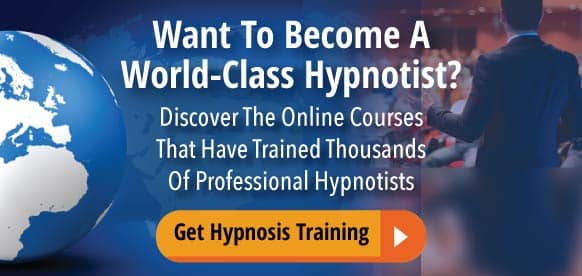 Should You Avoid Hypnosis Scripts Completely?
There's nothing wrong with reading free hypnosis scripts or free hypnotherapy scripts.
Hypnosis is a continually evolving discipline and you can always learn new things.
It's also useful to compare one hypnosis script with another to see what things they have (or don't have) in common.
As long as those scripts come from reputable sources, you should learn something.
As a resource to use during a hypnosis session, however, hypnosis scripts will probably just get in the way.
For instance, imagine going to see your doctor about a particular complaint. The doctor asks you what's wrong, and you reel off the symptoms.
But instead of examining you, such as checking your heart rate and your blood pressure, the doctor pulls a book down off the shelf and starts reading.
Or worse, searches for your list of symptoms online.
You wouldn't expect that, would you? You'd expect the doctor to be able to make an educated guess at what's the matter.
Because they've already studied medicine. They've taken in the information. They've read up on common illnesses – and they've practiced what they know on real people.
Flipping through books or scouring the internet makes them look like amateurs like they have no idea what they're doing.
And that's definitely not going to fill you with confidence.
The same goes for hypnosis. Feel free to read through all the hypnosis scripts you want to – and books on hypnosis as well.
Then rely on your intelligence and intuition to apply what you've learned in given situations.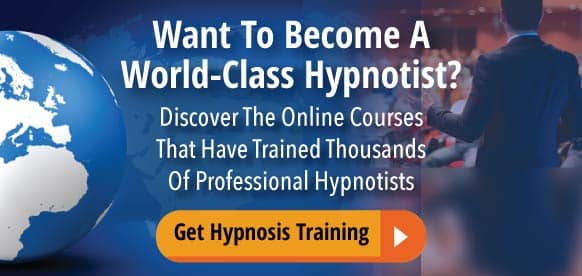 Practice Makes You A Better Hypnotist
A famous quote goes like this:
Question: "How do you get to Carnegie Hall?" Answer: "Practice!"
That goes for any discipline you might wish to undertake, from music to law, architecture to zoology. And hypnosis isn't any different.
To be a great hypnotist and help as many people as you can, you need to learn everything there is to know. But once you've got all that knowledge, then you need to use it.
As Anton Chekhov once said, knowledge is of no value unless you put it into practice.
That makes perfect sense when you think about hypnosis. Because you're dealing with people, one on one, and trying to help them solve a problem or overcome an issue.
And the more fluent you become with your hypnosis skills, the easier it will be for you to do that.
Also read>> Hypnosis For Decision Making