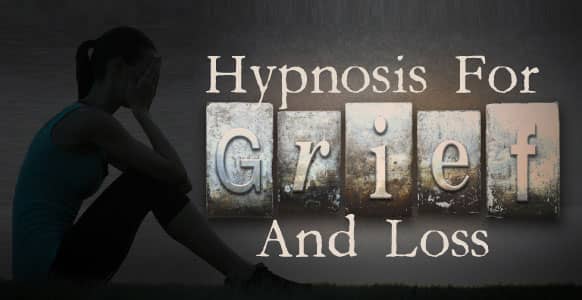 According to a Korean proverb, when someone close to you dies, you bury them in your heart.
What the proverb doesn't tell you is the effect that grief will have on you.
So what is grief exactly?
In simplest terms, it's a reaction to loss.
But this reaction can manifest itself in many different ways.
It can be so powerful that all your usual coping mechanisms are useless.
You find yourself physically and emotionally unable to function with any semblance of normality.
One of the best ways to deal with the emotional aspect is by using hypnosis for grief. That's because grief is a form of trauma, an overwhelming event that leaves you unable to cope.
The good news is that grief is completely natural.
And while everybody grieves in their own particular way, it's a common and inevitable experience that everyone goes through at some point.
The folks at Psychology Today pointed out that men and women experience grief equally.
They add that, despite the pain that loss brings, people recover from grief.
And because grief can be such a traumatic experience, it makes sense that hypnosis can be an ideal tool to help manage it.
In fact, hypnosis has become a trend in helping clients with trauma.
That makes sense, since hypnosis for grief offers so many options.
Before finding out what they are, let's discover a bit more about grief and the grieving process.
What Is Grief & What Are The Usual Medical Interventions For It?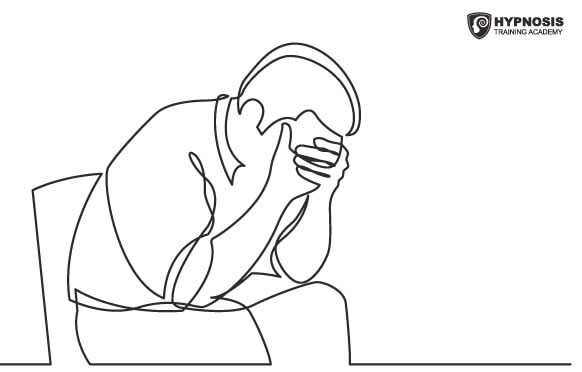 WebMD describes grief as "a natural response to losing someone or something that's important to you."
It's a strong and often overwhelming sensation of sadness that can leave you feeling numb.
When someone is grieving, they can experience a range of symptoms, both physical and emotional. Some of the possible physical symptoms are:
Aches and pains
Dramatic weight change
Fatigue
Inability to concentrate
Nausea
Insomnia
Weakened immune system
Greater sensitivity to pain
Inflammation
These physical symptoms can be dealt with using the power of suggestion. Emotional symptoms, however, will probably need to be framed or reframed in order to reduce them.
Examples of emotional symptoms include:
Guilt
Fear
Shock
Anger
Disbelief
Incredible sadness
Grief can be caused by loss, trauma, and even PTSD. Any type of grief that requires heavy medication falls under the medical model.
In such cases, you'd need to get a referral from a medical doctor before working with those kinds of clients. The same applies with anyone suffering from prolonged grief disorder.
If in doubt, check with your client's doctor or medical professional.
So far, so good. But the bigger question might be: why do people experience grief?
One reason is that the loss of someone special leaves a void in their lives. They grieve for the person whose presence they can no longer enjoy.
Another reason is that they grieve for themselves. Their loved one is gone and can't suffer anymore. For those left behind, however, there's plenty of suffering still to come. The life they once knew is over and it'll take time before they're able to move on.
In an article for Scienceline, author Katherine Ellen Foley explains the physiological impact of grief.
According to Keller, grief affects the body in the same way as stress, raising blood pressure, lowering immunity and interrupting normal sleeping and eating patterns.
It can also trigger the release of cortisol, the "stress" hormone responsible for the fight-or-flight response. And too much of that can lead to serious health problems such as high blood pressure, diabetes and heart disease, among others.
It's important to remember that people will grieve in the way that they need to. To try and understand how that might unfold, various psychiatrists and psychologists have come up with their own models of grief.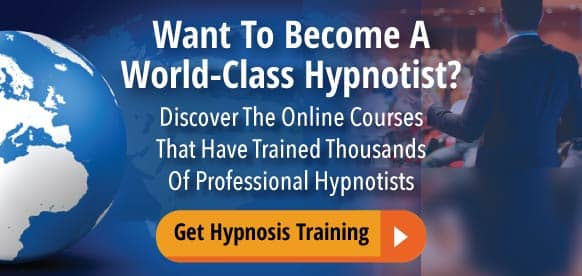 3 Distinct Models Of Grief: The Facts According To Neuroscience
Grief is a process, and as a process, it must have stages that people go through. That's what the Swiss-American psychiatrist Elisabeth Kübler-Ross wrote in her 1969 book On Death and Dying.
She came up with a model to explain the stages and how they might work:
1. The Kübler-Ross Model
According to the Kübler-Ross model, there are 5 stages a grieving person needs to work through. Those stages are: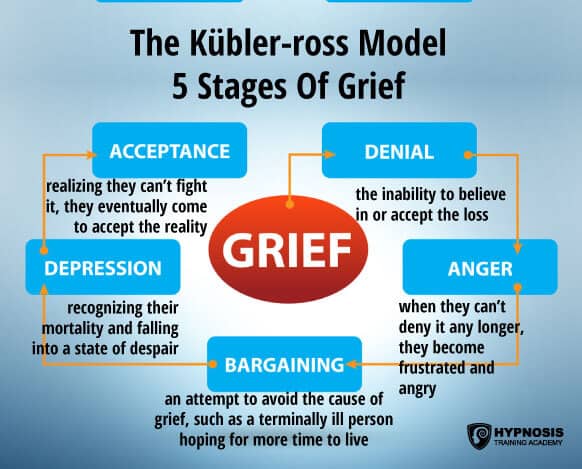 This model has a number of flaws that make it somewhat unreliable, including the following:
There's no evidence to show that these 5 stages exist, or that people move through them from 1 to 5
People have their own grieving process that can't be predicted
The model is based on people's reaction to dying and not on their reaction to the death of a loved one, meaning it's a very specific form of grief
2. The Simon Rubin Model
The second model is the Two-Track Model of Bereavement created by Simon Rubin. This model has two different tiers or levels of grieving.
The first tier is biopsychosocial, which refers to the interconnection between biology, psychology and socio-environmental factors. It relates to how someone is functioning after a loss.
They might suffer from depression, anxiety, or trauma, things that will have an impact on their relationships, their self-esteem and how they relate to others.
The second tier is internal, referring to their relationship with the deceased. It relates to dealing with personal memories, feelings and attachments, bringing up good and bad memories of the deceased, which could have positive or negative impacts on the person grieving.
3. The George Bonanno Model
The third model is interesting because instead of looking at the phases of grief, it focuses on the different reaction types to grief.
Bonanno describes what he calls the 4 trajectories of grief or trauma, which are: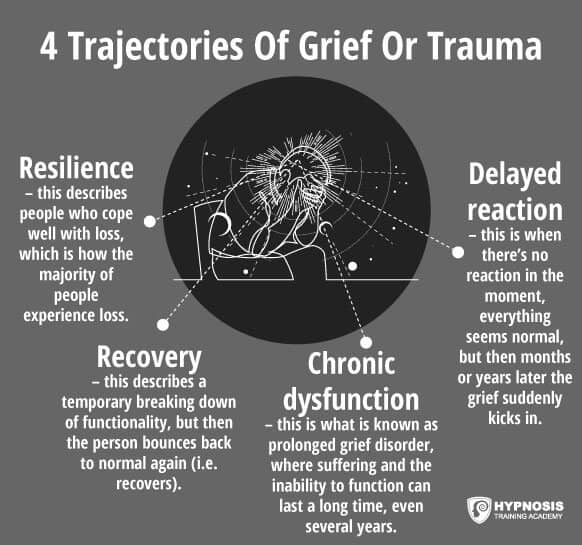 Researchers are unable to agree on the precise process or pattern of grief. Everybody's different, and there's no right or wrong way to go through it.
And that's what makes hypnosis for grief such an indispensable weapon. As a hypnotherapist, you're used to dealing with clients one-to-one, to tailoring your sessions to meet the needs of individuals.
But what kinds of hypnotic tools can you use to help someone manage their grief?
Using Hypnosis For Grief and Loss: 7 Hypnotic Tools
Writing in the Indian Journal of Psychological Medicine, authors Aarzoo Gupta and Ajeet Sidana state that hypnotherapy is a "useful and effective intervention" for prolonged grief.
They add that part of its effectiveness lies in the fact that it is so good at helping people deal with underlying conflicts or issues.
Here are 7 powerful hypnotic tools that can be used in your sessions to enable clients to cope with their grief, regardless of whatever stage or trajectory they might be experiencing.
1. Revivification
Use this tool to revivify positive memories that the client shared with the person they lost. This creates "appreciation fuel" which can help the client move past any negative feelings they might be holding on to.
This tool would be particularly helpful to someone who has lost their loved one in a traumatic way. If their last memories of that person are wrapped up in the trauma, revivifying a happier and more positive time can help them get out of that space.
2. Regression Therapy
You can use this technique in many different ways. It's basically the same as a revivification in that it involves working with a memory, in this case changing something about it to make it malleable.
If your client witnessed the loss but was unable to change the outcome, they might experience a feeling of incompetence. Regression therapy can help change the memory in order to build that competence back up. It's a symbolic switching of roles from being a victim to being a hero.
Another option is the idea of projection. This can be used to help the client realize that, in honor of their lost loved one's life, they can become a better version of themselves.
Or you could try symbolic relationship healing, where you revivify lots of good memories your client shared with their loved one. This helps to re-establish the lost connection so that the client can complete the natural grieving cycle without completely losing their loved one in the process.
This tool can also be used to help the client learn to sit with their feelings. You can do that by revivifying previous losses the client has suffered and how they managed to overcome them. They can then use the same resources in the present that helped them heal their grieving in the past.
3. The Non-Awareness Set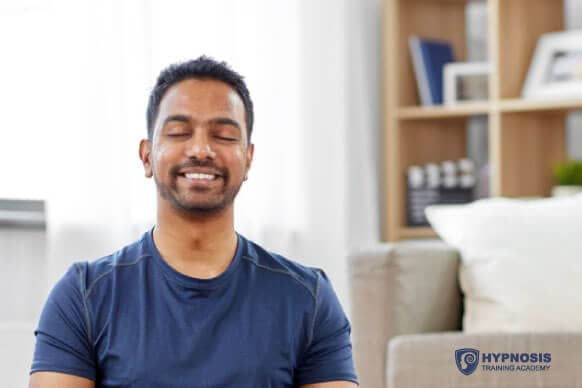 This tool is best used in a way that suggests that there is an unconscious protector at work in the background of the client's life who has their best interest at heart.
The unconscious can be directed to pay attention to any physically oriented thing, such as sensations, movements, a nervous tick, or feelings.
It's all about making meaning. For instance, you might ask: "I wonder what that sensation in your belly knows about what happened back then that you haven't even realized yet?"
It can enable your client to deal with their grief by helping them create meaning out of the situation or by re-establishing the symbolic relationship that the grief has interrupted.
It can also be used to help your client process their emotions, not by running from them, but by embracing them so that they can be digested.
4. Dynamic Mental Imagery (DMI)
This tool is similar to the Non-Awareness Set (NAS) except that a DMI deals with a different level of reality. While the NAS deals with physical reality, the DMI deals with the symbolic.
Of course, as soon as you imply meaning with the NAS you've crossed the line from the physical to the symbolic. At that point you're actually doing a DMI. This is a good example of how these tools can often be used hand in hand.
5. The Blitz
This tool is normally used to evoke an experience through a chain of associations by suggesting that experience. It makes use of the principles found in the Law of Attention, the Law of Association, and the Law of Compounding Effect.
You can think of this tool as a sort of mental rehearsal of success, which can be at any level.
The blitz is ideal for helping clients re-establish a symbolic relationship by getting them to rehearse that relationship until they feel confident in it. In that sense, this tool can be considered a kind of assisted revivification.
6. Mind-Bending Language (MBL)
This tool is particularly useful in helping a client free themselves from any trauma they have suffered as a result of grief.
Mind Bending Language, the Non-Awareness Set, and DMI all operate under the same principles. MBL is expressed through thoughts, ideas and beliefs. These are still symbols, just a different kind of symbol.
7. Reintegration
This tool is helpful when trying to integrate multiple conflicting parts that a grieving person might be experiencing.
For instance, you might use it with a client who is having difficulty moving on despite wanting to. One part of them wants to get back to normality and get on with their life, while the other part fears losing contact with their loved one completely.
Using reintegration, it's possible to bring these two disparate parts together and resolve the conflict.
On Hypnosis And Grief…
A quote by an unknown author goes like this:
"When someone you love becomes a memory, the memory becomes a treasure."
But it's not always easy to get to that point. That's partly because grief affects different people in different ways.
Some neuroscientists believe there's a set grieving process you need to go through, with separate stages. Others focus on the way people react to grief.
Dealing with grief is another matter altogether, which is where hypnosis for grief comes into the equation.
Hypnosis and hypnotherapy can help your grieving clients change the way they think about grief. That's because grief is a lot like trauma in the way that it affects people.
They can experience physical symptoms such as fatigue, an inability to concentrate, insomnia and a weakened immune system. They might also experience emotional symptoms, including anger, shock, guilt or fear.
Fortunately, there are at least 7 hypnotic tools that can be used to help your clients deal with grief effectively, namely:
Revivification
Regression Therapy
The Non-Awareness Set
Dynamic Mental Imagery (DMI)
The Blitz
Reintegration
The truth is that there's no right or wrong way to grieve. It's a temporary state that will eventually be resolved.
With hypnosis, you have the power to help your clients manage their grief, giving them time to process their emotions, while also making sure they don't neglect their own needs.