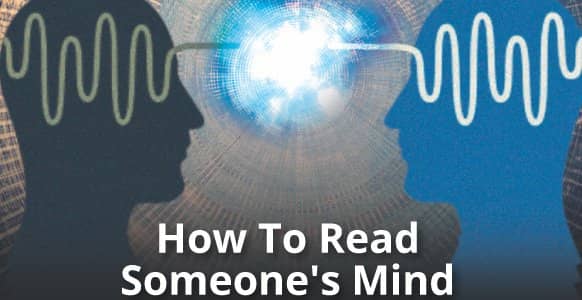 Note: This article was originally published in April 2015, but was significantly expanded on 29 November 2016 to include more in-depth information on hypnotic mind reading techniques.
Wouldn't it be great if you could uncover a fact about someone that they hadn't yet divulged to a living soul, and then use this information to enrich their life?
This is exactly what Milton Erickson regularly did. He was renowned for making unbelievable – yet accurate – predictions about people.
He once astounded a doctor colleague of his by congratulating her on her pregnancy.
This sounds all perfectly normal, you might be thinking.
But where things venture into the unusual is due to the fact that she had literally only just discovered that she was pregnant. She was yet to reveal the exciting news to anyone.
So how did he do this? Not even the baby's father was aware of the pregnancy at this stage.
Although Erickson's insight seemed like magic, he had, in fact, simply used his powers of observation.
And no, it wasn't because she was showing either – as there was no obvious baby bump in sight.
However, he did happen to know about a condition known as Chloasma. This can develop in some pregnant women, and causes a mark (not dissimilar to skin pigmentation) to appear their forehead. This is also sometimes known as the "mask of pregnancy."
So rather than having some magical power, Erickson had observed that his colleague's forehead bore this mark, so after presuming that she was pregnant, he congratulated her (while obviously astounding her in the process).
>>Related content: 14 Signs That Your Hypnosis Subject Is In Trance – Download your FREE report now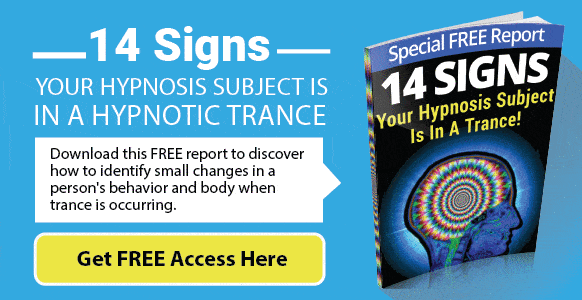 What Are Hypnotic Mind Reading Techniques Used For?
Hypnotic mind reading techniques can be used in hypnosis to help you understand someone's personality in minutes. This is useful when working with a resistant client or subject and you want to bypass their critical thinking mind. Once you've done this, you can then use hypnosis for whatever issue you're trying to help them resolve.
There are many different hypnotic mind reading techniques that you can use, but here are 5 techniques that are highly effective when used ethically:
The Delayed Echo
The Pure Flattery
The CAP (Covering All Possibilities)
The Barnum
The Universal Experience
We'll expand upon these shortly, but first, it's important to understand the context in which these techniques should be used…
What Is Hypnotic Mind Reading And How Does It Work?
For hypnotists, language is all important and the words you use can either help or hinder you.
Hypnotic Mind Reading is a way of distracting and engaging your listeners by exploiting the vagueness that's built-in to language.
It's important to be aware of the ways in which Hypnotic Mind Reading differs from Psychological Mind Reading.
Hypnotic Mind Reading should always be used to enrich someone's life and be based on observations you make about a person. It should never be based on lies or deception!
But when used ethically, Hypnotic Mind Reading is an absolute killer way to bypass the critical factor – helping you to access a subject's unconscious mind and get to work with helping them overcome whatever issue they've come to you for.
Meaning this technique is very effective when working with resistant subjects. But we can't reiterate enough – using this kind of technique is only warranted when you have the intention of actually helping a subject. It should never be used for your own or someone else's benefit.
Basically, it goes back to hypnosis ethics 101 where you only use this powerful skill to be a force for good in the world.
Psychological Mind Reading, on the other hand, is generally used for entertainment and is designed to be deceptive.
The case study below is a prime example of how it's used in entertainment.
CASE STUDY
---
Psychological Mind Reading In The Entertainment Industry:
The Downside Of Its Success
---
Famous mentalist and illusionist, Derren Brown once visited a young offender's institution to put on a mind reading performance.
If you've ever worked with teenagers, or have any of your own, you might understand why their initial reaction was one of resistance and defensiveness!
And even more so given that they had behavioral and trust issues – so their critical factor was extremely high.
So did Brown succeed in reading their minds?
You, bet he did.
His performance completely transformed their response. They went from being extremely skeptical to being completely in awe. They couldn't believe what they had experienced, so understandably became very animated and excited by the whole demonstration.
That said, this performance, which was filmed, actually received a lot of criticism from professional hypnotists and other change workers. Why? Because despite the teenagers turning into complete putty in his hands – he didn't do anything to enrich their lives.
He could have used the moment to give them a Hypnotic Gift – to boost their self-esteem and confidence.
To empower them to make better choices and not re-offend. To instill the belief that they can lead happy, healthy (not to mention, crime-free lives) where they chase their dreams.
But as Derren Brown is an entertainer, he achieved his objective by using Psychological Mind Reading Techniques. So as far as we know, he left without using this skill to enrich their lives.
In this case, had Hypnotic Mind Reading been used for therapeutic purposes, this would have been a golden opportunity to transform not just the attitudes of the young offenders, but potentially their lives as well, by helping to lift them out of their negative situations.

If you'd like to see part of the Brown's demonstration with the young offenders, here is a snippet of the video:
There are other ways in which Psychological Mind Reading techniques are used to deceive or trick people. In Astrology, for example, a study was carried out in which a number of subjects were each given a written astrology reading. The text on each of the readings was identical, with only the birthdays in the headings altered.
Remarkably, everyone who took part rated the accuracy of their reading at above 90%! This is a prime example of how astrologists (not all of course, but some) use techniques to "read minds" and deceive people.
And to follow on from this example, here's something else for you to ponder on… often these kinds of readings act as hypnotic suggestions. Yep, really.
When you think about it, it makes sense. Because regardless of whether a subject's reading is made up or based some form of intuition or foresight  – if the subject feels this person has a gift due to what they've perceived, it has the power to become a hypnotic suggestion. Therefore, even more reason to use caution when using Hypnotic Mind Reading.
Having said that, it's possible to "borrow" Psychological Mind Reading techniques and expand upon them for therapeutic purposes.
As an example, there was a psychotherapist who was unable to make any progress with a reluctant client of hers, no matter what approach she tried.
Her client eventually began to make progress when she introduced a pack of playing cards and used them to make her suggestions and give advice.
As the client was quite young, this technique appealed to her more, so she was able to take on board the suggestions and advice more readily.
In this case, a minor deception could be justified because it had a positive outcome for the client, when all other attempts had failed. Furthermore, the advice given by the therapist was still based on her own intentions and professional advice – not on some fictitious story designed to trick her.
But as you can see, there's a fine line between deception and helping, so it's important you always use your careful discretion… and ethics.
The 4 Hypnotic Profiles And How To Use Them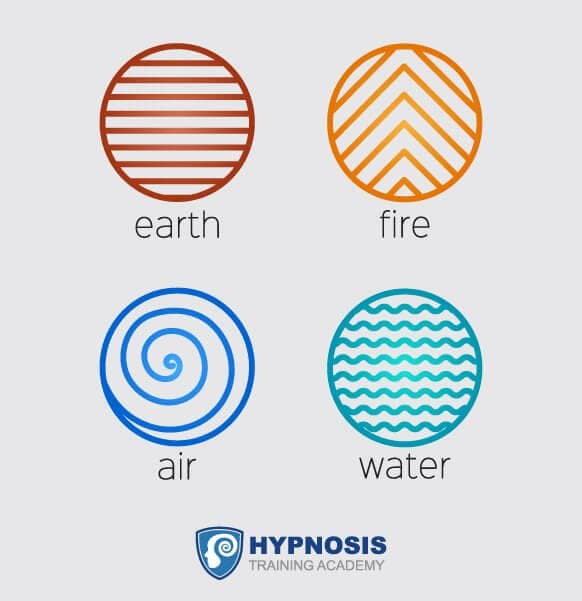 At this point, it's worth noting that Hypnotic Profiles, or Elements, can be invaluable when using Hypnotic Mind Reading techniques.
It's important to remember, though, that a person's profile will change depending on their circumstances and mental state – so it's worthwhile bearing this in mind.
But to help identify the main profiles, there are certain clues you can look out for – which can be simplified by taking notice of the two main polarities.
By looking out for these, you can often make very accurate educated guesses as to how a subject will behave and what kind of language they are most likely to respond to.
These two polarities are:
Abstractly vs. Concrete Thinking
The concrete thinker will usually have a lot to say for themselves and will focus on the specifics of what they are saying, using facts and figures and giving lots of detail, such as: "The house next door" or "My postman, Jim."
A person who thinks abstractly, on the other hand, is likely to be more purposeful in their conversations, while speaking less and using generalisations more. Such as using: "houses' or "postmen," in more general terms than a concrete thinker.
Left Brain vs. Right Brain
It is common knowledge that different parts of the brain perform different tasks. In addition to this, people with different characteristics can be identified by which half, or hemisphere, of their brain is most dominant.
For example, those who are right brain dominant, tend to be more intuitive, spontaneous and emotional, using language, like: "I sense," "I feel" and so on. Whereas those with left brain dominance tend to be more analytical – having a natural leaning towards maths and science.
It is important to be aware that the left and right hemispheres of the brain work together. So while left or right brain dominance can be an indication of a person's characteristics, there will be blends of both to varying degrees.
In addition to the above polarities, subjects can be further divided into 4 hypnotic profiles, or elements. The characteristics of these elements can also help you to connect with a subject's unconscious through Hypnotic Mind Reading.
1. Earth Profile
These people tend to be concrete and left brain thinkers, firmly rooted in logic. They will be very methodical with great attention to detail – their feet planted firmly on the ground.
2. Fire Profile
In this case, people are concrete and right-brained thinkers. Although they are also firmly rooted, they tend to look for the joy of experience in the senses and are adept at "living in the moment."
3. Air Profile
People who fit into this category tend to be abstract and left brain thinking and are more prone to ideology than sensual experience. They tend to appear rather aloof, due to distancing themselves from the day-to-day world.
4. Water Profile
Water profile people are abstract and right brain thinkers which makes them more intuitive and more readily in touch with the deeper meanings of life.
Having established which of these 4 elements your subject belongs to, you can use this information to closely align with their situation and help build rapport.
>> It's also helpful to know what signals to look out for when someone enters a trance state. This is the moment you can make the most progress, even with resistant subjects.
Download the FREE report below to discover 14 telltale signs your hypnosis subject is in a hypnotic trance.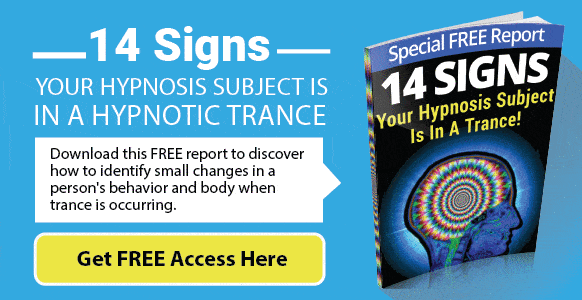 How And When Hypnotic Mind Reading Is Used
As mentioned previously, hypnotic mind reading should always be based on truth, as a result of observations – so there is no deception or trickery intended. Milton Erickson's observation of his pregnant colleague is an excellent example of this.
When Hypnotic Mind Reading is used, it should enrich someone's life. The example of Derren Brown's visit to the young offenders' institution illustrates a clear difference between Hypnotic mind Reading and Psychological Mind Reading, in which a golden opportunity to enrich the lives of the young offenders was missed.
Hypnotic Mind Reading can be used to help bypass someone's critical factor. This is precisely what happened in the case of the psychotherapist and her reluctant client. By engaging her client with the playing cards, thus bypassing her critical factor, the psychotherapist was able to help her to make progress.
So now we know what Hypnotic Mind Reading is and how it differs from psychological Mind Reading, as well as when and how it should be used.
To put it into practice yourself, you'll need to know the 5 core Hypnotic Mind Reading techniques that will allow you to effectively read people's personalities within seconds of meeting them.
We'll get to these shortly, but first, just like any other form of hypnosis, they need to be delivered effectively.
Here's how:
Make it meaningful – everything you say should mean something to your subject. Use the right tonality, hypnotic power words when you can, and avoid saying things that simply fill gaps in the conversation.
Keep it positive – this should be fun for your subject. They should be engrossed in what you're doing and enjoying hearing what you have to say. If it's not upbeat and constructive, they'll switch off pretty quickly.
Reframe your mistakes – because you're human and therefore not perfect, you'll get things wrong. When you do, use the knowledge you've gained to help you decide where to go next.
Work from the general to the specific – in other words, start with statements that are broad-based and generalized and, based on the subject's responses and reactions, refine your statements accordingly.
What you'll discover is that Hypnotic Mind Reading is very personal. After all, you're extracting information from your subject that's of great significance to them – so you need to treat it with respect.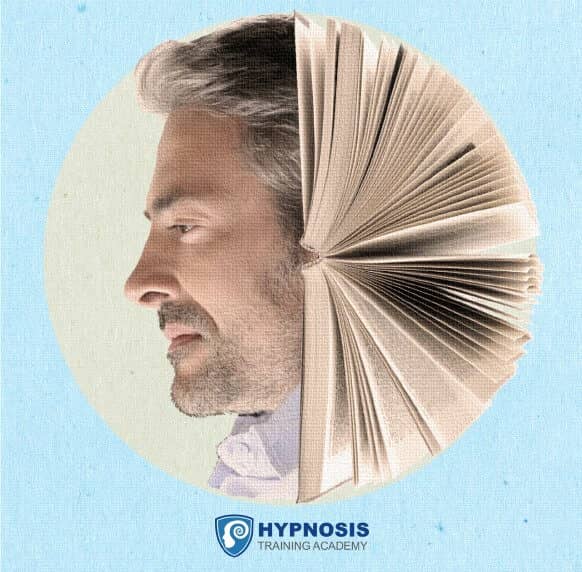 When the technique works, people will be impressed by how much you apparently know about them. This, in turn, can help to build rapport, by letting them think you can help them to solve their problems.
These problems can range from relationship issues, work situations, or whether they should make a complete lifestyle change but, inevitably, it's about change.
However tempting it may be to offer advice, it's never a good idea. Instead, your role is to guide your subject to reach their own decisions. You can do this by asking open questions, such as:
Do you enjoy your job?
Would a new job suit you better?
What makes you think a new job might be the best way forward for you?
IMPORTANT NOTE: It's never a good idea to ask "closed" questions. In other words, questions that require a straight "yes" or "no" answer. Open questions are far more likely to help your subject to explore their options and unconscious, and will help them to arrive at their own conclusion.
So, ready to get cracking with the techniques mentioned earlier? Great! Let's dive on in…
5 Hypnotic Mind Reading Techniques So You Can Be A Force For Positive Change
1.The Delayed Echo
People like talking about themselves, and when they do they pass on information. Like where they've been on holiday, where they're from, names of family members. They mention these things in passing, and your job is to pay attention. Here's what you need to do:
Remember the facts
Don't draw attention to the information
Immediately start talking about something else
Wait 5 minutes until they forget what they've told you
Start mentioning the holiday/family member using different words or phrases from those used by the person
As you can see, the idea is to echo the facts – using different language – so they think you somehow "picked up" on it.
2. Pure Flattery
It's flattering to people when you apparently "perceive" their inner qualities. The things you say might not be strictly accurate, but they'll be traits that most people tend to identify with.
However, it's important to only use flattery that is based on truth, so the subject you are working with is most likely to believe you. It's also important to note that the examples given here are based on Western culture and that you should use your discretion when working with people from different cultures as to what may or may not be acceptable to them.
For example, here are some general traits that are effective with anyone of either sex:
Hard working
Friendly
Reliable
Loyal
Honest
Smart
Positive
Resourceful
If the person is female, you could say they are:
Sensitive
Perceptive
Intuitive
Helpful
Underappreciated
If they're male, you might describe them as:
Confident
Independent
Practical
Rational
Good at problem solving
3. CAP (Covering All Possibilities)
This follows on from the previous technique, but instead of picking out one trait, you focus on two opposing qualities.
Firstly, the positive (helpful) and then the negative (impatient) qualities are highlighted. Once again, you need to stick to generalities rather than using quantifiable facts.
For example:
"You're someone who likes to help others, but at times you can get impatient."

As you can see, this might apply to anybody. The person will accept it because it shows them in a positive light first. To soften the edge of the negative trait, it might help to add some humor.
"You're a very helpful person, but I wouldn't want to be on the receiving end when your patience runs out!"

4. The Barnum
Named after PT Barnum of circus fame, this technique uses a statement that's very specific on the one hand, but that could be true of almost anyone.
Start with a general statement, watch for a reaction, and then move into specifics. Use their reaction to your general statement as a guide to which direction you should go in. Here's an example when the reaction is positive:
"You're a positive person – [watch for reaction] – when things go wrong you always find the positives in the situation. You see opportunities and make the best of things."
And here's an example when the reaction is negative:
"You're quite a dreamer –  [watch for reaction] – but you never let dreams get in the way of your practical side. Everything you do is rooted in reality."
This technique uses flattery and also covers all possibilities. Try to use some negative traits so that your "reading" doesn't come across as sycophantic or even improbable:
"You can be very hard on yourself."
"You're able to bear a grudge for a long time."
"There are things in your past that you regret having done."
5. Universal Experiences
Also called the 7 Ages of Man, this technique relies on experiences everybody has at different stages throughout their lives.
While they aren't written in stone, they can give you an idea about what people are experiencing, based on their age.
It's important to note that these examples mainly apply to Western culture, so again, you will need to use your discretion accordingly when working with other cultures.
And in some instances, some of them may be considered slightly outdated in Western culture (just ask any millennial!), so these age brackets are broad descriptions of what a person is likely to be experiencing – but not always.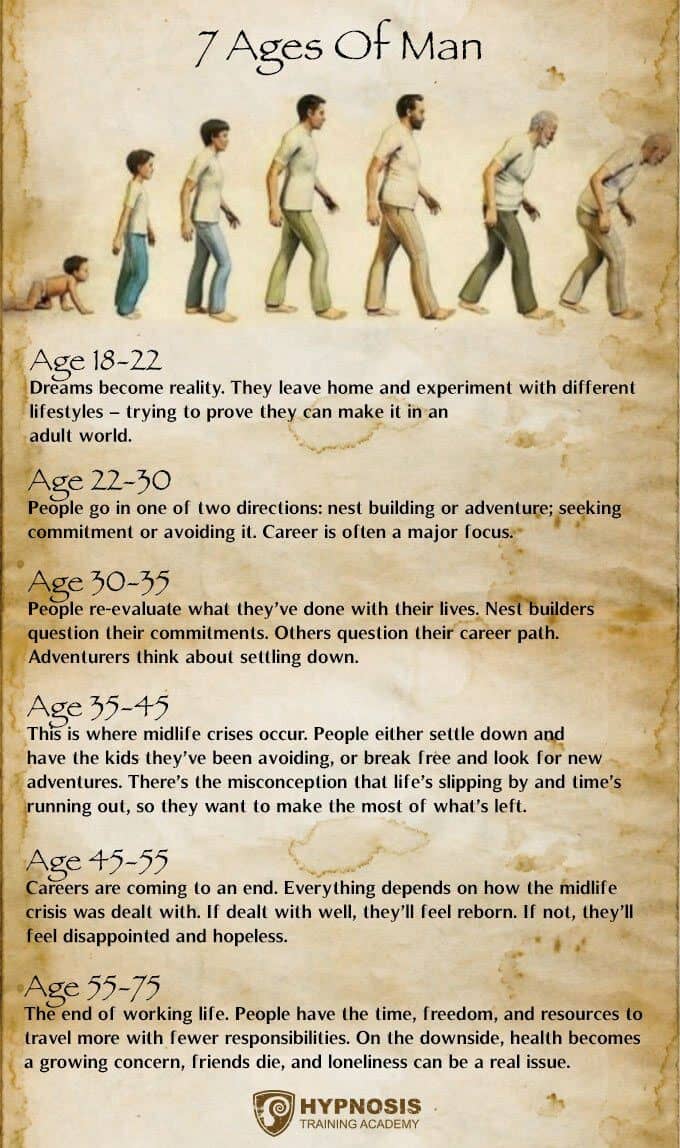 These facts can give you a "way in" to how someone's thinking. Even if you don't know their age for sure – and these experiences and feelings won't be true for everyone – you can estimate. Knowing roughly where they're at in the life cycle makes it easier for you to read them.
To be able to hypnotize someone, you need to break through their defenses. You need to get their attention as soon as possible. You need to bypass the critical conscious mind so it's easier to implant suggestions.
In the end, it's all about communicating with the unconscious. It's just another way to switch off your subject's logical, analytical brain so you can get down to business and help them to resolve any issues.
Once you gain "access" to someone's unconscious, you can start to pay attention to possible signals they're in a trance state. You can find what signs to look for in this free report: