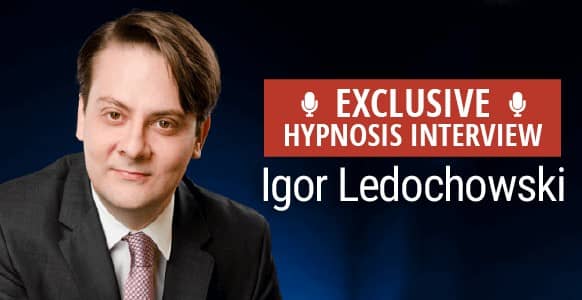 In our second interview with our very own master hypnotist Igor Ledochowski, he continues to share important lessons he's learned throughout his successful hypnosis career.
>> Pssst! Here's Part 1 in case you missed it: Interview With A Hypnotist: From Lawyer To Hypnotist – Igor Ledochowski Shares His Journey & How He Created Conversational Hypnosis (Part 1)
In this follow-up interview, Igor shares how his remarkable curiosity to learn has been key to his inspiration and productivity over the years – helping him create over 100 hypnosis home study programs and masterclasses.
But of course, Igor's path to creating new methods of hypnosis didn't happen overnight.
There were plenty of learning curves along the way and Igor shares some of the important lessons he's learned about innovation and purpose in this interview.
He also talks about what led him to develop his own hypnosis style – one that could be used in any environment.
His goal was to help people transform in the course of a simple conversation, and this vision led Igor to create his own conversational hypnosis method.
You'll also discover how Igor developed the tools we now know as Conversational Hypnosis and Mind Bending Language, as well as the story of how Igor's H+ concept came to be.
So go ahead and hit "play" to listen to this month's fascinating interview!
---
Listen to part 2 of the interview now by logging into your Members Area
Not a member?
Get Access To Part 2 Of
This Inspiring
Hypnosis Interview Here
To listen to Part 2,
register below to get your
complimentary Silver Membership today.