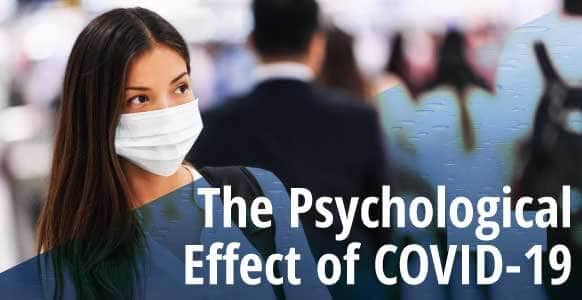 Imagine not being able to leave your house to go outside.
Or being afraid of what could potentially happen if you do.
And then, when you are stuck inside for long periods of time, having to cope with loneliness, anxiety, depression, confusion and fear.
For many people, that's a pretty good summary of the past 6 to 8 months.
What has come to be known as the psychological effect of COVID-19.
It's put the whole planet in a particularly strange and unusual predicament.
One where otherwise healthy people find themselves unable to spend time with their friends, families and loved ones…
… leaving those with serious health problems often feeling isolated, alone and terrified.
And it's only now that the true impact of the pandemic on people's mental health is becoming apparent.
What Is "Coronaphobia?"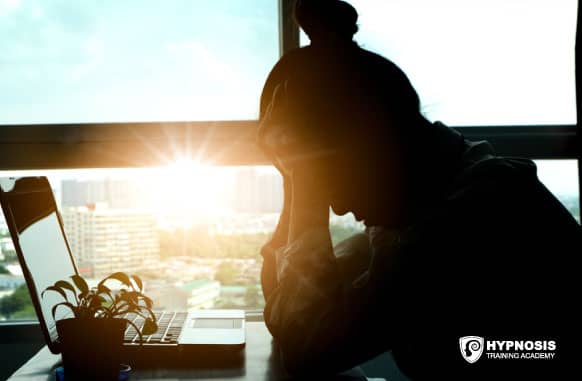 The coronavirus (COVID-19) has had a universal impact leading to mass hysteria, economic burden, and financial losses.
This global fear of the virus has been coined "coronaphobia", a term used to describe the fear of the disease as well as the fear of returning back to normal after lockdown – but while the disease is still rampant.
This strange situation doesn't just affect people with pre-existing mental health issues. It can also cause otherwise healthy individuals to develop mental health issues, especially those working on the front lines.
On one hand, lockdowns can lead to anxiety, panic, hoarding, depression, and PTSD for sufferers of anxiety-related disorders. On the other hand, front line healthcare workers might experience high levels of anxiety for simply doing their job.
The pandemic also affects children, disrupting their lifestyle and routines and causing distress.
Older people who might already feel marginalized find themselves trapped indoors with little or no contact beyond their caregivers or immediate family.
It's fortunate that this pandemic arrived at a time when access to the internet is more or less universal. One way to combat the fear of isolation and loneliness is to be able to communicate with family members, friends, and colleagues, which the internet makes possible.
Unfortunately, it can also serve to heighten your fear as misinformation (aka infodemic) is spread via social media platforms.
And then there's the catch-22 element. You may want to keep up to date with the news so you know how the virus is behaving. It'll help you stay in control and make sure you don't put your life or anyone else's danger.
But too much news is worse than not enough.
A situation such as this can easily lead to scaremongering. And people don't always accept what they're being told, choosing instead to follow the latest conspiracy theories that have no basis in fact whatsoever.
Like any other phobia, "coronaphobia" is an extreme reaction and can be intense. It can cause tremendous distress and anxiety that interferes with all aspects of a person's life.
And since more than 30% of American adults are affected by anxiety in normal times, that means the potential for anxiety in the time of COVID is exceptionally high.
5 Emerging Trends On The Psychological Effect Of COVID-19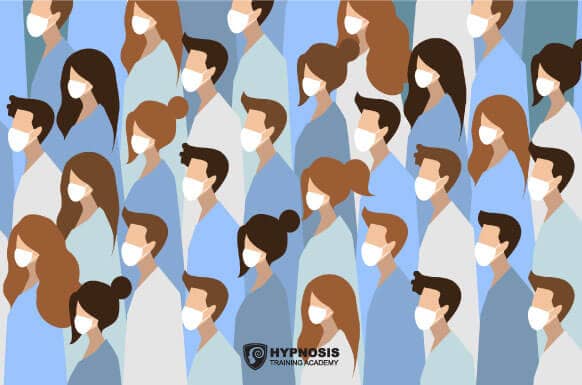 For some people, the past months have given them a welcome break from the sometimes hectic and frenzied pace of modern life.
The same can't be said for people suffering from mental health problems, however. Professionals in a number of different fields have identified at least 5 related issues arising out of the global pandemic.
1. Adapting to the "new normal"
If you're already living with stress or anxiety, then this new way of living is only going to make things worse. That's particularly true if you rely on help from outside your home.
Being stranded indoors means you'll inevitably lose contact with people you depend on, whether for food, medicine, advice or just to keep your company.
Obviously, there's nothing normal about isolating yourself from society or having to cover your face to nip out for a loaf of bread. In a situation like that, it's understandable that you might feel overwhelmed by what's going on, even to the extent that you begin to imagine the worst-case scenario.
2. Coping with raised anxiety levels
The psychological effect of COVID-19 shouldn't be underestimated.
For instance, how might someone cope with who already has a pre-existing anxiety disorder? According to the Harvard Health Publishing website, that could include those diagnosed with conditions such as panic disorder, PTSD, or OCD.
Without proper guidance and support, it may become difficult to manage. People might feel abandoned and vulnerable, emotions that typically can raise anxiety levels even further.
3. Dealing with quarantine anxiety
One of the biggest problems with quarantine is that you lose all your routines.
For people with mental health issues, it's often their daily routines that help them cope. That includes how they live, how they work, and how they do everyday chores like food shopping. It's easy to see how this strange new environment can make you anxious.
Before the virus, there was little risk of going out of the house. But since about January 2020, and until there's a vaccine, every time you step outside your front door there's a chance you might get infected.
For some people, the risk is worth it, because it feels like they're getting a small part of their old life back. For those with mental health problems, however, there isn't really an upside to venturing outdoors just yet. As one website puts it, FOMO (the fear of missing out) is being replaced with FOGO (the fear of going out).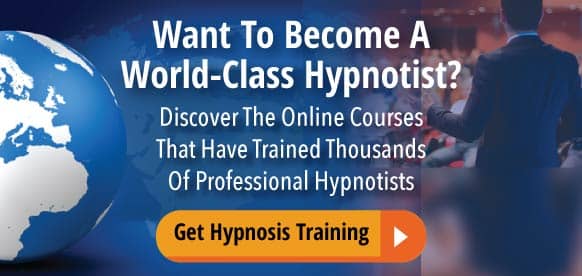 4. Handling isolation and social distancing
Studies in the US and UK have shown that people's mental health began to deteriorate almost as soon as lockdown measures were put into place. That makes sense because people are basically social animals.
Very few of us live in caves or areas that separate us from the rest of society. We need other people to talk to and interact with.
Without that interaction, it's easy to get demotivated, to spend too much time worrying about things you can't control, and to start doubting your own sense of worth.
And this enforced isolation doesn't stop at your front door.
Thanks to the highly contagious nature of the virus, it's necessary to practice social distancing wherever possible. That means no physical contact whatsoever with anyone outside your own household.
For healthy people that can be a real challenge, as grandparents everywhere can attest to. For those suffering from mental health disorders, the psychological and emotional impact can be devastating.
5. Managing the loss of work and related income
For many people, money is always a bit of a worry. Thanks to COVID-19, however, that worry has mushroomed.
That's not surprising, since the spread of the virus has crippled major industries worldwide, with factory closures leading to shortages in the supply chain.
In the UK alone, more than 9.5 million people have been furloughed, with nearly 195,000 employees made redundant. Things are even gloomier for the self-employed.
In many cases, the need for their services has completely vanished. Others have had to move their more traditional businesses online to try to survive.
If on top of that, you're affected by mental health issues, then the loss of income will only add to your existing problems, making it more likely that you'll suffer increased bouts of depression and be more prone to negative thoughts and potentially destructive actions.
It's an unusual situation to be in, one that's never been witnessed before, and one that impacts people the world over. And as you might expect, those in the know have come up with a new term to help explain how this extraordinary condition might affect you.
Having labeled the fear of the coronavirus and pointing out its psychological effects, then, what else can the experts tell us about its various effects?
What The Experts Are Saying About The Psychological Effect Of COVID-19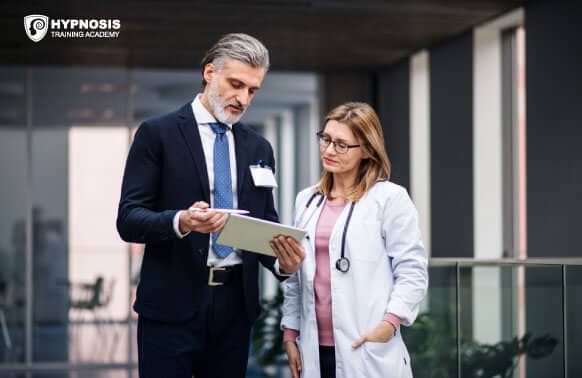 The American Psychological Association (APA) has described the COVID-19 pandemic as "an epidemiological and psychological crisis".
People have been forced to change their very way of life, often enduring job losses and financial hardship, and even being unable to grieve properly for their departed loved ones.
It's a time of high anxiety for everyone, but especially worrying for those people prone to anxiety and mental health issues. That's why it's important to be able to recognize the risk factors associated with increased anxiety that might lead to panic attacks, depression, and even suicide.
Here are some of the signs and risk factors as identified by the APA:
When someone experiences anxiety, they may feel:
Overwhelmed by their emotions
Restless and irritable
On edge and unable to concentrate
To spot a panic attack, watch out for:
Sweating and trembling
A pounding heartbeat
Shortness of breath
Depression often shows up through:
A lack of energy or interest
Inability to concentrate
Major weight loss or weight gain
Inability to sleep or excessive sleeping
Low self-esteem coupled with guilt
Suicidal thoughts
Risk factors for suicide include:
Sudden changes in personality
Sudden changes in behavior, including sleep patterns and eating habits
Erratic and harmful behavior, especially to oneself
Deep and hopeless sense of pessimism about the future
Sense of worthlessness and possibly even self-hatred
For anyone who suffers from a mental health issue, the psychological effect of quarantine related to COVID-19 can be enormous. Some of the most relevant reactions have been documented by the Oxford University Press on their academic website. These include:
Fears related to the possibility of infection
Persistent anxiety caused by lockdown measures, isolation, loneliness and the associated stress
Frustration, boredom, distress and anger at being confined and limited
Severe loneliness due to interruptions in social activities and daily routines
These reactions are typical during a pandemic and are naturally made worse by anxiety, panic, or the collective fear in society.
So, as a hypnotist or hypnotherapist, what can you do to make things better?
How Can Hypnotists Help Clients Deal With The Psychological Effect Of COVID-19?
The coronavirus is going to be with us for some time. It's also going to have an emotional, physical and financial impact on just about everyone.
So what things should you expect your clients to be seeking help with?
Anxiety
There's so much media coverage that it's almost impossible to avoid hearing about the pandemic on a daily basis.
One way to reduce some of your clients' anxiety might be to help them limit their access to the media to a set time each day.
Fear
As long as the virus is out there, so is the risk of infection.
The best way to cope with that knowledge is to stay indoors whenever possible. If going out is essential, then it's important to follow guidelines designed to keep yourself and others safe.
Depression
Lockdown and quarantine inevitably mean that people have a lot more time on their hands than they're used to. It's an unnatural state to suddenly be thrust into, and one that makes it easy to get caught up doing too much thinking.
Chances are, not all of that thinking will be positive, especially for those who work with other people on a daily basis.
Encourage them to connect with as many people as they can using technology, so they stay in the loop and don't become completely isolated.
Frustration
It can be very annoying when you're suddenly unable to do things you once took for granted, even something simple like meeting friends for a quick chat.
With so many restrictions placed on your liberties, it makes sense that frustration can build which might fuel anger and resentment. Accepting the fact that everyone's in the same boat might help your clients stay calm and avoid getting too worked up.
The COVID-19 situation offers hypnotherapists the opportunity to move their services online.
>> Related article: 11 Professional Online Therapy Tips For Hypnotists, Therapists & Nervous Clients New To The World Of "Telemedicine"
That's a great way to be able to continue helping your clients while making sure that you and they are totally safe.
Working remotely is not the same as dealing with someone in person, but it gives you the chance to carry on working while simultaneously opening up a new career avenue for the future. It also means that you have the power to support people and help them navigate this crisis, which you can do using video software or the telephone.
At some point in the future, things are bound to return to normal.
A vaccine will be found, and life will go back to something like it was in the past. Until that happens, however, working online/remotely offers you a way to bridge the gap. Another way to do this is to teach your clients self-hypnosis.
Self-hypnosis will give them the ability to reduce their anxiety and fear by themselves, in the comfort of their own homes. That could prove to be crucial in helping them manage any mental health conditions in the short term.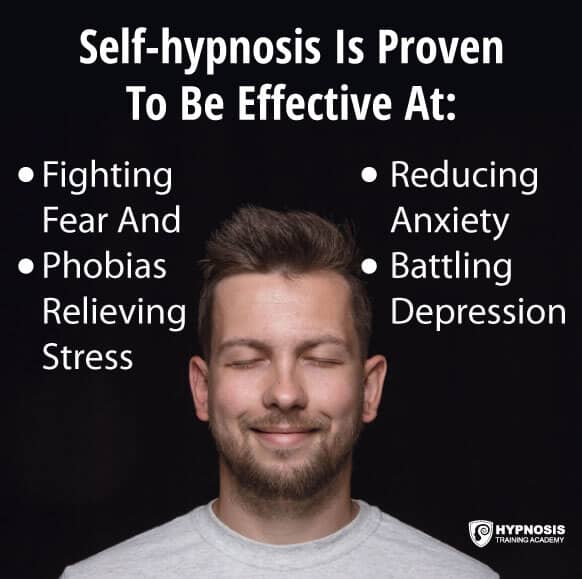 Among its many uses, self-hypnosis is proven to be effective at:
Fighting fear and phobias
Relieving stress
Reducing anxiety
Battling depression
It's also been shown to regulate the body's hormones which are responsible for better all-round health:
Serotonin – affects sleep and appetite, while low levels can lead to depression
Melatonin – aids sleep and strengthens the immune system
Endorphins – the body's natural painkillers that also help relieve stress
>> Related article: How To Work Remotely During Coronavirus – A Quick Guide For Hypnotists On How To Keep Calm and Trance On!
It's a well-known fact that hypnosis is one of the best stress-busting techniques available. And just doing a simple breathing exercise can help you switch off and put you in the mood for self-hypnosis.
Follow this link to discover an easy way to relax your mind and body, possibly the perfect way for your clients to begin their self-hypnosis sessions.
We cannot simply deny the psychological effect as well as the emotional impact of COVID-19 in today's society. People who do not have access to the right information and means to proper treatment suffer the toll of the impact.
As hypnotists and hypnotherpists, we do our best in spreading the good especially in this time of crisis. May the COVID-19 situationer we have provided in this article give you insights on how to best help out your clients in these uncertain times.