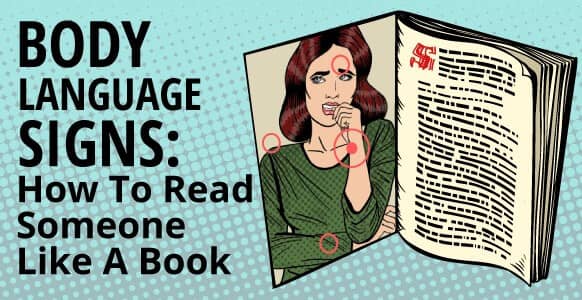 Have you checked out our FREE guide on the 14 Signs That Your Hypnosis Subject Is In Trance? Find out how to spot these subtle signs by downloading our guide here.
Ever catch yourself doing these things? Perhaps ever heard of "unconscious body language?"
Yawning when you're disinterested.
Fidgeting when you're bored.
Faking a smile when you meet someone you don't particularly want to engage with.
It's almost impossible not to at times, isn't it?
Like you simply can't help yourself.
As if some unseen force has taken control of your body.
It's no big deal.
It happens to everyone.
Under normal circumstances, you wouldn't even give it a second thought. Unless, that is, you wanted to use that information to your advantage.
What information?
The signs and signals you pick up from another person's body language.
The trick is that they're not always as obvious as the examples given above.
That "unseen force" is at work and they're operating on autopilot, at an unconscious level.
But even though they don't know they're doing it, you can train yourself to spot it.
And when you do, and when you know what to look for, it can give you the upper hand.
It can put you in control of any situation because you'll be able to tell almost instantly how the other person is feeling.
You'll be able to tell what they're thinking. You'll be able to tell how they're going to react and respond. Why?
Because their bodies will betray them by giving off unconscious signals.
They'll do that at 3 specific times:
The approach – when you meet them
The duration – while you're with them
The exit – when one or both of you leave
It doesn't matter who they are or where they live, LA or Beijing, Melbourne or Johannesburg.
As long as their culture allows it, they'll all unconsciously give off the same signals.
They can't help it – it's part of human nature. So what exactly are these signals and how can you learn to identify them?
#1: Legs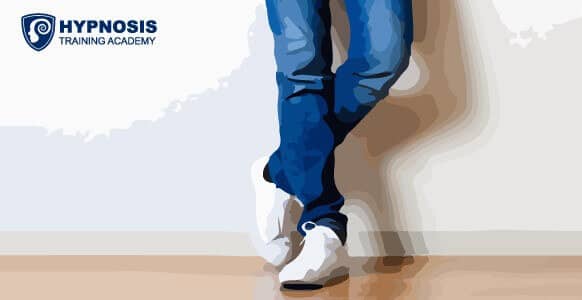 Watch someone's legs and you'll discover a lot about them. A person's legs are good indicators of what they're really feeling. That's because they're furthest away from their head.
You may have noticed, for example, that when someone's about to leave, their legs leave first. That might be because they're in a hurry.
Or they might not like you and want to get away from you as quickly as possible. Whatever the reason, their legs will give them away.
They'll point a foot in the direction they want to go. The same thing happens with the arms. When you're driving a car and you see something that grabs your attention, often your arms will drift over in that direction, taking the steering wheel and the car with it.
Unconsciously you feel the need to move towards whatever it is. Same with the legs.
A person's legs will tell you more about what they're feeling than their facial expression, their words, or their tone of voice.
Why?
Because they have a better awareness of their words which determine their facial expressions and are able to control them more.
#2: Torso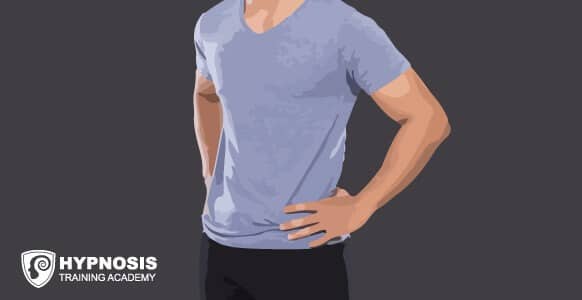 The word torso comes from the Latin thyrsus, meaning stalk.
This is the trunk area of the body that contains the vital organs. That's why sculptors include it with the head when they create a bust.
But unlike statues, the torso is actually quite flexible.
It can twist and turn. It can bend forward and back. And like the legs, it's one of those areas we have less conscious control over. So if someone turns their torso away from you, they could be unconsciously saying they want to leave.
Or they could be feeling threatened and displaying a primitive instinct to protect their vital organs.
Or it might be that they just don't like you.
Of course, if it's someone they really don't like, they'll go even further and turn their back on them. Or give you the "cold shoulder."
Curious to discover how unconscious body language changes when someone is in a hypnotic trance? Get this FREE guide to find out: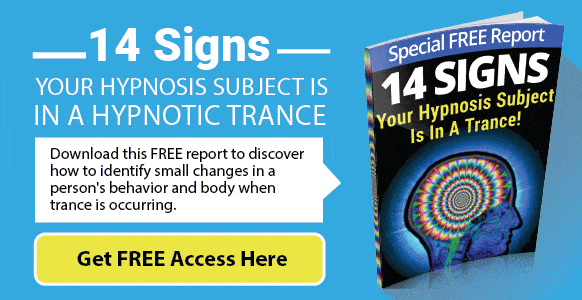 #3: Arms & Hands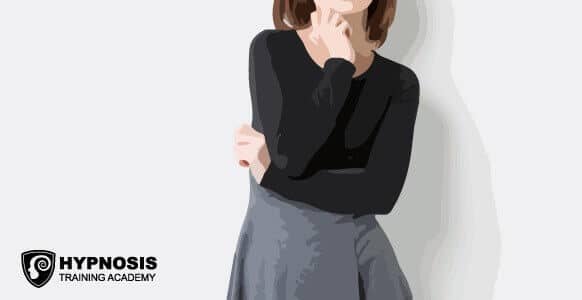 Generally speaking, your arms and hands help you express yourself.
You might use them to help someone visualize what you're talking about.
Saying "I caught a fish and it was this big" for instance, spreading your arms to give them a rough idea.
But you also use them in less obvious ways. So when you're feeling confident, you might open your arms up wide.
When you're nervous, you might wring your hands together.
When you're bored or impatient, you might drum your fingers on the table or shove your hands in your pockets.
It can be easier to spot these signals because people tend to keep their hands in front of their torso, especially when they're sitting down. When you meet someone for the first time, it's common to extend a hand.
But what if they don't? Are they being defensive? Are they socially awkward?
Is there some cultural phenomenon at work that you're not aware of?
Likewise, someone who crosses their arms could be creating a barrier between you and them, or they could just be very relaxed so you have to look for other signals as well to determine which one it is.
Where the arms are concerned, it's a lot to do with stress and comfort levels. The more open and expansive a person's arms are, the more relaxed they feel.
When they're feeling stressed, however, that's when they might cross their arms or keep them tucked in close to their body.
#4: Head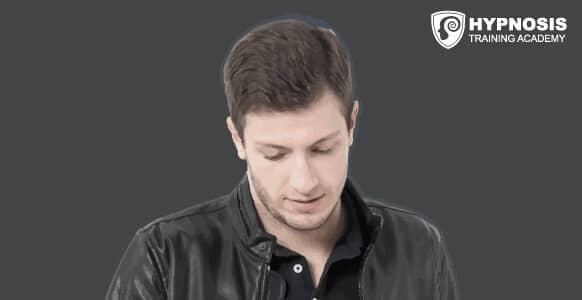 The head is also a good indicator of a person's stress levels.
Unless you've got a medical condition that forces you to do so, it's very hard to keep your head still.
You find yourself tilting it to one side when you're thinking about something.
Or when you're listening to an explanation.
You can also bend your head forward and back. A person whose head is pointing down could be displaying a sign of submission.
Perhaps because they feel meek, or don't want to appear threatening. They're unconsciously protecting their throat, which might indicate fear or stress.
But this action also exposes the crown of the head, the hardest part. So it could be a sign that the other person is expecting resistance or conflict of some kind or another.
Like two stags battling for dominance during the rutting season.
Someone whose head is slightly raised gives off an air of confidence.
They're exposing their throat, showing you they're feeling sure of themselves and relaxed.
#5: Head Motion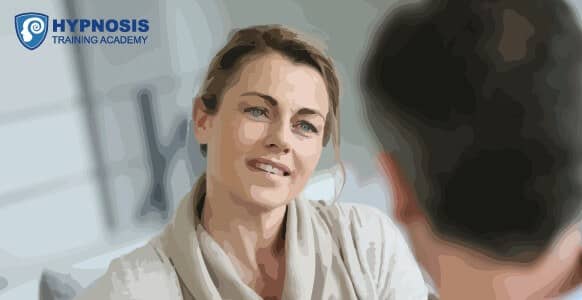 This ties in with item 4 above.
Notice someone's head during the 3 phases of contact (approach, duration, exit) and watch for movement.
Are they tilting their head?
Are they moving it up and down?
Do things change during your interaction with them?
It can be difficult to judge what's going on in a split second.
More often than not, you need to gauge their unconscious body language over a longer period of time.
The way their movements change will give you more information about their thoughts and feelings, so it pays to be patient and let the signs make themselves known.
#6: Lips & Eyes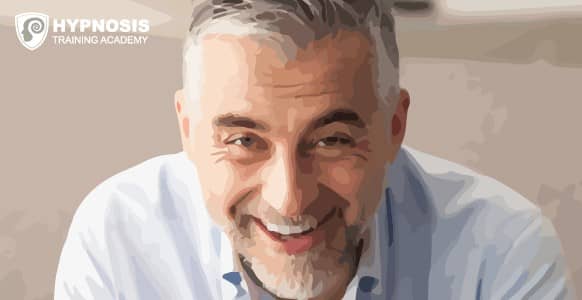 As a rule, your lips and eyes are responsible for about 80% of your facial expressions.
Most of the time, these expressions happen naturally. You smile when you're happy. Your lips curl up and your eyes get brighter. Maybe even sparkle.
You don't have to think about it, because it's automatic. But not all the time. People are social animals, and that sometimes means forcing yourself to conform.
Like when you meet a relative you haven't seen for a long time.
You feel compelled to smile and ask them how they are.
Even if you don't really care. You put on a brave face.
Because you've been socialized to do it. It's the expected thing.
And even though you'd rather not do it, you have the power to do it.
You can consciously interfere with those unconscious signals and change them.
Like when you're at a job interview.
You know that wringing your hands is a sign of stress and tension, so you force yourself not to. Even though you're as nervous as a bird in a room full of hungry felines.
You make yourself maintain eye contact. You keep your mouth in a semi-smiling shape.
Your lips and eyes can be manipulated to hide your true feelings. But even if you manage to do that, those feelings will try to work their way out somewhere or other.
Perhaps you'll struggle to keep your arms and legs still. Why? Because they're furthest away from your face. And the further away they are, the more honest your body language tends to be.
Want to discover the subtle unconscious body language changes that indicate someone is in a hypnotic trance? Get this FREE guide to find out: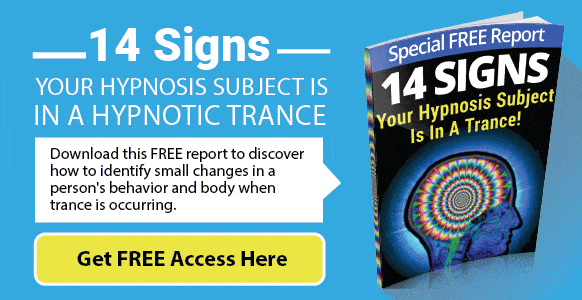 #7: Neck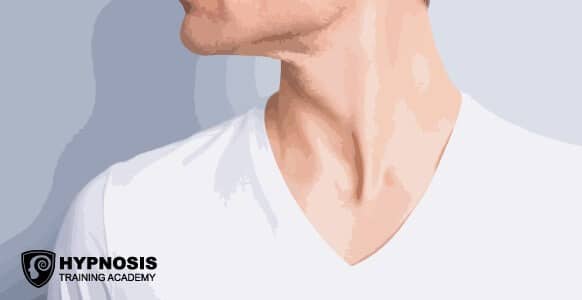 This varies depending on the sex of the person.
Generally speaking, when someone's feeling stressed they'll touch their neck area.
Men tend to play with their collar, or with their tie.
Women will touch the front of their neck, just below the Adam's apple.
Or if they're pregnant, then their hand will go down to their belly.
The reason? Because where the mind goes, the body feels compelled to follow along with it.
#8: Eyebrows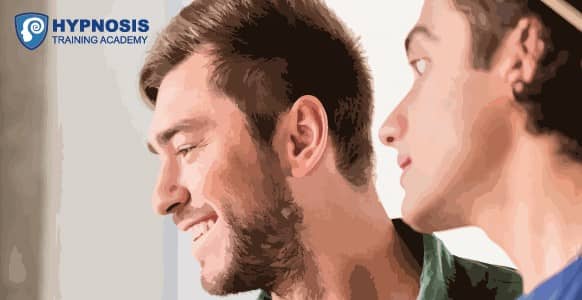 What happens when you run into a friend? Someone you like? You raise your eyebrows briefly. Unconsciously.
It's a greeting behavior as if you're saying "I know this person" or "we have something in common."
When you do it, the other person does it as well. They mirror this "eyebrow flash" back at you.
Humans do it.
Monkeys do it.
Apes do it.
It's a signal that you're part of the pack. One of the gang. So when you try it on someone you don't know, they'll respond. They'll wonder if they somehow know you.
They'll feel part of the pack, and that will encourage them to flash back at you.
#9: Inner Smile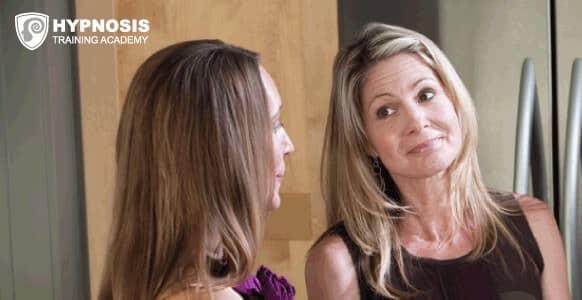 How you can smile on the inside? Simple.
Whenever you meet someone, think of all the people you really like.
All the people you're connected to.
The people that mean something to you and make you feel good inside, as if your whole body is smiling.
Keep feeling that feeling when you say hello, or shake hands, or exchange a few words. The warmth you feel inside will be transmitted to the other person.
And naturally, if you can project an inner smile, so can other people.
Look out for it, tune into it, and who knows?
You might make a lot more friends than you ever thought possible.
Other Points To Keep In Mind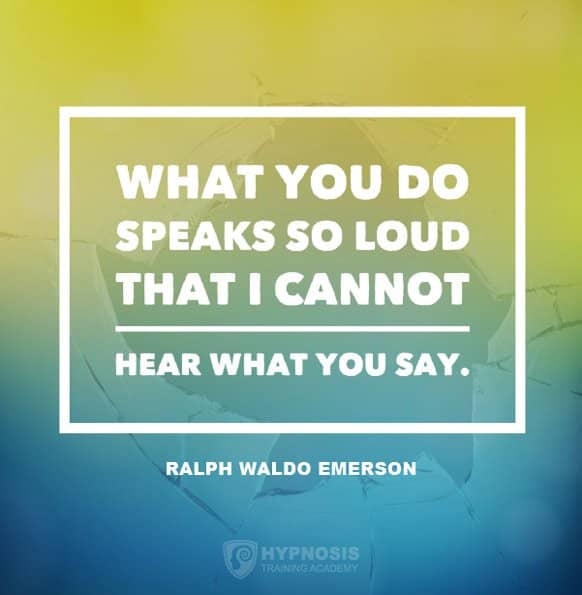 What you have to remember is that none of these signals on their own will give you the whole picture.
Someone straightening their tie could be doing just that.
A person with their head down, wringing their hands and tapping their foot could be nervous.
However, someone with their head down and tapping their foot could be thinking about a song, or trying to remember something.
So you have to take all the signs you see together and use them to assess how you think a person might be feeling.
There are cultural issues to keep in mind too.
In countries like Japan, flashing eyebrows is considered a sign of sexual interest.
In others, men holding hands is perfectly normal.
Everything that happens in terms of unconscious body language takes place within a context, so keep the context in mind.
Also remember that signals can be universal, or they can be individual and idiosyncratic.
Some people just love tapping their feet or drumming their fingers. They're not necessarily nervous, they just enjoy doing it.
The easiest way to spot universal signals is to focus on the idea of stress and comfort. When people are stressed, it shows.
Wherever they come from. So first watch out for universal signals.
Then, keep an eye out for individual behaviors. Put them all together, and you'll be able to form a complete picture of the people you meet.
Practice doing it often enough, and before long it will become automatic. And when it does, you'll be able to read anyone like a book.