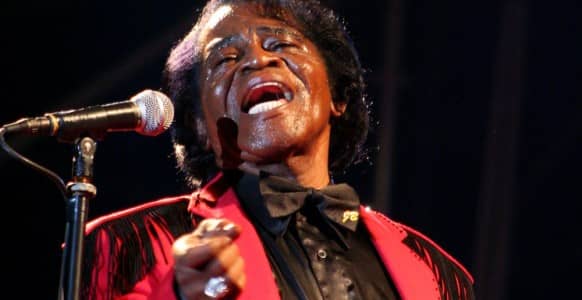 In this article, guest writer Lee McKing shares 5 invaluable things you can learn from the Godfather Of Soul to enhance your hypnosis practice. (Fear not, it doesn't involve dancing).
The Godfather of Soul. Also known as the legendary James Brown.
He certainly was a man ahead of his time. So much so, he changed the music industry for generations to come.
He was so talented at what he did – both vocally and through his funky moves – he entranced his audiences.
So while you don't need to have the same grooves he did, there are a few tricks you can learn from him that will improve your hypnosis practice…
1. Passion For What You Love
While it's true that James Brown was incredibly talented, if he wasn't passionate about entertaining people and bringing joy through his music – he never would have been hailed the Godfather of Soul.
Similarly, if you desire to learn hypnosis because you are passionate about hypnosis, whether it is for stage or hypnotherapy, your passion will keep pushing you to keep learning and striving towards new limits.
2) "Get On Up!"
Did you know that James Brown went to jail for robbery? Did that let him go down the wrong path of no return?
Hell no!
His positive mind allowed him to get back on the right path, which lead to great success.
As you venture down your own hypnosis journey, you're bound to face obstacles, challenges and fail along the way.
Perhaps you will fail to put someone in a trance during a stage show. Or maybe you will fail a client in a hypnotherapy session – causing you to start to doubt your skills as a hypnotist.
Whatever it is, accept that failure is part of the process.
And to recover, instead of doubting your skills – seek out another technique to help you reduce "fails" by setting yourself up for future success.
For example:
You didn't set up a pre frame right. So instead of labeling yourself as the worst hypnotist in the world, ask yourself a few things, such as…
What was the hypnotic context? And was there compliance?
Whether you're practicing street or stage hypnosis, or you're doing a hypnotherapy session – the subject needs to know that hypnosis is going to occur.
This helps to bring your subject into trance much more easily.
Another important question to ask is: was the environment conducive for hypnosis?
For example, in a hypnotherapy session, if the subject is a businessman, but walks into a room which is set up like a flower shop, the subject won't be in the right mind for hypnosis now, would he?
The act of getting compliance is simply ensuring that the unconscious mind of your subject is ready to do hypnosis.
This can be done simply by asking your subject to do small tasks such as standing in a particular way, or removing his/her glasses.
When the preframe is done right – you're setting yourself up for greater success!
And as one of my favorite NLP presuppositions goes: "There is no failure, only feedback."
Therefore, if you're able to approach each experience with such a mindset, it's easy for you to "Get On Up" and succeed greatly after all those feedback experiences!
3)  Bring Joy To People Through Your Work
"When I'm on stage, I'm trying to do one thing: bring people joy. Just like church does. People don't go to church to find trouble, they go there to lose it." – James Brown
Isn't that one beautiful quote right there?
And it's very similar to what Igor Ledochowski teaches: "Be a force for good."
Indeed, this can also be attributed to H+ – the desire to have someone experience a positive change with hypnosis.
And if you're able to apply this in what you do, whether it's stage or street hypnosis – that would be phenomenal.
On stage, you're giving joy to crowds of people.
On the streets, you can give joy to the random strangers that you meet.
In a hypnotherapy session, you can take your subject's troubles away (well, depending on the issue, of course) and help them find the resources within. This subsequently brings them joy.
With this as your basis, then "failure" is just feedback for you to find another way to bring joy to people.
4) Work With Pride And Persistence
If you've ever seen some of James Brown's shows or videos, you may have noticed that he sweats when he sings.
And when I say sweat, I mean he sweats like his life depends on it!
This is because he's singing so passionately, dances so amazingly and pushes his body to the limits during each and every song.
What this means for you as a hypnotist is that you should push yourself to new limits each time too.
Strive to push the bar just a little bit higher – regardless of any constraints you might have.
And mostly importantly, trust your unconscious mind.
Your unconscious mind knows what's best for you…
If you sense that an arm levitation would work, do an arm levitation!
If you sense that a rapid handshake induction would work, do a rapid handshake induction!
If you sense that an Elman induction would work, do an Elman induction!
If you sense that Dynamic Mental Imagery would inject the needed magic touch, then do some DMI!
5) Remove Your Own Obstacles First
"I want to say to you, help yourself, so you can help someone else." – James Brown
Everyone has problems, and so did James Brown.
Although sometimes, how he addressed his problems – weren't always so admirable.
Therefore, my point being, as a hypnotist, sooner or later, it's a good idea to learn some self-hypnosis so you can work through your own problems.
Because when you become great for yourself, you become great for others.
>>Related article: If you enjoyed this article, why not check out what Bruce Lee can teach you about being a kick-ass hypnotist!