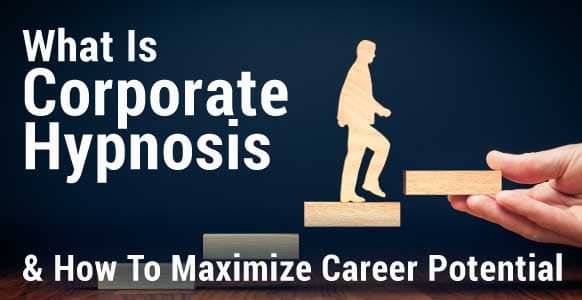 Business professionals and corporate leaders alike are increasingly turning to executive coaching to maximize their potential and achieve goals. Yet executive coaching is even more effective when combined with hypnosis, which is specifically called corporate hypnosis. Not only is there plenty of work available in the corporate hypnosis field, but companies are willing to pay big bucks for those services. This article will help you discover what is corporate hypnosis. It will provide you with a general overview of the promising career opportunities for those who want to follow the corporate hypnosis route and the right hypnosis tools and techniques for getting started in this field.
What Is Corporate Hypnosis And Why Professionals Go For It
Ever heard of executive coaching?
An executive coach is a qualified professional that helps top-flight business leaders unlock their full potential.
They do that by asking questions that lead people to clarify their obstacles and solve their own problems.
And that can be done more efficiently and effectively when you combine executive coaching and hypnosis.
This turns executive coaching into what's often called corporate hypnosis.
It's all the rage in the business world right now.
That makes sense because hypnosis in general is a powerful tool to help people deal with:
Stress and anxiety
Lack of confidence
Depression
Fear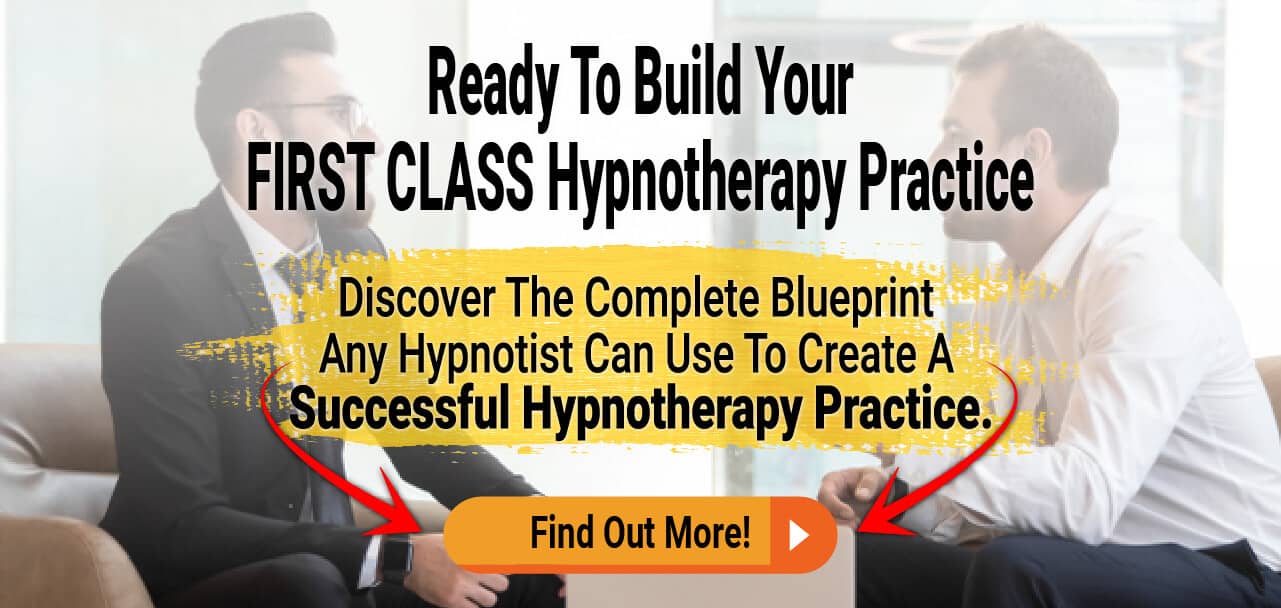 Kimberley Friedmutter is a celebrity hypnotherapist based in Nevada, Las Vegas. She works with a lot of Fortune 500 CEOs and typically charges $1000 an hour.
Of course, it may not always be possible to earn as much as that. But even as far back as 2004, the Harvard Business Review stated that executive coaching in the US alone was a $1 billion industry.
Why is it so lucrative? Because happier, less stressed, more focused, and confident employees will lead to higher productivity and greater profits.
Now you might be wondering, how does corporate hypnosis fit into the picture?
How To Use Hypnosis In The Executive Coaching Field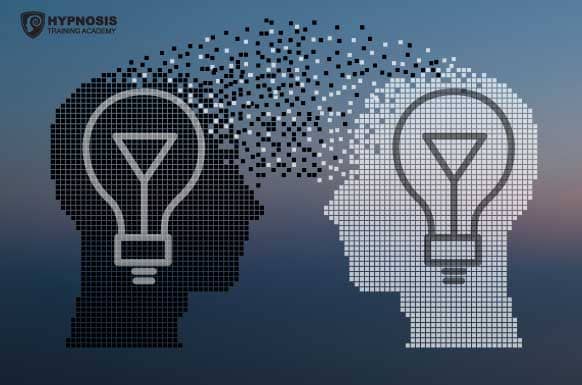 According to BMI Healthcare, 12.5 million working days were lost in 2016/17 due to work-related stress, depression, or anxiety.
Writing in the Journal of Heart Centered Therapies, authors David Hartman and Diane Zimberoff point out the value of hypnosis in executive coaching. Specifically, they mention its ability to lower stress and anxiety, enhance performance, and assist anger management.
Where business is concerned, and especially amongst executives, stress can be a serious problem. It's the stress you feel that brings on your anxiety, chips away at your confidence, and brings on the dread and fear of certain situations.
Using corporate hypnosis, it's possible to reduce anxiety in situations that would normally trigger stress.
According to the folks at verywellmind.com, hypnosis helps deal with stress management in two ways:
1. By helping to encourage relaxation. You can't be relaxed and stressed at the same time.
2. By helping to encourage lifestyle changes. If you can reduce the amount of stress you normally have to deal with, your life will automatically be less stressful.
But stress isn't the only thing the process can help with.
It can also be used to:
Promote better working relationships amongst colleagues
Develop a more positive attitude
Rekindle motivation and commitment
Rediscover job satisfaction and excitement
Executives and leaders should be setting examples in the workplace, inspiring their teams to perform at their very best.
Inspiring Leadership Now's article How To Coach Employees: 7 Powerful Coaching Questions Leaders & Managers Can Ask To Inspire Growth, Independence & Job Mastery details 7 powerful questions leaders can ask to inspire their team members, helping them grow and flourish.
Hypnosis can also help any employee, executive or otherwise, achieve their career aspirations.
If you want to learn hypnosis and executive coaching at an advanced level, here's a 2-part demo and coaching session from master hypnotist Igor Ledochowski:
An article at business.com, lists 5 ways to use hypnosis to climb the corporate ladder, including:
1. By overcoming fear – such as being afraid to speak up and give opinions during an important meeting, or fear of failure
2. By reducing anxiety – such as the anxiety felt before a major presentation
3. By restoring confidence – such as the confidence obtained from jobs done well in the past
4. By increasing focus and concentration – which also helps improve memory and organizational skills
5. By enhancing all-round business skills – such as communication, preparation, determination to succeed
It's absolutely true that hypnosis can help anyone achieve their ambitions. But we're not talking about "hypnotizing" anyone in the usual sense.
When you combine executive coaching and hypnosis, the hypnotic element is achieved through conversational hypnosis. And in order for that to happen, you need to make use of a particular 4-part hypnotic formula.
The P-CAT Formula Structure
You're probably already familiar with the P-CAT Formula, which is: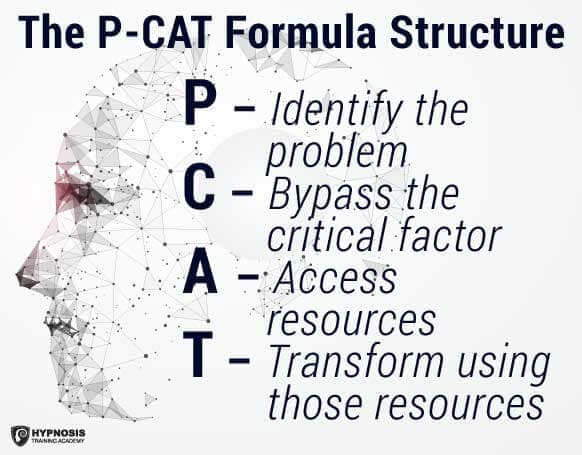 Where executive coaching is concerned, you might like to consider the P as standing for parameters. In other words, where is the person now? Where do they want to be?
Establishing the parameters will obviously help to identify the problem. This can be done during your initial consultation with the client, before any actual sessions begin, by asking questions such as: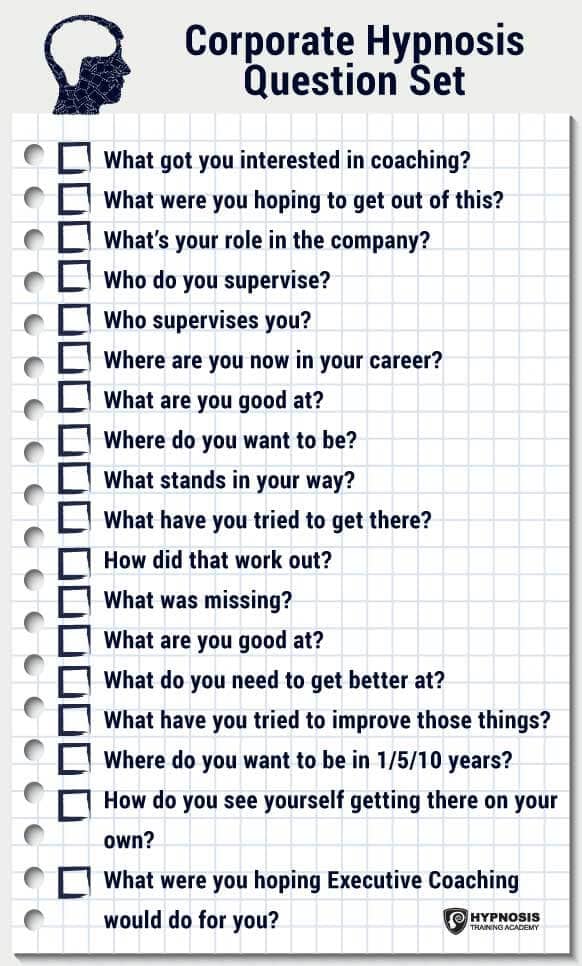 Answers to these questions will help you and your client clarify what things are going wrong, what their ambitions are, and what they'd like to be able to do going forward.
That should also serve to get them excited and full of anticipation about what the session(s) will help them achieve.
What Should Your First Session Be Like?
Your first session should focus on a topic that was highlighted during the consultation with your client. You'll probably discover that there are one or two underlying issues permeating everything that are stopping them from moving forward.
For example, perhaps they lack confidence when giving presentations. Maybe they feel anxious before meetings with VIPs. Both of these could be preventing them from performing at their best.
Once the topic has been chosen, you should spend about 80% of the session on the "C" part of the formula, bypassing the critical factor.
The focus should be on building doubt about the problem.
For instance, if a client doubts their ability to stride confidently into a project, what are they believing in? They're believing in hesitation.
If during presentations they're anxious about being asked challenging questions, what do they believe in? They're believing in feeling awkward.
They're doubting the wrong things and believing the wrong things. So you have to switch things around, to get them doubting the problem and believing in the outcome reality.
If you can do that, their unconscious mind will do most of the rest of the work for you.
>> Related article: Hypnosis & Executive Coaching – Part 2: How to Structure Your First Executive Coaching Session
Some of the hypnotic tools you can use to help switch things around include: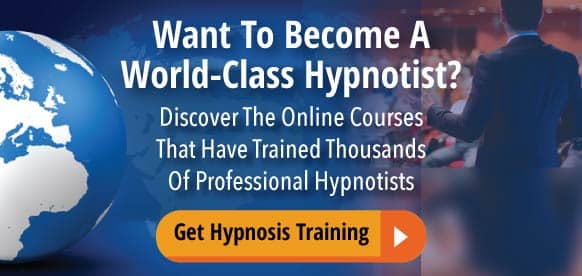 Question sets
Encourage the client to give you sensory descriptions of the problem instead of abstractions. For instance, he or she might say: "During meetings, there are lots of people making requests".
That's not a concrete example. How do those requests make your client feel? Inhibited? Out of control? Like a victim?
To switch it, ask them if there have ever been any requests they dealt with easily that made them feel proud. There's bound to have been since they're executives. And that diffuses their biggest fear: that they're incompetent.
Solutions questions
1. Hero Fuel
The first is called Hero Fuel. This involves putting the client in a heroic role. Showing them situations where they coped superbly, without any hesitation and without feeling awkward.
2. Appreciation Fuel
This involves telling the client that they seem to be great at X or Y, such as leading large meetings or organizing in-house events. You'll already have most of this information from your earlier consultation.
Revivification
This involves revivifying the time when the problem started. There will be a time before anxiety set in, such as before a major online presentation.
So "what happened in the time leading up to the presentation to trigger the problem?"
Another way of stating this is:
"How do you (the client) know when it's time to start the problem?"
There's a little bit of Mind Bending Language in this question, of course, but it helps your client pinpoint the start of the issue and therefore its cause.
Want to learn about the effective use of Mind Bending Language for your corporate hypnosis sessions? Check this out: [VIDEO] Mind Bending Language Demonstration: How To Ask The Right Questions To Reveal Harmful Mindsets & Inspire Positive Transformation
Reframes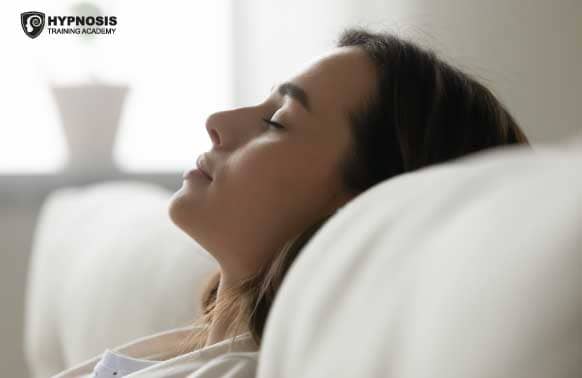 This involves changing the client's perception of an event or circumstance. For instance, your client equates requests with stress. "Oh, another request. That's even more stress".
But in some ways requests equal power. If your client wants more power in their organization, then requests might be the key to obtaining it.
So the next time someone makes a request of the client, they should feel differently about it.
Reframes can be offered as insights as well. For instance, you could ask the client: "Do you have to have this problem?" The answer is obviously no, so that gives them the choice.
Once again, you're getting the client to doubt the problem and to believe in the solution.
Throughout the session, opportunities will arise to access resources within the client, which will already begin the transformation element (T) of the formula. And it all comes from doubting the problem.
Sound intriguing? But how do you get into corporate hypnosis in the first place?
How Can You Get Started?
In a recent interview of corporate hypnotist Anthony Galie, he outlines 3 steps to break into the corporate hypnosis market:
1. You have to learn what to speak about (business-related issues)
2. You have to stand out by using your skills as a hypnotist
3. You have to leave your audience better off than when you found them
It's also important to be passionate about what you have to offer.
Galie adds that it's easier to promote yourself as a speaker doing hypnosis than if you were engaged in some other subject. That's because a talk on anger management, for instance, might be the same every time, with only minor or subtle changes, while a hypnosis session will of necessity be different every time.
If you're practicing hypnosis, then chances are, you've already got the skills you need to combine executive coaching and hypnosis. Presenting yourself to a group of executives will probably be easier if you've got experience doing stage hypnosis.
>> Related article: How Comedy Stage Hypnosis Boosts Wellbeing, Health & Immunity: Discover The Healing Health Benefits Of Laughter
And with reference to step 1 above, what kinds of business issues will you speak about and offer to help with?
Typically, they might involve building rapport, overcoming the fear of speaking in public, managing stress, and similar problems that could prevent any businessperson from performing at their very best. You can read more about it by following the respective links.
The Hypnosis Training Academy has stacks of programs to help you get familiar with all of these issues. See HTA's extensive lists of programs that could help you kick start your executive coaching career.
The idea behind corporate hypnosis is that you can take all the existing skills you have and just plug them into the context of the business world. That's particularly easy to do with the P-CAT formula, for example.
The main thing to remember about this application of hypnosis is that you're trying to get your executive clients to doubt the problem (or the certainty of the problem) and to believe in the solution to the problem (or the certainty of the solution).
When you're working through the first session, the client will naturally access the resources they need to cast doubt on the problem. And when they start doubting the problem, they've already begun the transformation.
Corporate hypnosis is not a different branch of hypnosis. It's just another way to use your hypnotic skills as a force for good, but this time in the field of business.